Original URL: https://www.theregister.co.uk/2013/07/18/apple_patents_touch_screen_that_knows_you_by_your_fingers/
Apple patents touch display that KNOWS YOU by your fingers
Next iPhone to have fingerprint scanner under screen?
Posted in Personal Tech, 18th July 2013 20:37 GMT
Apple's next iPhone is widely rumored to include a fingerprint sensor, but if Cupertino's latest patent filing is any indication, it may be a sensor unlike anything we've seen before.
Apple's filing goes by the tongue-twisting title "Finger sensor having pixel sensing circuitry for coupling electrodes and pixel sensing traces and related methods," but what it describes is actually a straightforward idea.
Instead of a standalone fingerprint sensor, like the ones you find on many laptops today, Apple has come up with a way to insert the sensor as an additional layer in a touchscreen display, so that the display itself becomes a fingerprint reader.
That might sound like an obvious development, but according to the patent application, actually making it work isn't easy.
As the filing explains, many current fingerprint readers place the finger sensor region directly over the integrated circuit that scans the fingerprint. It's possible to separate the two, particularly with a lower quality sensor, but the matter becomes more complicated when dealing with devices like smartphones.
"The lower quality fingerprint sensor is typically unable to capture fingerprint images through a relatively thick protective cover used over the display regions of portable electronic devices," the filing notes. "Thus, the images that are captured are more noisy and lower quality, which may lead to unacceptable biometric performance."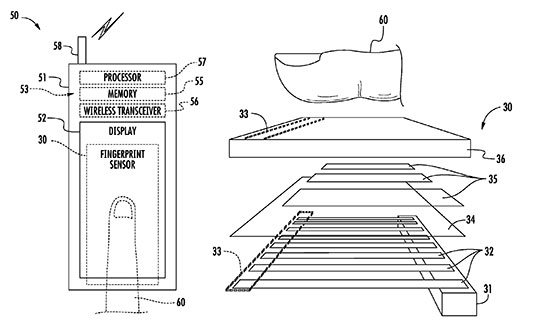 Touch and go: Apple's patent could let you login without swiping a separate fingerprint scanner
That last part – "biometric performance" – means being able to tell one fingerprint from another, which is pretty much the whole point of fingerprint sensing to begin with.
Apple's invention involves a new way of layering a transparent substrate – which, the filing observes, might be made of something like indium tin oxide – into the touchscreen display, such that the display can function as a high quality fingerprint scanner while keeping the scanning circuitry separate from the sensor area.
By the way, when we say "Apple's invention," we probably really mean AuthenTec's invention. Apple snapped up AuthenTec, an industry leader in fingerprint identification technology, for $350m in 2012.
Speculation as to just what Cupertino intends to do with AuthenTec's tech has run rampant since then, but the best guess has been that Apple plans to integrate fingerprint readers into iPhones, iPads, and Macs, both to secure content on the devices and to facilitate applications like mobile payments.
Other companies offer biometric technology for smartphones – Validity is one, and Apple's dreaded rival Samsung applied for a fingerprint-sensing patent in May. But if Apple can bring its finger-sensing screen technology to market this year, it could be the only player on the market whose biometric scanning UI is as simple and obvious as reaching out and touching the screen. ®