Original URL: https://www.theregister.co.uk/2013/07/15/google_glass_going_to_the_dogs_with_fido_project_to_computerize_canines/
Google Glass going to the dogs: FIDO project computerizes canines
Man's best friend gets digital support
Posted in Personal Tech, 15th July 2013 23:48 GMT
Google's head-mounted Glass computers may be the hipster fashion item of choice, but a pilot project by the Georgia Institute of Technology has built a system that uses them to communicate with our canine companions.
Dubbed FIDO – a rather labored acronym for Facilitating Interactions for Dogs with Occupations – the system includes a computerized waistcoat that contains both tools for control and a way for the canine to communicate with its human controller. The dog uses two switches activated by biting control pads, gets force-feedback from the jacket's controllers to tell it where to go, or can use a proximity sensor on its head to activate electronic switches.
Melody Jackson, director of the institute's Center for BioInterface Research, told The Register that she got the idea from her hobby of breeding dogs for work with humans. Dogs are smart enough to understand a lot of signals from human controllers she said, but by combining the waistcoat with Google's Glass headware, a whole new field in man-animal communication is enabled.
"The dogs figured it out very quickly; it was beyond our wildest dreams," she said. "We would teach the dog and in a matter of minutes it had learned how to operate the sensors. The easiest part of all was training the dogs."
For example, she cited a case where a guide dog stopped its owner on the pavement. The path ahead seemed clear, and the handler's cane didn't run into any obstructions, but the dog had stopped because there was a patch of wet cement in their path. Adding a sensor would allow the dog to tell a handler what the problem was in situations like this, she said.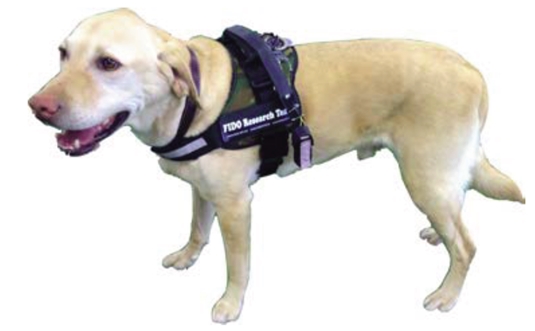 'What's that, Lassie? You want to hit Control-Alt-Delete?'
The system has been tried out on border collies and retrievers. The collies have an advantage in that they are highly flexible and can reach sensors along the computerized waistcoat, but retrievers might require a differently styled sensor design.
Beyond helper dogs for the disabled, the system could also be used to help search and rescue animals communicate, Jackson said. In the aftermath of an earthquake, a dog could hunt through rubble to find humans in need, signal to a controller where they are (and if they are dead or alive), and then either stay with the target or seek out others for rescue.
Military dog squads could also use the system, she said. A Glass-wearing human controller could communicate non-verbally with a canine helpmate to avoid giving away their positions, and the dog could relay back video or sound from the location it was scouting.
Looking further ahead, the system might even be suitable for home defense by the common household pooch. The stay-at-home dog could be kitted out with the Glass waistcoat, investigate any visitors to the house, and relay their images back to a Glass-wearing owner.
"Your pet could be a remote-controlled burglar alarm system," Jackson said. "The number one deterrent to burglars is a barking dog, but a dog that can check the house and send out video would be even more effective."
As ever with modern electronics, power is an issue. Current battery technology would mean the dog's sensors would have to be recharged every day, but Jackson said the team is investigation if the dogs could power their own devices using peizoelectronics to generate current from the hound's movement. Given the vigor with which dogs scratch and lick themselves, this could be a potent form of power. ®