Original URL: https://www.theregister.co.uk/2013/07/11/nokia_1020/
Nokia tears wrapper off Lumia 1020 monster imaging mobe
New York debut of EOS (though internet's been ogling her for days)
Posted in Personal Tech, 11th July 2013 16:48 GMT
Hands On Nokia brought its unique home-brewed imaging technology to a modern smartphone today. By a comfortable distance, the new Lumia 1020, aka "EOS", has the most impressive camera and video recording on any mobile phone today.
We also had a tool around with the prototype at the New York launch today, which confirmed that Nokia has combined its two best bulky imaging technologies into a skinny, lightweight package.
As leaks suggested, the phone has a real mechanical shutter, as a real camera should.
The Lumia 1020 (product page here) features an enormous 41MP sensor, which captures 34MP and 38MP in 16:9 or 4:3 aspect ratio, and is simultaneously saving a 5MP image, which oversamples seven pixels into one super pixel.
The phone, however, also combines the mechanical stabilisation technology found in the Lumia 920 and 925, giving excellent low-light photos, and very steady video shooting. The oversampling technology made its debut in a Symbian phone last year.
Nokia has also managed to shrink the bulging 808 mechanics into a much slimmer package.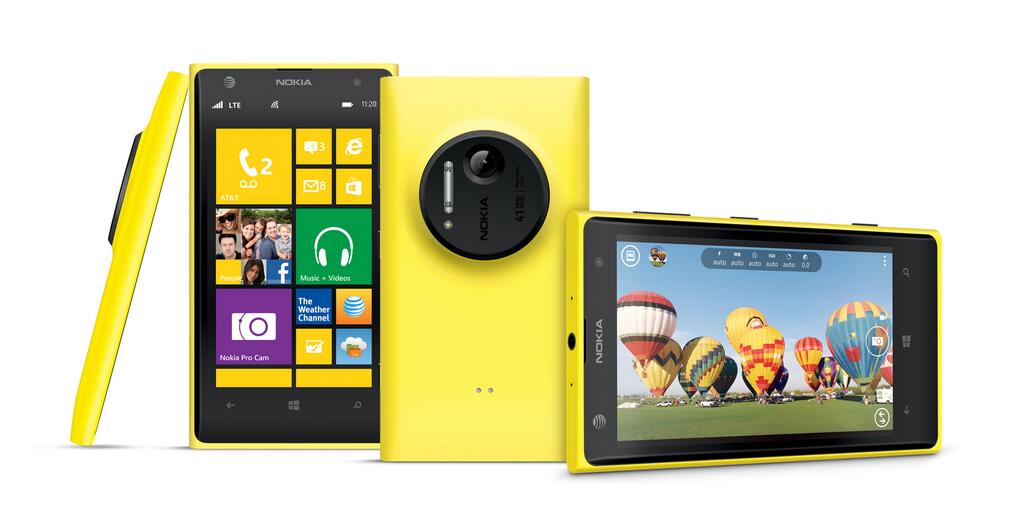 All this requires custom silicon – as the throughput of today's off-the-shelf mobile GPUs falls far short of the bandwidth and processing requirements of oversampling from a huge sensor.
Nokia has also created a new camera app, ProCamera, giving a clever UI real-time feedback on advanced features like ISO and filtering options.
What's most impressive is that the technology is packed into such a light package. At around 158g, it's lighter than the 41MP PureView from last year and lighter than the 185g Lumia 920.
The first 41MP phone featured a bulging, Buster Gonads sensor unit, making the phone decidedly top-heavy. Impressively, Nokia has added the Optical Image Stabilisation technology yet managed to reduce this, so the sensor hardly protrudes at all. It isn't top-heavy. The weight reduction is pretty impressive.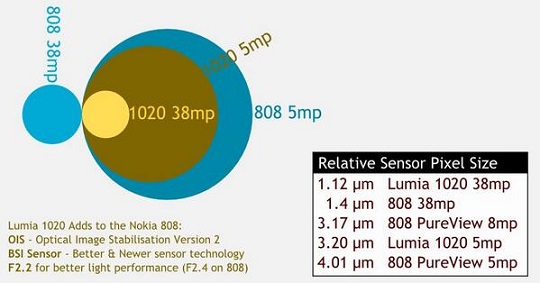 Nokia's 1020 combines the huge sensor of the 808 with the Optical Image Stabilisation of the 920 and 925, but slims them down considerably.
Nokia is selling a $79 Camera Grip add-on that turns the phone into a familiar consumer camera - with shutter control, tripod mount and extra 1020mAh battery. Here's what it looks like: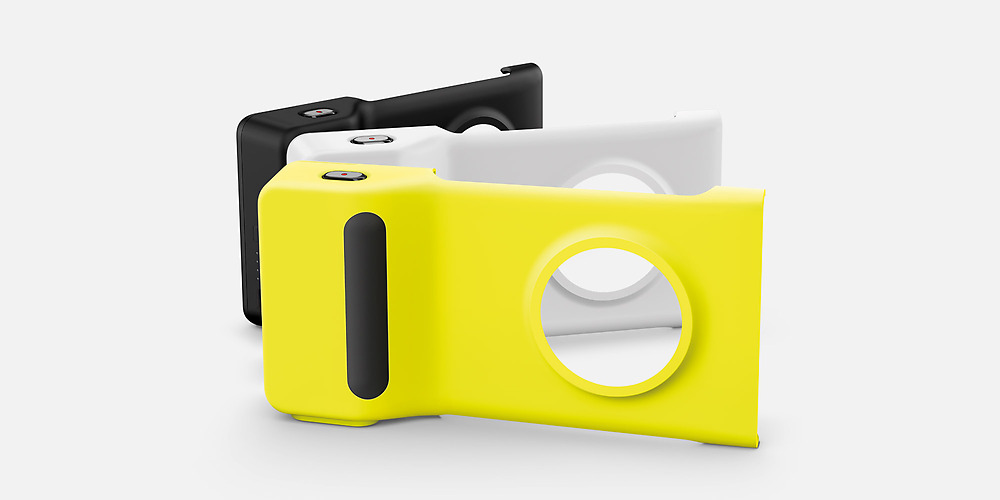 Nokia's odd-looking Camera Grip makes more sense once clipped to the phone, giving you a mechanical shutter button, a tripod grip, and 1050mAh of extra battery capacity.
I also liked the fact the phone has a lanyard port, and this can be threaded through the Camera Grip. The Grip seems to be something you'd grab for a weekend away or when anticipating some dedicated shooting.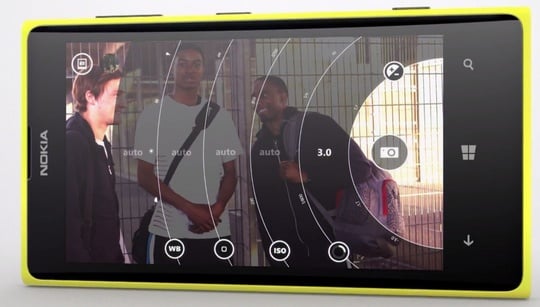 Nokia's all new app ProCam gives easy access to advanced settings like exposure, colour, and time delay
Nokia also opened the PureView imaging system up today via an SDK. App developers can now build PureView features into their software and let the enormous custom silicon do some heavy GPU lifting. A number of major names have already signed up, including Flipbard, Path, CNN and Yelp. No Instagram as yet.
US customers can pick up the 1020 for $299 on a two-year contract from 26 July.
China and many European markets will receive the EOS "this quarter", by the end of September.
Nokia has had a hard job convincing the market to opt for its smartphones, which use a platform that, while growing, is still marginal - with a single-digit market share. At least with the 1020, it can now boast of features no rival can approach. ®