Original URL: https://www.theregister.co.uk/2013/07/11/game_theory_yawhg_xcom_hotline_miami/
The Yawhg vs XCOM: Enemy Unknown. How small devs can win against the big boys
Damn this fondleslab!
Posted in Personal Tech, 11th July 2013 09:02 GMT
Game Theory As far as the recipe for a successful new gaming genre would go, the combination of an essentially text-based role-playing adventure with a beery party game would seem very wide of the mark. Crunching stats and hardcore partying hardly seem to go together.
Colour me wrong, however, for in Emily Carroll and Damian Sommer's PC-based The Yawhg both game types come together with some cute cartoon graphics perfectly. It makes for a short - it's only a little over £8, though - but beautifully judged adventure that will not only work out differently on subsequent runs, but will also raise a smile as it goes.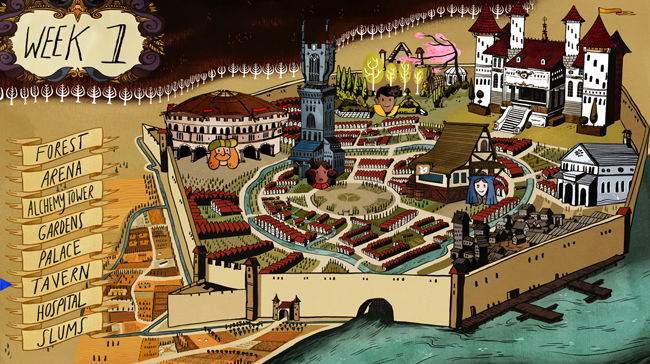 Where will you go today?
Up to four players assume the roles of ordinary medieval townsfolk living their lives blissfully unaware that their town is but six short days away from Yawhg-induced destruction. The Yawhg – whether a monstrous beast or a force of nature isn't made clear – is an inexorable MacGuffin that will destroy the town no matter how you play.
What you can do, however, is develop your character so that he or she might be of some use in the aftermath of the Yawhg's visitation. To that end you'll guide your intrepid burgher into any number of activities: tending to the sick in the local hospital one day, competing in the town's gladiatorial arena the next.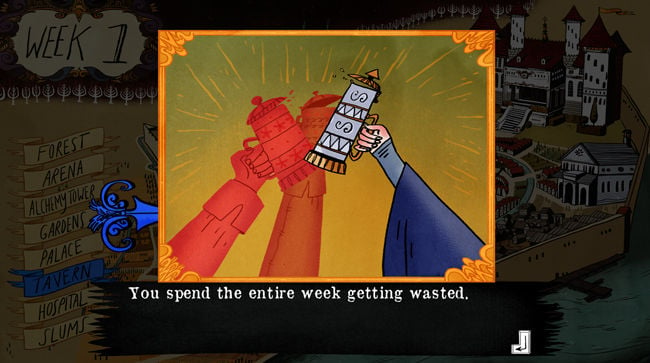 A wasted week?
Such undertakings increase - or reduce - your character's stats: physique, finesse, mind, charm, magic and wealth. Taking to the arena, for example, might develop your physique. But then, depending on your current stats and which of the multiple-choice decisions you make, you might end up getting whacked on the head which will diminish your mind score.
The clever part of The Yawhg's scripting is that, in the above arena scenario, a replay might not necessarily yield the same story and offered choices of action. So you can't predict just what skills might change during any given day.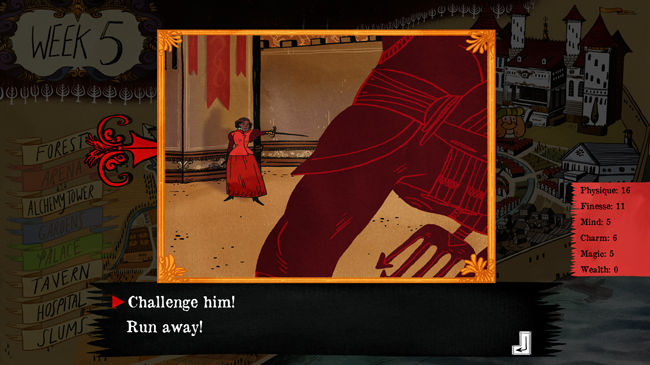 Fighting fantasy
Indeed, the writing and programming is such that there's a plethora of outcomes to what you may encounter each day, with one day's events changing what may happen the next, thereby fundamentally altering your character's development across each game.
Add in the fact that your turn might directly affect one of your friend's characters - or vice verse - by, say, unleashing a demon that they later encounter, and you begin to see just how statistics might just about come together with party play.
Inevitably, once your six short days are done, it's the turn of the Yawhg to do its thing. The devastation leads to one further choice: what will your role be in the ruins? With wise decision making it's here where the overarching theme of tragedy might just be overcome and green shoots of recovery sprouted. Just don't be surprised to find your character dead from disease, famine or even addiction - play it and you'll see what I mean.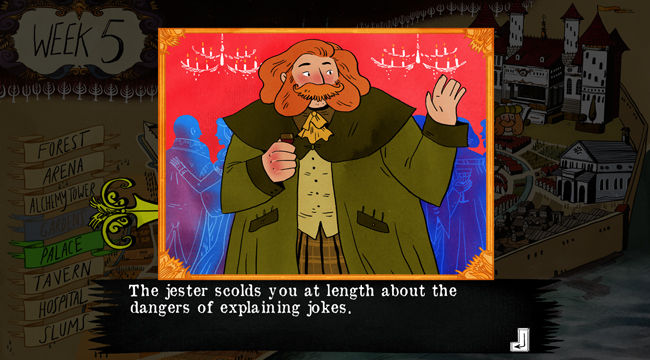 Always play the joker
The Yawhg is yet another fine example of an indie developer taking an unlikely concept and running with it. There's a certain charm, even sadness, in its brief adventure - not least thanks to the haunting soundtrack and the way early events and choices come back into play later. But equally there's humour here too, particularly when played with chums over a beer.

Hotline Miami: nightmare in neon
The recent release of the PS3 and PS Vita conversion of Hotline Miami – originally a PC-only download affair – is a good excuse to revisit indie studio Dennaton Games' raw nerve of an action game.
Yes, it's an uber-violent postmodern gorefest, but there's something about the way Hotline Miami also employs elements of planning and strategy that separates it from those titles that are little more than an excuse for portraying virtual dismemberment.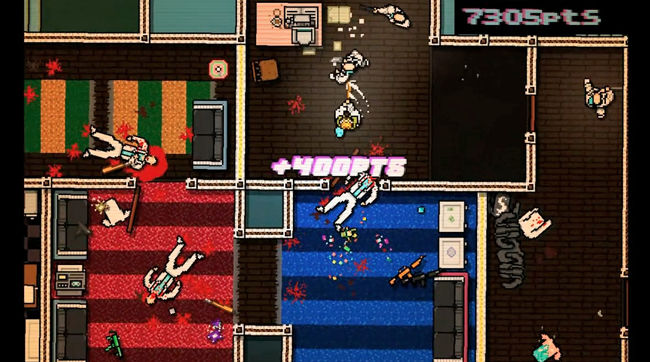 Top down, blood up
Part of that has to do with its style and setting: the game exudes the hard neon glare of the 1980s. Then there's the seemingly David Lynch-inspired cutscenes in which animal mask-wearing figures mysteriously pose questions pertaining to our violent protagonists' very existence. And finally there's the pumping soundtrack, which perfectly fits the action.
Backing up both mystery and gore is a top-down viewpoint sporting semi-retro visuals that serves two purposes. First, it allows players to plan their next move and, second, it keeps you at a civil distance from the bloodshed, thereby negating the need for a sick bag when you skewer a hapless bystander with a pool cue.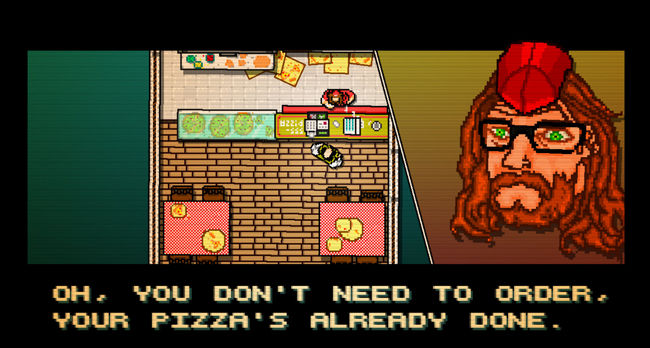 80s retro
There are problems, not least the clairvoyant guards who 'see' you coming when they're not looking your way, and the occasional boss fights that frustrate rather than elate. Furthermore, the controls never quite feel as at home on a console as they did on PC, despite a reasonable attempt to cure any aiming woes by use of the Vita's touchscreen.
On the whole, however, Hotline Miami is a neat, hi-octane mixture of both modern and retro which demands attention, no matter on which system you'd care to play it.

XCOM: Enemy Unknown
XCOM: Enemy Unknown is the game that has finally made me think that maybe, just maybe, it's time for me to upgrade my iPad 2.
Initially the game crashed, constantly. This seems to be an issue with the iPad 2, the iPad Mini and the iPhone 4S, at least if you check the official support forums. But then, having hard reset my device to overcome the crashes, I was left with a game that chugs in the way Battlefield 3 might on a minimum spec PC.
Not a good start. To be fair, though, this remake of the 1994 classic does, on occasion, play smoothly, even on an iPad 2, though I think it shouldn't be marketed on the App Store as being compatible with that device.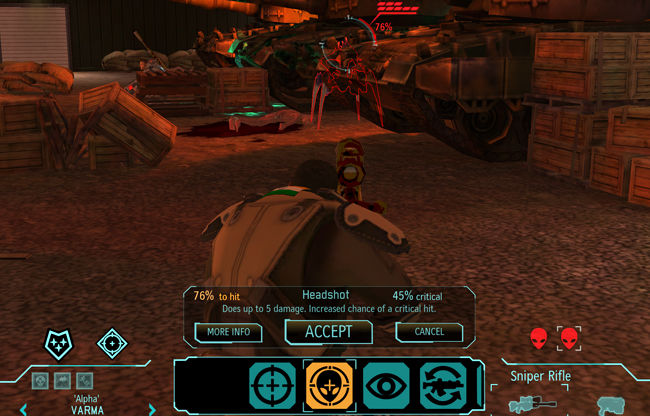 Stormy port?
I won't detail the main plus points of a game most console players will be familiar with. Suffice it to say that the blend of tactics and resource management, which last year had press and public alike swooning over the PC, Xbox and PS3 versions, is still present and correct on the new iOS release. Almost everything, from enemy AI to cutscenes, have made the transition to tablet, though some sacrifices have had to be made: character models are noticeably less detailed, for example, as are weapon and environmental effects.
What's more pertinent is how it differs when played on a touchscreen, with route planning now made possible with a sweep of the finger and weapon selection given a more format friendly interface.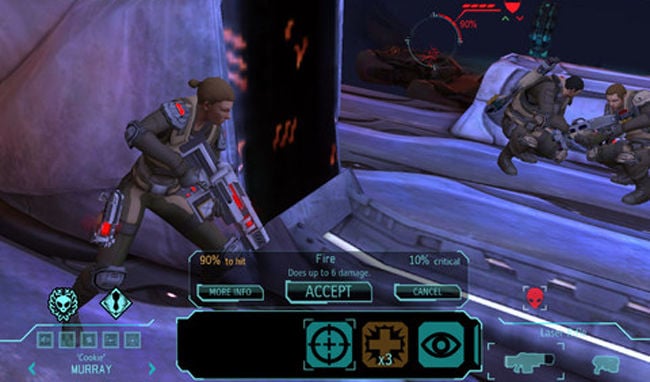 XCOM: Enemy Unknown
At £13.99, 2K is hardly giving the app away, however. The publisher states, not unreasonably, that this is a near-complete conversion of what was a full-price console game. There's no multiplayer option, but 2K has promised that will arrive later.
Given that you can buy 2012's releasse for £15 on PC or £20 on a console these days, it's hard to recommend that XCOM newcomers who own one of those machines should start here. However, for fans who simply can't get enough of Firaxis' classic, and want to take it with them everywhere, this iOS version really is a must.
Just be sure to check the specs - or else upgrade your device first. ®