Original URL: https://www.theregister.co.uk/2013/07/04/blackberry_analysis/
If BlackBerry were a bunch of startups, would you invest?
Silver lining is hard to find, but it's there
Posted in Networks, 4th July 2013 08:30 GMT
Analysis Despite recording top-line growth and an increase in cash, BlackBerry took a pummelling on Friday. Short sellers cashed in, and even the most loyal enthusiasts took to fan sites this weekend, questioning their own commitment. The renewed concern is because uptake of the new OS, BB10, came in below estimates.
The figure the company gave for shipments of BB10 devices into the channel (not real sales) was just 2.7 million units. BlackBerry is now behind Windows Phone in terms of new sales.
So, shareholders long on BBRY have a few straws to cling to – but not many. And rather ominously, the implications for the company's competitive strategy of BB10's hefty memory requirement are only beginning to sink in.
Many BlackBerry owners today will only consider low-priced handsets – because that's all they can afford. While Nokia is cranking out low-end devices performing well with just 512MB of RAM, the working set for BB10 today is 1GB, and all three BB10 devices ship with 2GB.
To meet the demand of a price-constrained market, BlackBerry has been forced to backtrack, and will release at least one new model this year based on the now deprecated OS BB7, after a two year hiatus. (The last new BlackBerrys were released in the summer and early autumn of 2011.) This rather puts a spoke in the narrative of a smooth transition to a new platform. There's more pain to come, company officers warned, in this quarter.
For some clarity, let's take a market-based approach, thinking of BlackBerry as an empire encompassing three declining businesses, one constant, and three quite interesting new startups.
Decline and fall of the RIM-an empire
The declining businesses are well-known. Firstly, there's sales of handsets based on the ancient OS, which are bundled with data services, which is the second revenue stream – the latter accounts for around 20 per cent of BBRY revenue.
Thirdly, there's the secure email server cum-application environment: BlackBerry Enterprise Service, or BES. (BlackBerry made it slightly easier for us all on Friday, by effectively killing off one legacy business, the tablet.) RIM owed its success to how tightly bound together these businesses were. RIM's data network was a necessity, but once it was running it could offer consumers a flat rate, no-surprises data plan and best-in-class messaging.
Enterprises who used the messaging found they had better device management than anyone else could offer, through BES. All three are in decline, for reasons that hardly need repeating.
The constant is the QNX embedded division, acquired in 2010, a mature business powering everything from cars to nuclear power stations, that's largely impervious to its parent's fortunes.
The three startup businesses are: one flogging new, modern touchscreen smartphones, another offering mobile device management in the BYOD era, and the wildcard – a social network-cum-OTT messaging app, BBM. Yet, just as the tight integration helped RIM when it was on the up, it threatens to pull the startups with it, now that the company is in decline.
Wheels spinning, mud everywhere
Take up of BB10 is the main concern. Is the tepid response to BB10 in its first full quarter the result of the staggered global rollout (the UK was a guinea pig here, while AT&T only began to ship the Q10 in May)? Or is it because customers are baulking at yet another ecosystem choice, and the BB10 handsets are too pricey? Or is the slow start simply to be expected - a natural response from IT as enterprises take months evaluating a complex server product?
I see evidence to support the case of both bears and bulls, here. BlackBerry opted to launch devices that demanded a premium, on a par with the Galaxy S4 and iPhone 5.
The Z10 is a respectable handset, and it's a nice all round midrange handset. But the UI can be obtuse, and there's no app ecosystem to speak of; the out-of-the-box experience for Facebook or Twitter or Evernote users, for example, is very poor.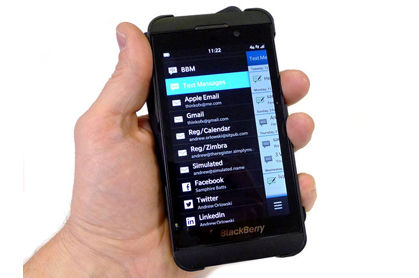 BlackBerry's Z10: not exactly flying off the shelves
Why charge a premium when it has been a very long time – several years, in fact – since BlackBerry was a premium brand in affluent markets? Successive generations of glitzy iPhones and Galaxys have been able to command a premium because of their hi-spec hardware and their maturing app and content ecosystems markets.
The value of the ecosystem is priced into the deal – and anything less than the full monty here is unsentimentally snubbed by consumers. The Z10 looks dead on arrival and the CEO's description – "an effective launch product to showcase the renewed and reengineered BlackBerry 10 experience" – is the sort of gritted-teeth statement that accompanies a dud. If Z10 numbers were good, you could be sure we'd know about them.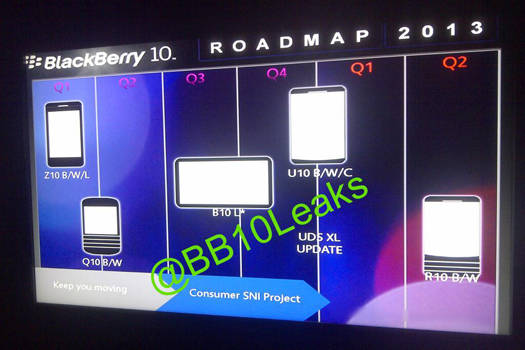 This BlackBerry roadmap was leaked on 29 March, though the Twitter account-holder who posted it later claimed it was an April Fool's joke...
Nokia made a similar same mistake with its first Windows Phone devices – it insisted on premium pricing for the Lumia 800 and 900 when they weren't really premium handsets. Now Nokia is finding some success with a value proposition, by knocking out very capable handsets at bargain basement prices.
Again, because the value of the ecosystem is priced in, punters think "this is a bargain, and I can live without Instagram or Hailo". Nokia doubled its UK market share (May 2012-May 2013) from 4.1pc to 7.8pc while RIM/BlackBerry's fell from 8.3pc to 2.9pc. The story is similar across the West, while its crash has been spectacular in emerging markets: where the spending power is so much lower. In Mexico BlackBerry share fell from 32pc to to 11pc. Cheap Android and recent budget Lumias are going to make even a BB10-on-liposuction a hard sell in markets like Mexico.
Corporate inertia
Bulls will point to BES10 as a product where success or failure is far from conclusive. They're right – the evaluation units went out in January and many enterprises will still be making decisions at Christmas and beyond. And MDM (Mobile Device Management) is a newish market for BlackBerry, it only stated to engage with it last year, that has lots of growth potential.
RIM acquired plenty of experience managing its own devices, but now it can offer to manage the BYOD Androids and iPhones too, and it's wrapped up in BES10, rather than confusing Mobile Fusion combo required so far.
Enterprises who wish to upgrade their staff to BB10 will be given something pretty unique – a secure managed workspace on the phone that's firewalled from everything else on the device. And as of last week, BlackBerry's offering something similar for iOS and Android-toting staff, called Secure Work Space. Allied to corporate and public sector inertia, that's a strong story. Even enterprises looking to migrate away from BlackBerry as an email service in the long term may find it worthwhile to mix in BB10 in the medium term.
So considering BES10 as a kind of startup reveals quite a promising picture. Since BES already has a presence in 90 per cent of large IT, it's done the hard work.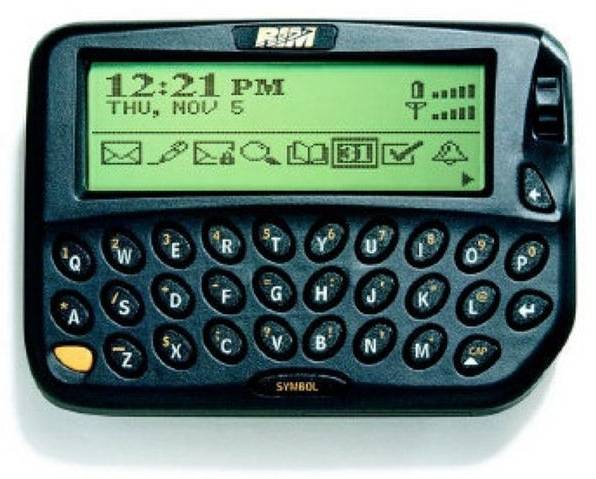 Selling kit is easy when you're unique: RIM's first hit, the BlackBerry 850
The other silver lining to a very dark BlackBerry cloud bank is BlackBerry Messenger, BBM, which launches as a cross platform messaging service this summer. BBM is both a social network and now - divorced from its reliance on BlackBerry data services network and handsets - it's a OTT messaging client in its own right, a giant among pygmies.
The decline of BlackBerry's handset division has sent users to rival OTT services like WhatsApp. But many may be tempted to come back, while newbies could be tempted by the superior experience and features. What is not in doubt is that where BBM is available, people love to use it – in preference to anything else available.
Take this survey of British punters by Acision. Across all age groups BBM users sent 110 messages a week, compared to SMS (75pw), WhatsApp (74pw) and Facebook Messenger (64pw).
And where BBM is pervasive - among 18-to-25-year-olds in the UK - users send 225 messages a week. Many users cited delivery reports and reliability as important factors – where BBM scores highly.
BlackBerry's Thorsten Heins cited data showing the BBM uses the service for 19 minutes a day, as much as any other social network today. What all this adds up to is a lot of attention. And while today's OTT messaging services appear to follow an Underpants Gnome revenue strategy, if you were going to pick a winner in OTT messaging today, BBM would lead the field. It isn't ridiculous to talk about a valuation in terms of LinkedIn or Facebook here.
It may well turn out to be the case that a cross-platform BBM makes BlackBerry's handsets less attractive, for many users have stayed loyal because BBM has been BlackBerry only so far – part of its unique appeal.
However, unlike fanbois, company officers are merely stewards, their responsibility is to the owners (the shareholders) to follow where the money is, rather than tilting at windmills. BES10 looks a promising acquisition for an Accenture, an IBM or an HP.
BBM has the potential for bubble-era growth. It's the handset division of BlackBerry that looks most the disposable, and the cost structure weights it down. 2013 began with BlackBerry talking confidently of the possibility of licensing BB10, with Sony the pundits most-likely licensee. (BlackBerry has withdrawn from Japan and Sony has a seat on the BlackBerry board.)
If the BB10 Android run-time improves, then BB10 could become very attractive indeed to Samsung rivals. But not surprisingly, talk of licensing the OS has gone very quiet. In terms of traction, BB10 is currently a four-wheel drive with all four wheels spinning in the mud.
It's far from all doom and gloom for BBRY shareholders. The management is actually doing OK, considering the legacy of arrogance and indifference to the market. But the cost structure of BlackBerry weighs heavily upon it. To give the two promising BlackBerry "startups" a fighting chance, the smart option must now be to let the handsets go. ®