Original URL: https://www.theregister.co.uk/2013/07/03/review_fitbit_flex_activity_monitor/
Fitbit Flex wristband: What to wear out when wearing yourself out
Google Glass, iWatch, activity monitor.... you're halfway to RoboCop
Posted in Personal Tech, 3rd July 2013 12:04 GMT
Review Judging by how quickly Apple is dashing around the world registering the iWatch trademark, by this time next year I could well have a micro Mac strapped to my wrist. And so might many others, if the craze for wearable devices continues on its current trajectory.
You might wonder what all the fuss is about and perhaps a bit of scepticism is no bad thing – healthy even? Admittedly, curiosity got the better of me and I jumped ambled at the opportunity to test the Flex, Fitbit's latest tracker, to find out if my day-to-day activities render me slobby, sporty or somewhere in between.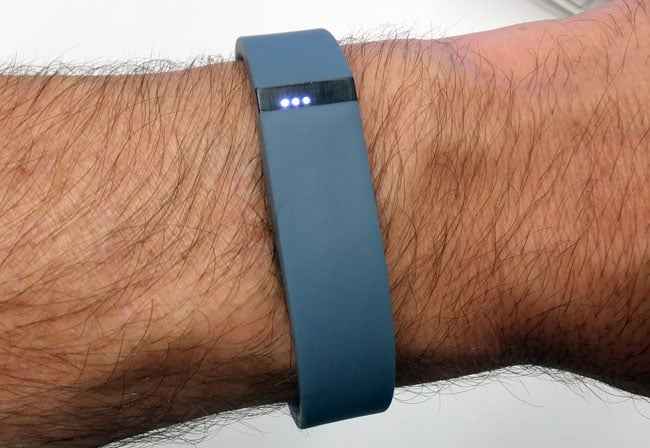 Fitbit Flex activity monitor: is 3 out of 5 so bad when it's only lunchtime?
Unlike previous Fitbit models, this one you actually strap to your wrist rather than clip to a belt or clothing. The device itself is so small and lightweight that it slots into the the rubber wristband, which works out nicely in a couple of ways.
First of all, Fitbit provides two straps of different sizes so you should manage a comfortable fit. Secondly, plopping out the gadget is easy enough for recharging in the provided cradle-cum-cable. Regarding the latter, the Flex tracker is a Bluetooth 4.0 device and will last for five days before needing a top-up.
A wireless dongle is supplied too, so getting this device hooked up to your computer to see some tracking results shouldn't be too much of a challenge. Naturally, there's an account set-up required before the fun starts and this process also detects your Fitbit so you can start clocking up your activity from the off. The Fitbit sync app for desktop is a bit fussy though, as you'll need the dongle regardless of whether you have a Bluetooth-enabled computer.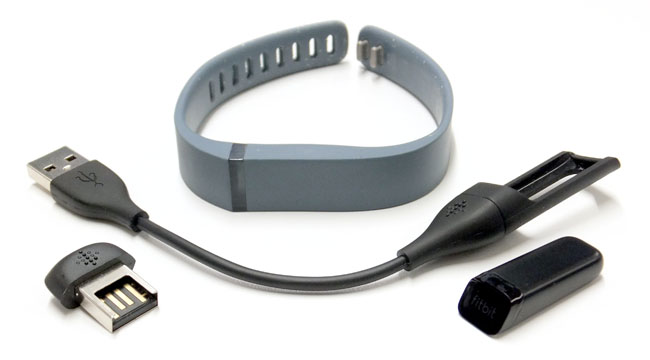 Fitbit bits: Flex wireless dongle, tracker, charging lead and strap
Although Fitbit has iOS and Android apps, which I'll come to later, the main set-up features are accessed from a web browser and appear as a dashboard of different fitness aspects. Before any of this can make sense you need to enter in your height, weight, gender and birth date. How much of this is relevant or just data-slurping nosiness is open to question.
And if you start nosing about yourself, you'll find various social media participation options that you might not want to be exposed to, as you covertly work off a few extra pounds. The Privacy section has over 20 different categories of information to share with all and sundry, friends or no one at all. Do you really need to share your sleep patterns? Are you in the mood to share your er, mood? Are you inclined to broadcast your underachievements? And so it goes on.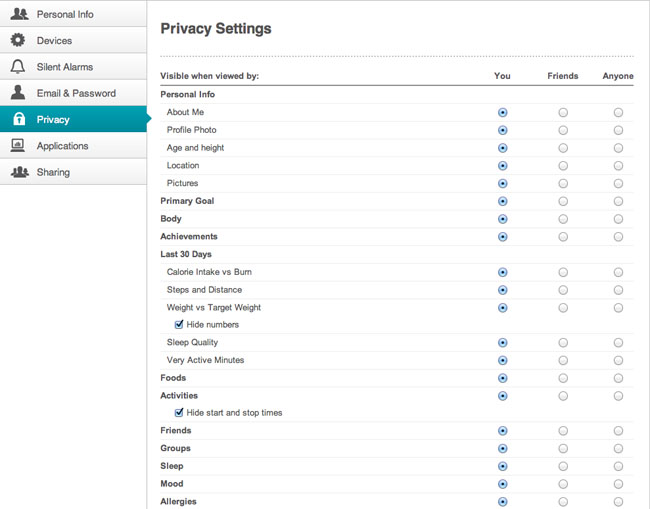 Do you feel like sharing?
OK, so the sporty folk out there are going to love this, especially if they're involved in some kind of competitive or team game. Comparing notes can be a motivating factor and even if you're not so sporty, knowing there are others out there sweating and suffering as you are can be a comfort of sorts.
Needless to say, the Sharing section can be set to Tweet your weekly and daily activity. Alternatively this exciting news can clutter up your pages on Facebook or Wordpress. You can even link your Fitbit account with Microsoft Health vault whatever that is – oh, it seems it's another way of telling everyone that you move around a bit sometimes. Dig a bit deeper and you'll see even the NHS is getting involved here.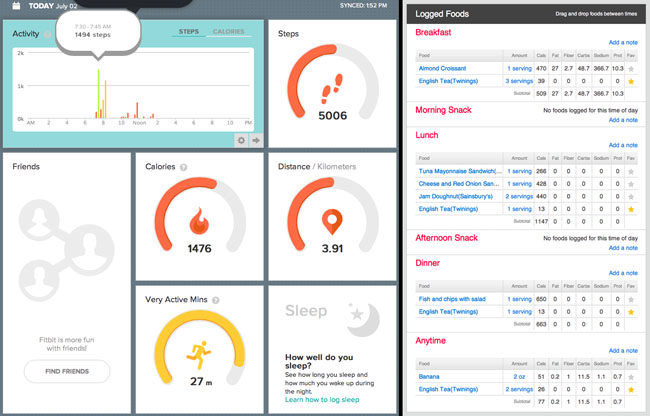 Dashboard and food logging – click for a larger image
Lest we forget that fitness isn't necessarily about staying lithe and lovely but it can be about a return to health from illness. This brings me on to the most tedious aspect of the Dashboard and, for many, probably the most significant: calorie counting.
Grubbing about
Having been blessed with a fairly even-keeled metabolism I've never had to diet, so the idea of entering in my daily intake of food and drink was a bit of an eye-opener to begin with. The novelty soon wore off when it became apparent that none of the supermarket foodstuffs listed in the database related to any products sold in UK chains.
As so many products have calorific values on the the labelling, having this stuff available in a click or two is a breeze, but for UK users it's a matter of manually building up your own database of favourite foods, by scouring the packaging for information.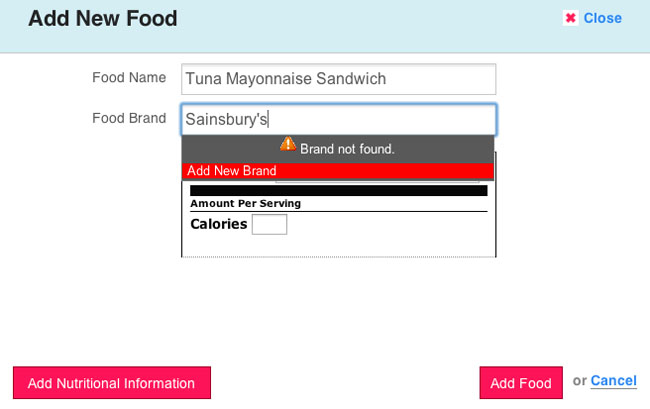 Brand-aware: having US food listings is no substitute for UK users, the only option is to enter in products manually
As for more natural produce, that's even worse. Here goes, so let's put in that I ate banana, that should be easy, right? Nope. Was that 100g of banana or something else? Jeez, like I know how much an individual banana weighs. And is that with or without the skin? Do people really weigh bananas without the skin?
What about home cooking? Just how fattening is my other half's highly noshable rhubarb crumble? Without getting down to weighing all those ingredients prior to cooking, I have no idea how else you work that one out. She's the sort of cook who goes by eye rather than weight anyway, so measuring out the constituent parts will only slow down proceedings and such interference is bound to tip the scales in an entirely different sense.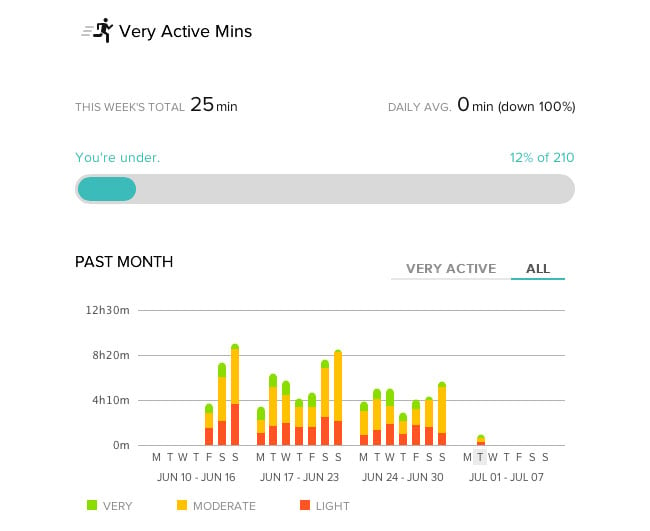 Look at him go...
I suppose this is just a new world for me and this meticulous mapping of meals is a necessary evil for dieting and, indeed, it appears to be an integral part of what the Fitbit is all about. It wants to know what you've ingested so it can calculate calories added versus calories taken away by exercise. With the latter, your movements are clocked up as steps and it presumes a certain amount of expended energy from this logged activity.
So what counts as activity? It seems the Fitbit isn't too discriminating here and unlike some trackers, the Flex doesn't count floors (steps you've climbed). The apps allow realtime monitoring and you can see that it clocks up movements that involve an element of vigorousness. Picking your nose probably won't stick but wiping your arse will probably make its mark.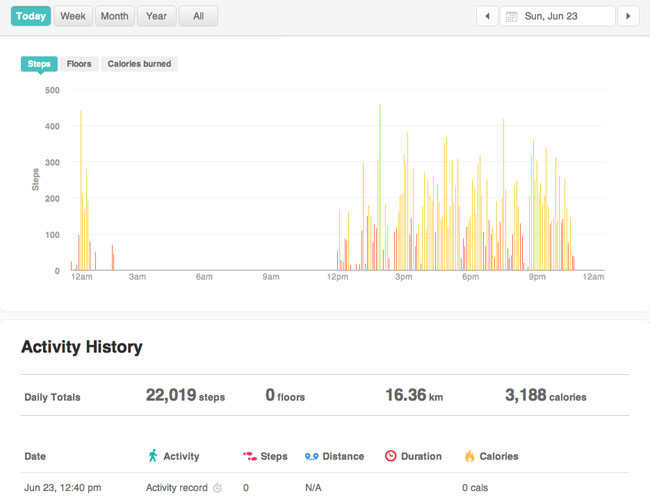 Your daily motions at your fingertips
Indeed, the notion that you have to be in motion to be expending energy doesn't suit yoga enthusiasts. While it may notch up most of Surya Namaskara (sun salutations), it certainly won't be aware of how knackering holding Adho Mukha Svanasana (downward dog) is for any length of time.
Still, having the Fitbit Flex monitor a lack of movement is put to good use with its sleep tracking. You have to tap the Fitbit repeatedly for a couple of seconds to enter sleep mode, and of course, you have to wear the darned thing in bed. It can convey sleep quality by your activity when you've finally nodded off – somnambulists might even want to set personal goals here. Alarms can be set too, as the Flex will vibrate when the time comes. That's not so bad, it's just the tapping furiously at the thing to stop it that's irksome when waking.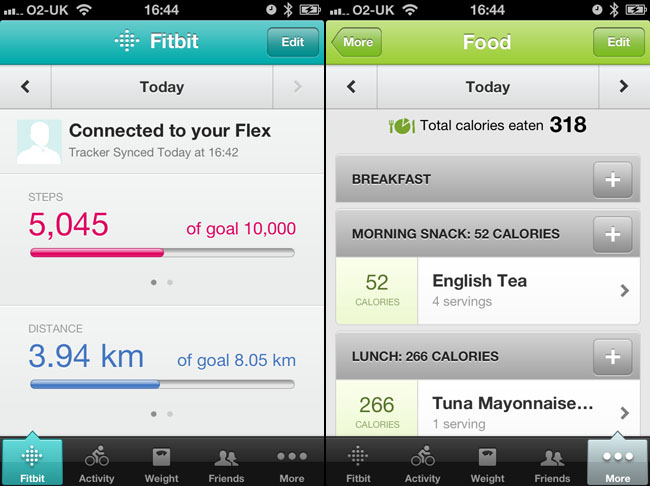 Fitbit Flex on the move with the iOS app that includes realtime monitoring and food logging
If you want to check on how close you are to your daily goals, a couple of taps on the Fitbit Flex will flash along a row of five white LEDs before settling on one or more of these to indicate your progress. The Fitbit defaults to 10,000 steps a day as a target and I exceeded this most days, doubling it several times during tests. It vibrates and can send you messages telling you how great you are when this happens. Aw, you shouldn't have.
Going the distance
Even without this dubious encouragement, I found curiosity is what motivated me to keep wearing the Fitbit. Just how active am I during a weekday? Did all that walking around at home decorating going up and down a ladder and waving a paint roller around really equate to an 8km walk? By the way, the strap cleaned up quite well from paint flecks and the tracker survived numerous dousings in water.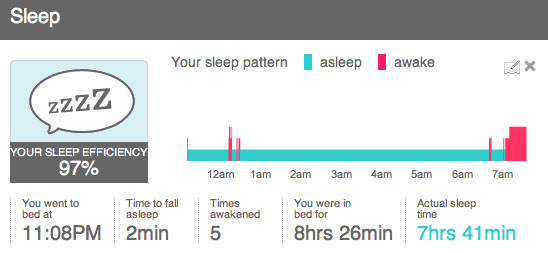 Savour your hours asleep
Admittedly, I soon lost interest in the food-logging. I wasn't enamoured with the idea of wearing it 24/7 to monitor sleep either, but as someone who is not averse to walking for several of hours at a stretch, the Fitbit did sustain my attention. Indeed, the Dashboard was soon forgotten and monitoring was done almost entirely from the iPhone app, which works most of the time. I tried syncing on the Tube with an iPhone 4S but as the app wants to relay the info to the online Dashboard too, this doesn't complete where there's no mobile or Wi-Fi signal, although you will get the stats locally on your handset.
Fitbit does allow you to link to a host of other popular apps from the Dashboard though – there are about 30 to choose from – so your data can be utilised in other fitness regimes such as the popular MyFitnessPal. Yet my biggest disappointment with the tracker was that strap, and for two reasons. The first is the clasp is a real bugger to align and get the metal buckle through the rubber slits as you pinch it into place. If you try and push them through against your flesh, you'll just bruise your arm. Putting it on should be a lot easier.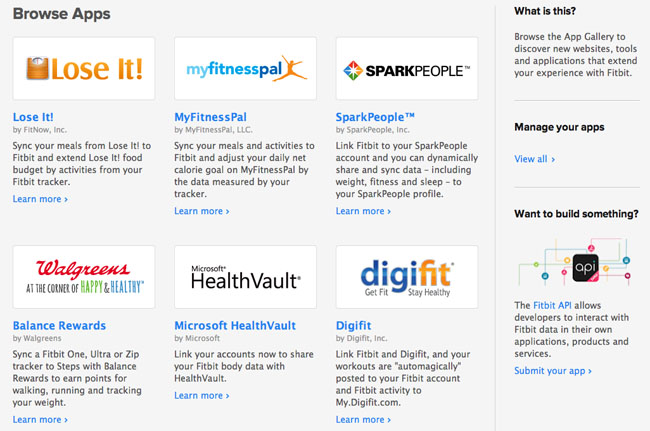 Just a few of the apps with which Fitbit can share its data, alternatively, build your own and send it in
The other issue with the strap was to do with my own mistaken expectations for a wearable fitness device. I'd seen heart rate on the Dashboard section, but this has be entered in manually - having taken your own readings by whatever means. The same goes for blood pressure and glucose too. So I was somewhat dismayed when I realised there was no pulse-monitoring function, as I would have been fascinated by the variations in heart rate throughout the course of the day. Alas, this level of sophistication is currently lacking on the majority of mainstream wearable tech.
The Reg Verdict
For those with serious health issues or figure-focused fitness fanatics, for £40 a year, the Fitbit premium service delivers some tidily presented stats based on your exercise and diet regimes, along with suggestions and training plans. However, if you want to get even more obsessive, using other devices – such as the Withings Blood Pressure Monitor and the new Pulse tracker or even curiosities such as the Zensorium Tinké – might come in handy to get a fuller picture.
Yet all this gadgetry comes at a cost and the Fitbit Flex isn't exactly a bargain at £80. Still, the range of logging features along with those colourful graphics does Fitbit some credit, if you need to benchmark your physical prowess. That said, the food listings really needs sorting out to reflect UK shopping, as this will go some way in taking the tedium out of the calorie-counting exercise. ®