Original URL: https://www.theregister.co.uk/2013/07/02/object_wars_inside_emc/
Sources mutter of 'disarray' among EMC's quadruple object products
'Come off it, we're set to hit a $1bn bullseye', insist company chiefs
Posted in Storage, 2nd July 2013 14:57 GMT
Two EMC insiders whisper to The Register that all is not well at the storage biz. They claim that EMC's object storage strategy is in complete disarray and that senior execs are locking horns over the wreckage. EMC, meanwhile, contends that its current multi-product, multi-teamed object storage strategy is working perfectly well.
The storage firm's spokesman told El Reg: "We've never had a plan to merge Isilon and Atmos (or Centera). The firm added: "Both business units have been performing well and we expect them to continue to drive growth for EMC."
One individual familiar with the matter told the Register:
"EMC's strategy for Object with Centera, Atmos, Isilon, and now ViPR is confusing, flawed, and inefficient … and causing internal fireworks."
The Isilon and Atmos strategies are "a complete internal crapshow" with lots of "wasted time … internal fights … late-night bitch sessions … and a complete lack of respect for shareholder value."
EMC has four object storage products and technologies:
1. Centera, its original content-addressable store (CAS) for fixed content, with a proprietary API access protocol. It was part of EMC's Backup and Recovery Systems (BRS) division which is run by EMC president Guy Churchward. Now Centera is part of the Advanced Software Division's product set.
2. Atmos, its newer scale-out object storage product, supporting the REST protocol and for fixed and mutable business content. It was also part of the BRS product set and is now in ASD. It is intended for public cloud storage with a globally distributed architecture and Amazon S3 compatibility. Atmos had Centera CAS support added in June, 2011, and has geo-synchronisation and secure multi-tenancy functionality which Isilon does not.
3. Isilon, its scale-out NAS product that is having an object storage capability added to it through ViPR. EMC states: "This integration opens up new options for access to object storage APIs from Amazon S3, EMC Atmos and others.
OneFS now incorporates a REST Object Access to Namespace interface which provides access to data and is part of the Platform API which enables automation, orchestration and management of Isilon storage. For customers that are deploying the OpenStack ecosystem and want to leverage this integration with storage, Isilon will be supporting OpenStack Swift and Cinder integration, delivering an enterprise class storage solution, increasing reliability, security, efficiency and enterprise interoperability."
The Isilon product is owned by the Isilon Systems Division, run by president Bill Richter.
4. ViPR, its heterogeneous storage management and access layer that virtualises storage provided by VMAX, VNX, Isilon, Atmos and NetApp arrays, presenting it as virtual file, block or object storage using its own object storage software. This is a product in the relatively new Advanced Software Division (ASD) run by Amitabh Srivastava. ASD has gained ownership of the Atmos and Centera products. However, BRS sells Atmos and Centera as archival storage but doesn't sell the policy-driven software-defined ViPR product.
EMC states: "ViPR Object Data Services will provide Amazon S3 and OpenStack Swift compatible REST APIs and HDFS access methods — existing software applications written to these APIs should run seamlessly. ViPR Object Data Services will support existing EMC Atmos, EMC VNX and EMC Isilon arrays as a persistence layer in addition to third party arrays and commodity hardware."
With ViPR, HDFS object storage can be provisioned from VMSX, VNX and Isilon arrays, as an EMC March 2013 Strategic Update slide shows: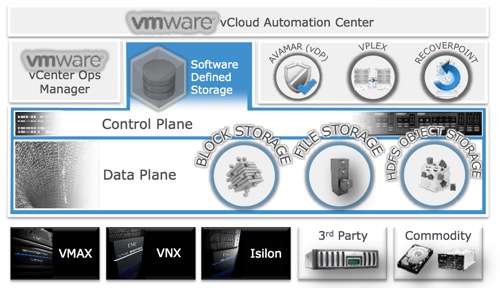 EMC president & COO David Goulden - Slide 34 from March 2013 Strategic Update deck
At present ViPR object data services are not shipping. In effect, as a second EMC insider told us: "The Advanced Software Division has all the object storage assets. BRS sells some of them, Isilon uses one of them."
EMC sales reps belong to its business divisions. So a customer looking to talk directly with EMC about object storage can potentially talk to two reps - from Backup Recovery Systems (BRS) and Isilon Storage Division (ISD). It's confusing. Our source tells us that this multi-product, multi-division object overlap is causing fireworks within EMC. For example:
If you want to get an earful, call up an EMC BRS rep and tell them that Isilon is going to replace one of their Centeras. If you want to see some fireworks, call up an Isilon rep and tell them their Isilon campaign was replaced with Atmos.
Our first source added:
I know that EMC paints this picture of overlapping products "on purpose" and it's not necessarily a bad strategy overall; however, the infighting over Atmos (and Centera) and Isilon positioning is awful. It is way worse than Clarion versus Symm; worse than Avamar versus Data Domain, and so on.
Our source continued: "Isilon's biggest competition comes from EMC's BRS division" and that internal inter-divisional battles over this at EMC are sometimes played out in front of customers.
We're told by a second EMC insider: "I wouldn't be surprised if they were fighting. EMC is very Darwinian … [There's] nothing like putting one purchase order in front of two people with a sales quota to watch the fur fly."
The overlap, our second insider said, is deliberate:"The thing about overlapping products is the company won't leave a gap anywhere where a competitor can grow unchallenged."
Moreover, according to the insider, Atmos and Isilon use-case positioning is, "...very clear; Atmos when you need geo-distribution, Isilon + ViPR when you want to access existing NAS data via object interface."
Atmos, Centera and Isilon product merge... and EMC responds
El Reg understands that, when EMC acquired Isilon back in late 2010, Atmos and Isilon would be merged. This later, with Atmos getting Centera CAS support in mid-2011, meant Isilon hardware and software could be used for both Atmos and Centera use cases.
Our first EMC source said: "It then became apparent that merging the platforms was going to take longer than expected because important functions of each platform were developed at different layers in the software stack. The strategy to merge Isilon and Atmos (and Centera) is still in place; however, until it actually happens within the next 18 months, EMC is not willing to shitcan the positioning of Atmos nor Centera due to customers that have invested in those platforms."
The source added:
You can't go and tell AT&T that Atmos is EOL'd when EMC force fed them Atmos for 10 years before it actually started working and creating a revenue stream. Likewise, you can't go to BOA and tell them that Centera is shit-canned and the data we promised to store and protect for 20+ years is EOL'ing after just 10 years.
EMC's official blogger, The Virtual Geek, wrote:
Out of the gate (and many will jump to erroneous conclusions) there are certain use cases that today only Atmos 2.0 covers (and ViPR does not cover yet), and Centera covers (until Centera APIs merge with Atmos). That said, it's obvious that over time, it's in our customers' best interests (as well as those of EMC) to merge EMC object stack implementations.
El Reg's storage desk understands that Centera and Atmos are not long-term strategic products. However, merging them together with Isilon would threaten EMC's existing revenue streams right when Amazon cloud storage is growing and growing.
ViPR could be the object abstraction layer under which Centera, Atmos and Isilon could eventually be combined into one product. That would rely on ViPR becoming the management layer for all three products so that customer migrations would take place gracefully underneath the ViPR comfort blanket.
At present we're told by our first source that the overview positioning is simplistic:
Customer wants object - sell Atmos
Customer wants CAS - sell Centera
Customer wants NAS - sell Isilon.
Typically customers have a long list of things they want and the lists don't boil down to either object, CAS or NAS. Our source says:
"A customer opportunity can have 25 requirements of which 23 are perfect fits for Isilon, and one of the other two requirements merely mention something that Atmos can do; then EMC, the customer, and multiple divisions and overlays debate for days, sometimes weeks, on which product to sell."
Isilonic disruption and potential
Data Domain's growth is tailing off, due to the competition catching up technically and also because of the increasing prevalence of rich media sets - pictures, audio, video - which don't dedupe as well as ordinary data. The use of encryption and compression is also lowering Data Domain's effective dedupe ration, making the product less attractive.
Isilon is seen as a bit of a cuckoo in EMC's nest, according to our first source: "Isilon is cannibalizing [both] Data Domain and Atmos. And a wide variety of customers are choosing Commvault dedupe with Isilon backends which adds to the internal BRS frustration with ISD."
From this viewpoint, a dysfunctional EMC, our first source said, "is getting crushed by Amazon", which is currently estimated to have $2bn+ in storage sales. Amazon expects a 65 per cent growth in storage revenue in each of the next 2-3 years, which will make them a top 3 player in the storage industry.
Fearful of falling behind the former booksellers, EMC keeps Centera and Atmos alive, says our first source: "Instead of loosening the reins on the Isilon product set and expediting R&D to close product gaps, EMC has chosen to overlap products which has caused way more friction and inefficiency that ever expected."
What should EMC do? Isilon has far more potential than either Centera or Atmos, and yet, says our source, the company is dithering: "Isilon is a billion dollar product line at this point and growing at 50-60 per cent. Both Atmos and Centera are sub-$100m products … EMC's reluctance to come up with better positioning [is] a frightening waste of shareholder value."
The EMC view
El Reg put our two sources' views to EMC spokesperson Ed Luboja, who responded:
It sounds like what you've tapped into is anecdotal, and coming from a non-objective source, an individual with a limited or skewed point of view. The sentiment coming from your sources isn't consistent with what we're seeing in the mainstream selling motion of the Isilon and BRS teams – one is focused on the Scale-Out NAS opportunity, the other on Backup. Both business units have been performing well and we expect them to continue to drive growth for EMC.

We're not going to comment on anecdotal gossip, but specifically on object storage. ViPR objects will support Atmos APIs on day one and you can expect those two to come together over time and (of course) we'll take all of our existing customers with us. It's pretty straightforward to then implement the Centera API. I think Chad's EMC World blog on ViPR also covered this off.

BTW, we've never had a plan to merge Isilon and Atmos (or Centera!). We did say, when we acquired Isilon, that Isilon and Atmos combined would hit a billion dollar "Big Data Storage" run rate within 18 months.
Our source talks of a huge threat posed by Amazon and suggests that EMC has not best positioned its products to respond effectively. EMC's response would, of course, negate that idea. ®