Original URL: https://www.theregister.co.uk/2013/06/28/windows_8_point_one_review/
Windows 8.1: So it's, er, half-speed ahead for Microsoft's Plan A
A desktop failure gambling on slablet success
Posted in Software, 28th June 2013 13:13 GMT
Review Following approximately one year after the release to manufacturing of Windows 8.0, which incorporated some radical changes, based around a new tablet platform running alongside the traditional desktop environment, Windows 8.1 is a critical release.
Most Windows users have not warmed to the platform variously called Metro, Modern or Windows Runtime. Microsoft designed Windows 8.0 so that users cannot altogether ignore the Modern environment, even if they run only desktop applications. Moves like replacing the familiar Start menu with a Start screen and putting essential features like Shutdown in a somewhat hidden Charms menu were confusing and added little value to users without touch screens.
Neither has the new app platform been a storming success, with a shortage of high quality apps. Desktop users have been puzzled by the chunky, blocky graphics which characterise the Modern platform and which look out of place on large screens controlled by keyboard and mouse.
Microsoft's task with Windows 8.1 is to make the operating system more accommodating to users with no interest in Metro, while also improving the tablet side to inject some life into the struggling Modern app ecosystem. Although that seems a big ask, it is worth noting that Windows 8.0 shares the same core code as the well-regarded Windows Server 2012, suggesting that there is a solid base. Further, if you disregard the noise of Start menu debates, there is obvious merit in concepts like sandboxed apps easily deployed from an app store, and a platform designed from the beginning for touch control.
This review is written on one of the Surface Pro devices given to Build attendees and upgraded to Windows 8.1 preview.
A better desktop experience
Even those who love the Modern user interface (and there are examples here at Build) will admit that most real work currently has to take place in the traditional desktop environment, where apps like Microsoft Office and Visual Studio run.
Changes in Windows 8.1 mean that desktop users get a smoother experience. Right-click the taskbar, choose properties, and you can set options to boot directly to the desktop, and to show desktop applications first in the Start screen. You can also default to a grouped view in the Start screen which is close to the old Start menu application groups, though names are annoyingly truncated (I have three identical shortcuts called "VS2013 Preview x...", for example).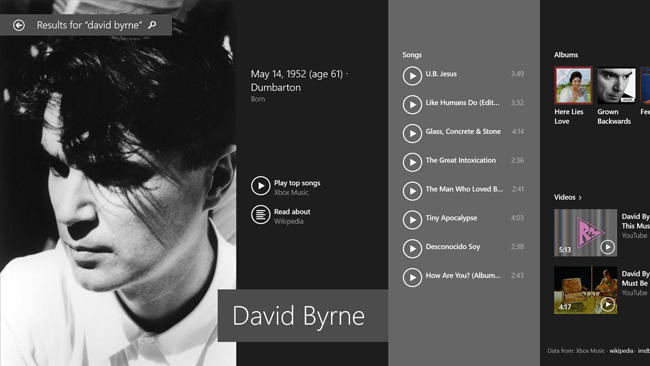 More than ever, search is the primary means of navigation and there's integration with Bing APIs
More significant is that many searches no longer require a full-screen view. Imagine you are running Word, for example, and wish to launch Excel. Both are desktop apps, so showing the Start screen is jarring. Now you can press Win-S, type Excel, and select the app from a right-hand panel without leaving the desktop.
The Start button is now always visible, but still takes you to the Start screen, so it is a point of familiarity for new users rather than a major UI change. The Win-X administrative menu, also available by right-clicking the Start button, now includes Shut down and PowerShell.
Enough to placate desktop-only users? It is a smoother experience, but Start menu replacements will still find a market.
Live Tiles and search
Microsoft's publicity has made much of Windows 8 Live Tiles, though I am not a fan. You rarely see them, and when you do they are as likely to be annoying as useful. In Windows 8.1 you will see them even less often, since apps do not install Tiles on the Start menu by default, but only when promoted from the All Apps view by the user. In other words, it is now a kind of favourites list, which means less clutter. There are also new size options for Live Tiles, and it is easier to customize with your own named groups.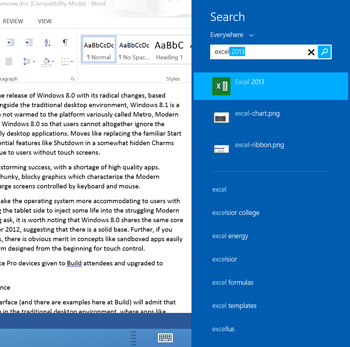 The Search panel lets you launch most apps without the Start screen
In Windows 8.1 though, Search is more than ever the primary means of navigation. There is a new Search app which forms a demonstration of Microsoft's concept of Bing as a platform, introduced here at Build, meaning that any application can now call Bing APIs. The Search app is the easiest way to find apps, documents, settings, and to search the web. Search scope defaults to Everywhere, which sounds confusing but turns out to be a natural way to find your stuff. Apps that are searchable, such as that for Wikipedia, are included.
The Search app also constructs a rich presentation on the fly, so that if you search for a pop star, you will get photos, biography and multimedia in the results. That is fluff, but integrated search across local and web results is genuinely useful. The effort is spoilt by oddities like the fact that the Calendar app is not searchable, so you will not see your appointments in a search.
A consequence of this change is that searching within an app from the Charms menu is more difficult. Microsoft has introduced an in-app search control, so you can expect searchable apps to include search within the visible user interface rather than relying on the system search option.
App platform changes
If Windows 8.1 is judged by its desktop features, it will have failed. Here at Build, it is clear that Microsoft's strategy remains centered on the Modern platform. You can say I suppose that this is now version 1.1 rather than 1.0, and it is considerably refined. In Windows 8.0 apps display in fixed sizes: full screen, or most of the screen, or a snapped view docked to the side. Windows 8.1 abandons the snapped view, allowing you to resize apps freely (but only horizontally). You can display up to four apps side by side per screen, if your screens are large enough. Apps can also support multiple monitors, displaying different views on each. With multiple windows and resizable windows, the Modern platform comes a little closer to the flexibility of the desktop.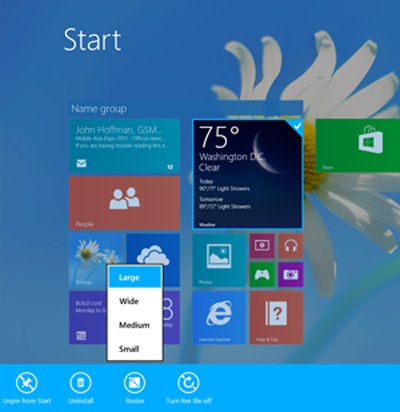 Live Tiles now come in more sizes
The API for the Windows Runtime is considerably extended, including new controls such as Hub, Flyout, CommandBar, DatePicker and Hyperlink. A severe Z-order bug in the Web View has been fixed, raising a cheer from Build attendees. The DirectX API is extended.
Another key change is that apps downloaded from the Windows Store can now update automatically, subject to user control. The Store itself has a new look and easier navigation.
Internet Explorer 11
Delivered as part of Windows 8.1, Internet Explorer 11 supports WebGL, a standard previously opposed by Microsoft on security grounds, enabling hardware accelerated graphics in the browser without a plug-in. DRM support for web video means that sites like Netflix can also deliver content without a plug-in. There are still two browsers in Windows 8.1, one for the desktop and one for the Modern environment, with no integration between them, though they share the same rendering engine. Improved touch support in IE 11 means you can use awkward controls like hover menus. You can open up to 100 tabs per window, with tabs suspended when not in use for efficient use of memory and CPU.
Enterprise features
On the business side, Windows 8.1 packs in a range of new features, some of which depend on Server 2012 R2. Workplace Join gives IT administrators some control over devices accessing business resources without requiring full domain join.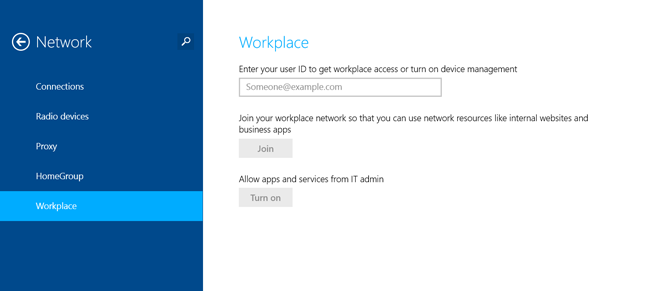 Workplace Join is a middle ground between Domain Join and unmanaged devices
Work folders allow users to synch their user data to machines that are not domain joined, subject to certain policies, and this data can be remote wiped if necessary. There is built-in VPN support for several clients including CheckPoint and Sonicwall. All editions of Windows 8.1 (including consumer) now support device encryption.
Other features
An eye-catching addition to Windows 8.1 is integrated support for 3D printers. The effect is that applications will be able to support 3D printing directly, rather than users having to run a dedicated application for each printer.
SkyDrive, Microsoft's cloud storage service, is now baked more deeply into Windows. Many settings are stored in SkyDrive and roam to other Windows 8 machines which use the same Microsoft account. There is an option to have the File Save dialog always default to SkyDrive. The Modern SkyDrive app now supports offline use, like the desktop version, and shares the same store.
A common Windows 8.0 complaint is that settings are split between the Desktop Control Panel and the Modern UI PC Settings. Microsoft has extended the latter, reducing the need to run Control Panel, though it is still not comprehensive.
Where next for Windows?
Step back from the Build activities and you can observe a disconnect between the content of the sessions, where the Modern platform dominates, and the real-world usage of Windows, where the desktop dominates. That disconnect cannot continue forever. There does not seem to be a plan B, and if Microsoft fails to establish the new platform it is unclear how Windows can progress.
In this context, Windows 8.1 is a smart move. It is a smoother experience for desktop users, which may win over users previously reluctant to move from Windows 7. The operating system as a whole feels more coherent; the dual personality remains, but does not get in the way to the same extent.
At the same time, Microsoft's commitment to the Modern platform does limit the appeal of Windows 8 for users who are content with Desktop apps. Another issue is that Windows 8.x devices will continue to be awkward and expensive hybrids, until the Modern platform is well enough supported that tablet-only usage is viable.
The future of Windows remains hard to predict, but 8.1 is a big improvement and makes the first release feel rough and ready in comparison. You can get Windows 8.1 Preview here, though note Microsoft's warning that this is not intended for general use and in most cases will require an eventual full reinstall. ®