Original URL: https://www.theregister.co.uk/2013/06/27/wargames_imsai_machine_for_sale_again/
WarGames IMSAI machine for sale (again)
A real piece of apocryphal computer history
Posted in Bootnotes, 27th June 2013 05:30 GMT
If you have a yearning for the days when "modem" meant something you attached to the telephone with an acoustic coupler, and dreamed that you too could take over NORAD's machines to launch a war, the "microcomputer" from the movie WarGames is for sale.
Actually, it's for sale for the second time: Thomas "Todd" Fischer of IMSAI which built the machine and its associated setup for the movie, put it up at Christie's in 2011, but pulled the offering for fear that the machine wouldn't survive shipping to London.
But he's decided to let it go – with "associated props and provenance" – if the price is right. The associated props include the keyboard modem used in the movie (interestingly, while a real acoustic coupler of the day would have limped along at 300 baud, they actually used 1200 baud so that the action wouldn't halt completely).
All that's missing, Fischer says, is the original dual floppy drive used in the movie, which didn't survive shipping.
Fischer believes its current value is in the order of $US25,000, making it a stupendously expensive 8080-based machine.
Fischer has a history page for the WarGames IMSAI here. While he says it can still be booted, it won't run "Global Thermonuclear War" because, as those who remember the movie will know, that program ran on the fictional WOPR supercomputer.
A hat-tip to the FatDuckTech blog. ®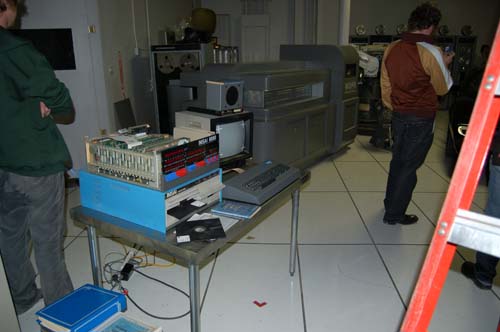 Vintage iron, complete with acoustic modem: the WarGames IMSAI computer for sale