Original URL: https://www.theregister.co.uk/2013/06/27/intel_chipping_away_at_objects/
Intel's taking a serious look at object storage. What's their game?
Decoding Chipzilla's objective for long-term storage
Posted in Storage, 27th June 2013 10:24 GMT
Intel presented at the Next Generation Object Storage Summit and your correspondent had a look at its presentation to figure out what Chipzilla's latest object storage plan is.
It started on the general theme of "the big data flood is overwhelming us". Chipzilla says we need to view the next-generation data centre as a system, with all its components integrated and working together.
Everything revolves around data: access to it, its processing, its protection and its transport. Intel is looking at adding storage-related stuff to its chips to optimise storage transactions.
It aims to provide storage-optimised silicon - and software - for five vertical data centre markets:
Enterprise IT
Cloud service providers
Communication service providers
Technical computing
Intelligent systems.
Chipzilla asserts that the "Evolution of storage to Intelligent and Distributed is a key trend that continues to accelerate," with an "increasing focus on storage as a distributed workload.
Intel sees the relatively basic notions of data centre servers accessing shared file or block storage across a network - NAS or SAN - failing to cope with the immense scaling up of capacity that's coming. Scale-up can't cut it, but scale-out can. Facebook, Google, Amazon and others are the leading edge of what is coming to all large data centres.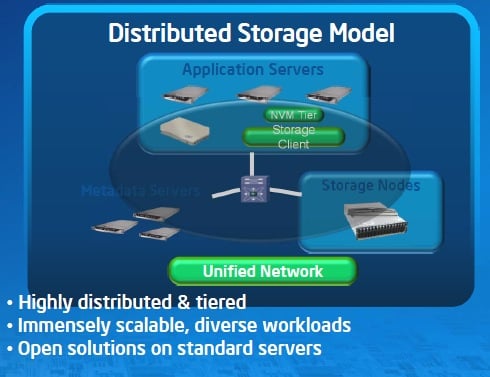 Chipzilla sees the storage components in a data centre branching out into into solid state storage client systems, metadata servers and a set of storage nodes - a distributed storage model. This trifecta, it tells us, is good for five intelligent, distributed storage models:
Business database, OLTP, OLAP - eg, Oracle DB
Application data like the web, email and VM/boot - eg, Amazon EBS
Business intelligence, large relational database management, large analytics - eg, Hadoop
Fast data for high performance compute - eg, Lustre
"Mass"-ive data, large object storage (LOS), backup and archive - eg, Amazon S3
(A side note from El Reg's storage desk: Intel is not interested in tape storage for archive. For one thing, it needs relatively few Intel chips. If every tape reel contained an Atom processor and some Intel flash, its perspective on tape would change remarkably)
Intel asserts that "the Massive data usage model using LOS will be the foundation for all long term storage."
What the x86 giant is doing to help make this happen includes a LOS reference architecture, developed with the help of Quanta and Amplidata, and intended for use by ODMs, OEMs and ISVs.
There was a demo rack embodying this shown at IDF 2013: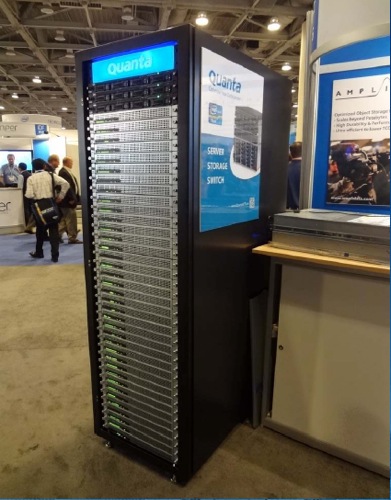 Intel LOS demo rack at IDF 2013
This was a 40-node beast, with 37 storage nodes and 3 controller nodes, and 888TB of capacity.
Intel has an Intelligent Storage Acceleration Library (ISA-L), with algorithms that enhance efficiency, data integrity, security/encryption, when the processor is computing things like SHA-1, SHA-256 and MD5 multi-buffer hashing functions.
Chipzilla says: "ISA-L enables Storage OEMs to obtain more performance from Intel CPUs and reduce investment in developing their own optimisations."
Its flash Cache Acceleration Software is also involved. Intel has devised a prototype Cloud Object Storage test bench called COSBench for its ODM/OEM/ISV customers to use when testing object storage system performance.
From the above link we learn: "COSBench now supports OpenStack Swift and Amplidata v2.3, 2.5 and 3.1, as well as custom adaptors."
Intel is also adding object storage-style erasure coding to Swift, the OpenStack object storage scheme. For Intel, object storage is the preferred storage system for long-term disk-based storage and it wants its chips - and other products - used in data centres that implement object storage.
One strand of thought looks at this and asks, "Who is it Intel fighting here?" Is it pushing back against tape stalwarts, other chip suppliers such as AMD, ARM, IBM Power and Oracle/Fujitsu Sparc, or both? With Intel's revenues at $53bn in fiscal 2012, the odd couple of million spent on object storage to ensure its products are used in object storage is but a single molecule in the ocean that is Intel's revenues. ®