Original URL: https://www.theregister.co.uk/2013/06/21/supermoon_on_sunday/
Sunday's night sky to be flooded by MASSIVE SUPERMOON
This year's closest visit from our lunar partner
Posted in Science, 21st June 2013 21:10 GMT
At 4:32 am PDT on Sunday, the Earth's sole natural satellite will appear as large as it will get this year as it swings through 2013's closest orbital distance – but if you're not in the San Francisco Vulture Annex's time zone, you may also be lucky enough to get your own lunar treat at a time appropriate to your location.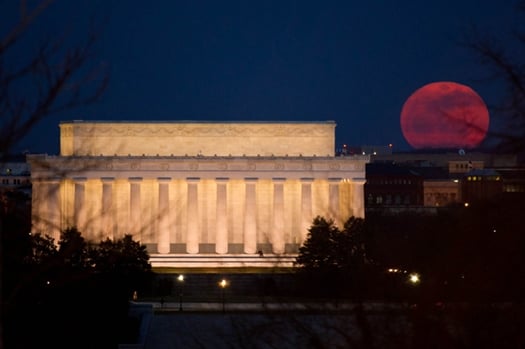 Washington DC bathed in the light of the 2011 supermoon
The supermoon, or Super Perigee Moon to give it its scientific name, will appear to be 30 per cent brighter and 14 per cent larger than normal as it comes within 221,824 miles of Earth. Such close encounters have been supposed over the centuries to cause everything from earthquakes to spontaneous madness, but NASA says there's nothing to worry about.
"The Earth has stored a tremendous amount of internal energy within its thin outer shell or crust, and the small differences in the tidal forces exerted by the moon (and sun) are not enough to fundamentally overcome the much larger forces within the planet due to convection (and other aspects of the internal energy balance that drives plate tectonics)," NASA says.
"Nonetheless, these supermoon times remind us of the effect of our 'Africa-sized' nearest neighbor on our lives, affecting ocean tides and contributing to many cultural aspects of our lives (as a visible aspect of how our planet is part of the solar system and space)."
Not that a supermoon is any friend of most of the astronomy community. Having a bright object in the sky causes light pollution that makes the job of Earth-bound telescopes that much harder. But it does also offer moon-gazers a great opportunity for some superb photography, like this recent image of the ISS from Romanian astrophotographer Maximilian Teodorescu.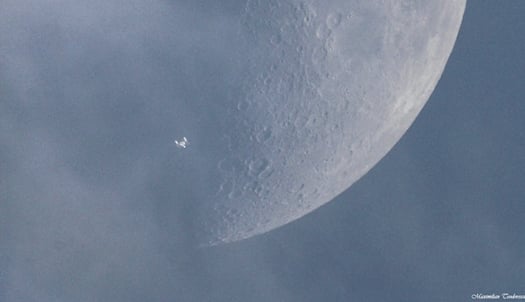 The ISS looking like it should have a Vulcan on board
The moon's distance to Earth only varies about 50,000 miles at any point in the year, but it's still a good time for an excuse to stare upwards. To fool yourself into thinking that you're viewing the largest possible supermoon, the best place to be is as sea level with clear skies. It'll be no bigger than it is when at its zenith, but the well-known "moon illusion" will pleasantly mess with your head.
Viewers in the UK, unfortunately, will be in daylight for the moon's closest pass, but Slooh Space Camera will broadcast the event live from the Atlantic. ®