Original URL: https://www.theregister.co.uk/2013/06/19/two_detained_after_apple_store_raid_attempt/
AXE-WAVING BIKER GANG SMASHES into swanky Apple UK store
Pair cuffed after helicopter chase sparked by Cupertino idiot-tax-avoiding raid
Posted in The Channel, 19th June 2013 12:56 GMT
Pic Cops have arrested two men following a failed "smash and grab" robbery at Apple's flagship store on Regent Street, London.
Detectives want to hear from anyone who may have witnessed the incident, which took place at 1am on Tuesday morning.
Officers told The Register that up to eight people may have been involved in the attempted burglary. Cops said the gang used an axe to smash through a glass door, but were chased off by the fruity firm's security team.
The gang then sped off on a number of scooters, forcing the police to scramble a helicopter to find them.
Two men, aged 21 and 18, were later cuffed in the fashionable North London borough of Islington: the pair are still being quizzed by the plod.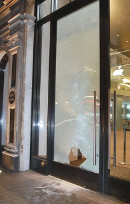 Damage to the shop window
They were both arrested on suspicion of aggravated attempted burglary and dangerous driving, although the two have not yet been charged with any offence.
Anyone with any infomation on the attempted break-in should call the Westminster division of the Metropolitan Police's Serious Acquisitive Crime Unit via 101. Anonymous tipsters can ring the confidential Crimestoppers hotline on 0800 555 111 instead. ®