Original URL: https://www.theregister.co.uk/2013/06/19/game_theory_last_of_us_ps3/
Out with a bang: The Last of Us lets PS3 exit with head held high
The current generation of consoles can still thrill
Posted in Personal Tech, 19th June 2013 07:04 GMT
Game Theory I'll soon be offering my thoughts and reflections on this year's E3, but before all that it seemed worth waxing lyrical about new PS3 exclusive The Last of Us, a game that points the way to what the next generation should really be aspiring to do.
Gaming's Citizen Kane moment? Maybe, if Mr Kane was being chased by zombies.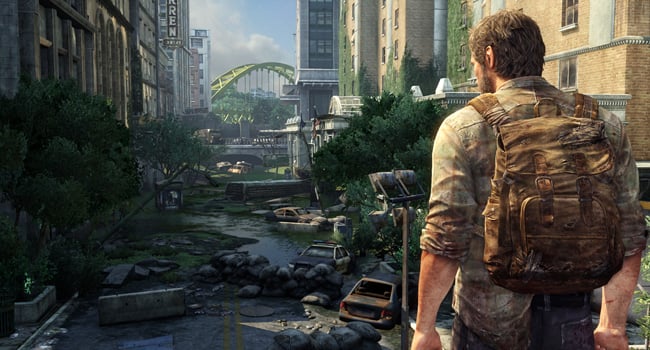 Streetfighting man
You stalk your prey silently, invisibly, hugging the edges of the long-defunct cars and concrete barriers that litter the streets in this rotting world. Your target, a Hunter on patrol, is carrying a shotgun filled with precious ammo, and now, still completely unaware of your presence, he's within range. You keep low, take careful aim and fire.
Darn, missed! Before you know it the Hunter has dived behind the nearest cover and has started taking pot-shots at you. You move and fire, avoiding taking any hits but missing yourself and then... "click". You're empty. The Hunter hears the click too and charges. You panic and frantically try to reload but it's too late. The boom of a shotgun is the last sound you hear...
OK, so you'll hopefully excuse my sojourn into creative writing, but describing a typical encounter in The Last of Us seemed about the best way to sum up why it's a bit special – well, one of the ways.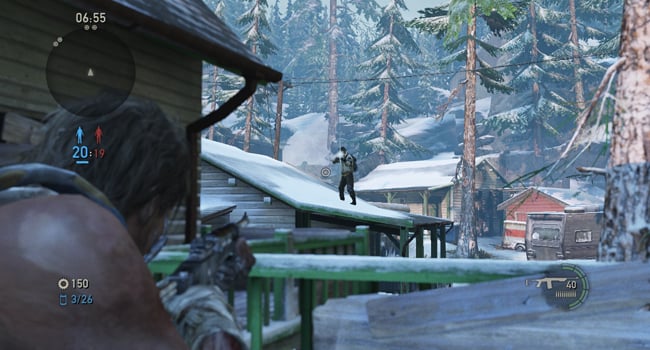 Snow hope
You see, developer Naughty Dog has accomplished almost everything it has attempted with its latest release. That means that the combat is dynamic and rarely predictable, as enemies adapt their strategy on the fly depending on their strength in numbers and your current state of well-being.
The narrative is particularly strong too, managing to avoid the usual clichés of survival horror. It features dialogue that is natural and convincing in a manner rarely accomplished in the medium. Puzzles, meanwhile, don't involve the collection of hexagon-shaped keys, but rather the more prosaic bridging of gaps with wooden planks.
Naughty Dog has been brave enough to allow its title to build up slowly, so allowing room for the characters to develop naturally. The effect is a lack of need for one bombastic boss fight after the next - here's looking at you, RE6 - to keep the player hooked.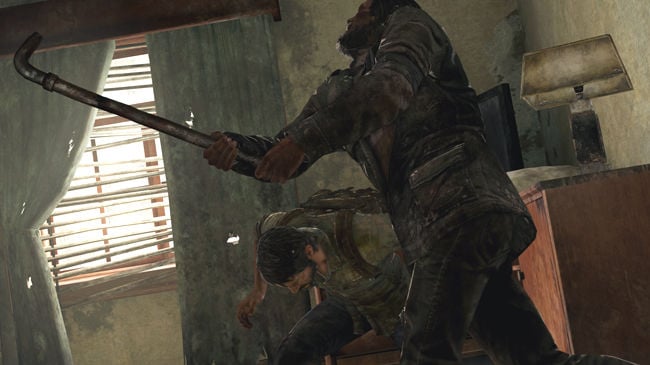 Pipework
Yes, there is action constantly throughout, but encounters are buffered by, well, nothingness really. Just moments of calm used to build suspense and develop narrative and characterisation – two facets of design that are so often discussed by games developers, but are so readily bypassed when the final product hits store shelves.
I've already described a typical encounter with human Hunters, but then there are the fungus-engulfed zombies, here known as Clickers, to contend with too. Taking them on is ever stressful, for not only will the matured ones insta-kill you, but the fact they're blind – but possessed of a bat-like radar – means you're ever looking for that next bottle to throw as a distraction.
It's also here that "Listen Mode" comes into its own, in which character Joel sits stock still as his view turns black and white and the silhouettes of hostiles appear through walls. It's an essential tool to use if you're to guide him through situations where he's hopelessly outnumbered.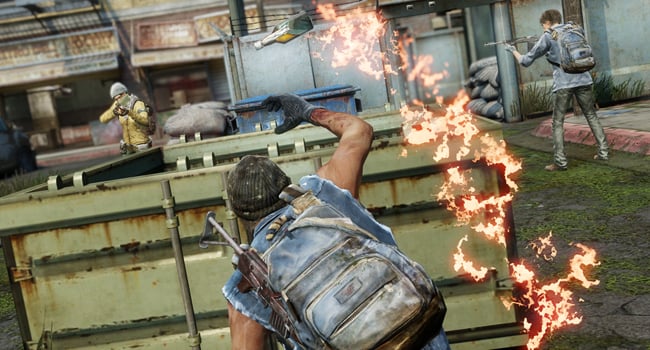 Serving cocktails
The game is not without its share of flaws, however. Ellie and other NPCs get blocked off by Joel a little too often for believability to be maintained, for example. Enemies have the nasty habit of often looking straight through Ellie, disregarding her if she's not in cover - as long as Joel is. Such issues are perhaps unavoidable in such an intricately woven game and easily overlooked.
World War Me
Then there's the additional offering of "Factions", an online survivalist mode where you look to scavenge enough materials to build a colony, with each member named after your Facebook friends if you'd like.
Interestingly, it's tied into a day-by-day narrative that moves on after each encounter, so rolling on the weeks and months. As the days pass and your supplies grow the population of your settlement increases, so unlocking more weapons, skills and points to buy them.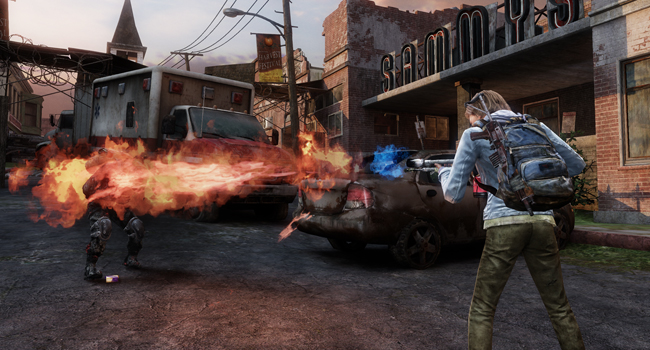 Flame of the week
Once you're engaged against a rival team – you can chose between the Fireflies and Hunters from the campaign – you'll find yourself engaged in four-on-four deathmatch that plays like a slowed down version of Gears of War, albeit with elements of Counter-Strike, as you buy ammo and equipment between respawns, and even including components of the main game as players search for supplies and craft med kits, Molotov Cocktails and such.
It's slow, tactical and death comes fast once you're under fire. Maps are on the small side but offer plenty of layers to explore, while stealth plays a big part – you're utterly undetectable when standing still to the enemy, even if they are using Listen Mode which would otherwise reveal your location.
As of now there are only two very similar modes of play available: "Survivors", which offers no respawns over multiple rounds, and "Supply Raid", a game that pits two teams against each other with 20 lives each.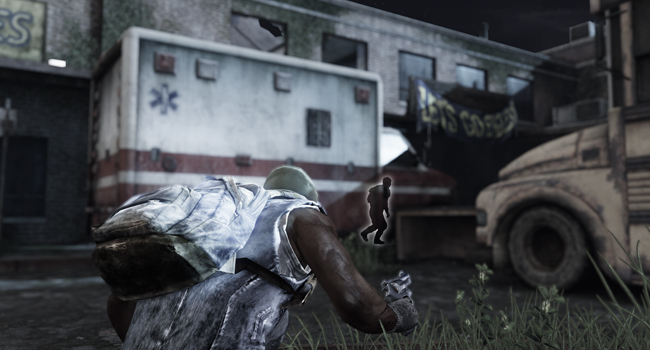 All that listens
It's therefore hard to gauge just how well Factions might do as it inevitably expands. So far I can say I've enjoyed it, however, even become hooked – and that's despite some players having a huge advantage in terms of armaments - their reward for growing their community.
Taken together, campaign and multiplayer makes for a compelling package that makes a mockery of the so-called next generation by offering an experience on current technology that looks to elevate story-driven gaming to a new echelon. Perhaps not quite gaming's Citizen Kane moment as has been mooted, but certainly a pointer to the quality of design we really should be demanding of our action games.

Remember Me
A quick word on the other notable action game released recently: the cross-console Remember Me. It's a title that unfortunately frustrates as much as it delights. With its startlingly designed setting of Neo-Paris that impresses as it invokes memories of Blade Runner – at least until you realise that the game's heroine, Nilin, is almost totally removed from it.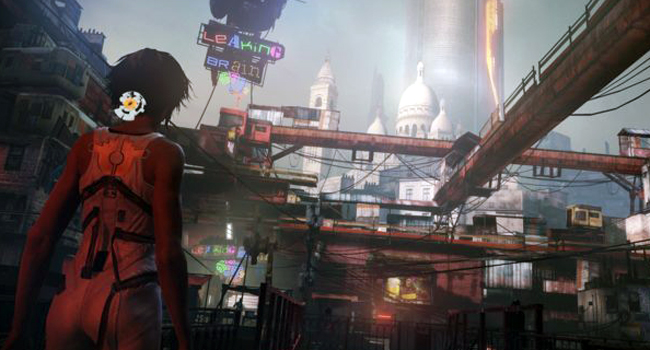 More tech noir
Similarly, its best selling point – the idea that you can hack the brains of certain characters, Inception-style, and reminiscent of the brilliant Ghost Trick: Phantom Detective – is never implemented as well, or as often, as you'd like. The gimmick being too telegraphed to offer any real challenge, as you fast-forward and rewind the memories of others to twist them to your advantage.
Finally, there's the ambitiously customisable combo-based fighting system that allows you to link up fighting styles - here called "Pressens" - that allow Nilin to heal, or boost the strength of her next move, in the midst of combat.
Alas it too is flawed, as it's coupled to an ultimately limited fighting system that tries to mimic Arkham City's free-flowing style without ever really coming close. The fact that enemies will often land soft-punches that throw your combos off kilter proving particularly galling.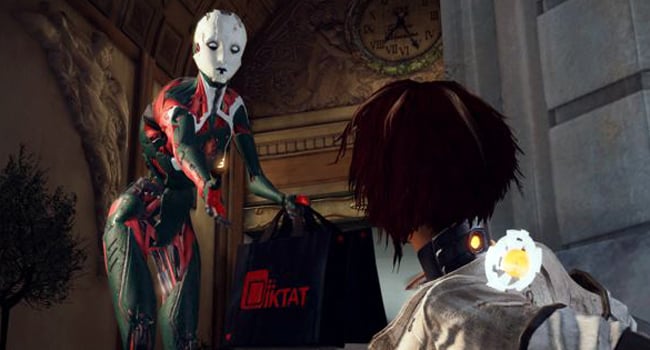 Dreaming androids?
Remember Me is a game that highlights the fine line between the great and the merely OK. With more time in development, there's a chance that we might have seen a game the equal of Rocksteady's Batman series. Unfortunately, we're instead presented with a game of many good ideas that just falls short of combining them into a cohesive and rewarding experience. ®