Original URL: http://www.theregister.co.uk/2013/06/14/review_belkin_thunderbolt_express_dock/
Review: Belkin Thunderbolt Express Dock
Missing Mac ports reunited, for a price
Posted in Personal Tech, 14th June 2013 12:06 GMT
Apple WWDC If the word from the Apple WWDC is to be believed, we're just months away from hooking up all our peripherals using Thunderbolt 2 cables. Funny that, as I thought this was supposed to happen when the original Thunderbolt ports appeared on Macs back in 2011.
Even though this Apple-Intel interface love-in can be found on PCs too, albeit a rare sight, the range of peripherals supporting Thunderbolt is shockingly low for this two-year-old high-speed interface, which is capable of 10Gbps transfer rates, a figure that's set to double later this year.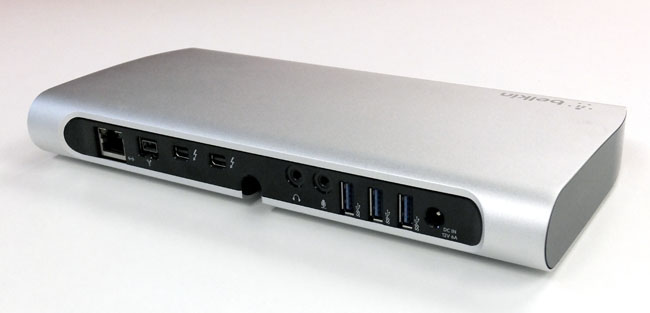 Belkin Thunderbolt Express Dock brings the interfacing you've been missing
In essence, Thunderbolt is an interesting mix of PCI Express bus data and DisplayPort (DP) signals wrapped up in a mini DP connector. It's unsurprising that Apple's own 27in Thunderbolt display appeared as one of the earliest hardware examples to demonstrate the interface's flexibility, besides the fast and furious Pegasus RAID storage from Promise. Not only did a single cable deliver the picture on the screen but round the back was an array of different ports amounting to an extremely versatile hub: USB, FireWire, Ethernet and another Thunderbolt port for daisy-chaining.
Forget the monitor, this is what we want and, indeed, this is what we've got and more with the Belkin Express Dock.
For those MacBook users bemoaning the loss of FireWire and Ethernet, who could do with some extra USB 3.0 ports, the Belkin Express Dock seems like an answer to a prayer, but it has been a long time coming. Belkin announced the Express Dock at the Intel Developer Forum in 2011. A redesign was unveiled at Computex in June 2012 with worldwide availability set for September 2012, which at CES this year shifted to Q1 2013. It's only just started shipping in Europe which seems to be the way with Thunderbolt products. External hard drives only really came on stream from the likes of G-RAID, WD and LaCie last year, again after a long wait too.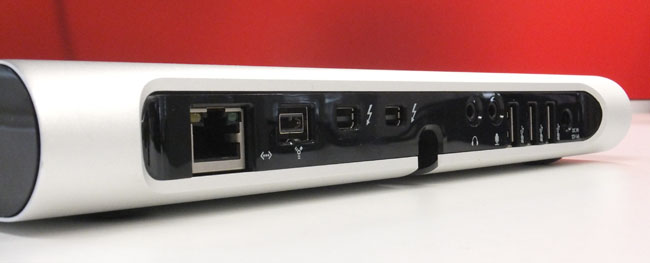 In the centre at the bottom is a channel to feed cables through to the front, if that suits you
Given what the Express Dock promises, it's likely to have caused a few headaches for Belkin as it has three USB 3.0 ports, unlike Apple's Thunderbolt Display which has three USB 2.0 ports. Incidentally, the Apple monitor also features a high-definition webcam, mic and speakers. As far as AV goes, Belkin includes separate mic and headphone sockets for 3.5mm jacks. A webcam is absent, of course. After all, the Express Dock is aimed at MacBook users, many of whom will welcome the gigabit Ethernet and the FireWire 800 port for legacy gear.
There are two Thunderbolt ports, one to hook up to the host device and the other to link up to other Thunderbolt peripherals - you can daisy-chain up to five more devices. It's like SCSI FireWire all over again, sort of. The unit needs quite a sizeable power supply that delivers a hefty 6A output at 12V; that's more than enough to keep those USB ports happy. Somewhat predictably, a Thunderbolt cable is not included in the box.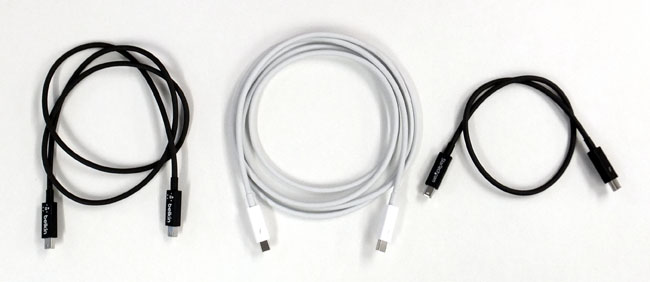 Thunderbolt cables from Belkin, Apple and StarTech: total cost £100. Perhaps another reason perhaps for the dearth of peripherals?
At £35 a throw, Belkin, just like every other Thunderbolt device manufacturer, does not want to hike the price of the product for the sake of improving the out-of-the-box customer experience by including a cable. Those unfamiliar with Thunderbolt's cable costs are in for a nasty surprise: not only when they open the box but when they discover there's no such thing as a cheap Thunderbolt cable. Shop around and you'll find Startech's offering is probably your best bet at the moment at £30 on Amazon.
Data distribution
Belkin's site declares the Express Dock is compatible with MacBooks and doesn't mention any other Apple Macs. So I tested it out with a Core i5 Mac Mini to see if it would play nice and indeed it did, which isn't too surprising as it has the same chipset as the entry-level 13in MacBook Pro. I didn't have a Thunderbolt MacBook to hand, so it seemed a good enough substitute. A quick blast on a MacBook Air and daisy-chaining to a DisplayPort monitor from the Express dock worked fine along with Ethernet too.

The spacing between ports is about right, but having recessed audio sockets is a bad idea
I also ran Windows 8 via Boot Camp, which Belkin definitely doesn't mention as compatible, and the ports worked fine on there, too. However, it didn't see the daisy-chained HFS+ ThunderBolt drive. File-copying speeds over the Express Dock's USB 3.0 interface to an external flash drive were at best comparable with the Mac tests, but as you can see from the graph below the transfers speeds could fluctuate considerably. Even FireWire copying worked on this makeshift Windows PC.
Just to get an idea of transfer rates I copied across 1GB and 25GB files between various storage interfacing using a G-RAID Thunderbolt drive, for FireWire 800 tests, a G-RAID mini and for USB 3.0 a Kingston HyperX 240GB SSD in an Akasa enclosure. Apple's Activity Monitor was used scrutinise the data rates; while not the most detailed tool it does provide a useful overview of both disk and network speeds. Overall, the results below show the data transfers were in keeping with the capabilities of the storage media tested.
Storage Interfacing Tests

Left, 1GB (copied twice) from Mac HDD to Thunderbolt G-RAID at 212.4MB/s, and right, and a 25GB transfer at 194.4MB/s

1GB (copied twice) (125MB/s) and 25GB (112.2MB/s) from Thunderbolt G-RAID to Mac HDD

1GB (copied twice) (141.6MB/s) and 25GB (142.3MB/s) from Thunderbolt G-RAID to USB 3.0 SSD

1GB (copied twice) (82.2MB/s) and 25GB (81.8MB/s) from Thunderbolt G-RAID to FireWire 800 G-RAID

25GB transfer (at 162.6MB/s) from Thunderbolt G-RAID to itself, and 2 x 25GB (at 144.5MB/s) from Thunderbolt G-RAID to FireWire 800 G-RAID and Mac HDD

Boot Camp Windows 8: 1GB (at 82.3MB/s) and 25GB (91.3MB/s) from Mac HDD to USB 3.0 SSD
Belkin notes that the Apple SuperDrive is not too friendly with the Express Dock, although apparently this is an Apple issue that requires these optical drives to be connected directly to the host. Apparently the SuperDrive has quite a few compatibility/suitability issues among Apple's own gear. As I didn't have a SuperDrive handy I tried something similar, a Plextor PX L611U host powered USB DVD writer.
Express concerns
There were no problems with the Plextor drive though: DVD playback was glitch free with the audio playing from the Express Dock's stereo output. If you're a muso you'll no doubt be disappointed by the mic input: that's mono only and I gave it try with a stereo mic just to be sure. For both input and output, the sample rates available are 44.1kHz and 48kHz with a 16-bit resolution, so we're effectively in CD audio territory here.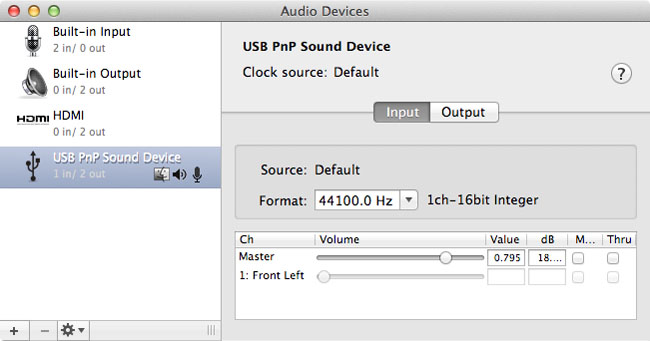 Mic input details in Apple's Audio MIDI Setup Utility
Still, the most frustrating part of all of this is how the audio sockets are housed on the Express Dock. Instead of being flush on the panel, the mini-jack inputs are recessed which means that unless you have 3.5mm jack plugs with a super slim barrel diameter, they won't fit. I managed to get some headphones attached to check for stereo, but when connecting a Pure Jongo speaker to the Express Dock with a bog-standard mini-jack lead I found it could only be inserted far enough to make contact with one output channel.
The disappearance of the Ethernet port on the MacBook Pro has led many to question its "Pro" moniker. The Express Dock remedies this, though, with its gigabit Ethernet port delivering fuss-free connectivity. A Broadcom 57762-A1 controller does the business here, and while I didn't get to max out the connection, I didn't experience problems with browsing, video on the BBC iPlayer or downloads.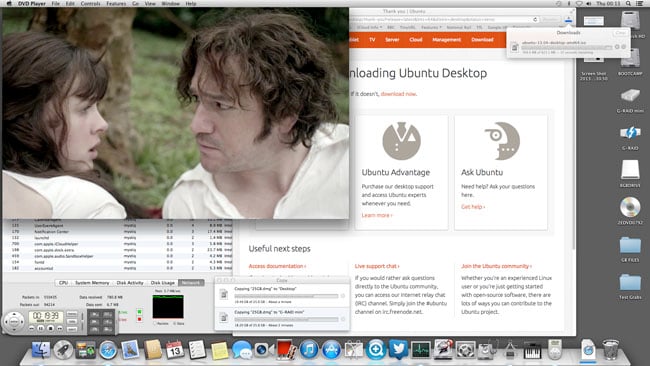 Simultaneous 2 x 25GB transfers from Thunderbolt G-RAID to FireWire 800 G-RAID and Mac HDD; DVD and audio playback over USB and a Ubuntu ISO download using the Ethernet port
Click for a larger image
Just to see how well the Express Dock fared with some heavy lifting I simultaneously copied two 25GB files from the G-RAID Thunderbolt drive – one to the FireWire 800 G-RAID and the other to the Mac Mini hard disk. Also, at the same time, I watched a DVD over USB with the audio playing out of the Express dock while downloading Ubuntu Linux via the device's Ethernet port. And whaddya know? It all worked just fine with decent copy speeds akin to earlier tests and a download speed of about 30Mb/s from a 60Mb/s Virgin Media internet connection.
While this scenario doesn't test the full 10Gbps bandwidth of Thunderbolt, it does at least show that it has plenty of capacity to handle multiple data streams with gusto. Incidentally, without the other loads going on, the download speed was pretty much full whack and even using Windows 8 from Boot Camp the connection was over 30Mb/s.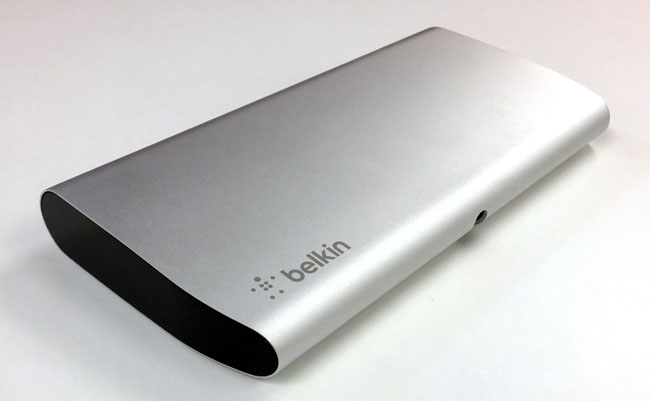 Thunderbolt interfacing: so much promise but is it a price worth paying?
The Reg Verdict
So Belkin has pulled it off at last, but at £250 what you seem to be paying for is a lot of stuff you used to have once upon a time – FireWire 800, Ethernet, multiple USB ports. Lest we forget, just daisy-chaining the Express Dock to a Thunderbolt drive, as I did, involves two cables, so that's another £70 gone. As an adapter living on a desktop, it's certainly ideal for MacBook users running 10.8.3 or later who want to make the most of their machine. Yet given the cost of this technology, Thunderbolt still seems like an indulgence that few will afford partake in. ®
Thanks to Square Group for the use of the Mac Mini.