Original URL: https://www.theregister.co.uk/2013/06/12/review_asus_fonepad_tablet_phone/
Asus FonePad: You may feel a bit of a spanner
The smartphone that thinks it's a tablet - and a bloody good job too
Posted in Personal Tech, 12th June 2013 09:27 GMT
Review Do you really need a smartphone and a tablet? One overly expensive device with a screen and a battery that are both just a bit too small for comfort in this day and age to use for voice calls and cellular data, and a larger, Wi-Fi-connected gadget with a 7- or 8-inch screen for browsing the web, reading ebooks and watching movies?
Asus clearly thinks the answer to that question may be in the negative because its new FonePad is being pitched as an affordable replacement for a smartphone. The device is not, the company insists, just another 3G fondleslab.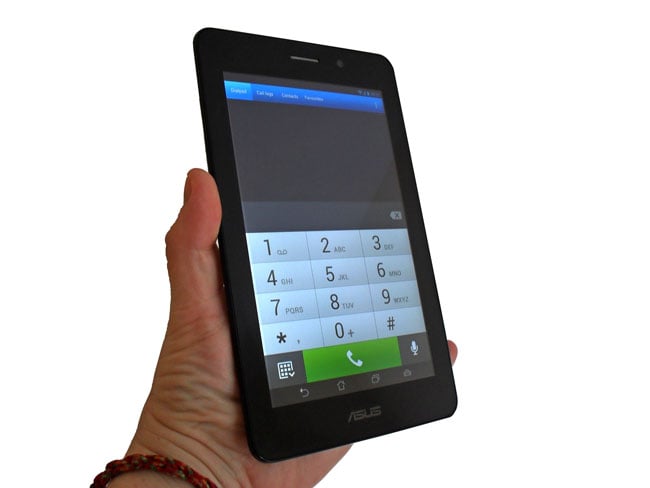 Yes, the Asus FonePad is a bit of a handful...
Affordable? What else would you call £180 unlocked? That's £60 less than the LG-made Nexus 4 and £70 less than a PAYG Sony Xperia SP which are my top choices for a good smartphone that won't break the bank. An unlocked 3G Nexus 7 will set you back £240, but out of the box it has no support for voice calling and there's no ear speaker.
Before we get into the benefits and drawbacks of living with a 7-inch tablet as a smartphone let's take a quick shufty at what sort of hardware your hundred and eighty notes will get you.
The Gorilla Glass screen is a 1280 x 800 IPS LCD affair with a 216dpi pixel density. That's the same density as the Nexus 7 and a darned sight higher than the iPad Mini. It can't match the absolute clarity of similar resolution panels measuring 4.6 or 5 inches between the corners, let alone the latest 1920 x 1080 mobile displays, but I reckon it's more than adequate for most users and uses.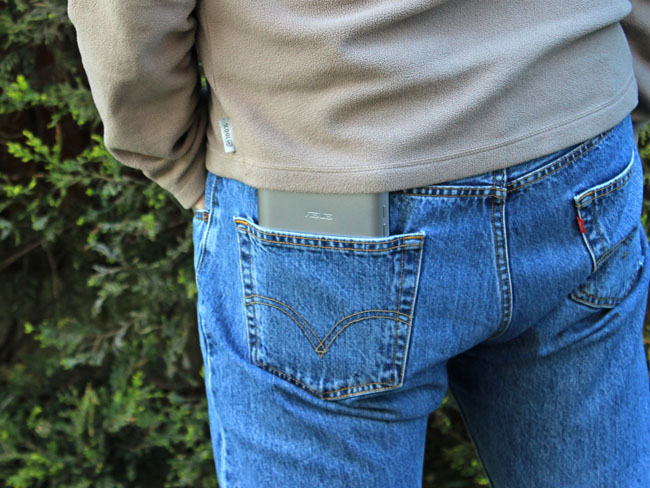 ...but it's certainly not an enemy of pockets
It's a good quality screen, too: bright and colourful - it has the usual Asus Outdoor super-bright mode and a comprehensive colour balance app called, ahem, Splendid - with robust viewing angles and good levels of contrast. It's actually rather better than the Nexus 7's screen, which is no mongrel.
Inside you'll find a new single-core and hyper-threading Intel Atom Z2420 chip [PDF] clocked at 1.2GHz, a rather old PowerVR SGX540 GPU, 1GB of RAM and a 4270mAh battery. With 16GB of storage, USB On-The-Go and a Micro SD slot, finding room for files isn't a problem.
The FonePad only supports 3G but data speeds of 21Mbps down and 5.76Mbps up are catered for, which should be sufficient for most folk. Beyond that you get single-band (2.4GHz) 802.11n Wi-Fi and Bluetooth 3.0 but no NFC.
Running the show is a lightly skinned version of Android 4.1.2, but Asus has confirmed to me verbally that a 4.2 update will be rolled out at some point in the not-too-distant future.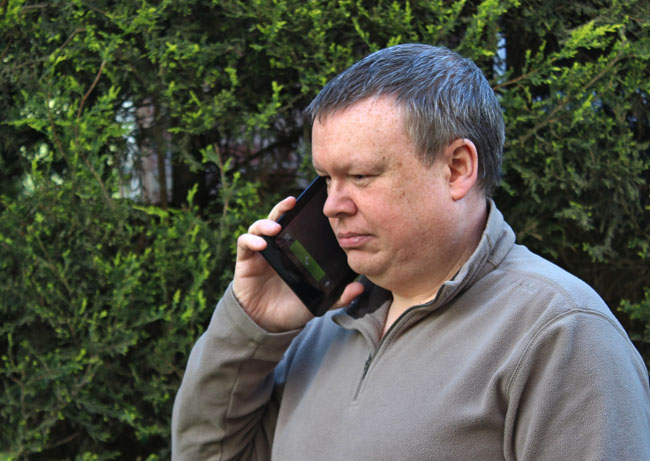 You may feel a bit of a spanner using it as a phone, though
The Atom CPU in the FonePad is less powerful than the one used in the Motorola Razr i - the only other big-brand Intel-powered smartphone currently on the market and a device I use every day - and frankly it doesn't make much of a case for itself in benchmark tests. The AnTuTu score of just over 9000 is well shy of what the Nexus 7 can manage, while the SunSpider browser score of 1800ms in Chrome is no excuse to ring up the grandkids, either.
Performance hang-ups
The on-paper lack of performance is really only an issue when it comes to 3D gaming where, I suspect, optimisation issues also raise their ugly heads. The likes of Shadowgun, Dead Trigger and NOVA 3 run but only just, and playing an "only just running" game is no fun. The user interface, on the other hand, was always wholly fluid and 1080p video played perfectly in the stock Gallery app.
At 340g, the FonePad weighs the same as the Nexus 7 - or, to put it another way, two and a half times as much as a Sony Xperia Z. The FonePad's external dimensions are very similar to the Nexus 7 but that's hardly surprising as they are built by the same company - Asus. The FonePad's brushed aluminium back looks more stylish and feels more pleasant than the Nexus 7's dimpled plastic posterior.
Benchmark Results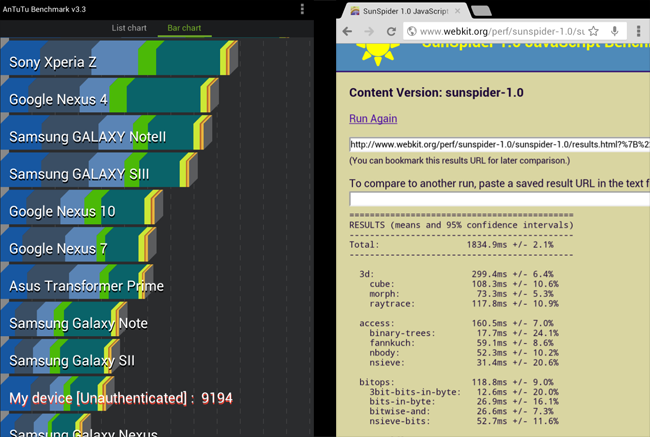 It's a very sleek device too, the only extrusions being the slightly too small volume and power switches on the left, and the 3.5mm audio and micro USB ports on the bottom.
The SIM and memory cards live beneath a removable plastic panel at the top of the device. Every time I've encountered this design in the past, the panel has been a poor fit and prone to coming adrift accidentally. That's not the case here. The cover locks firmly in place and is actually a bit of a sod to open.
When Intel first started sticking its Atom chips in smartphones there was much guffawing about the expected battery-draining power consumption but the opposite has proved to be the case. The battery life of the Razr i is among the best of any smartphone, and the FonePad repeats the trick.
I averaged two and a half days between charges despite a pretty heavy regime that involved me using the FonePad for all the tasks I'd usually split between my Razr i and Nexus 7. Looping a 720p video gave a run time of seven and a half hours, which is acceptable.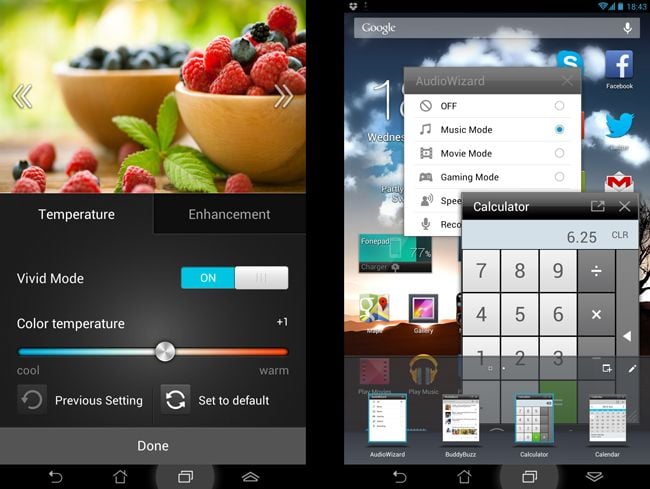 Asus' Splendid app (left) - and the mini apps it adds to stock Android (right)
What separates the FonePad from most other Android slates - the odd Samsung aside - is the phone dialer and SMS client, which look and work exactly as they do on any Android smartphone, just bigger.
Hold the FonePad to your ear and you are going to look like a spanner, but appearances aside it works perfectly well as a phone. I've hardly got the hands of a navvy but could comfortably hold it against my head even for long conversations.
Thanks to noise-cancelling dual-microphones and a decent ear speaker, call quality was more than up to snuff. There's even a proximity sensor so it knows when you're holding the thing to your mug. The main loudspeaker is less impressive. It's on a par with the speaker in the Nexus 7 though that's not much of a recommendation.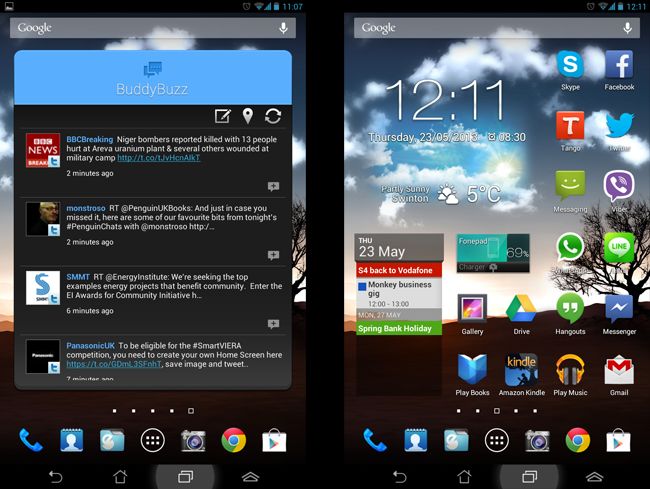 BuddyBuz is Asus' social network aggregator
The benefits of a 7-inch screen for e-reading and the like are self-evident and hardly need to be spelled out. That's why iPad Minis and Nexus 7s sell by the shedload. Where the FonePad's extra screen space comes into its own is when you're running messaging apps. The likes of Skype and Tango simply look better on a large screen, especially when it comes to video calls, but some over-the-top apps like WhatsApp (so called because they piggyback someone else's network) will only work on a device with a SIM card.
Replace two gadgets with one
This makes the FonePad a communications hub par excellence. I even got Viber working after sideloading the apk. And with messaging apps being so much easier on the eye on a 7-inch screen, there's no need to reach for the reading glasses every time a missive arrives.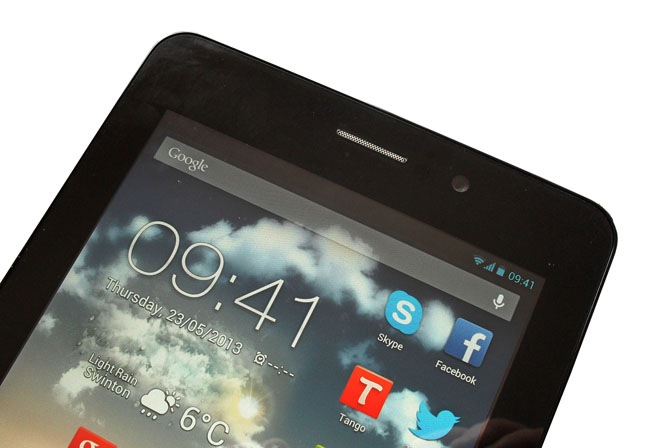 The ear speaker gives away smartphone pretensions
The one major flaw with the FonePad is the camera - not the webcam, which at 1.2MP does a very good job and can record video at 720p, but the main camera. It doesn't have one. With 8MP snappers common on all but the cheapest smartphones the absence of even a basic 5MP camera is a bit surprising.
So, after a week how did I get on with using the FonePad in place of my Razr?
Well, having my phone and tablet rolled into one was certainly convenient and the extra battery life was most welcome. The fact that I couldn't slip it fully it into the back pocket of my jeans was occasionally a bit of an annoyance but it sat there securely enough when covered by my sweatshirt while wandering around Tesco so let's not over-egg that pudding.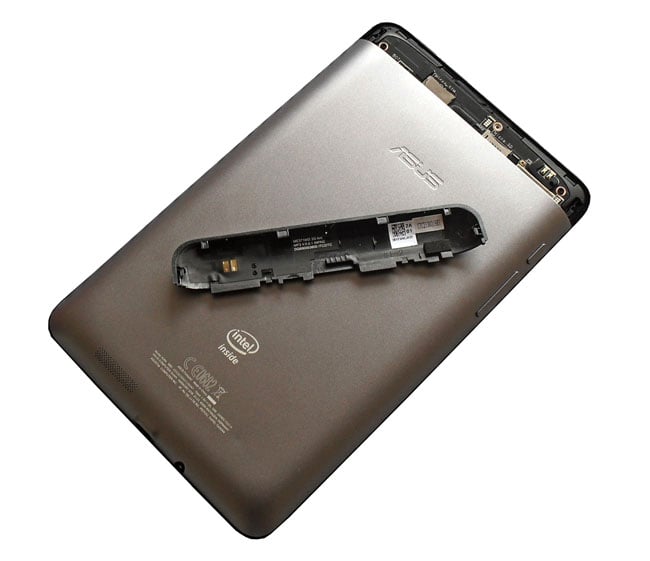 The rear panel inclips to allow access to Sim and memory slots
Of course, a jacket or coat pocket or a pair of cargo pants is an instant fix to any pocketability issues, as is a handbag or backpack.
As for looking a berk when using it in public, well, as a matter of principle I try not to use my phone when other people are nearby because I prefer not to inflict my conversations on complete strangers so it really wasn't an issue.
And anyway, so much communication is nonverbal these days that voice calling is increasingly a subsidiary function of many smartphones. I certainly get more texts, emails or Facebook and WhatsApp messages than I get calls, and the FonePad is a darned sight better at handling those.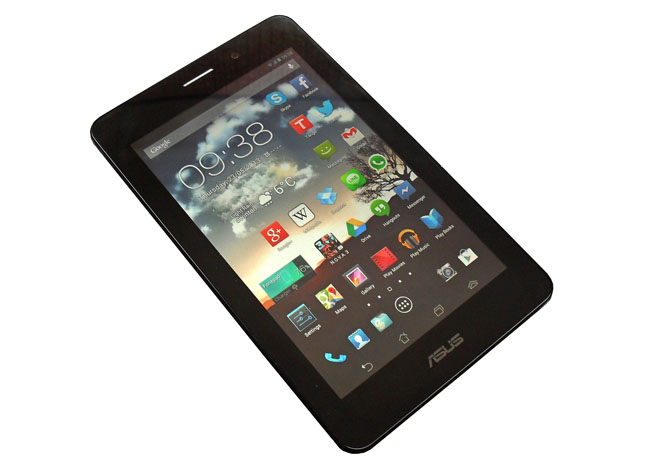 Would you make a call on this? Asking for the NSA a friend
Incidentally, if any of you noticed the recent launch in Taiwan of a FonePad with a 1.6GHz Z2460 Medfield chip don't hold your breath - the European market isn't getting it, Asus tells me.
The Reg Verdict
So, can you live with a 7-inch, 340g smartphone? Yes. Naturally there are compromises to be made. I wouldn't want to take a FonePad with me to my local pub for the evening or to a gig, and the absence of a suitable camera is going to become an issue at some point down the line. But the cash savings and the sheer convenience of having one device rather than two to carry and charge does have its attractions.
Considered simply as a 3G tablet, the FonePad is an even more impressive bit of kit. For the price, the excellent screen and reasonable battery life are very welcome and while it's not the most powerful tablet around, 3D gaming aside it did all the things I asked of it quite as comfortably as my Nexus 7.
I'm all for affordability and versatility, and the FonePad delivers both in spades. Which makes it the one of the very few budget tablets - the other being the Nexus 7 - I'd recommend to a friend. ®
Thanks to Carphone Warehouse for lending us a review device.