Original URL: https://www.theregister.co.uk/2013/06/10/vivid_festival_light_projection_technology_explained_spinifex_media/
How Doctor Who landed at Sydney's Vivid festival
Need images on a stadium or Opera House? We've found your men and their kit
Posted in Policy, 10th June 2013 06:02 GMT
For the last two weeks Sydney, home of The Reg's Vulture South team, has enjoyed the Vivid Festival, a two-week orgy of lights, music and ideas.
Kraftwerk headlined and in the past Brian Eno and the Lou Reed/Laurie Anderson team have served as curators. This year a special 50th anniversary Dr Who show saw the Time Lord's history reproduced on the sandstone façade of historic Customs House (see video below).
That spectacle, and the signature show at Vivid – moving images projected onto the sails of Sydney's famous Opera House – are the work of Sydney company Spinifex Media.
Many Reg readers may already be unwitting admirers of Spinifex's work, which adorned the London Olympics' opening ceremony.
Hai Tran, the company's head of technology, explained that Spinifex's gigs invariably start with a laser scan of the surfaces onto which it will project. Those scans need to be millimetre-accurate, because the surfaces onto which Spinifex projects are seldom flat.
To understand the challenge, consider that the company does a lot of work at car shows, projecting vehicle-shaped images onto new models. Tran says car companies can happily furnish 3D models of their products, but that those models can be too detailed as they describe every internal washer. A custom scan gives Spinifex the right amount of data needed to understand how to transform the images it's been asked to project.
Even with the scan in hand, that's not a simple task as Spinifex can't always place its projectors in the best position. This year the 17-projector rig being used for the Opera House is at a slight angle to building's sails, a departure from previous years. That means extra work adapting the images, a task carried out in commercial-but-customised graphics-processing apps including After Effects, Cinema 4D, Nuke, Max and Maya.
Those apps' output is then fed into a render farm powered by Thinkbox's Deadline management software and running 36 dual-12-core rack-mounted Windows7 render nodes and an array of dedicated dual 8-core Mac Pro towers. All up, more than 1024 i7 cores and over a terabyte of RAM are pressed into service preparing the images.
All that work then depends on some manual adjustment of the 17 projectors used for the Opera House show. Tran says Spinfex asked Sydney Opera House if they could do their test runs at 11:00PM. The powers that be decreed they instead take place at 3:00AM, an hour at which some Spinifex crew members work the projectors and others attend the Opera House.
"From 200m away a slight shift in a pixel means at the other end it is a two metre difference," Tran says. Spinifex's crew therefore chatter on radios and nudge the fridge-sized projectors they favour until the test grids used for calibration line up. Those tests can be laborious, as the projectors are 200 metres from the Opera House and making the images bright enough requires three beams of light to hit each region. With each projector separated in space by just a little, lining things up requires a lot of planning and fine adjustment.
Planning is key. Tran says that while Spinifex uses cinematic techniques, the nature of its work means it faces utterly immovable deadlines. "Film directors can say 'let's push this back six months and get it perfect'," Tran says. "It's hard to say that for the Olympic opening ceremony."
Powering the 17 projectors – and the same number of backups – is a mini data-centre. This year's Opera House rig includes a Hitcahi Data Systems NAS and Brocade gigabit network. Each projector has its own server, a 4U beast using a 2nd generation Intel Core i7 CPU running at 3.4GHz. There's also the small matter of four high-definition Display Port outputs per server, RAIDed solid state disks to keep the images coming and ATI's FirePro V8800 graphics cards. The Doctor Who projection uses a similar rig.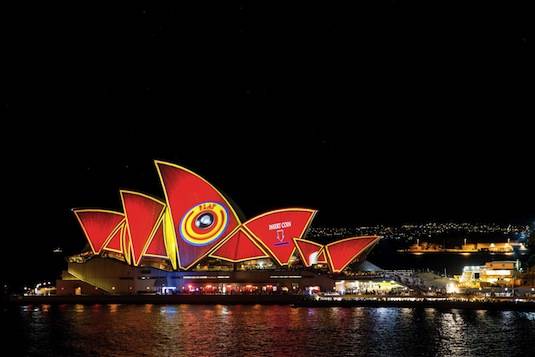 Could you land those yellow outlines on the sails of
Sydney Opera House, at a distance of 200 metres?
An additional server runs a special "show control" application of the sort employed by theatres to automate lighting cues.
Even with all that kit on site, things don't run perfectly. Tran says timing sometimes drifts a little so shows sometimes switch between the primary and backup rigs to ensure perfect timing.
The folks who run those rigs are seasoned IT pros who Tran says come from many fields. You don't need to go to film school to get a gig at Spinifex. Tran instead prefers all-rounders who are strong on one of the fields the firm uses to create its spectacles, add something to the team but can be hands on with the whole rig at showtime.
The rewards for those the company hires can include lots of travel – Spinifex people sometimes work on-site for months before a gig – and the satisfaction that comes with creating spectacles that awe the world.
"We like to walk the site, get a feel for the audience and how the audience is reacting," Tran says.
When Vulture South visited Vivid, the audience reaction was stellar. Crowds of near-New-Year's-eve-proportions roiled through Sydney's Circular Quay precinct to behold the light shows and illuminated art. And even though it rained on the night of the Doctor Who show, reports suggest a substantial crowd rolled up for the event.
Needless to say, few were aware of the banks of servers doing the real work, a situation doubtless familiar to many Reg readers! ®
Update
The Reg has received correspondence from Peter Milne of The Electric Canvas, a specialist projection company. Peter's contended some of the information provided by Spinifex, namely:
Work to create, align and operate the Opera House projection rig was not performed by Spinifex but by The Electric Canvas (TeC);
TeC provided an OnlyView rig for the Opera House, not the technology described above. A "WatchOut" rig was used for the Doctor Who projections.
The Reg will attempt to verify the true situation.