Original URL: https://www.theregister.co.uk/2013/06/07/steve_bong_nexitfy_north_korea/
BEYOND Marxism: What Google learned from staring Glassily at Norks
Boobs, Noobs and Juche-oriented networked facilitators
Posted in Bootnotes, 7th June 2013 12:57 GMT
¡Bong!
"We have to fight for privacy or we're going to lose it" - Eric Schmidt
Eric's face had turned a sickly shade of green as the Gulfstream banked steeply over night-time Pyongyang. Down below, the metropolis was almost pitch black, the sky illuminated only by the traditional North Korean welcome of tracer fire.
It didn't improve the mood of Google's Executive Chairman.
"No Sushi. No running hot water. What in hell's name are we doing here, again, Steve?"
I sighed.
"Your most testing days are ahead of you this spring, Eric. You're going to be pounded on tax, on privacy, and even your entire business model," I replied.
"So let's go through the Theory of the Immortal Socio-Political Body one more time..."
* * *
The beaming teenager bounced down the runway. We bowed, and began our well rehearsed saluation.
"First Secretary, First Chairman, Supreme Commander, we're..."
The teenager interrupted.
"You bring Praystation 4? No matter, I have already. Har har." He continued: "You bring grass? I want grass now!"
Sensing our awkwardness my assistant มาลัย (which means 'Garland of Flowers' in Thai) whispered something in the Google Chairman's ear.
"Yes I have twenty prototypes of Google Glass, just as you requested," Eric replied.
"Good, good. Now my crack dev team get to work on gurly app, chop chop," he gestured, and a uniformed team flipped open the Gulfstream cargo bay.
"We have so much to discuss. But now, traditional welcome from one revolutionary leader to another," said Kim Jong-un, passing round a tatty bottle on which I could only discern the words "MAY CAUSE BLINDNESS".
* * *
I rubbed my head. It hurt. Bad. I hadn't felt this bad since I OD'd on scopolamine at the launch of the Cabinet Office's Digital by Default strategy. In a neat line in front of us, I could just about make out the outlines of a dozen or so Apple G4 Cubes.
"In Chosŏn Minjujuŭi Inmin Konghwaguk we have best dev team in world." explained Kim.
"Impressive, First Secretary," I said. "I remember back at Woodstock Capital back in the day, we had one of these on every desk."
"No ordinary Cube," interrupted the Supreme Commander. "This is special Juche-based design. So Yanqui imperialist export restriction only allow us empty G4 case? No matter, we source plentiful motherboard of Amstrad E-m@iler Plus. Unique hybrid."
"That's amazing," gasped Eric.
"Yes. Body of Steve Jobs - brains of Alan Sugar."
* * *
That's better. It was cool and eerily quiet here, deep inside the Baekdu Mountain complex, a facility no Westerner had ever seen. With some relief, I passed the one litre bottle of 100 per cent pure organic Puyehue water - a crate of which my tiny assistant มาลัย had carried for us - around our delegation.
Finally we could relax. And now it was time for business.
"This top-secret visit will be followed by a rather more public one in a few days time," I explained. "So Eric, explain the proposition."
"Yes, thank you, Steve," Eric began. "Our humble offering is really quite simple. Google becomes the exclusive supplier of security and information services to the Workers Party, to assure the continued welfare and safety of the people and the glorious victory of the Great State."
Kim beamed.
"And lots of grasses."
"Of course," Eric nodded.
It was my cue.
"And we have so much to learn from you all, too." I said.
Enter the Thinkfluencer
"The Juche ideology is a natural evolution of Marxism-Leninism, and you are the only true Juche nation in the world. Under Juche there is no central control, as Kim Ill explained: 'the leader is the impeccable brain of the living body, the masses can be endowed with their life in exchange for their loyalty to him, and the Party is the nerve of that living body.'"
"Kinda like a collective consciousness," said Eric. "You may have heard of the great thinkfluencer Professor Jeff Jarvis, who sadly could not make it due to media commitments back in the United States."
"Of course, I am famiriar with the writings of the Professor," said Kim rather impatiently. "As the Professor says, 'no one can own the Wisdom of the Crowd'".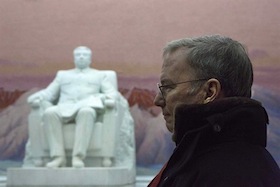 "Exactly so," I replied. "And we, like you, are also revolutionaries. From Shoreditch to Silicon Valley we are pioneering a new form of economic development, replacing the brigandish capitalism that seeks permanent war with the Juche state. Imperialism's rapacious quest for profits has been replaced by a benevolent quest for fun - especially during one's Gap Year."
"This Year of Fun," I continued, "is underwritten by the undying love and generosity of the UK state, in the form of what we call a 'community investment catapult'".
"I know all about your Catapult Centres, and also and in particular, the revolutionary writings of your Ambassador Hammersley, Ben Hammersley," Kim Jong Un interjected. "In his own words, 'We have the ability to build parallel systems to take over ... People who are in charge today see everything remaining in hierarchies, and yet what we have is a world which is very radically moving towards networks. If we want to prosper in that world then we have to have a ruling class, and a ruling elite, who understand that or get out of the way.'"
All the heads nodded as one.
"Now that all power truly belongs to the people, we must fundamentally rethink the dialectic around privacy and taxation in accordance with the Theory of the Immortal Socio-Political Body. It is not possible for the fatherland to 'tax' the people's very own nervous system. And equally, it is impossible for the fatherland to invade anybody's privacy, any than you can say that the kidney has invaded one's own body," said Kim.
Or was it Eric who had just said that? My mind had wandered, and I couldn't really tell. Somebody had, anyway.
The slamming of a Playstation console brought me back to reality with a jolt as the young leader dismissed his staff. The 232 assistants shuffled out of the room.
Now, it was just us. Me, Eric, มาลัย and Kim.
"I have a fear, gentlemen. What I am about to confide must never leave this room."
We nodded.
"As you know we have a modest nuclear weapons facility, designed solely to advance reunification, and for the defence of the Republic. And I am the Supreme Commander of the world's largest army, the most ferocious fighting force in the world. I have 9.4 million active and reserve troops at my command. Yet, for all that, I feel we have met our match."
Eric raised an eyebrow.
Kim laughed bitterly.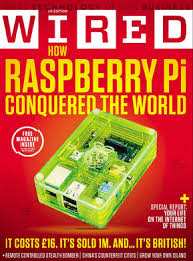 "Surely you know what it is. We have no Raspberry Pi. We can not obtain enough Raspberry Pis to remain in this race - and we will never meet the engineering standards required to reproduce enough quantities of this Broadcom-based board. Now I read even 'Boobs' can set one up."
"Er, Noobs", I replied.
"Boobs. Noobs. Whatever," said Kim. "As your WiReD magazine says, Mr Bong, the Raspberry Pi has already 'conquered the world' - and we are powerless before it," he added.
"The game is over." ®
Steve Bong (formally Lord Bong) is the founder of Bong Ventures, an early stage investor and incubator focussing on innovative new technology start-ups based in Shoreditch, London. When he's not helping rear the next generation of business models, Steve enjoys parties, foreign travel, extreme cuisine, Open Data and draws his inspiration from Ayn Rand and His Holiness the 14th Dalai Lama. He advised (then hired) No.10 policy guru Rahul Sativa on mindfulness and innovation, Mark Zuckerberg on the Perfect IPO, the Republic of Kazakhstan on emergent social media strategies, LOCOG on brand enforcement, and imagineered the Olympic Opening Ceremony with Danny Boyle and was the social media consultant for Lady Thatcher's Funeral. Steve wants to pivot the BBC into the 22nd Century, and favours Small Government but Large Catapults.
You may Follow @BongVentures on Twitter for direct and disintermediated entrepreneurship advice.