Original URL: https://www.theregister.co.uk/2013/06/07/roundup_eight_bigscreen_allinone_desktop_pcs/
Seven all-in-ones that aren't the Apple iMac - and one that is
Fancy stroking something too big to fit down your trousers?
Posted in Personal Tech, 7th June 2013 09:00 GMT
Product Roundup Pride comes before a fall, or so they say. When Apple CEO Tim Cook unveiled the new super-slimline iMac towards the end of 2012, he started by announcing that the iMac was now the top-selling desktop computer in the US.
Six months later, he has admitted that Apple launched the machine too soon, and that the complicated lamination process required to produce that streamlined profile had caused serious shipping delays – and probably didn't help with Apple's recent shock-horror fall in profits either.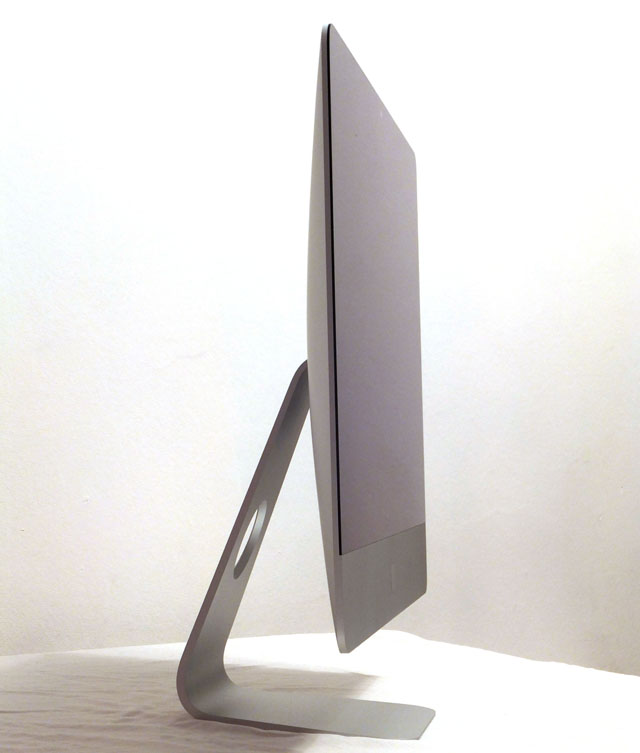 And while Apple struggled to get the iMac out of the door, PC manufacturers were busily working on a new generation of all-in-one machines that take advantage of the touch-controls in Windows 8.
In this round-up of the major iMac alternatives, I've focused on high-end all-in-one models with 27-inch displays wherever possible, although some manufacturers simply don't go beyond 23-inch or 24-inch screens. Many of these all-in-one PCs are designed with home entertainment in mind, so they tend to stick with 1920 x 1080 resolution displays for Full HD video playback, along with entertainment features such as a Blu-ray player, TV tuner and HDMI input for a games console.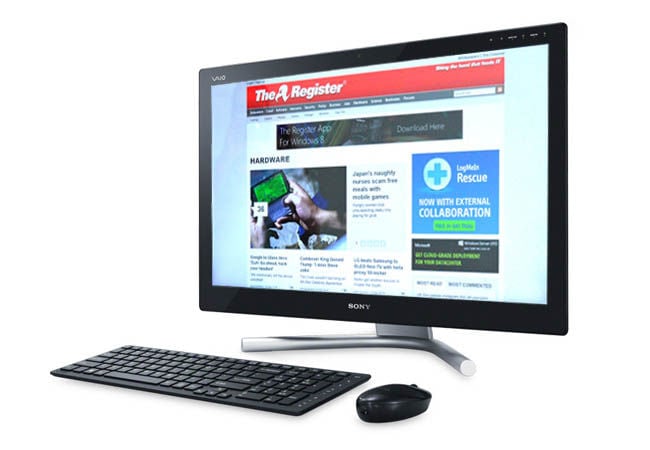 Most of these entertainment systems also have relatively modest dual-core Intel Ivy Bridge Core i3 or i5 processors, which will be perfectly adequate for running MS Office and other productivity apps, but they certainly aren't powerful enough for professional-level graphics and design work.
In contrast, models like the iMac itself and Dell's XPS One 27 provide a resolution of 2560x1440, which works well for high-end design software such as Photoshop, and for large workspaces like those modern software IDEs prefer. Both these machines are also equipped with powerful quad-core processors that can handle these sorts of tasks.
PCMark 7 Benchmark Results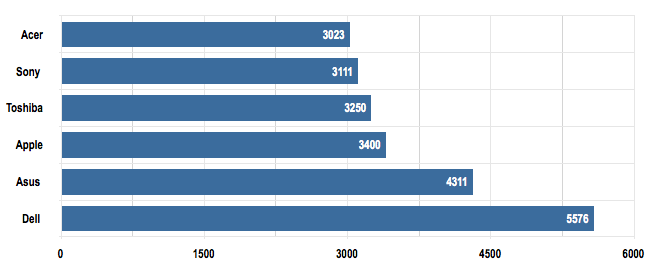 Longer bars are better
We were unable to benchmark the HP and Lenovo AIOs
When the new iMac was unveiled, I was disappointed to see that it was even more expensive than its predecessors, and was expecting to find that its PC rivals would be considerably cheaper. However, the touch-sensitive displays used by most of the iMac's Windows 8 alternatives can be pretty expensive and – in the case of a 27-inch display – can add as much as £200 to the overall price.
To be fair, touch controls do work better on these large screens – especially when you tilt them back and do the cool Minority Report thing – but they also mean that many of these Windows PCs are now even more expensive than the iMac. Dell cleverly offers the XPS One 27 in both touch and non-touch versions, and while home users will probably get off on the novelty value of a touchscreen, pros can save themselves quite a bit of money by opting for an all-in-one with a more conventional display.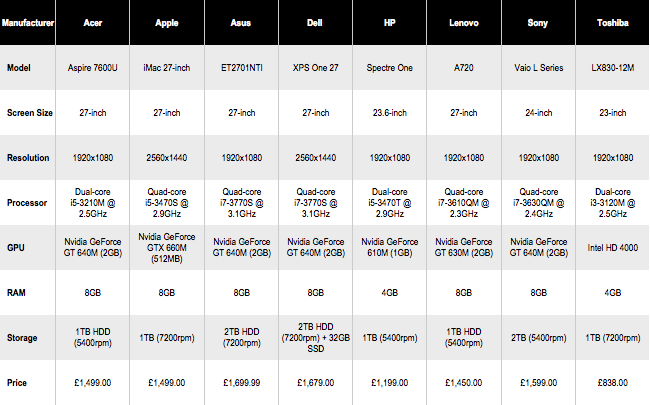 Click for larger version
Acer Aspire 7600U

The rigid right-angles of the Aspire 7600U may lack the elegance of the iMac, but with a maximum thickness of just 35mm – decreasing to 20mm at its thinnest point – this is still a very smart and versatile home entertainment system.
Bear in mind, too, that the 35mm section includes a Blu-ray drive. The screen resolution is just 1920x1080, rather than the 2560x1440 found in some of the other 27-inch AIOs, but the display is bright and sharp, and works well for watching video or browsing the web. The adjustable stand also allows you to tilt the screen right back, which feels more comfortable when using the touch-screen controls in Windows 8.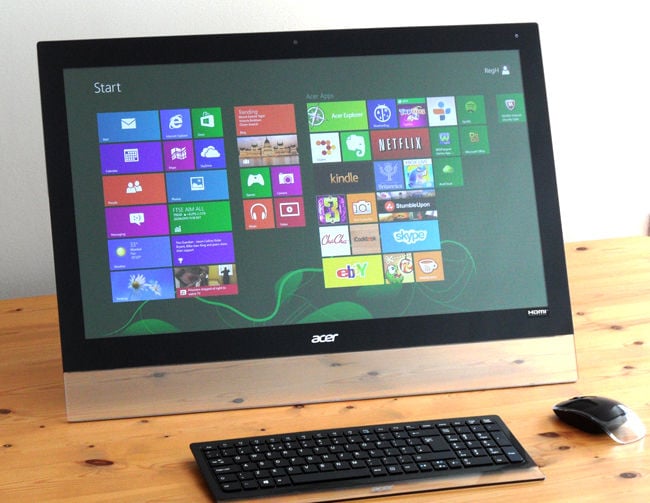 There's a Freeview tuner – although, bizarrely and annoyingly, this is only for standard definition broadcasts – as well as two HDMI inputs for connecting a games console or DVR. The speakers sound horribly tinny, but the 7600U does have both stereo and digital outputs for headphones and external speakers.
My only real complaint is that it's quite modestly specced for a machine costing the best part of £1500, with a Core i5-3210M running at 2.5GHz, 8GB of RAM and a 1TB hard drive spinning at 5400rpm. However, it feels smooth and responsive for web browsing and running MS Office, and the inclusion of an Nvidia GeForce GT 640M graphics core means that it can handle some gaming action as well.
Price
£1500
More Info
Acer
Apple iMac 27-inch

There's no doubt that the super-slimline design of the new iMac is quite remarkable. The screen tapers to edges that are just 5mm thick – although, ironically, you really can't see how slim it is when you're sitting in front of it.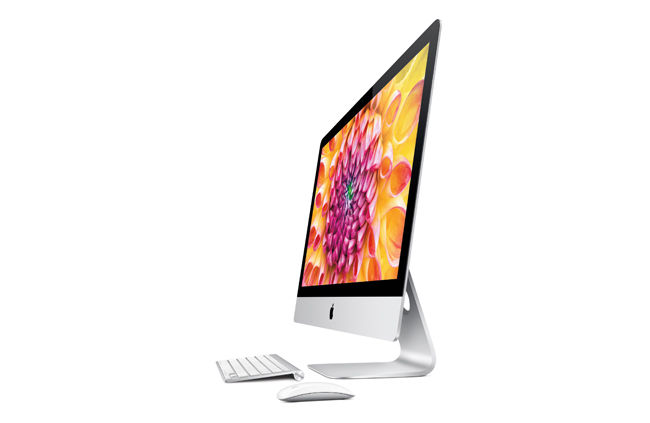 The IPS LCD screen is a delight too – not touch-sensitive, but wonderfully bright and colourful, and with a 2560x1440 resolution that allows it to function very well as a workstation for photography and programming. The built-in speakers lack bass but are certainly good enough for watching video, background music or casual gaming.
Mind you, Apple did lose the optical drive along the way, so you can't even play DVDs or audio CDs, let alone Blu-ray films. And, despite this omission, the new iMac is even more expensive than its predecessors. Even the 21-inch model costs at least £1100, and this 27-inch model starts at a whopping £1499 with a quad-core Core i5 processor running at 2.9GHz, 8GB of memory and a 1TB hard drive.
Thankfully, though, the Nvidia GeForce GTX 660M graphic chip can handle some quite respectable gaming action – although its paltry 512MB of VRAM is a short-sighted cost-cutting measure that might cause problems with some games in the future.
Price
From £1499
More Info
Apple
Asus ET2701NKI

It's expensive, and its monolithic design isn't much to look at, but the ET2701NKI is a powerful and versatile home entertainment system.
The 60mm-thick slab-like black casing houses a very bright 27-inch touch-sensitive display, with a viewing angle that really is close to the claimed 178° – although it's disappointing that it's limited to a 1920x1080 resolution. It's a powerful machine, with a quad-core Core i7-3770S running at a healthy 3.1GHz.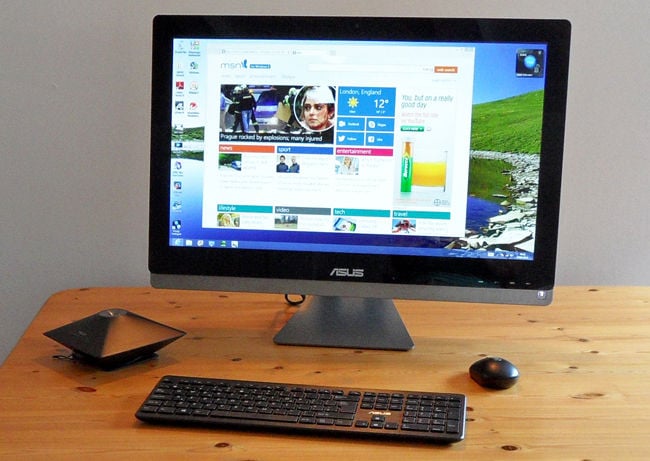 I was also frustrated to find that the built-in Freeview tuner only supports standard-definition broadcasts, although there is a Blu-ray player for HD films. Asus also gets brownie points for throwing in a separate, compact sub-woofer unit. This adds a welcome weight to the built-in stereo speakers, and the ET2701NKI works a treat for watching movies, or playing music or games.
The Core i7 processor ensures that the ET2701NKI feels smooth and responsive at all times, and it's backed up by an Nvidia GeForce GT 640M graphics chip, 8GB of memory and a full 2TB hard drive - double the capacity most of its rivals offer. That's a strong combination, and the ET2701NKI has more than enough power to handle demanding multimedia work, as well as off-duty games and entertainment.
Price
From £1700
More Info
Asus
Dell XPS One 27

The design of the XPS One 27 reminds me very much of the three-year old iMac that I've got in my office. It measures about 30mm around the edges and even has the same cooling vent running along the top-rear edge of the machine.
That's not to damn it with faint praise, though, as it includes a wider range of features and is certainly better value than the current iMac. Prices start at less than £1200 for a model with a quad-core Core i5 processor, and my test unit managed to include a touch-sensitive 27-inch screen along with a quad-core Core i7 running at 3.1GHz, 8GB of memory and a 2TB hard drive for £1679 - or £1479 if you don't mind losing the touch-screen.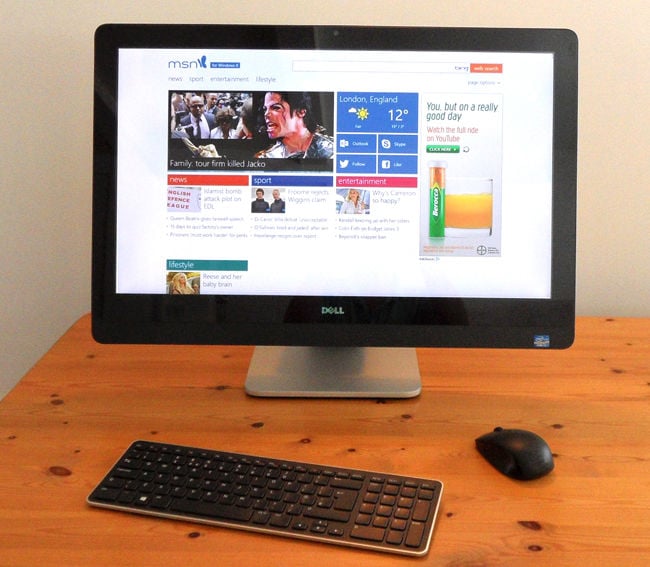 Dell also sneaks in a little 32GB solid-state drive which helps the XPS One 27 boot noticeably quickly and ensures that it feels snappy and responsive right from the word go. The display is bright and attractive, with a 2560x1440 resolution that will work well with graphics and design software, and there's a Blu-ray player and Nvidia GeForce GT 640M graphics card for when you're off-duty.
I also like Dell's attention to detail, including little touches such as a cover for the webcam so that you can Skype in your scanties without embarrassment.
Price
From £1200. Review model £1679
More Info
Dell
HP Spectre One

The silvery Spectre One looks like a blatant iMac-wannabe, right down to its compact, metallic keyboard and trackpad. However, HP has come up with a neat trick of its own here: they've crammed the CPU and other components into the stand, rather than bolting them onto the back of the 23.6-inch screen. This means that the screen panel is a uniform 12mm thick, and manages to make even the iMac look rather chubby.
It's a nice screen too, bright and colourful, though with a 1920x1080 resolution. The stand also houses a set of Beats Audio speakers which lack bass but are perfectly adequate for listening to some music while you're working or browsing the web.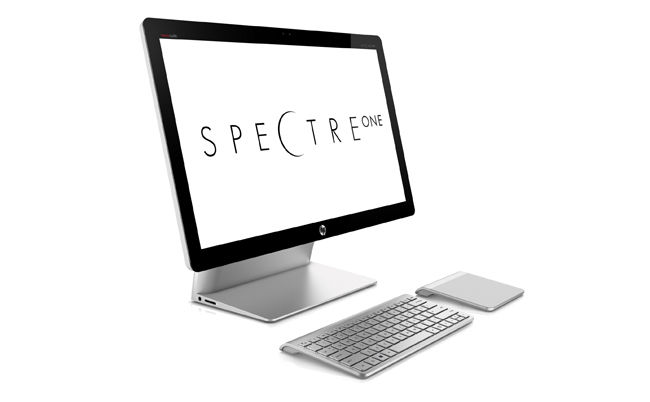 Unfortunately, the Spectre's features and performance are less impressive. I can live without a touch-sensitive screen, but the lack of an optical drive is annoying in a desktop machine. And while the 2.9GHz dual-core Core i5 feels smooth enough when browsing the web or running MS Office, it still seems a bit underpowered for a machine costing £1199 – as does the 4GB or RAM, a 1TB hard drive running at 5400rpm, and low-end Nvidia GeForce 610M graphics chip.
So while the design of the Spectre One will certainly turn some heads, its modest specification is disappointing at this price.
Price
From £1199
More Info
HP
Lenovo IdeaCentre A720

Lenovo rather craftily describes the A720 as "the slimmest 27-inch desktop on the market... at the time of its release", which, of course, was several months before the launch of the new iMac.
It still looks good, though. Like HP, Lenovo has shoved all the computery bits downstairs into the stand, leaving the screen as a simple flat panel measuring just 25mm thick. The screen itself is bright and colourful, and the adjustable stand allows you to drop the screen right down to desktop level so that you can use its touch-controls quite comfortably.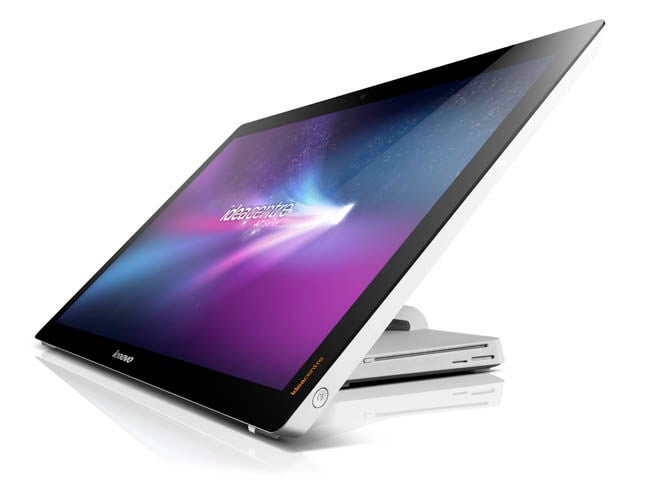 However, the screen only has a 1920x1080 resolution, which is fine for watching HD films with the built-in Blu-ray player, but not quite in the workstation class alongside the iMac or Dell's XPS One 27. And while the 2.3GHz quad-core Core i7 processor provides a fair bit of horsepower, it's disappointing to see that the memory can't be upgraded beyond the standard 8GB – which effectively rules it out for serious photo- or video-editing work. The 1TB, 5400rpm hard drive and Nvidia GeForce GT 630M graphics chip are also rather weedy for a machine costing over £1400.
To be fair, the A720 isn't intended as a professional workstation, and it does work perfectly well as a multimedia PC for home users. However, it's a little too reliant on its good looks, and needs to provide a bit more raw horsepower if it's going to compete at the high-price end of the market.
Price
From £1450
More Info
Lenovo
Sony Vaio L Series

It's even more expensive than the iMac, but Sony's L Series all-in-one is packed with audio-visual goodies.
The 24-inch touch-sensitive display provides full HD resolution along with the same X-Reality noise-reduction image processing technology that Sony uses in its Bravia HD TV range to soup up highly compressed streamed standard definition footage. The result is a sharp, detailed image with vivid colours – although at this price it really ought to be a full 27 inches in size.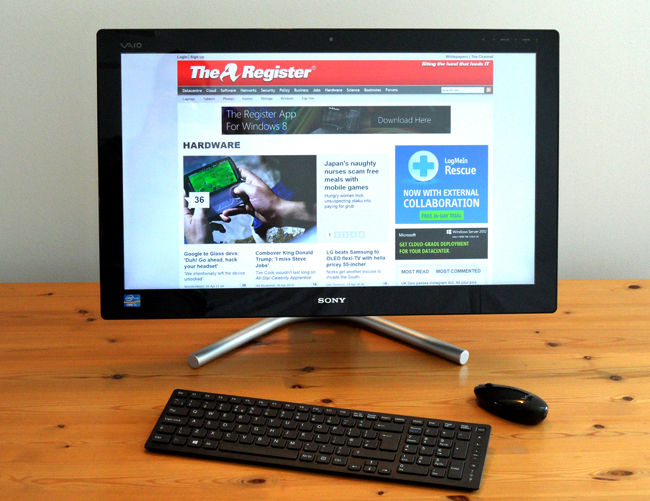 There's a slot-loading Blu-ray player, along with HDMI input and output so that you can connect the L to a larger screen or plug in a games console. I was also pleased to find that its Freeview tuner supports HD broadcasts, and it worked very well as a TV on my desk while I was writing these reviews. The chunky 55mm thick screen panel also houses a surprisingly respectable 2.1 speaker system, which came in handy for playing music while I was working too.
That impressive set of features is also backed up by a fair amount of power. You can get a Core i5 model for £1199, but my test unit cost £1599 with a Core i7 running at 2.4GHz, 8GB of memory, a 2TB hard drive and Nvidia GeForce GT 640M graphics. That's more than powerful enough to handle some serious gaming action, along with video- or photo-editing applications – it's just a shame that the 24-inch screen leaves it looking rather overpriced.
Price
From £1199. £1599 as reviewed
More Info
Sony
Toshiba LX830-12M

There's something quaintly retro about the LX830, with its little plastic legs and the large speaker grilles on the front, and it's certainly a more modest proposition than most of its all-in-one rivals.
The touch-sensitive screen is a small-for-the-class 23-inches in size, although it does provide 1080p resolution with a bright, sharp image for watching video or browsing the web. There's a Freeview tuner – annoyingly SD only – along with an HDMI input so that you can plug in a games console or DVR.
The Onkyo speakers surprised me by actually producing a decent amount of bass, but it's a shame that the LX830 only has a DVD drive rather than Blu-ray. I'm not convinced that touch-sensitivity adds much to a screen this size either – you really need the extra screen space of a 27-inch display before touch-controls start to feel comfortable.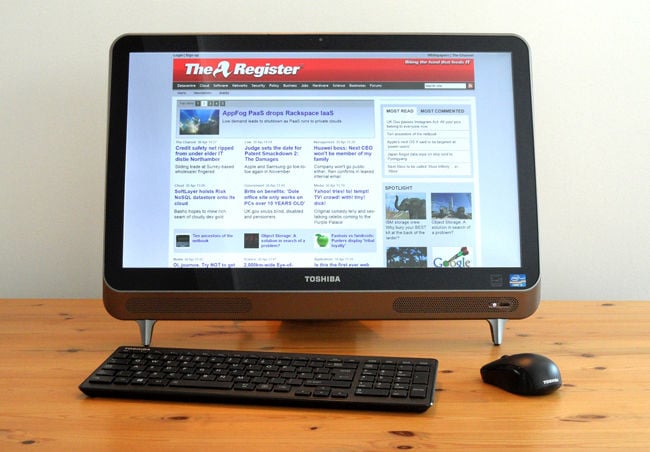 The PC side of things is fairly modest too. My "12M" review unit had a Core i3 processor running at 2.5GHz, 4GB of memory and a 1TB hard drive, and costs £800 bought direct from Toshiba. That's expensive for an i3-based machine, although it's about £100 cheaper if you shop around online. Its 7200rpm hard drive does perk things up a bit. But that's about as far as it goes on the PC side of things – there's no separate gaming graphics card, and the LX830 really works best as a kind of household terminal for the web, music and video, rather than as a workhorse PC.