Original URL: https://www.theregister.co.uk/2013/06/07/review_acer_aspire_p3_windows_8_tablet/
Review: Acer Aspire P3 Windows 8 slate
Ultrabook by name, tablet by nature
Posted in Personal Tech, 7th June 2013 09:45 GMT
Acer's recent tablet bash in London not only showcased its latest A1 Iconia Android fondleslab but also on display was its forthcoming Aspire P3 Windows 8 slate.
This model exists in the convertible-cum-tablet twilight zone, as it comes with a keyboard cover as standard. Yet Acer really wants you to forget it's a tablet and think of it as an Ultrabook and goes so far as to call it one.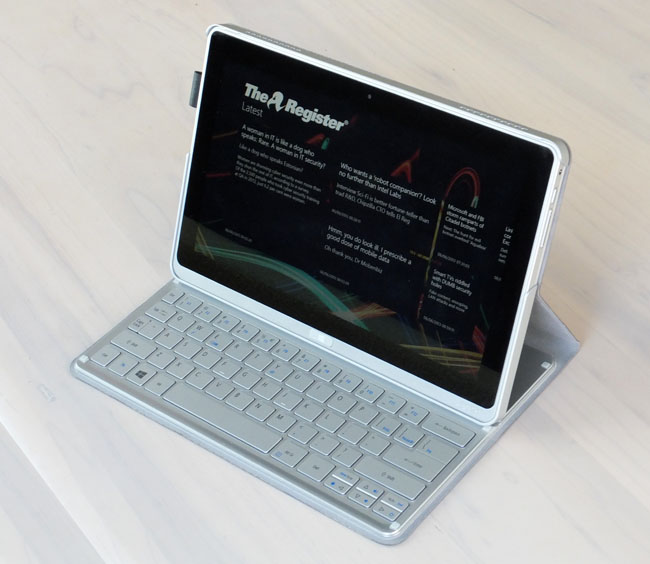 Acer's Aspire P3 touch the Ultrabook moniker, yet relies on a strap on keyboard
To some degree, Acer has a point. The Aspire P3 is just under 10mm thick and fairly light at 790g (without the 600g cover) and the pre-production sample I've been given features a 1.5GHz Intel Core i5-3339Y processor.
There's a 128GB Micron C400 flash drive on-board and although it should have 4GB RAM, this sample has only 2GB; not that you'd notice in everyday use. Indeed, the boot time to login is among the swiftest I've experienced, at about four seconds.
The 11.6in IPS touchscreen isn't full HD, at 1366 x 768, but even though it may not suit everyone, a lower resolution can be an advantage when it comes to tapping: small full HD screens can be imprecise, making small checkboxes almost impossible to prod.
This fondleslab's screen itself is sharp, bright and surprisingly unreflective. It cleans up quite easily too, which certainly isn't a given on all tablet touchscreens.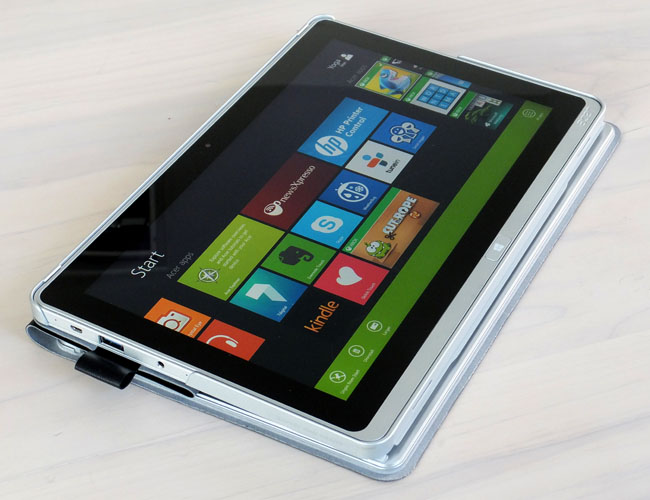 You can fold back the keyboard, but it's not the most elegant arrangement
Still, if you fancy viewing on a bigger display, there's micro HDMI connectivity next to the solitary full-size USB 3.0 port. Apart from the mains adapter, the only other interface is the mic-headphone combo jack. It's a shame there's no SD slot of any description as well though; even Atom tablets manage that one.
OK, the 128GB SSD is bigger than most Atom slates afford, but, aside from its superior performance over Atom chips, Acer is touting this for entertainment too; thus it's included Dolby Home Theatre v4 to spruce up the sound. Once you've installed the usual slew of Windows updates and loaded up a bunch of workaday apps, storage space can rapidly disappear, so having an SD slot to offload your music and movie fest is always going to be handy. There's always the USB stick option as a last resort, albeit a tad inelegant.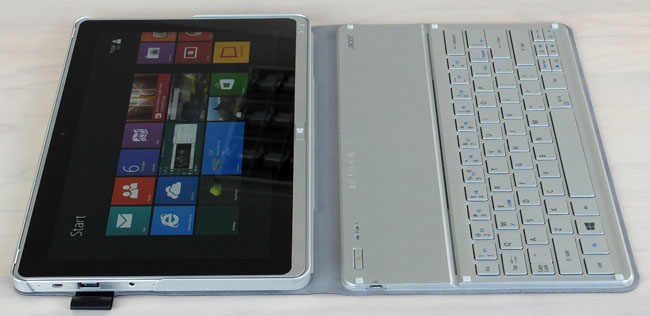 Open and shut case
Talking of USB sticks, I managed to get the Aspire P3 to acknowledge Ubuntu Linux on a pen-drive boot installation. When I say "acknowledge" it's because I couldn't get past the install options screen. The problem here was that I had no way of pressing an Enter key. At this low-level boot stage, neither the touchscreen nor the Bluetooth keyboard are functional.
Making connections
Moreover, using a USB hub never seems to work when accessing a boot drive as attempts to do this with a keyboard attached hit a dead end, despite the Linux OS being "seen" as a boot drive in this configuration. No doubt a script can be put together to get over this hurdle, but it just goes to show that one USB port isn't enough if you're inclined to experiment.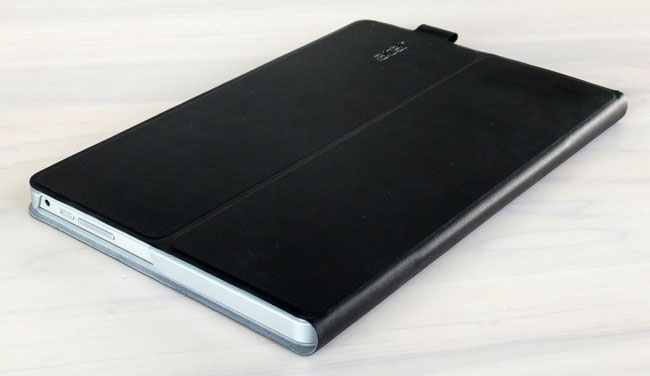 Warm leatherette
Indeed, this is why I mentioned earlier that Acer wants you to think of the Aspire P3 as an Ultrabook. Yes, it shares some qualities of this marque – fast booting, good battery life and a decent ULV processor – but it lacks some of the additional connectivity that you'd get from a notebook. Ethernet is one notable absence. OK so it's not on all notebooks either these days but with one USB port here, you end up having to choose between peripherals (a mouse comes in handy) or do some forward planning.
Personally, this does leave me in a bit of a quandary about Windows 8 tablets featuring Core i-series processors because, unless there's some clever docking port handy, the reduced connectivity feels like a missed opportunity. Or perhaps it's deliberate nobbling, but who does that benefit?
Acer's not alone with this type of configuration either, which seems like a worrying trend. Even Apple ended up putting two USB ports on the MacBook Air, having tried to get away with just one.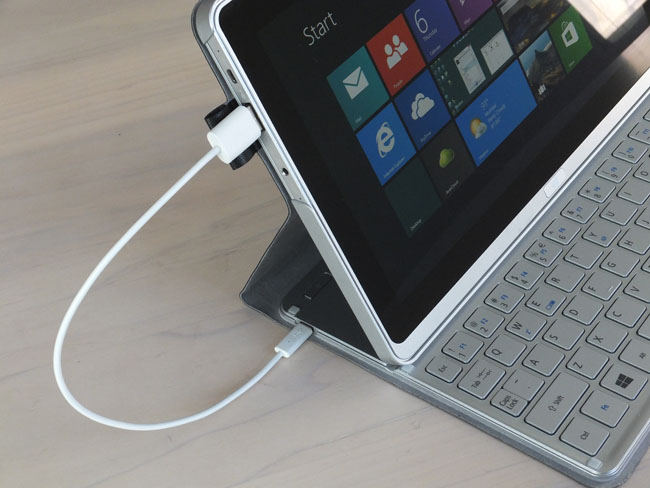 Cable ties: a charging lead is supplied to keep the Bluetooth keyboard going if the battery fades
And while we're on the subject of notebooks, what about that keyboard cover? It's a Bluetooth affair, naturally, and has nicely spaced keys with nothing out of the ordinary cropping up to cause mistyping. That said, this keyboard appears to be a US layout on a UK-localised OS, so a couple of keys don't match – although I'm told there will be a UK version. Even so, the caps lock key is the only really fiddly bit here, being so tiny, and has no status indicator; a must for passwords.
Oh, and when you get the Aspire P3 out of the box you may wonder what that short micro USB lead is for. It actually provides a neat way to charge the Bluetooth keyboard from the tablet. In the couple weeks of using the Aspire P3, I didn't ever need to charge the keyboard, not so unusual as these peripherals can easily keep going for a month or so.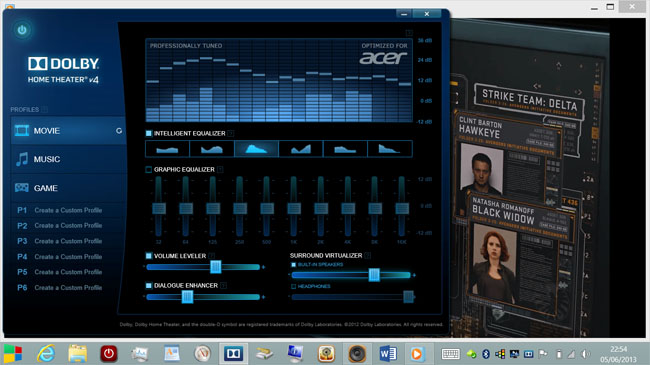 Dolby Home Theatre v4 does its best to beef up the audio output
It's a shame there are no Ethernet or micro HDMI adapters in the box too, but I did have these to hand and they both worked without a hitch; the latter enabling full HD playback on a 23in Philips monitor. As for movie playback on the Aspire P3 itself, the image looks fine but the Dolby Home Theatre v4 sound schmoozing doesn't do enough to turn tablet speakers into sonic sensation. It does make improvements – dialogue and levelling enhancements help – and you do notice movements in the stereo image, but I found switching to manual equalisation for music was more effective. The Intelligent EQ does make a difference on movies, though, and helps reduce some of the harshness inherent in tablet speakers.
Camera shy
In use, the tablet just slots into a groove on the keyboard and is propped up at the back by the leatherette cover. It could do with some magnetic anchoring, really; if you nudge the tablet it can easily become unseated. While this might be a problem on your lap if you're shuffling around a bit, on a desk or table it should be OK. The tilt of the screen, while set at 178˚, isn't too bad either. I've never been a fan of non-adjustable screen positions – the Sony Vaio Duo has this issue – but surprisingly this angle works quite nicely and is set up just right for the webcam.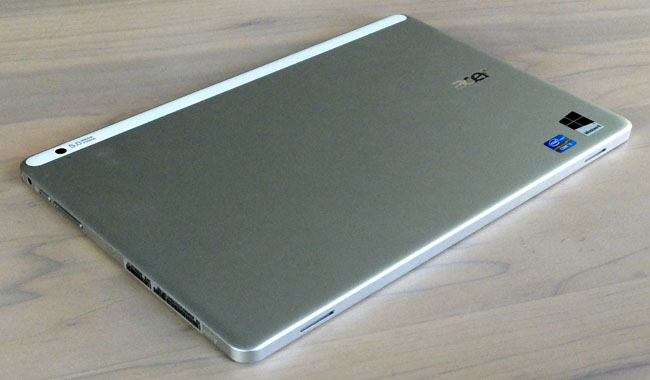 You'd never know there was a 5Mp camera on board when the cover is on
There's a 5Mp camera on the back too, not that you'd notice with the keyboard cover though, as it's completely obscured. It would be generous to suggest this is another pre-production quirk, but even the photos on the Aspire P3 site show no cut-out for the camera on the casing that cradles the tablet. Time will tell if a peephole appears when the Aspire P3 hits the shelves this month.
Acer provides its own camera app, Crystal Eye, but like just about every Windows 8 tablet, it turns out to be a rebadged Cyberlink product. Ordinary Software's StartMenuX was also installed on this pre-production model which offers some relief to those unused to the witching ways of Windows 8.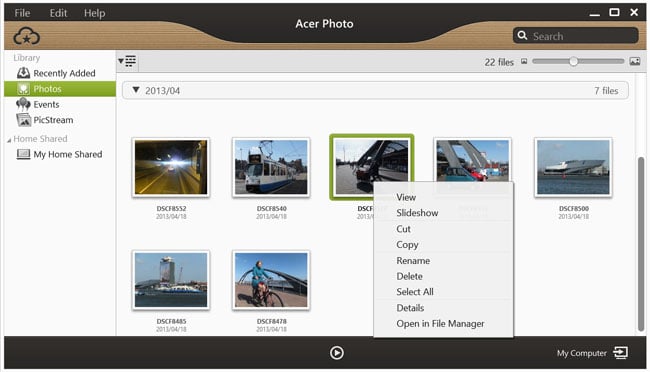 AcerCloud Photo app running on the Aspire P3
Other offerings include security and power management utilities along with AcerCloud. This is actually better than it may seem at first glance as it provides syncing options between devices including those not made by Acer, as there are apps for iOS and Android devices available too.
So I wrote this piece on Office 365 on the Aspire P3 and made the document available to AcerCloud, where I was able to read it on my iPhone (and transfer to Pages to edit it too, but not back again, alas). In addition, I could open it on the Acer Iconia A1 Android tablet I had to hand using Kingsoft Office, and save those changes for all sync'd kit to see.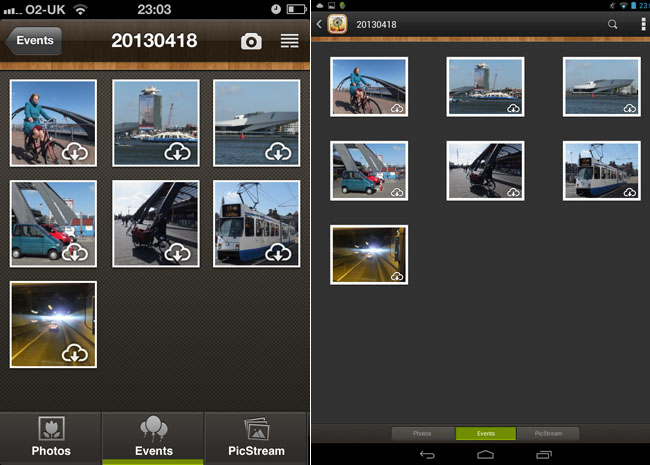 AcerCloud Photo app on iOS (left) and Android (right)
Taking screen grabs on these various devices also ended up syncing up across them all, along with a selection of photos. You need different apps to view specific content, but the service is free and there's no storage limit. The way it works is that your files stay on the AcerCloud servers for 30 days from upload. That way nothing stays squatting in cyberspace, as the content is always being refreshed. I'm not sure how I'd react to missing files after 30 days, but it might not be a bad habit to get into if you suffer from constant document clutter.
Talking of bad habits, as it's a pre-production model, Acer asked me not to benchmark the Aspire P3 ... but I did anyway. The results are nothing to be ashamed of, and will no doubt improve with additional RAM. PCMark 7 clocked up a score of 3909 and the 40Whr battery managed three hours, two minutes on PowerMark. I managed close to six hours with the screen on full blast for most of the time writing on Word and occasional web browsing, with another hour spent in sleep mode.
My biggest grumble was a simple one: when holding the right edge to push in a USB connector on the left, I invariably ended up pressing in the right power button too and turning it off by accident. It was just too easy to do without realising – cursing guaranteed.
The Reg Verdict
Like most Windows 8 tablets, there are compromises and the Acer Aspire P3 is not exactly unusual in having fairly spartan interfacing options. Yet, when you're buying into a Core i5 spec, you could be excused for feeling a little shortchanged with just one USB 3.0 port and no (micro) SD slot. The latter you'll find on the Microsoft Surface Pro; another keyboard cover combination and with a full HD 10.6in screen too, but it'll cost ya.
At time of writing the cost of the Acer Aspire P3 was unclear, with £600 bandied around as a starting price. Amazon has the basic Core i3 2GB RAM, 60GB SSD model up for £549, so it seems likely that the Core i5 version won't be on sale for a giveaway price. ®