Original URL: https://www.theregister.co.uk/2013/06/06/feature_interview_steve_jackson/
Interview: Steve Jackson, role-playing game titan
Fighting Fantasy creator and gaming prof talks to the Vulture
Posted in Personal Tech, 6th June 2013 08:30 GMT
Feature There aren't many interviews – particularly when it comes to those offered because someone has a new video game to promote – that take place at the home of the interviewee. Such was the case, however, when I went to meet Steve Jackson. A man who, along with university chum Ian Livingstone, not only founded Games Workshop, but also coined the term Fighting Fantasy.
In many ways the pencil-and-paper role-playing of Fighting Fantasy was the precursor to the video games industry as it is today. Indeed, it's more than likely that most British gamers of a certain vintage - and even a fair few designers - will have, at one time or another, experienced the excitement generated from your own imagination and a throw of the dice.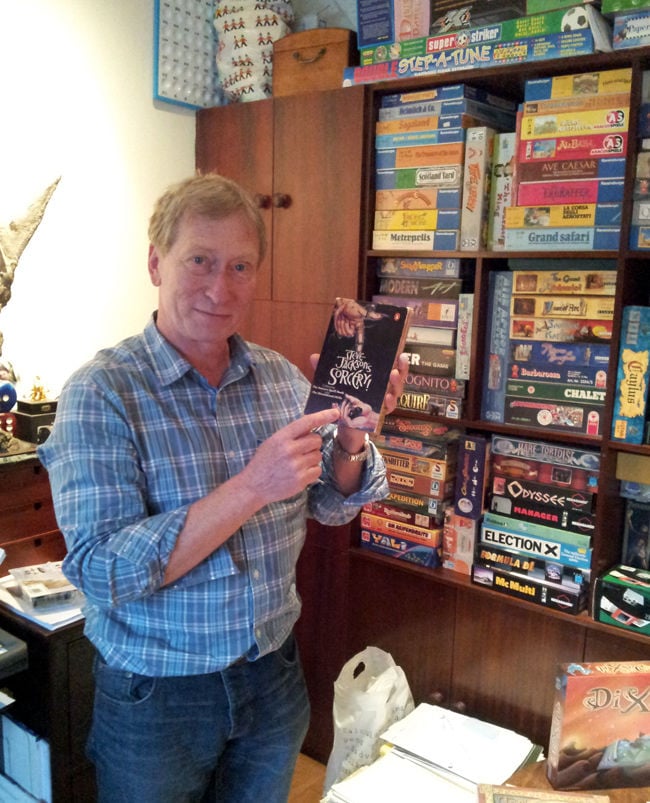 Sorcery! man Steve Jackson
Ushered into Jackson's study, the first thing to strike my eye is the vast array of board games stacked high and deep on shelving covering every inch of the walls. Strictly speaking we're here to discuss the recent iOS app conversion of his Sorcery! series of adventure game books, but it seems impolite to begin without a quick look at his collection.
Jackson simply can't help himself as we peruse the shelves: immediately moving to grab one of his favourites to point it out like an excited kid showing off his Christmas presents. His enthusiasm is utterly engaging. Before I've even asked a question, he's off and running, telling me about how he got into board games in the first place.
"I was the founder of the first board games society at a British university, for whatever that's worth," Jackson recalls. "It was the University of Keele Games Society and I'd just discovered Diplomacy. Games lasted almost the whole night: you'd all sit down at ten and you wouldn't finish until two in the morning, usually with tears and fallings out.
"Diplomacy was a really evil game and I remember talking to someone, saying I'd just discovered this wonderful game and that we had to have a game some time. But he was like, 'Yeah, Diplomacy's OK, but you've got to play Warlord, that's a really good game,' so I was intrigued."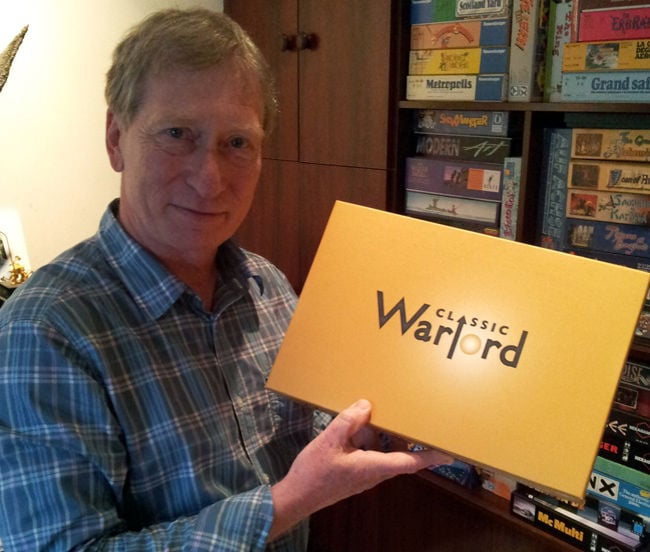 Warlord: one of the Games that help start the Workshop
Jackson tells me how this invitation to play Warlord, a Risk-esque conquest game created in 1974 by Mike Hayes, led to a lifelong fascination with the game. And it inspired the creation of Games Workshop, a company founded in partnership with friends John Peake and Ian Livingstone that originally sold "obscure games, like Warlord and Railway Rivals, games you couldn't buy in shops" by mail order. To accompany the mail order list Jackson and co. started putting out a newsletter, Owl and Weasel – later rechristened White Dwarf.
"About six issues into Owl and Weasel we got sent this game from the States which we'd heard about. Ian and I were interested and tried to find out how to play it. We read all the rules and couldn't make head nor tail of it. It didn't seem to have any game plan, you didn't use a board and you made it up as you went along. Then we went to a gaming session at City University where they played it, and suddenly we got it and it was just, 'Wow! This is the best game ever invented'."
The game with the "wow" factor was, of course, Ernest Gary Gygax and Dave Arneson's multiplayer Dungeons & Dragons. A proposed partnership between Games Workshop and Gygax's firm and D&D publisher, TSR, hit the rocks. The role-playing game nonetheless acted as the catalyst for the Workshop's expansion through the early years, thanks to a focus on selling the D&D rulebooks in the UK.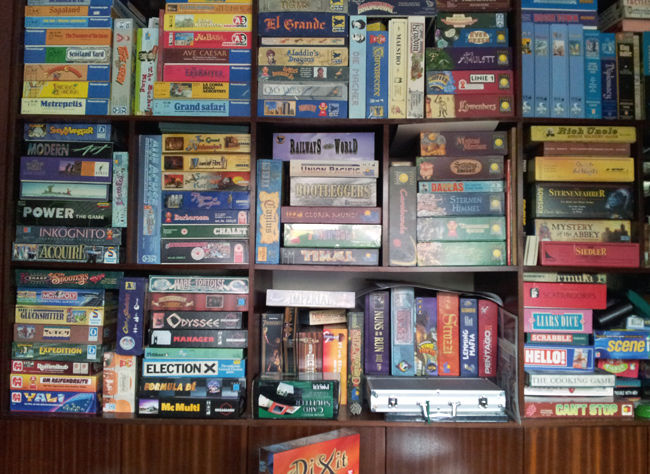 More games than you can shake a Stick (+2) at
The subsequent leap from D&D to the creation of a single-player, dice-driven adventure game book was inevitable, according to Jackson. "At that stage of gaming's evolution, these solo game books were going to come out and it was just a question of who got there first." In his case, it took place after a meeting with publisher Penguin Books at a games show, but he and Livingstone were not the only ones exploring the concept.
Fighting Fantastic
"I took a manuscript over to a trade show in California, and I was talking to one of our suppliers. He was saying, 'What's happening in England?' I said Ian [Livingstone] and I had just come up with a different type of role-playing game; this is one you play in a book. He said, 'I don't believe it', and went running to the back of the stand and came out with a manuscript which was pretty much the same thing."
In the UK and Europe, the race to release a role-playing adventure book was won by Steve and Ian's The Warlock of Firetop Mountain, published by Penguin's children's imprint Puffin in August 1982. It was a huge success. The Warlock sold out of its first print run of 20,000 copies in a matter of weeks, and subsequent impressions sold out even faster. The two writers followed it up with The Citadel of Chaos (written by Jackson) and Forest of Doom (written by Livingstone), in March 1983. The Fighting Fantasy series was born. Many more episodes were released over the following years, with new writers coming in to help maintain the release schedule.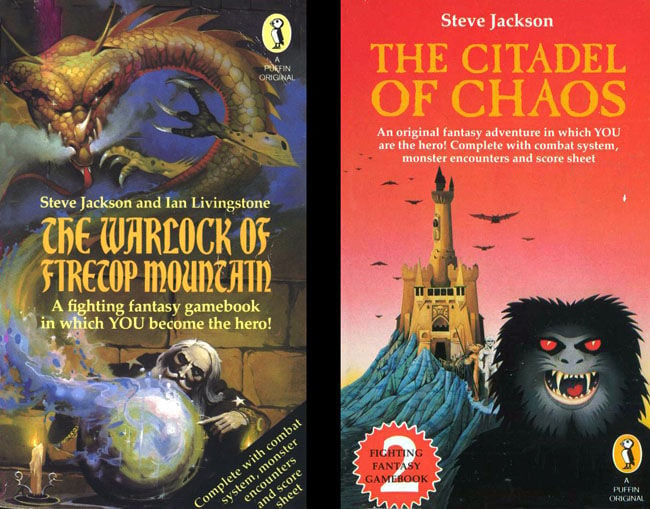 Steve Jackson's Fighting Fantasy firsts: Warlock of Firetop Mountain (written with Ian Livingstone) and Citadel of Chaos
"If I was writing a Fighting Fantasy book now there would be a great big poster up on the wall looking like a computer flowchart, with numbered arrows showing what's going to what. Here's the wishing well, this is the bit where there's a manbear there or something like that. You'd draw it out with a target of about 40 possible encounters with mini-adventures in-between.
"We always started off by writing the beginning, then the next bit was the end, and the middle would come after. It was complex, and testing was quite like developing a computer game too: if there were any bugs it would make the whole thing unplayable."
Sorcery! itself was an off-shoot of Fighting Fantasy's success, pitched as an adventure book aimed at an older age group. "Why should the kids have all the fun?" demanded the series' advertising. Beyond Penguin's desire to attract a new audience of book buyers, Sorcery! also sprang out of Jackson's need to keep coming up with fresh takes on the genre.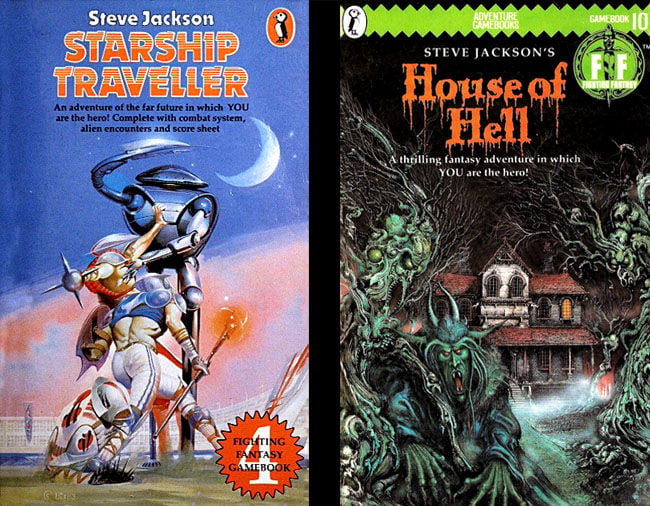 Variations on a theme: Steve Jackson's Starship Traveller and House of Hell
He was, he says, a "bit restless", with Fighting Fantasy. "I always wanted to see what I could do that was new. If I was writing a new book it had to be inspired by a neat little rule change. Trivial little things really, like you could be scared to death in The House of Hell."
With Sorcery! the innovation came, predictably enough, through the inclusion of a complex spell-casting system, a more extensive version of the magic system he'd created for Citadel of Chaos. Sorcery!'s own magic was sufficiently detailed to merit a separate spell book to be printed and bundled with the game book, though in later editions it was simply added as an appendix.
"I never knew how readers were going to take to [the magic system]. There were 48 spells in there and each had a three-letter code which in English gave you a hint [of what the spell did]: ZAP was a fire blast, and HOT a fireball.
"I had no idea whether people were going to be bothered with that, or if they'd just look at the best result, because people used to cheat, of course. We used to say that's why God gave us ten fingers, so we could stick them into the Fighting Fantasy book to remember all the places we'd been to!"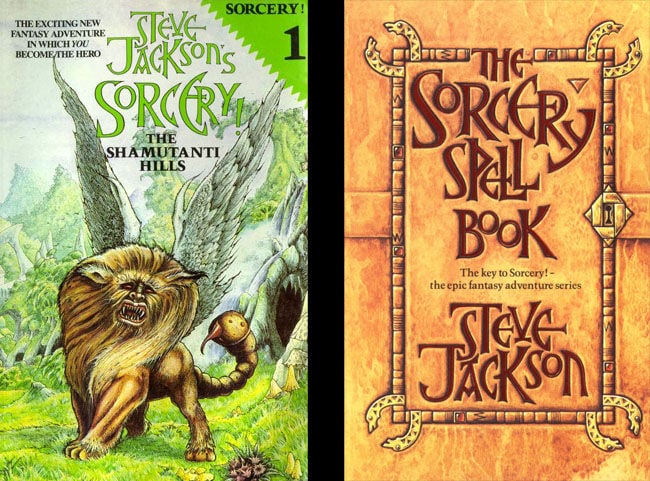 Sorcery! was originally aimed at adults, and the first edition of part one, The Shamutanti Hills, came with a separate spell book
Talk of Sorcery! brings us to Cambridge-based programming team Inkle's re-envisioning of the series for mobile devices. Its conversion of the first Sorcery! book, The Shamutanti Hills, allows you to rewind to any decision point you've covered – no more need for marking out previous decisions with fingers or folded page corners. The game also offers a revamped combat system that eschews virtual dice rolls in favour of a system that requires skill as well as a bit of luck.
"We had a long discussion about the new combat system," Jackson says. "We weren't sure if the readers wanted just an updated version of the original book, or if they would appreciate us dragging it into the digital domain and actually using the digital aspect."
From pages to pixels
Moving away from Fighting Fantasy's dice rolling was a tough call. There is, as all Fantasy players will know, a sense of control in rolling a pair of dice that's missing from a simulated on-screen dice roll.
"If you play with physical dice, you pick them up, you kiss them, you think you influence them. If you press a button, or shake your iPad, it's not quite the same thing. You never get more excitement in a game than when somebody needs a five or a six to win, the solution is in their hand, they've got the die. It's a psychological thing but it's something I don't think you can reproduce [on a digital device]," he says.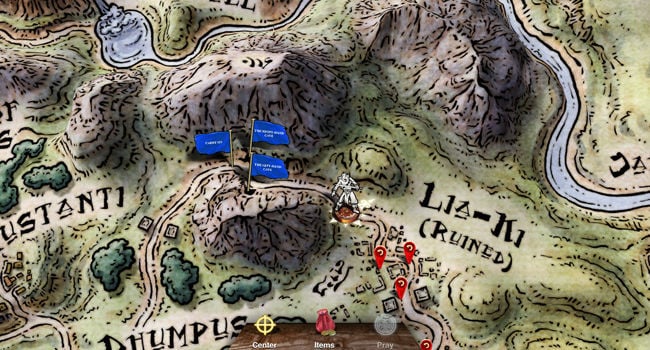 No more steenkin' graph paper: Inkle's take on Sorcery! brings the map to the fore
Even so, computer technology largely supplanted adventure books, and role-playing and table-top board games, in the 1990s. No surprise, then, that Jackson - and Ian Livingstone - moved in that direction themselves. Livingstone joined publisher Domark after he and Jackson sold Games Workshop, and went on to run Eidos after it acquired Domark in 1995. Eidos released a 3D game based on Livingstone's popular Fighting Fantasy book, Deathtrap Dungeon.
Jackson himself went on to co-found Lionhead with ex-Bullfrog co-founder Peter Molyneux. At Lionhead, Jackson worked on the development of Black & White and The Movies. He left in 2006 when Microsoft bought the company. These days he's Professor of Game Design at Brunel University, teaching new generations of would-be developers how to create compelling game experiences.
"I don't play video games as much as I used to but I'm much more excited by apps these days. I've been playing Diablo III recently, but today's [big budget] triple-A games are pretty much all the same, they just look better than they used to. You can't get excited about a new one that comes out. But you trawl through the App Store and you come across really great games. Like Spaceteam, it's just the most ludicrous game you've ever come across."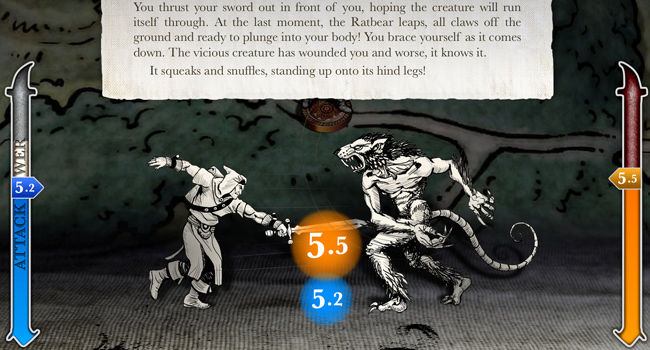 Sorcery!'s combat is interactive - but not quite as tension-building as rolling dice
Indeed, Henry Smith's multi-participant game gives each player a randomly designed spaceship control panel. Players bark technobabble commands at each other. If they fail to keep up their ship explodes and the game ends.
"You very rarely see a game come out that breaks new ground, and that's the disappointing side of things really," the professor adds.
For Jackson, then, it's all about novelty and the challenge of continuing to keep games fresh. He'll do another Fighting Fantasy game book, he says, "as long as it's something I haven't done before. If you look at the ones I did they were always different. I did a science fiction book [Starship Traveller], a horror one [House of Hell], superheroes [Appointment with FEAR], one where you're the monster [Creature of Havoc].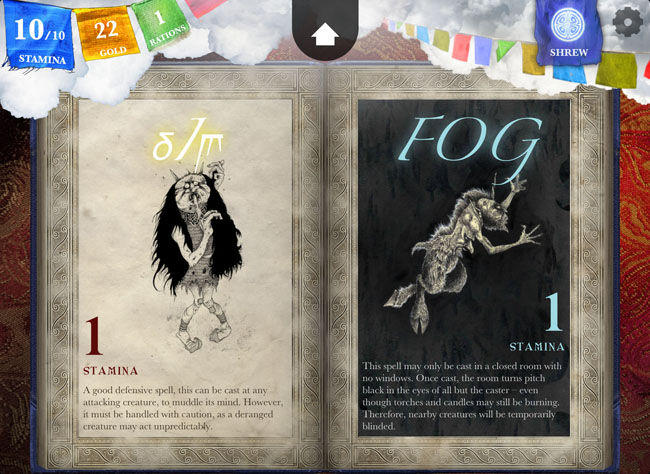 Spell checker
"But I'm more interested in the apps than the books, as there's more you can do with them. If apps publishers are looking for new ideas, new developments, that's when I'd get back into them." ®
Steve Jackson's Sorcery! is out now for iOS via the App Store.