Original URL: http://www.theregister.co.uk/2013/06/05/feature_space_invaders_at_35/
Thirty-five years ago today: Space Invaders conquer the Earth
Bleep Bleep PEW Bleep Bleep PEW PEW BLEEP BLEEP
Posted in Personal Tech, 5th June 2013 08:30 GMT
Antique Code Show Tomohiro Nishikado already had a string of almost a dozen arcade games under his belt when he started on what was to become the best remembered - certainly the most played - game he was ever to create: Space Invaders, released in Japan 35 years ago this month.
Nishikado was an engineer who had joined vending machine company Taito in 1969, not long after graduating. Taito's managers put him to work on mechanical gaming machines, called Pachinko by the locals, but in 1972 he devised the company's first electronic offering, a take on Atari's popular Pong. Released in 1973, Nishikado's Elepong was a something of a hit, and he went on to create a number of other video games, including Speed Race, a top-down scrolling car racer released in 1974, and Interceptor, a cockpit-view aircraft combat game that came out the following year.
Then, in 1977, he began work on what would become Space Invaders, though he has said it was originally to be named Space Monster
"Early on in development, Space Invaders was designed as a game where you shoot people, airplanes and tanks," Nishikado told USA Today in 2008. "However, the characters' movements didn't really look or feel like tanks or airplanes. When Taito saw the prototype, they said, 'You can't shoot people! And you must not create the image of war.' So I changed the characters into monsters."
Having said that, Nishikado had created Western Gun for Taito two years previously. Western Gun, a two-player affair released in the US as Gun Fight, was the first video game that challenged the player to shoot representations of people. Taito didn't seem too bothered then - so why kick up a fuss in 1977? Western Gun is essentially Pong with bullets instead of balls, and cowboys instead of bats. Static cacti and moving stagecoaches can be seen as early takes on Invaders' protective blocks and moving UFOs.

Life aquatic: the Invaders were inspired by the creatures of the sea
If Taito didn't ban human combat, then it's more likely Nishikado simply got wind of the growing interest in space opera sci-fi and cut his new game's cloth accordingly. He told USA Today: "At the time, I was trying to decide what the focus would be, and had heard of a sci-fi movie being produced in America called Star Wars. I thought a space fad might be on the way and decided to focus on aliens. And that's how the monsters became the Invaders that are known today."
George Lucas' film wasn't Nishikado's only inspiration. Seeking out possible monsters, he hit upon the brain-and-tentacles Martians from HG Wells' War of the Worlds. This gave him the notion for an octopus-like creature and, in turn, got him thinking about other possible sea beasties.
"I came up with a squid and a crab. My favourite is the crab," he revealed back in the 1980s. Pencil sketches of the aliens were refined to yield each alien's basic design which was then simplified into pixellated equivalents, with a variation of each added to provide a sense of animation.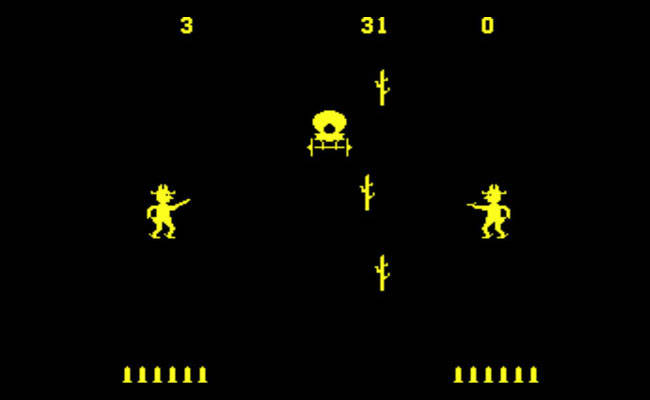 Pong with bullets: Nishikado's 1976 shooter, Western Gun
'Make the UFOs sound like they're from outer space, mkay?'
The grid-like layout of the player's opponents is said to have been inspired by the wall in Breakout.
Nishikado would later claim that "the programming, the concepts, the characters, the graphics, the production, the hardware - I took care of all of it on my own", though he admits the sound design was handled by a colleague. "The actual audio source was developed by someone else, but I did request that the sound of the approaching invaders be a deep sound like a beating heart," he told USA Today. "I also wanted the UFOs to sound like they were from outer space."
The biggest challenge, however, was the hardware.
"The hardest part was the development of a microcomputer," Nishikado told Edge magazine a few years ago. "Microcomputers were hardly used at that time in Japan, so we had to create one from scratch. I could almost say developing the microcomputer was harder than developing the game itself. These days, we have personal computers to rely on, but there was no programming environment back then. So I had to create everything by myself. I created a development device, wrote a part of the game that runs on it, and then created more devices along the way."
Nishikado built his board around Intel's 8-bit 8080 processor. All of his previous games were powered by discrete logic chips, rather than a central processing unit, however freelance engineer Dave Nutting used the 8080 in his 1976 remake of Nishikado's Western Gun for the game's US licensee Midway. Nishikado was impressed with the performance boost the microprocessor gave the game.
"As a game, I thought [Taito's] version of Western Gun was more fun," the Japanese engineer later said. "But just from using a microprocessor, the walking animation became much smoother and prettier in Midway's version."
Still, the 8080 lacked the grunt to manipulate colour graphics, but that low horsepower serendipitously helped define the tempo of the game. Each invader zapped meant one less sprite to track and animate, reducing the processing overhead and thus speeding up the animation. The upshot: a stately shuffling of aliens who increase their pace until a single monster is left racing left and right across the screen.
The bass "heartbeat" of the invaders' movement was generated by a mix of analogue amplification and the output from a Texas Instruments SN76477 sound chip. With the sound tied to the step-by-step movement of aliens across the screen, quicker steps meant more rapid bursts of sound. What else could the player's own pulse do but race with it?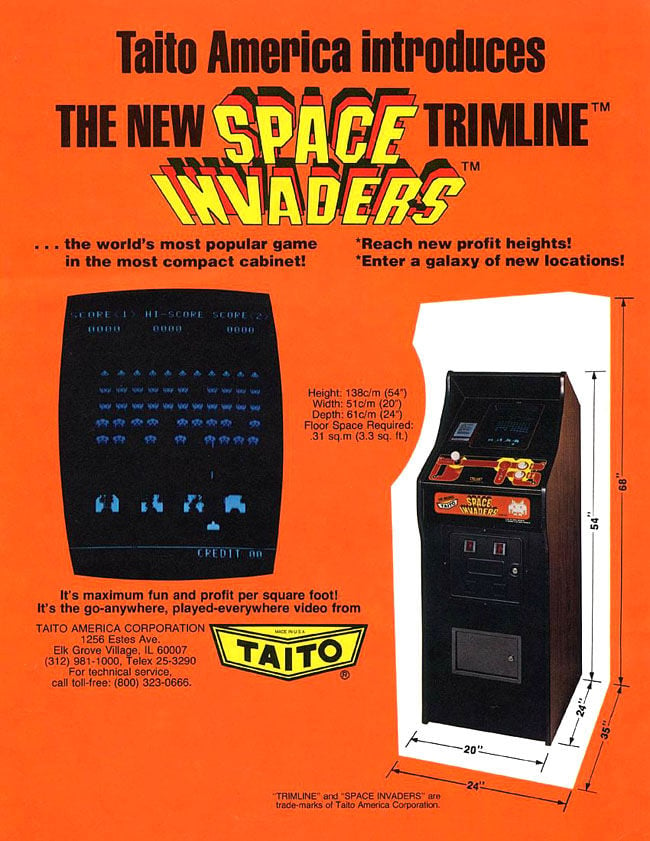 Calling all arcade owners: Taito promotes Space Invaders
That hypnotic, ever increasing beat explains the game's draw and its success. All early arcade games challenged players to try again for a higher score, but Space Invaders was particularly good at stimulating the gamer's adrenaline response.
No wonder Japanese kids couldn't stop themselves stuffing ¥100 coin after ¥100 coin into Taito's machines, which began to appear in cafes and arcades in the late spring and early summer of 1978. The much-reported story that the Space Invaders craze led to a national shortage of 100-yen pieces might be nothing more than an urban myth - or the invention of a canny Taito PR operative - it nonetheless demonstrates the popularity of Nishikado's game.
Loose change
Japan minted 588 billion ¥100 coins in 1982, according to numismatists' bible, the Krause Standard Catalog, up from 292 billion in 1978, though it had punched out 440 billion the year before so fewer were needed. But in 1983, only 50 billion of the coins were produced.
Should we be equally sceptical about the claim that Taito smartly rushed out a sit-down-to-play "cocktail table" version of the game to appease cafe owners, who were annoyed that visitors spent too much time playing the upright cabinet Space Invaders rather than eating and drinking?
"I anticipated [the game] would be a hit, but never thought it will be so huge," Nishikado told Edge. "I was delighted to see it became popular, but I did not get overwhelmed by it because I was already too busy working on the next project."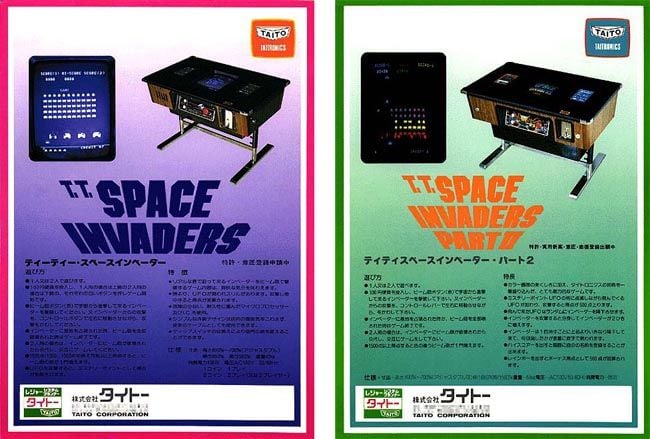 Cocktail cabinets: Taito's alternative Space Invaders unit
By the end of that year, Taito is said to have installed more than 100,000 cabinets and tables. Players' Invaders addiction pumped $600 million into the company's coffers. So eagerly were they playing Space Invaders, other games languished. Taito's larger rival, Howagiken, went bust.
Taito had a long relationship with North America's Midway, part of US slot machine maker Bally. Midway acquired the US rights to Space Invaders, and released its own cabinets in the States in 1979. Atari signed up too, and a year later it released the game on its VCS console. It was a canny move - rather a lot of folk bought a VCS simply to play Space Invaders.
Midway would soon decide not to renew its Space Invaders licence, preferring instead to offer instead a superior version written by Japan's Namco: that was 1979's Galaxian, an impressive upgrade with dive-bombing wings of full-colour aliens as well as screen-marchers. Out went the protective bases, in came space-based action - you controlled a ship rather than a mobile gun. And now there was background music. But it couldn't beat the original, which by then was available to play in more than 360,000 arcade cabinets worldwide, all putting billions of dollars into the pockets of the arcade owners who'd bought them from Taito and its overseas partners.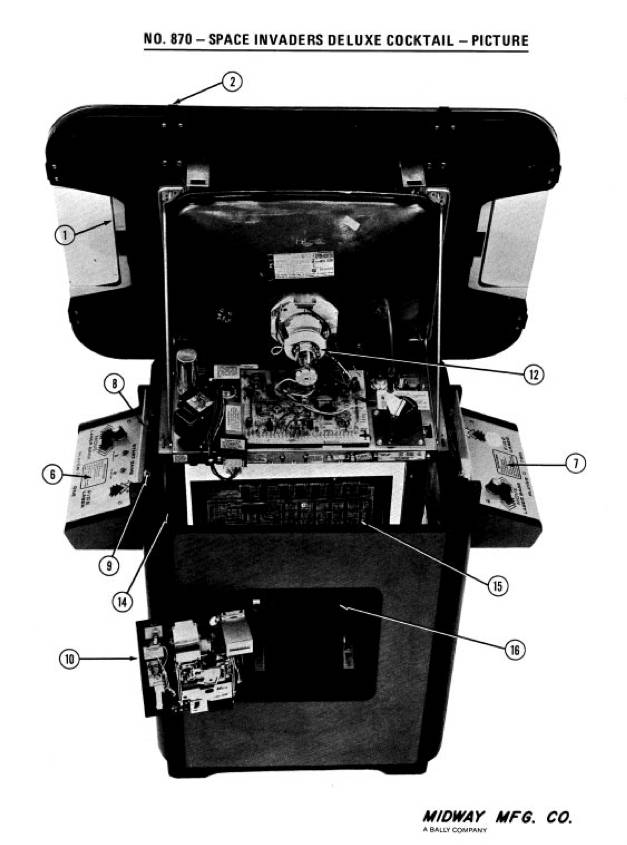 From the Midway manual: inside Space Invaders Deluxe
Galaxian was better than Taito's own follow-up, the 1979 coloured-in Space Invaders Part II - released by Midway as Space Invaders Deluxe - which allowed high-scoring players to record their initials. But Taito didn't limit itself to sequels. In 1980, it licensed Phoenix from Arizona-based Amstar Electronics, which was a full-colour Space Invaders-like game with an X-shaped craft, the more active aliens of Galaxian and, for the first time in a space shooter, boss levels.
Namco and Midway battled back in 1981 with Galaga, which introduced a more rapid rate of fire than Galaxian had provided, and gave the aliens the ability to capture the player's ship in a tractor beam. Challenge screens appear as occasional bonus rounds and reward the player with points for gunning down invaders performing complex aerobatics.
But the arcade gaming market was becoming more and more competitive: the simple yet hypnotic gameplay of Space Invaders was challenged by a host of other hugely popular alternatives to extraterrestrial slaughter: Pac-Man, Frogger and Donkey Kong in 1981, and The Ridge Racer in 1982. Even in the space-invasion genre, there were plenty of newcomers: side-scrollers such as Defender and Scramble in 1981, Sega's isometric alternative Zaxxon in 1982, and vertical scroller Xevious in 1983 - a game better remembered than the likes of Nihon Bussan's Mission-X and Zoar, which delivered the same experience a year earlier albeit in a World War II-style scenario.
Meanwhile, Tomohiro Nishikado continued developing new games for Taito through to the mid-1990s. He then left to form his own company, Dream, where he largely left game development to others.
Taito itself, fuelled by the video game boom, expanded with a North American subsidiary, but ran into tough times in the mid-1990s thanks, in part, to the rise of the personal computer as a games device. The US operation was closed, and Taito was acquired by printers and electronics giant Kyocera. In 2005, it was sold to Square Enix, itself the result of a merger between two Japanese companies that got into games in the early 1980s on the back of the market Taito had, in part, driven.
Midway, which achieved its first major success through its Space Invaders licence, continued in the gaming business under various owners until 2009 when it finally went bust after several loss-making years.
And Space Invaders itself? It has never gone away, and probably never will. Almost every new computing or gaming platform released since 1980 has had a version of the game, and countless amateur versions have been written and released over the years. And that's before you get onto the thinly or more careful disguised titles derived from it.
Tomohiro Nishikado's alien has become one of the defining icons not only of gaming, but of late 20th and early 21st Century technology culture. It appears on T-shirts today as much as it did in the heady days of 1978 and 1979. ®