Original URL: https://www.theregister.co.uk/2013/06/04/review_hp_slate_7_android_tablet/
Review: HP Slate 7 Android tablet
With added Beats to drum up sales
Posted in Personal Tech, 4th June 2013 09:07 GMT
The other day Vulture Central was visited by HP with a Google chap in tow. We were treated to a couple of HP products: the new Slate 7 Android tablet and the company's latest Chromebook, which we'd already seen as it happens.
The smart-looking seven-inch, dual-processor-core tablet appeared to have little to distinguish it from other Jellybean offerings. However, the HP folks were keen to point out the HP ePrint app that's bundled with it. Mmmh, this looks easy – hack takes picture, opens app and hey-printing-presto over the wireless network.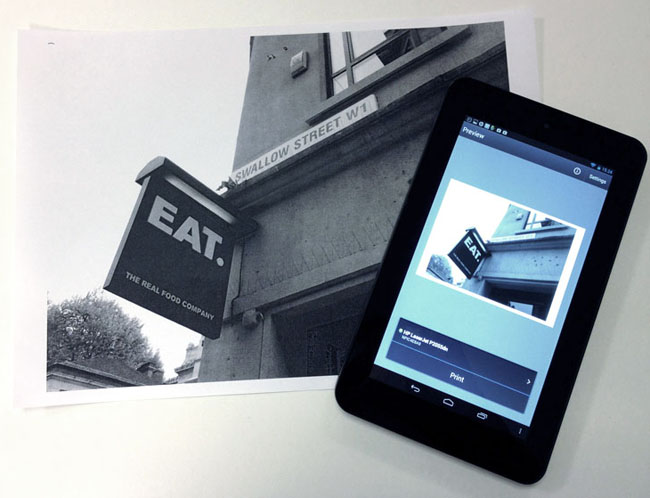 Photo taken with the HP Slate 7 camera and printed over a Wi-Fi network using the ePrint app
"So what's the Chromebook like for printing these days?" I asked, recalling my experiences of Cloud Print on a Samsung Chromebox a year earlier. This is where things took a dive. The setup on a Chromebook remains the same: in a word, frustrating. Cloud Print, which sends your documents to a printer via Google's central systems, is also the default printing method on Android tablets. No great surprise as the operating systems on both devices are in the hands of the same company: Google.
So how come a simple app from HP takes away the Cloud Print pain on a tablet and yet a Chromebook has to send your print task into cyberspace and back to do the same job? Alas, there's no ePrint silver bullet on HP's own Chromebook and what if you haven't got a Cloud-Print-ready printer? The Google guy sat there and said I could always hook up to another computer to print – er, what's wrong with this picture? Meanwhile, the HP folk were looking rather pleased with themselves as the Slate 7 pic print job rolled out from one of our network printers on the very first try.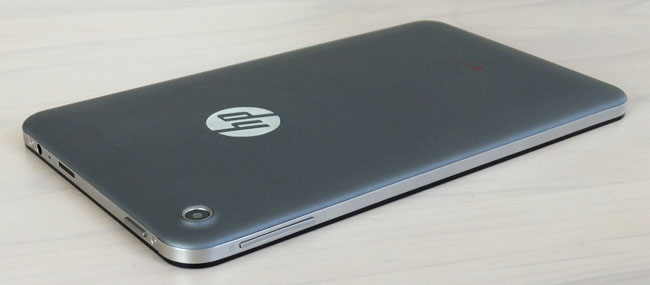 Dressed in Beats clothing: red or silver to suit your style
OK, so HP got lucky as we use some of its LaserJet printers. The big players in printing all have mobile apps these days, so most people can pull this trick on a tablet with the right app on board. HP is just making the most of its assets here and it does it again on the Slate 7 by including Beats Audio processing featured on its laptops that delivers a bass boost on playback. Yet for the Slate 7, the Beats beefing applies to headphones only. Still, the Android tablet market is so very crowded these days that any kind of differentiation is worth pushing to the front. And just to make the point, the Slate is available in red or silver, mimicking the Beats livery, and there are tablet-plus-headphone bundles on offer too.
Indeed, what we have here is a similar spec to a lot of seven-inch tablets. A 1.6GHz dual-core ARM Cortex-A9 processor, 1GB of DDR3 RAM and 8GB of storage. The latter can be increased using the micro SD card slot, another differentiator that really is worth having. Yet what HP giveth it also taketh away, sort of. The micro SD card is a plus point over the Google Nexus 7, but the advertising giant's tablet has a 1280 x 800 resolution, while the Slate 7 makes do with 1024 x 600 pixels on its touchscreen display.
And while we're comparing, the AnTuTu benchmark utility shows that the quad-core Nexus 7 turns out to be only marginally faster than the dual-core Slate 7 proved to be. All in all, you get a cheaper tablet with storage expansion but no HD screen.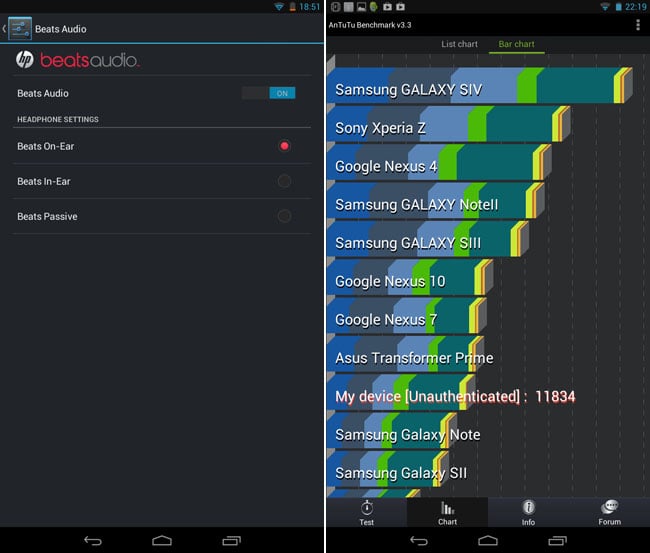 Beats sound output options and AnTuTu scores
In the hand, the HP Slate 7 feel robust, although at 197 x 116 x 10.7mm and 370g it's not the slimmest nor the lightest. The FFS+ display is sharp enough for this size, but doesn't fare too well in bright sunlight, but what tablet does? Even in a shady spot, it's the reflections from the bright surroundings showing on the screen that hamper viewing the most, as I discovered whilst eBook reading during a sunny spell here in Blighty.
Sound thinking
Still, text is certainly sharp enough for e-reading even if the screen has a faint graininess to it which is more apparent with photo and video viewing. This understated contrast does get more punchy if viewed straight on but who does that habitually? The HP Slate 7 isn't unique in this respect though, most tablets of this size and resolution exhibit similar characteristics. If you want crisp and clear then you'll have to shell out for an HD screen tablet.
Another not so dazzling aspect is the 3Mp camera on the back. It'll do for a few quick snaps but as I see more and more tourists around London capturing the sights with tablets, the Slate 7 isn't going to please many when they see the video results. The 640 x 480 resolution capture is a bleary, blocky mush reminiscent of those nasty H.263 clips you'd get from phone cameras about six years ago and the audio suffers from babbling-brook artefacts.
On the tablet screen, these shortcomings aren't immediately obvious but go the extra mile and try video editing on the Android Movie Studio app and you'll be in for a shock when you export the results. As for the app, the edit transitions are jerky with the Slate's video recordings and you'll wonder why you bothered.
The front facing VGA webcam doesn't do too bad a job though, with auto white balance delivering reasonably human skin colours in mixed lighting environments.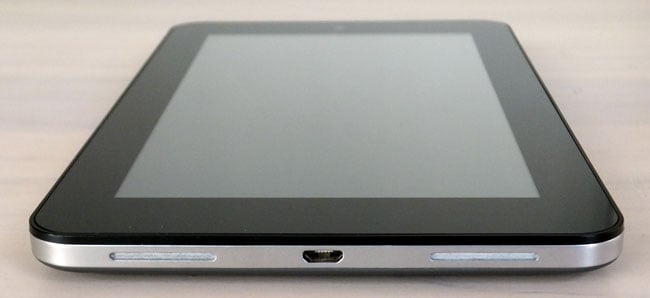 7in tablet speakers are typically awful and these are no exception
As for audio, tablet speakers have never been a strong point and the Slate 7 has just about enough power to make a movie audible without headphones, just don't breathe too loudly. You'll not want to hear to music this way either, especially as the Beats Audio bass boosting really does make quite an impression on headphone listening warming up the sound considerably without being too overbearing. Movie soundtracks really benefit from this treatment too.
If you have a movie habit then the microSD card slot will come in handy and hot swapping didn't produce any problems. You'll want to instal VLC Player or something similar to ensure AVI playback. It did struggle with HD content though, so you'll need to test out your library first before jetting off somewhere. However, SD playback was a walk in the park. Needless to say, there's no MHL function for HDMI via the micro USB port – the only accessories on the site are headsets. Incidentally, HP does supply a mains adapter. The battery life isn't amazing and if you're likely to run it at full blast during the day then you might have to get used to charge intervals akin to a smartphone.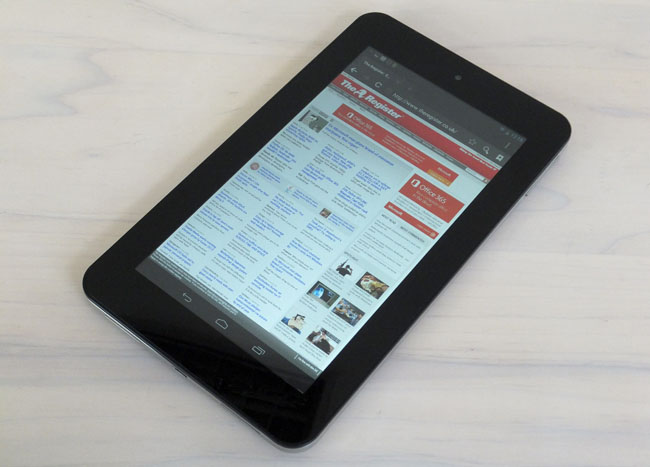 A nice enough tablet, just not cheap enough given the alternatives
In its favour, the HP Slate 7 seems to be put together quite well. Rather than an aluminium frame encapsulating the screen, it features a stainless steel band around the sides (iPhone 4 style) with black plastic beading along the edge of the screen. The latter might be an advantage if dropped, cushioning the blow a little, rather than have metal bending in and cracking the screen. Maybe, maybe not. The back has an anodised metal appearance, but is soft touch plastic and looks rather smart.
The Reg Verdict
For all its good looks, the HP Slate 7 does seem a bit of a mixed bag. The Beats Audio treatment is impressive with both music and movies, but the tablet itself is not too happy with HD content. The 3Mp camera on the back is a bonus and OK for snaps but with video it's terrible. Given its weight you might expect something more than a 13.4Whr battery too although, luckily, you're not stuck with just 8GB of storage – the redeeming feature here is its micro SD slot. So there are pros and cons aplenty, but with 16GB 7in HD tablets around for the same price, the HP Slate 7 is not exactly an easy sell. ®