Original URL: https://www.theregister.co.uk/2013/05/31/review_pure_jongo_s3_multiroom_speakers/
Review: Pure Jongo S3 multiroom speakers
Furniture music
Posted in Personal Tech, 31st May 2013 08:27 GMT
I'll admit, I didn't think I was going to have much to say about Pure's Jongo S3 speakers, the latest addition to its growing wireless audio gear range.
It connects to mobile devices, but what else is new? Well, there are a few nice touches to this boombox, the most significant being its integration with the online streaming service, Pure Connect. This is a bit of an iTunes wannabe that can be accessed from your browser or from Pure's Wi-Fi radios. Lest we forget the apps for iOS and Android that play nice with Pure wireless gear, but more on this later.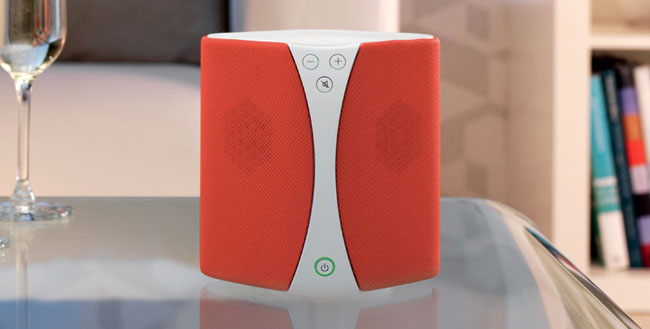 Look no wires: Syncs for multiroom use and has battery power too
What we get with the Jongo range is Pure's venture into multiroom speaker systems - the ability to stream music over 802.11b/g Wi-Fi from one room to a speaker in another. But if you want to listen to stuff in multiple rooms, and you don't have multimillions, you can easily move a solitary S3 around as it has a rechargeable battery in the base that's claimed to last for 10 hours. Pure's forthcoming Jongo T6 is a bigger beast pumping out 2 x 50W but is mains only, whereas the A2 is simply a hi-fi adapter for wireless gear.
In recent years, it seems that world + dog has been producing wireless speaker kit, with mainstream offerings typically relying on Bluetooth, Apple's AirPlay or both to transfer music over the airwaves from device to speaker. Pure went along with AirPlay last year with its Contour Air 200i but there's been nothing from the company for this protocol since.
In a rebranding exercise, the Pure Lounge has become Pure Connect which highlights its intent to go it alone as a one-stop online music source. The Pure Stream functions provide connectivity akin to AirPlay although sensibly, the company hasn't bet the farm on its own tech and includes hardware for hooking up your phone's music to Jongo gear over Bluetooth.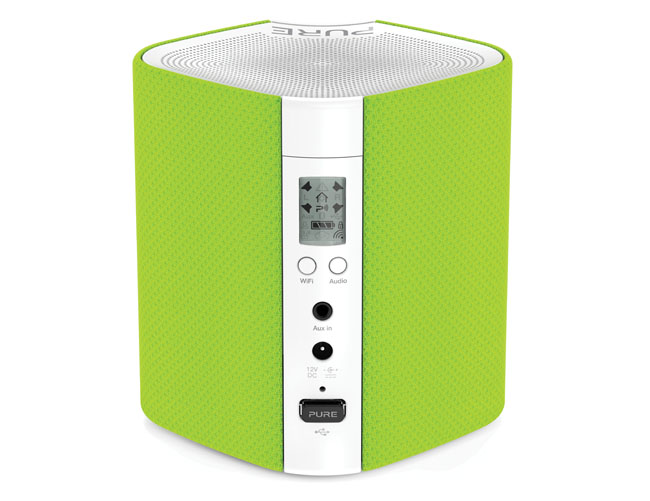 The Bluetooth USB dongle and the stereo aux input broaden the Jongo's connectivity capabilities
Evidently, Bluetooth appears to be getting a second wind given its improved reliability and simplified pairing, along with a rising tide of mobile devices that support it. Indeed, Pure's latest Wi-Fi radio announcement, the Pure Evoke F4 touts Bluetooth as the main selling point. Yet with both the Evoke F4 and the Jongo S3, the Bluetooth support is delivered using a tiny USB dongle. I'm told the Jongo S3 will have this functionality integrated into the device, but the review models provided relied on the dongle.
The Jongo S3 is just over an inch bigger than an 80-bag box of tea, but weighs significantly more at 1.25kg with the ChargePak F1 3.7V, 8800mAh battery fitted. On each of its four vertical sides is a 0.75in Mylar HF driver, with 3.5in upward firing mid-range/bass driver punching out of the top. The rated output is 4 x 2.5W plus 10W RMS, and at the back is an audio mode switch and an LCD showing various icons to indicate the chosen speaker array.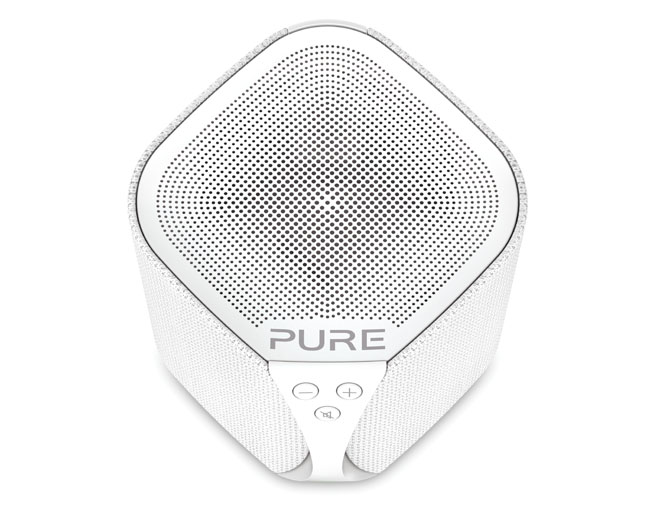 A 3.5in driver is all there is to deliver the bottom end on this speaker array
The four modes are: Mono 360˚, Outdoor boost, Stereo 360˚ and Stereo forward facing. While most modes are self explanatory, the latter kills off the rear speakers to make it more suitable for bookshelf use, whereas the Outdoor boost sounds like the high/mid range has been hiked, which gives the impression of increased loudness. You'll not notice too much difference between the 360˚ modes, but the Stereo forward facing does give slightly improved separation and a more focused soundfield.
Access all areas
Now, having four speakers that are less than an inch in diameter and only a 3.5in driver to pump things up doesn't immediately suggest you'll be in audiophile ecstasy. Yet somehow the arrangement works if you lower your expectations slightly. OK, so there's no trouser flapping bass and the sound could be a tad warmer, but the carry-around convenience and satisfactory sonic sufficiency combine to make sense of the Jongo S3.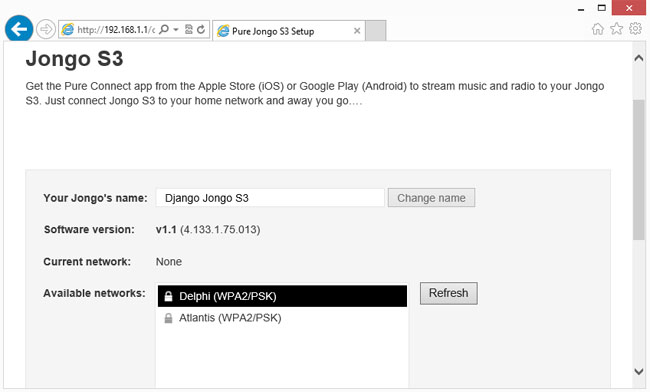 The Setup Manager detects access points within range
Before I get on to the wireless wranglings, it's good to see that there's a 3.5mm auxiliary input for when all else fails. However, I did think this was bit on the quiet side, even with line level gear. The USB port appears reserved for Bluetooth, the optional Ethernet adapter and firmware updates. No doubt there's scope for a media player to be integrated in a future model to play files from a flash drive, but that's not playing the Pure Connect game, so don't hold your breath for that to show up.
The Wi-Fi button enables pairing with WPS routers or a manual setup from a browser. I switched to manual, which turns the Jongo into a base station. You simply connect to it from your mobile device or computer, and from a browser, surf to its IP address and login to configure it using the Jongo Setup Manager. From here you can add your own preferred access point from the list of gear it has detected (or enter in the SSID if it's hidden), then put in your password and you're away. You can rename the Jongo too and there are advanced options for proxy settings and the like.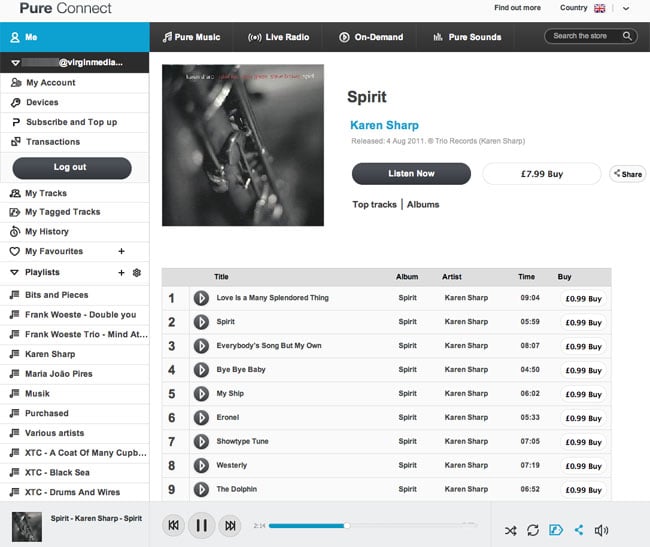 Accessing your Pure Connect account from a computer can play all your music but can't stream over a network to the Jongo
If you've got an iOS or Android device then you'll need the free Pure Connect app to play via your network to the Jongo. You don't need a paid-up Pure account – that's just for the iTunes-meets-Spotify-style music service – the app can find music you already have on your device for playback.
Select a track or a radio station to play and you'll see a P icon on the right. Tap on that and the devices that can be streamed appear. Simply activate the ones you want to hear the track played to – being a multiroom system you're not limited to just one Jongo. In fact, you're not limited to just the Jongo either. The Pure Sensia 200D and the Pure One Flow Wi-Fi radios can be streamed to from the app Pure Connect app as well.

Playback to the Jongo from a Pure One Flow radio
Indeed, I was surprised that my Pure One Flow chirped into life when I tapped on its name by mistake, as it was turned off. It seems it maintains a presence on the network when plugged into the mains. However, when running on battery only, it doesn't wake up this way. As the One Flow has just a mono speaker, also being able to stream to the Jongo from it was a definite plus, although there were lengthy drop outs at times despite an excellent signal. This didn't happen too often though and usually when connections had only recently been established, so maybe it's a buffering issue of sorts.
I was able to test two Jongos and the sync was spot on, only with both playing a few feet apart did I hear some drift from some very subtle phasing. The connection from my iPhone also proved surprisingly robust with Jongo playback continuing in the house as I wandered down the garden with the iOS device. The Pure Connect app has been revamped for Android very recently and running it from an HP Slate 7 was trouble free.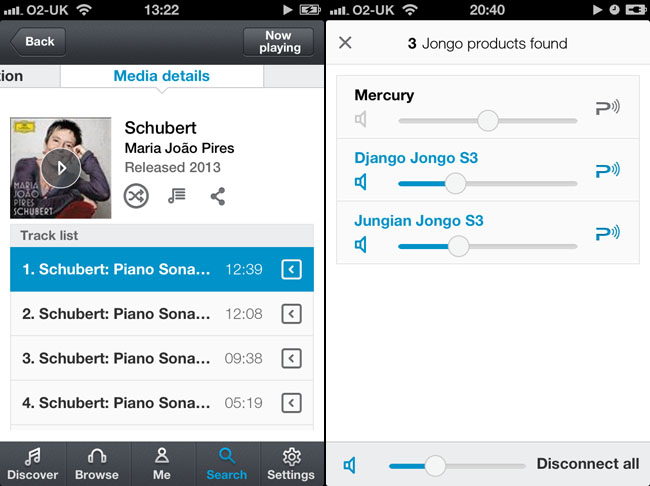 Recent releases available for streaming and iPhone playback to Jongo devices
While the app is steadily improving it does have has a few unfriendly issues: the volume control isn't readily accessible (you can't use the usual phone controls) and selecting tracks while playing an album would often skip to the one before or after your choice. The track titles are truncated too on small screens and there's no scrolling or obvious way to see the whole name, even during playback.
Delayed gratification
Other apps issues are that intros would occasionally lose the first second or so. Seamless album tracks would play back with gaps and album art tended not to show for individual track selections, but if you checked back to the album itself, then the artwork would show up. Also, searching for bands didn't always return the most obvious result first. A search for Focus brought up Sub Focus first and when Focus was chosen and the band overview shown, a track from a very different band with the same moniker occupied the listen slot.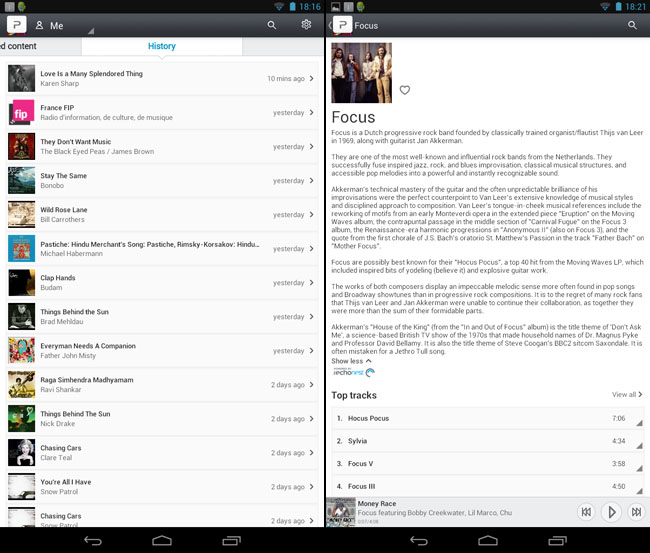 Android app on a 7in tablet showing playback history which includes inyernet radio stations and band information
Sadly, there's no app for Mac or PC. Surely, as Pure expands its portfolio to dumb wireless audio gear, there must some iTunes equivalent in the works, as the proprietary networking can't be accessed from the desktop. The way forward here is to use Bluetooth, which is fine for audio only, although you'll have to bear in mind that there are two gain (volume) stages here: one from the computer and the other on the Jongo itself.
Using Bluetooth is far from ideal for video. I tried it out on the Samsung Series 5 Ultra Touch and the audio latency for video turned out to be exactly one second. I used VLC Player's Synchronisation features to compensate and it worked out well with a consistent sync for the duration of the film. Yes, it is a bit of a faff, so you might be better off with the aux input.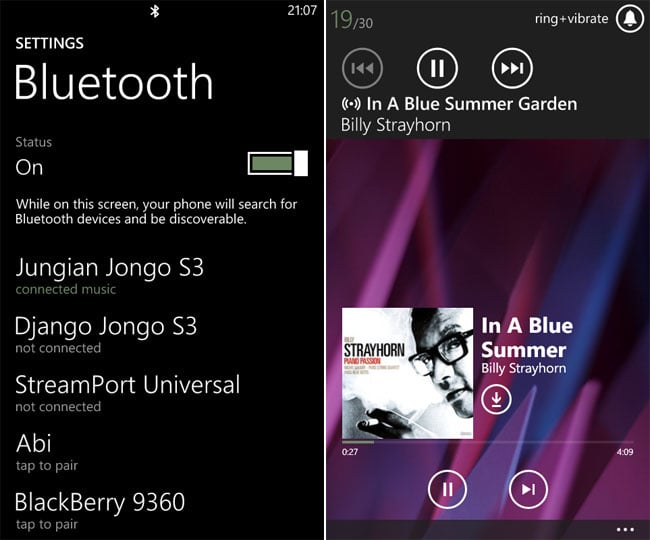 Nokia Lumia 820 Windows Phone 8 Bluetooth playback of its own streaming service
There's no Pure Connect app for BlackBerry or Windows Phone 8 but you can use Bluetooth easily enough on these phones. Nokia Music is a streaming service that's unique to its Lumia phones and playing these tracks over Bluetooth to the Jongo worked out very nicely. The only weirdness here was that the Nokia Lumia 820's keyboard clicks also played out to the Jongo.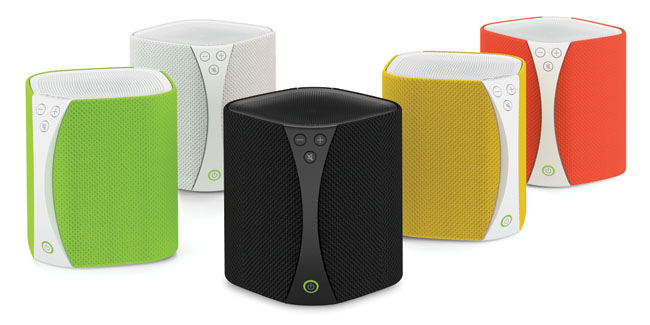 Alternative coloured grilles are available to suit your decor
The Reg Verdict
While not exactly the most gutsy portable speaker setup on the market, the Pure Jongo S3 has a well-contained sound with minimal distortion at high levels, all in a delightfully small footprint. It's certainly easy to get used to having a couple of them around, but the biggest downside is the £170 price tag; about a fifth of that is the battery pack cost. Yet multiroom systems are notoriously expensive, so the Jongo looks quite reasonable if you're not too fussy with fidelity. Even so, it really could benefit from a dedicated Wi-Fi player for computers, even if it does impinge on Pure's other little earner, selling Wi-Fi radios. ®