Original URL: https://www.theregister.co.uk/2013/05/29/wd_se/
WD's new disk-flogging brainwave will bring you close to tiers
New product, new promises ... how about some new sales?
Posted in Storage, 29th May 2013 09:19 GMT
Disk drive giant Western Digital has announced a new five-tier data centre storage strategy, with a new Se drive targeted at scale-out NAS filers and cloud storage.
The industry leader's profits have been flagging of late, so it must be looking for ways to reassure shareholders and investors that it hasn't fallen behind trends in modern new data centre.
The five-tier enterprise drive market model is depicted in a WD slide, with the existing 10,000rpm 2.5-in Xe being its fastest disk drive for the tier-one layer.
Below that is its 3.5-in Re model range.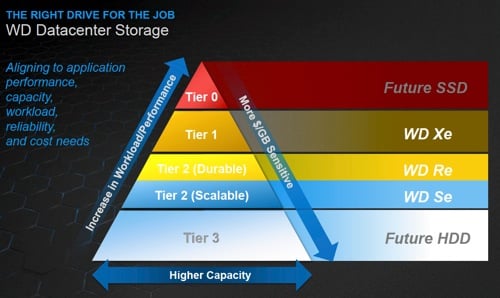 WD's enterprise drive strategy.
There are Re models with a 6GB SAS interface and ones with a 6GB SATA one. Capacities include 1TB, 2TB, 3TB and 4TB. The drives use 800GB platters, meaning the 4TB product is a 5-platter drive. The Re drives fit in a tier 2 datacentre sub-slot known as durable storage. The Ses fit below them in a scalable tier 2 sub-slot.
Below them is a future WD drive with a lower cost/GB and, right at the top, is tier 0 solid state storage; a slot occupied by an as-yet undeclared WD SSD.
What WD has done is looked specifically at the network-attached storage market and worked out that there are five sub-markets in there, for which it has produced the two existing products: today's Se and the tier 3 high capacity drive. This writer's mind is speculating on a 5-platter unit with 1TB platters.
WD Se
The Se is a derivative of the Re line, being a 3.5in 5-platter drive, spinning - like the Re - at 7,200rpm, and having capacity levels of 2TB, 3TB and 4TB. In WD's NAS universe, the Se sits above the entry-level Red line (1 - 5 drive slots), an IntelliPower drive spinning at 5,400-5,900rpm and storing between 1TB and 3TB on up to three platters.
WD's idea is to make a more cost-effective drive for two markets it can see. The first is for scale-out filer-type use; a nearline drive for storing unstructured data with 24/7 access.
WD's senior veep of its datacentre business unit, Richard Rutledge, provided a canned quote: "WD's utilisation of vast amounts of manufacturing and engineering data has forced us – like many other companies – to use map-reduce methodologies to effectively analyse our data. The WD Se hard drives are used in our own big datacenter, where we have gained real-world experience with Apache Hadoop."
Backup and archiving usage is anticipated as well.
The second market area is for systems ranging between SMBs and mid-range NAS arrays. These systems boast 6 to 24 drives in the enclosure, and the chart below shows WD's Red, Se, Re and Xe drives roles role in different filer environments: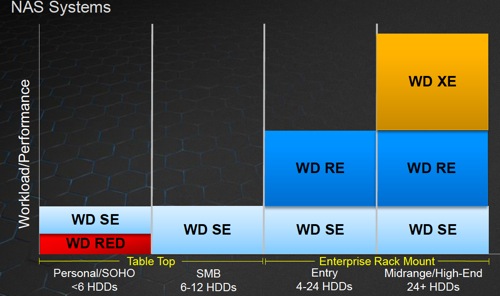 WD Se NAS positioning
The Se has a 6Gbit/s SATA interface and a 64MB cache. It is an advanced format drive with 4K block sectors and not the 512N sector size of the Re. WD's Ian Keene, the senior UK sales director, says the 4K block size is more acceptable in this class of system.
Data transfer rates (OD data rate) differentiate the Re, Se and Red models nicely:
Re SAS at 182MB/sec
Re SATA at 171MB/sec
Se at 171MB/sec
Red at 145MB/sec
The SE's maximum sustained data transfer rate is 154MB/sec.
Another point of difference are the reliability numbers, specifically the mean time before failure (MTBF):
Re SAS at 1.4 million hours/sec
Re SATA at 1.4 million hours
Se at 800,000 hours
Red at 1 million hours
A third way of positioning the drives is to say that the Xe and Re SAS are for RAID environments, with both high performance and reliability whereas the Re SATA and Se are tailored for replication, with lower performance and reliability.
There are various technologies built into the drives to reduce vibration and resist shocks, such as enhanced Rotary Acceleration Feed Forward (RAFF) and StableTrac, with the drive shaft secured at both ends.
The Se drives are available though WD's channel now with a five-year warranty, and suggested retail prices range from $168 for the 2TB product up to $360.80 for the 4TB model. ®