Original URL: http://www.theregister.co.uk/2013/05/29/samsung_series_5_ultra_touch_ultrabook/
Review: Samsung Series 5 Ultra Touch Ultrabook
Core i3 cache relief
Posted in Laptops, 29th May 2013 09:03 GMT
When it comes to handing out Windows 8 laptops to the UK reviewers, Samsung has been surprisingly glacial. Whether this is another Apple emulation strategy to become more elusive or a sign of hesitancy to have the brand tarnished by Windows 8's underwhelming reception, is unclear.
The hardware was paraded at CES 2013 five months ago, so is this laptop latency thing working for the South Koreans, I wonder? Well, here at last is a Series 5 Ultra Touch 13.3in Ultrabook. Let's see if Samsung has anything to be shy about.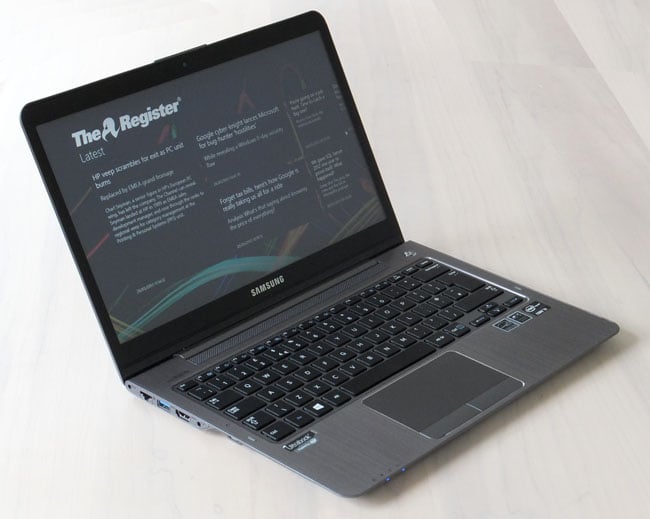 Best of both worlds? The Series 5 Ultra Touch features a flash-hard drive combo for fast starts with plenty of storage
I'll admit that the Samsung UK website did lead me expect a Intel Core i5-3317U-powered model so that I could "make the most of 128GB HDD" [sic]. However, a 1.8GHz Intel Core i3-317U model appeared, luckily with a roomy Seagate Momentus 500GB HDD. This is coupled with a SanDisk i100 24GB SSD to enable ExpressCache fast booting. While this is no substitute for kitting out an Ultrabook with a full-blown SSD, it works out as quite a good compromise. A cold boot takes about 18 seconds to reach the login screen; having 6GB of DDR3 RAM helps, too.
You don't see a mention of this lower-powered machine on the Samsung UK site but it is out there with John Lewis and PC World flogging it for just under £600. That seems pricey to me. And if you want a touchscreen, add about £70 to the total cost. And Windows 8 without a touchscreen is awkward.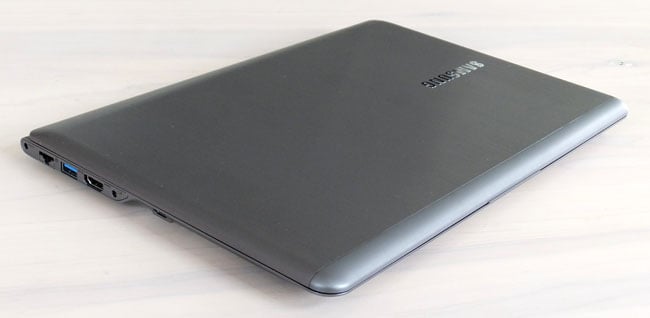 A tad heavier than you might expect
I must admit, when I took it out of the box, the Series 5 Ultra Touch was heavier than I expected. At 1.69kg it's between 150g and 200g heavier than rival 13in Ultrabooks, a difference that's immediately obvious. It measures up at 315mm x 219mm x 15mm, swelling another 2.6mm at its thickest, so it's not exactly slim by Ultrabook standards. The shell features an aluminium lid as does the cool touch palm rest area, with the underside resorting to glass fibre. The glass fronted display covers the screen margins extending right up to the edge of the lid. It all looks pretty good actually and certainly gives the impression that you're touting a hardy Ultrabook.
Samsung gets Brownie points for including a gigabit Ethernet port which many Ultrabook makers presume is no longer relevant. We may have to blame Apple and its MacBook Air for encouraging manufacturers of larger form factors to ditch the socket and go Wi-Fi-only. But Samsung has shrunk the monitor output to deliver a VGA port via a micro HDMI interface. There's not a single word on the part number of the accessory cable required for this port in the manual although the website has it listed, albeit permanently out of stock.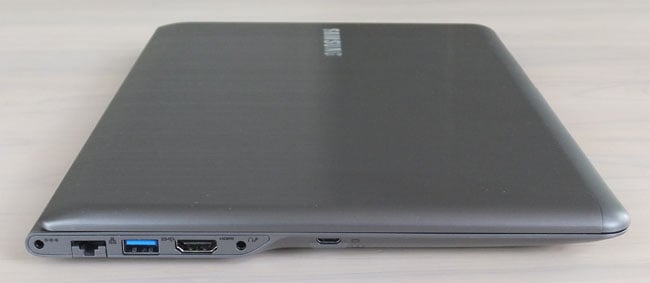 Ah, an Ethernet port, you know you want one really
Luckily, the Ultra Touch has a full-size HDMI port that should suffice for most these days and it does, at least, provide a route to full HD from the integrated Intel HD 4000 GPU, although some higher-spec models feature a GeForce GT 620M. Alas, the 13.3in screen's resolution is only 1366 x 768 pixels. And if our readers' comments are anything to go by, many of you hankering for full HD displays will stop reading at this point.
Cache advance
Alongside the video options on the left, there's a lone USB 3.0 port and minijack mic/headphone combo socket which could come in handy when using the 1.3Mp webcam, assuming it's not smeared with fingermarks – the screen grubbiness looks quite alarming when the Ultra Touch is turned off, but thankfully it's not too noticeable in use. The palm rests don't suffer too much either, which plagued the Series 7 charcoal models. Over on the right edge are two USB 2.0 ports and a multi-card slot. Samsung's own Settings app provides USB charging in sleep options and a bunch of other handy shortcuts for performance configurations.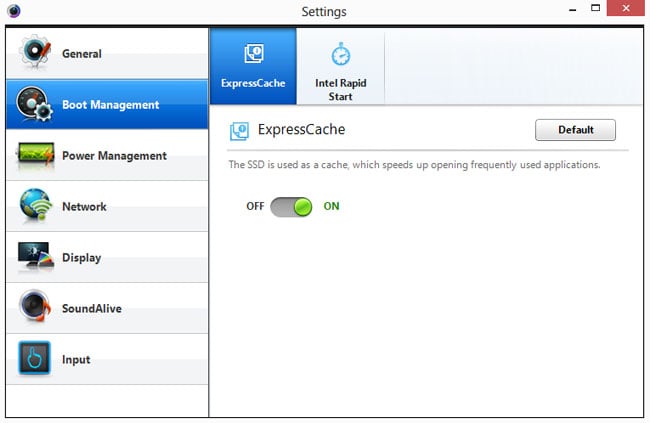 ExpressCache settings: turn it off if you belong to the Slow Boot Movement
Out of curiosity, I disabled the ExpressCache from here to see how well this Core i3 system performs without it. Needless to say, it's distinctly slower, taking 30 seconds to boot to login. The PCMark 7 score had notched up 3211 when configured for performance only and 3025 using Samsung's optimised settings, yet with the ExpressCache off, the score dives to 2258. So don't try this at home folks unless you want to slice a third off this Ultrabook's performance.
One thing you might like to try is installing Linux. I set up a pen drive instal of Ubuntu 13.0.4 and although the Windows 8 Advanced options in PC settings didn't engage the bootable pen drive as hoped, changing the device order in the BIOS did the trick. Once loaded, both the touchscreen and Wi-Fi worked on Linux and everything behaved as it should. It was also an opportunity to do some benchmarking using Ubuntu's Disk tools. Here the SanDisk SSDi cache drive averaged 340MB/s read speeds and 64MB/s writes. By comparison, the Seagate Momentus managed 78MB/s in the read tests it allowed.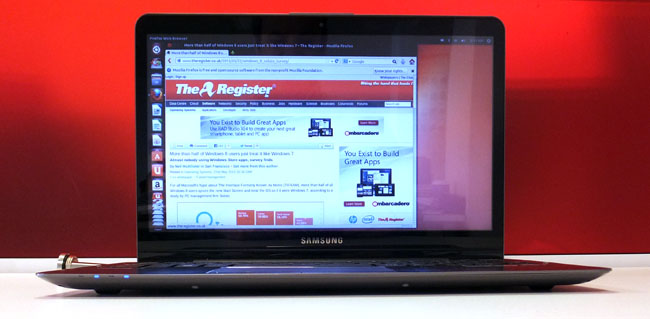 While still in need of refinement, the touchscreen does work when running Ubuntu Linux 13.0.4
In general use, the Samsung Series 5 Ultra Touch revealed a couple of bothersome flaws. The first one had me restarting the computer and double-checking my Wi-Fi setup because the laptop didn't want to join my wireless network. The problem here was I'd assumed there would be some kind of indicator for caps lock – a green light glowing somewhere to catch my eye – and as I didn't spot one I also assumed I was typing in the Wi-Fi password in lower case letters when in actual fact I was typing in ALL CAPS.
Unless you choose to view password letters, you won't be aware of the caps lock status. It's quite ridiculous that such a fundamental a status indicator should be omitted and I can see Samsung getting a lot of support calls over this, with bewildered users unable to login to their Wi-Fi or other accounts - lest we forget being locked out of bank accounts for entering passwords incorrectly several times.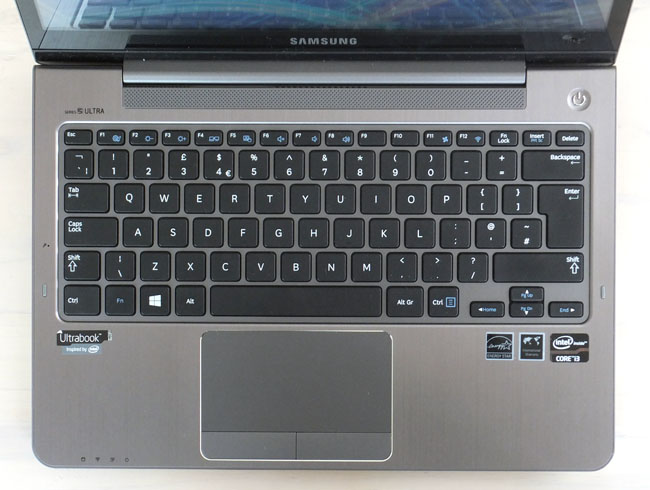 The keyboard has a nice feel to it but lacks backlighting and a caps lock indicator
My other grumble is not unique to Samsung, but the display doesn't tilt back far enough for my liking. This blights quite a few slimline Ultrabooks but if Lenovo's IdeaPad Yoga is anything to go by, this shouldn't really be a problem at all. The display itself delivers a fair amount of the Samsung dazzle you find on its non-touch laptops, although it does seem a little subdued – maybe that finger smudged glass has something to do with it.

The thin blue line: could this be the reason why Samsung is shy to hand out review laptops?
There was another problem, which might not bode well for the future, and that was the appearance of a thin blue horizontal line across a small portion of the screen. I noticed this when checking out the various trackpad options and it would only show when the mouse was hovering over a particular checkbox. Online, opinions vary as to the causes of this sort of behaviour, but I have yet to read anywhere that it's a good thing. Avante-garde multimedia artists may disagree though.
The write stuff
Surprisingly, the trackpad was a welcome sight. This spacious multitouch affair is not so off-centre as on some models, and the left and right buttons aren't seamlessly melded into the trackpad but are physical switches. In both cases this arrangement suits me better as, being a left-hander, I can often end up right-clicking by mistake when using all-in-one trackpads.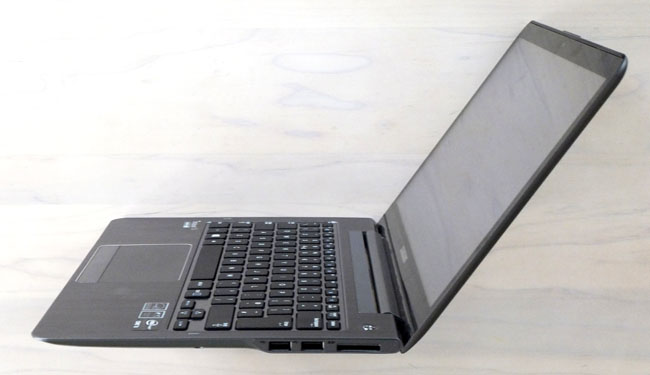 At full tilt: the display often waggles during touchscreen prodding
Samsung doesn't offer a stylus for this model's touchscreen which seems fair enough – you do have the keyboard after all and I've only ever found a digitiser to be useful when faced with a full HD touchscreen, such as the Sony Vaio Duo. It does work with soft-tip pens – I tried it with an STM Tracer Deluxe and a Wacom Bamboo Stylus – all well and good but why bother? Admittedly, there are limitations here: drawing isn't pressure sensitive and being a laptop, it's not easy to position. Still, the handwriting recognition on Windows 8 is among the best there is and scribbling notes into Word 2013 this way was surprisingly forgiving. That said, you'll probably want to hide Word's Ribbon as it can get a bit claustrophobic, however you write into it.
For traditionalists, the chiclet keyboard feels pretty good. It seems firm and well spaced with no odd key positions that can cause repeated mistyping problems. It's not backlit, though, and don't get me started on that key caps issue again. One thing I did notice are the noises: the keyboard has an acoustic thud to it, as if there's some cavity beneath it (even though it doesn't flex), and the trackpad buttons are so clicky I became quite self-conscious of using it in the office.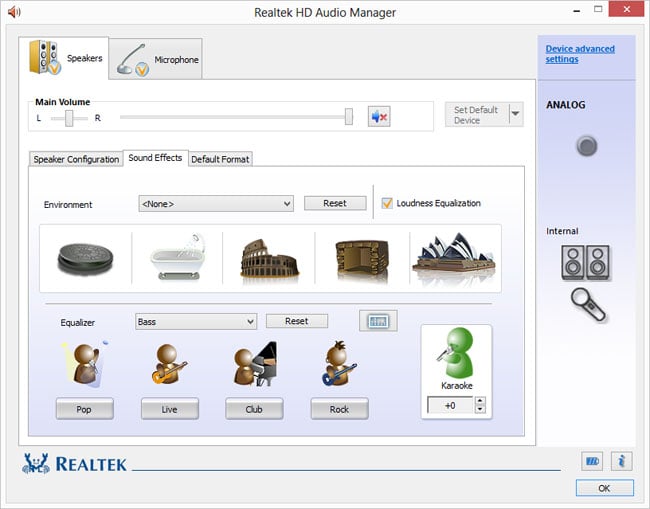 The Realtek audio settings are worth experimenting with, but stick to the basics for best results
Talking of noises, this Core i3 model doesn't have the advertised Dolby wizardry on-board to spice up the audio, but there is a Realtek (SoundAlive) alternative that's worth trying out. I found the default audio settings were certainly loud enough for movies, but a little harsh. Given that laptop audio is by tradition found wanting, I always test to see if any bass boosting proves effective. With some laptops, the speakers are so crappy it doesn't make any difference, but on the Ultra Touch, there was an obvious improvement. By simply selecting the bass preset, the output went from bearable to really quite listenable when used with the loudness equalizer. The latter delivers a massive shot in the arm to the volume without adding distortion. Nice job.
Another nice job is the battery life, which clocked up 3 hours, 36 minutes using the demanding FutureMark PowerMark benchmarking tool. As it's a Core i3 machine you should be able to get close to double that with everyday use. If you're a movie buff then that might be more of a challenge. Samsung bundles some rebadged Cyberlink apps for multimedia playback and management that are simple but effective.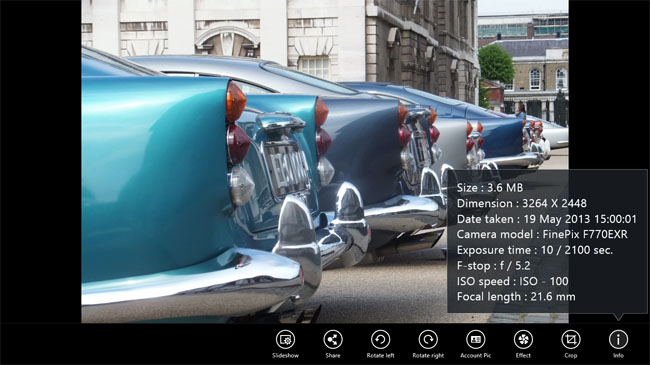 Cyberlink know-how is behind the S range of multimedia apps on-board
The Reg Verdict
Review model random screen lines notwithstanding, the Samsung Series 5 Ultra Touch does appear well put together but misses a trick here and there. Undoubtedly, the ExpressCache delivers a worthy performance boost to keep the Core i3 model out of doldrums. Yet working on a laptop without a backlit keyboard these days can be a challenge and having one with no caps lock light either is just bizarre.
Until Windows 8.1 appears, having a touchscreen is a huge advantage to straddle the new Windows 8 user interface dichotomy. For now, like all of its competitors, Samsung provides its own take on the missing Start menu, but it's not enough to make the non-touch Series 5 alternative viable. All Ultrabooks carry a price premium yet the current need to pay extra for a touchscreen has become the new Microsoft tax. ®