Original URL: https://www.theregister.co.uk/2013/05/22/geeks_guide_kelvedon_hatch/
The bunker at the end of the world - in Essex
Open for 40 years, pointless for 39 of them...
Posted in Geek's Guide, 22nd May 2013 08:05 GMT
Geek's Guide to Britain Kelvedon Hatch is a superb example of absurdist geek life. Not only is the site technically very impressive, it is also completely useless and frequently prompts the question "what on earth were they thinking?"... A tour reinforces this view as the experience now is as enjoyably peculiar as the history behind the place.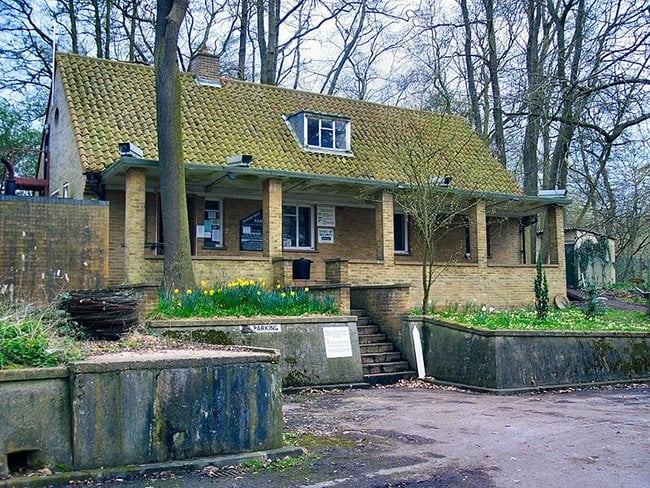 The Kelvedon Hatch bunker was built between 1952 and 1953 as part of the ROTOR project. This was a massive redevelopment of the UK's radar early warning system in response to Russia's successful test of a nuclear bomb and deployment of heavy bomber aircraft capable of reaching Britain. The contract was given to Marconi Telegraph & Wireless in what was apparently the largest ever government contract awarded to a UK firm.
A little history
The project established a hierarchy of 66 sites for Centimetric Early Warning (CEW) radar and Ground Controlled Interception (GCI) radar, with fighter command re-organised into six sectors controlled from four massive Sector Operations Centre (SOC) bunkers. ROTOR would use an upgraded radar system called the Type-80. As this was being prepared, the bunkers were constructed.
Kelvedon Hatch was built to be the Metropolitan Sector SOC bunker, of the largest "R4" design consisting of three underground levels. It is today the only complete R4 bunker still in existence and one of only two bunkers from the programme that can still be visited, the other being Anstruther in Scotland.
The construction project was a massive undertaking. After the hill was dug away, shock absorbers were first sunk 200ft (60m) into a bed of gravel. Then, on top of this, they poured a 100ft (30m) high concrete shell with walls 10ft (3.5m) thick, reinforced with tungsten rods every six inches.
So as not to interrupt building, braziers were kept burning night and day through the winter to keep frost away. Around the concrete, a Faraday cage was wired to keep out stray radio signals. Then came brickwork and waterproofing. Entrance tunnels were lined with 3ft (1m) of concrete and hidden behind massive blast doors, bore holes were sunk and water tanks built. Then the earth was replaced.
Lastly, to "disguise" the site, a little bungalow was built over the entrance tunnel so no one would notice what it was. Presumably the 150 foot (46m) communication mast was not considered a complete giveaway.
So how long was Kelvedon Hatch usefully operational for? About 12 months.
The newly developed Type-80 radar started to be installed in early 1953 and was found to be much more efficient than expected, with range doubling in some instances. This meant CEW and GCI sites could be combined, so massively decreasing the complexity of ROTOR.
With many fewer sites it was found that responding to alerts could be handled more quickly without referring up to the SOCs. The need for speed was given further impetus with the introduction by the Soviet Union in 1954 of their new Tupolev Tu-16a high speed bombers, so Kelvedon as a useful command centre was finished.
It must have been obvious to everyone involved in the project that the massive cost of building the site couldn't be wasted, so it was converted: first into a civilian defence centre, then, later, as part of continuity of government plans into a Home Office "Regional Seat of Government". From 1967 this was as a Sub-Regional Headquarters and finally from 1985 it became the Regional Government Headquarters (RGHQ) for London.
In the event of nuclear war, the role of the RGHQs was to house the key government and military staff needed to run the country after the bombs had finished falling. Up to 600 personnel would be shut in and left completely isolated for up to three months or until it was safe to emerge. Everything they needed for food, water, power and air conditioning was provided in the complex while multiple communication networks linked them to the other centres and hopefully the remaining population outside. It would be grim but you'd be alive.
In 1992, Kelvedon Hatch was finally closed. Running costs were still £3m a year and the site had never been used in anger. At a closed auction, the Parrish family - who had originally sold the land for the base and still farmed the surrounding fields - bought it back. The family later opened it as the eccentric tourist attraction you can visit today.
The tour
The bunker is tucked away in the gentle Essex countryside, set a little way outside the small village of Kelvedon Hatch. How much the villagers knew about the facility I'm not sure, but it cannot have made them too happy to have such an sensitive government site next door.
Turning off the Ongar Road, you make your way along a long winding access road through fields to the parking area. Keep going past the paintball arena, ropes course and quad bikes track that have sprung up around the complex and on to the bunker entrance itself, which is a nondescript bungalow.
Like all similar underground Cold War bunkers, it was disguised with a small bungalow to cover the entrance way. Why? Who knows? Would a passing army just give it a nod and not look through the windows? My guess is a "committee" thought it a good idea.
Proceed up to the bungalow door and you'll find a small notice telling you to go right on in. What you won't find is any actual people; no entrance booth, no ticket collector, no tour guide, no security guard. No one. But they do have a lot of cameras pointing at you.
It's a little disconcerting given the usual experience of tourist attractions, but this is the Kelvedon way, so get used to it.
Once inside there's another notice saying to pay on the way out and just go pick up an audio guide, which you'll find lying in a big pile in the guardroom. Hit 1 and you're off. The audio guide is now the only way of finding your way about the complex and quite possibly the only way of ever finding your way out again, so pay attention and do what it says. Follow the arrows and hit new numbers when it tells you to.
The only way is Essex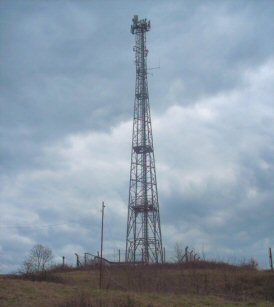 The radio antenna is the only outward sign that all is not
as it seems at the site. It's pretty noticeable, though
The tour itself is in turns frightening, impressive and saddening. The initial entrance tunnel on the lowest floor is 100 yards long of narrow and cooling bare concrete leading to the main and immense blast doors weighing over a ton each.
You'd know when these were shut you were gone for a good while.
Moving from room to room, you go past multiple communications rooms which were used over time and for reaching different destinations. The telephone exchanges – both manual and automatic – are in-situ as well as examples for radio communications and telex. Make your own pick but my favourites in this area are the BBC broadcasting suite and the famous "red telephones".
It's nice to know that the BBC would have been there trying to reassure and inform people even if most of the audience's radios would have no power... assuming they hadn't actually melted.
The small studio formed part of the Wartime Broadcasting Service but was held in reserve in case the main broadcasting suite at Corsham lost contact with the regions, in which case it would have sprung into action. The red telephones were used to inform police stations and council offices to sound the air raid warning once the bombs were on the way. There'd be no happy reason to pick one up and no wonder they were kept under cover, someone would get a shock if accidentally used!
Moving up a level you reach the main offices and control centres, plus accommodation rooms for the government chiefs. They may be safe but looking at the prime minister's bedroom you hardly feel that life was good, even for them.
The rest of the bunker spans the impressive, to the mundane, to the pitiful. The power generators and air conditioners are great, huge rooms full of piping and engines and Geiger counters everywhere remind you of the risks. Signs around the walls indicate the key operational areas. Judiciary, Home Office, Social Security, the Ministry of Agriculture & Fisheries and Fire Service all have desks. So do the Navy, Air Force and army but nothing for builders, doctors or farmers to actually start rebuilding the country.
Most mundane in the extreme has to be the stationery room where you had to justify the requisition of staples and paper. You even have to request a pencil holder for when it gets too small to hold on its own.
Commodore that once belonged to the district controller at Kelvedon Hatch.
Source: Gordon Joly
The living quarters are pitiful. The tiers of bunk beds would have been used in shifts to save room. There are also chemical toilets for when the base was closed to save precious water, and worst of all, cardboard coffins for those who didn't make it. Boxed and bagged, the corpses could be pushed into corridors to wait the all-clear.
Only at the end of the tour do you see any of the usual tourist paraphernalia. Racks of old uniforms for dressing up, a few war-themed items for sale and a restaurant for lunch or refreshments. Right at the end you'll find the honesty box for your entrance fee so even here it's a happy help-yourself system.
The entrance charge is £7 for adults, £5 for children with group discounts available. Cash only though, so come prepared.
You exit blinking into the unfamiliar sunshine through a hidden entrance from the top level, walk back down and you're in the car park again.
Go try Kelvedon Hatch. An unbelievable amount of money was spent preparing for an eventuality that never arrived. But the site is a haunting reminder, an atmospheric experience of what life, for a terrified few, might have been.
How to get there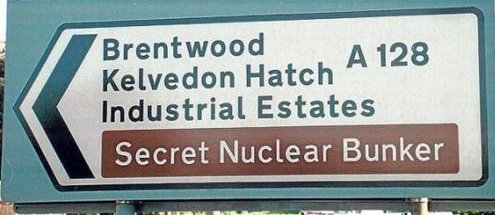 Kelvedon Hatch is accessed by from the A128 Chipping Ongar to Brentwood road at Kelvedon Hatch. With GPS use the postal code CM14 5TL and look out for the brown Tourist signs, which is the first indication your trip will be fun, for they are marked "Secret Nuclear Bunker". Bliss. ®
Entry
£7 adults, £5 for children - cash only
Further References:
Guide to Cold War regional headquarters
Anstruther bunker (St Andrews)
Nearby places to see:
The British Postal Museum Store
See the official website for more details.