Original URL: https://www.theregister.co.uk/2013/05/20/model_footage_ipad/
Petshop iPad fanboi charged with filming up young model's skirt
LAPD throws book at fondleslabber
Posted in Personal Tech, 20th May 2013 14:33 GMT
A Los Angeles fanboi has been charged (PDF) with using an iPad to take upskirt footage of an underwear model.
Julio Mario Medal, 38, stands accused of using his big shiny fondleslab to gaze up 22-year-old Brittanie Weaver's skirt and shoot a film about her naughty bits.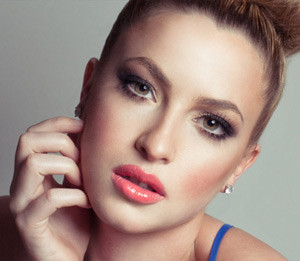 Brittanie Weaver
The blonde beauty claimed he had followed her around a pet store in Sherman Oaks, Los Angeles, on 15 March before allegedly aiming his iPad up her dress as she bent over to pet her puppy.
The incident was captured on the store's CCTV, which, according to Weaver, showed that Medal had "stalked me before I walked in the store".
Los Angeles city attorney Carmen Trutanich announced the charges. "This is inappropriate conduct that invades the privacy of others and must be stopped," he said. "New technology brings good things to many people each day but unfortunately, in the wrong hands, can create much mischief."
Medal now stands accused of three criminal misdemeanours: suspicion of secretly videotaping for sexual gratification, unlawful loitering and attempted videotaping for sexual gratification.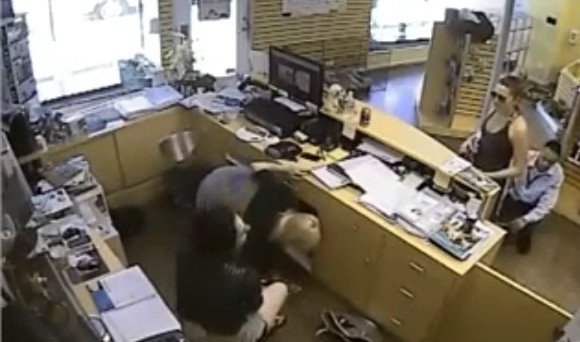 What's going on here ... a still from CCTV footage broadcast by a local TV station KCal
Weaver has been extremely vocal about the incident, warning the suspect that he had "picked the wrong girl".
Speaking to the LA Times in March, she alleged: "I just thought he was annoying following me around the store. I didn't know until I got to the counter that he had been filming up my dress.
Weaver claimed: "He said, 'Can I pet your dog.' But he was already petting my dog. I could tell by his face he knew he had been caught. I tried to write a note to the girl at the counter. He left and we looked at surveillance video."
The model is also very keen to keep up a decent reputation in the modelling world. "It's hard to keep a clean image in this industry. That's why I take it personally," she added.
Weaver also plans to lobby the government of California to toughen up laws against upskirt filming or other pervy public crimes. She is angry that the charges brought against suspects are only counted as misdemeanours under California law, which does not consider such charges sex crimes.
No court date was given. ®