Original URL: https://www.theregister.co.uk/2013/05/18/google_crowdsourcing_maps/
Google builds crowdsourcing into new Maps code stack
Wants a unique map for every user
Posted in Software, 18th May 2013 00:26 GMT
Google I/O Google has been giving more details about how it has redesigned its Maps software by adding in crowd-sourced photographic and driving directions to its coding scheme.
The new Maps package is a ground-up rewrite of the code and the algorithms it uses, with the aim of generating personalized maps for each user that are suitable for the task, and adding in 3D tours of notable landmarks. In both cases, much of the data Google uses comes from its customers.
Jonah Jones, lead designer for Google Maps, explained that in the case of driving directions, Google was moving away from giving full maps to ones which just show the streets people need to find their chosen location. Non-essential data is taken out of the map to cut down on the clutter.
As a destination point is picked, Google's data-crunching servers examine every possible route to the target point and then cross-reference that against the driving routes picked by people who have taken the trip in the past to find the best route. The roads or landmarks around the target location are also included to help find the final location.
The same crowdsourcing principle is applied to photography that is used in Maps and Streetview to show what a locale looks like, but in this case the source material is photographs people have taken and posted online. Jones explained how the company had sifted through thousands of photographs of Notre Dame Cathedral in Paris to build a panorama for Maps users.
First, Google looked at the most popular photographs for the cathedral, as picked by the users of photo-hosting sites Google has a relationship with. "We take advantage of the immense human computing power of the entire world," explained Yatin Chawathe, engineering director of Maps.
Once this has been done, Google's code then sorts through the photos, looking for both straight shots of the church, detailed photography of the exterior, and positioning shots to give perspective. Other photographs are used to stitch the best shots together and give a panoramic view.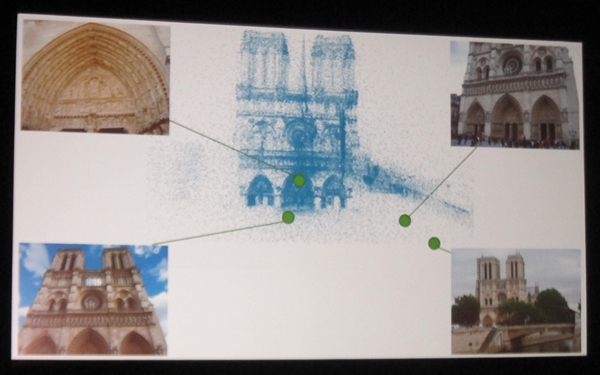 Each of these blue dots is someone's holiday snap
The actual number of photos you need to take for a panorama is relatively small, maybe 200 in all for a basic 3D setup, Chawathe explained. The first objects to be rendered in this way are the most photographed, but he didn't rule out offering this kind of package as a service.
All of this does take extra computing grunt in Google's datacenters, he said, although quite how much extra server time the Chocolate Factory is having to use wasn't revealed. But the benefit for end users is that the maps being sent to user's computers are considerably smaller than before.
Invites for the new Maps service have been issued to attendees at the Google I/O conference, and the service will be rolled out based on feedback from developers. But both Chawathe and Jones said there were many, many other things they want to do, so more revisions will be forthcoming. ®