Original URL: https://www.theregister.co.uk/2013/05/15/review_hp_pavilion_14_chromebook/
Review: HP Pavilion 14 Chromebook
All roads lead to Chrome?
Posted in Personal Tech, 15th May 2013 11:37 GMT
If you read my comparison of the Asus C7 and Samsung Series 3 Chromebooks, you may well have come away thinking: "All well and good, but can I have something with a bigger screen for the same sort of money?"
Now, thanks to HP, the answer to that question is yes.
The latest entry into the Chromebook steeplechase is powered by the same 1.1GHz dual-core Intel Celeron 847 processor as the Acer C7 but it comes with a 14-inch, 1366 x 768 screen rather than the 11.6-inch jobs that both the Acer and Samsung Chromebooks sport. And all for £250.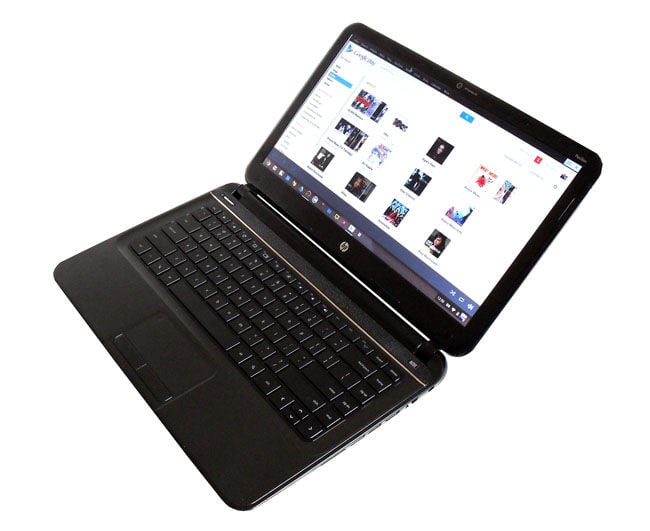 HP's Pavilion 14 Chromebook: screen star?
The new Pavilion Chromebook shares its case and chassis with the rather more expensive Windows 8- and Core i3-based HP Pavilion Sleekbook. This means it looks and feels a rather more serious and expensive bit of kit than the alternatives. I particularly like the anthracite finish on the keyboard deck and lid.
Like other budget Chromebooks, the Pavilion is made entirely of plastic but it is finished to a higher standard and feels more solid. There are no squeaks or creaks to be heard no matter how severely you poke, prod or twist it. The lid is pretty stiff too, and the hinge has a smooth and well-weighted action.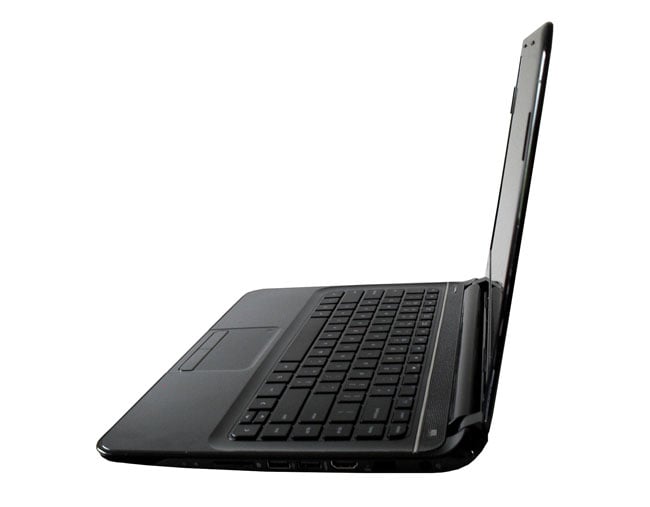 A solid lid mounted on a smooth, well-weighted hinge
I know that many Reg readers will say that the 1366 x 768 resolution is too low for a screen this size - but this is the budget end of the market. I don't see £250 getting you a machine with a 1600 x 900 panel any time soon. Resolution aside, 14 inches is surely the sweet spot between portability and usability, the lower pixel-per-inch count compared to a 11.6-inch panel notwithstanding.
If the gloss finish display doesn't boast a resolution to worry the 2560 x 1700 Chromebook Pixel, it's still brighter and more colourful than the screens fitted to either the C7 and S3 - though, like them, its viewing angles are nothing to shout about.

Sleek and black. What more do you want for 250 quid?
At 1.8kg the Pavilion is 400g heavier than the C7 but I can't think of a circumstance where the difference is anything other than academic. HP does better when it comes to thickness: at a uniform 20.7mm it's only 1mm thicker than the skinny Samsung Series 3.
Start to tap away at the chiclet keyboard and it becomes more obvious we are in the bargain basement. It's not an improvement on the already unimpressive keyboards fitted to the Samsung and Acer machines. The key action is shallow, loose and generally cheap-feeling, and once again you have to get used to a US rather UK layout complete with a horizontal return key.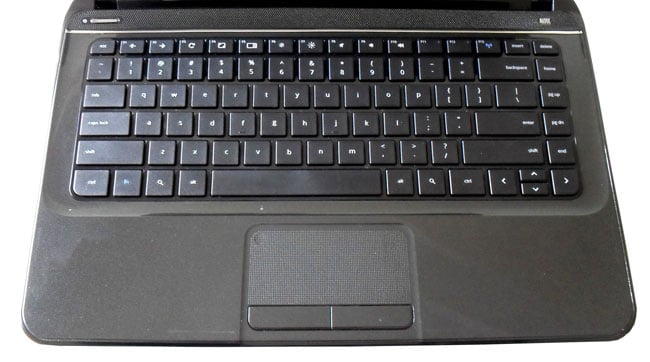 Keyboard is US spec and feels cheap
On the plus side, the keyboard is more spacious than those on the Acer and Samsung, and you get useful home/page, up/page, down and end keys on the right-hand side.
Decent budget performer
The dimpled multi-touch trackpad is a decent size and works well. Below it are two separate click bars, both of which have a reasonably positive action. I'll take that layout over the all-in-one affairs used by Acer and Samsung any day.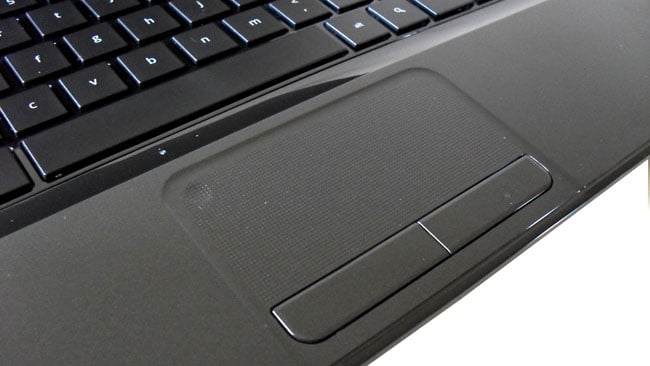 The trackpad is nice size and works well
By using the 1.1GHz Celeron chip and an SSD, the HP offers the best of the two worlds on offer from Samsung and Acer: a decent lick of performance and a quick startup time. HP seems a bit confused as to how much RAM the Pavilion Chromebook has: its UK website says both 2GB and 4GB depending on which page you look at. All I can tell you for sure is that my sample had 2GB.
How fast is a quick boot? Under seven seconds, though the Wi-Fi takes a further two to sort itself out. To get a handle on comparative performance, I ran FutureMark's Peacekeeper, which rates HTML 5 performance, and SunSpider, which measures JavaScript speed. In both cases the Pavilion performed a little better than the Acer C7, which in turn did better than the Samsung.
Peacekeeper Results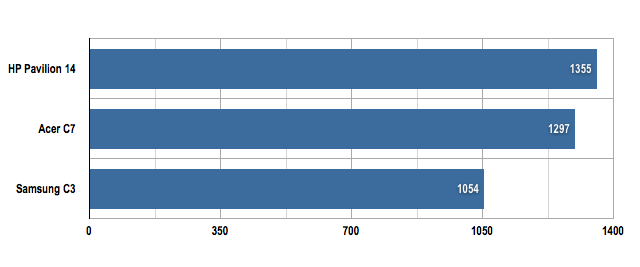 Longer bars are better
Sunspider Results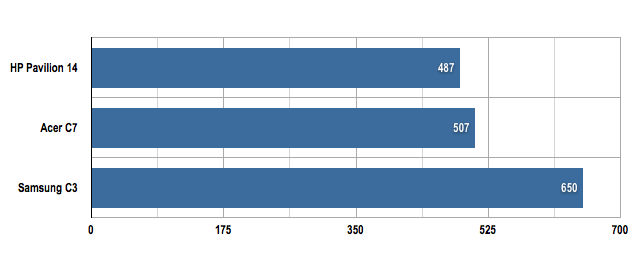 Shorter bars are better
In the real world that all makes for pretty slick performance. Web pages load and scroll reasonably fluidly and 1080p video plays cleanly, be it locally stored MP4 or YouTube streams.
With three USB 2.0 ports, 10/100Mbps Ethernet, HDMI, Bluetooth and single-band 802.11n Wi-Fi, the connectivity suite is a little primitive but for the price I'm not sure you can scream too loudly about the lack of Gigabit Ethernet, USB 3.0 or 5GHz Wi-Fi.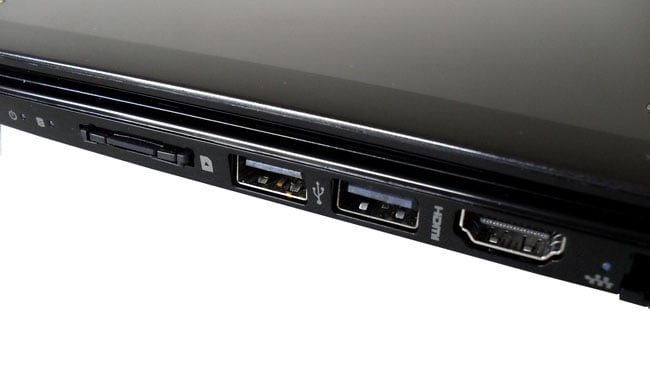 USB, HDMI and a fully-flush SD card slot
That said, Samsung saw its way to fitting the S3 with a USB 3.0 port so maybe HP could have pushed the boat out here. Though with only a 16GB SSD will you really be shunting the sort of data volumes around to make USB 3.0 worthwhile?
Maybe not.
Mercifully, the Pavilion has a full-depth SD slot so you can stick a card in and forget about it. The half-depth slot in the Samsung S3 was a howling design flaw in my opinion. HP offers a 32GB version of the machine in the US, but I can find neither hide nor hair of it in the UK which makes the sensible card slot all the more welcome.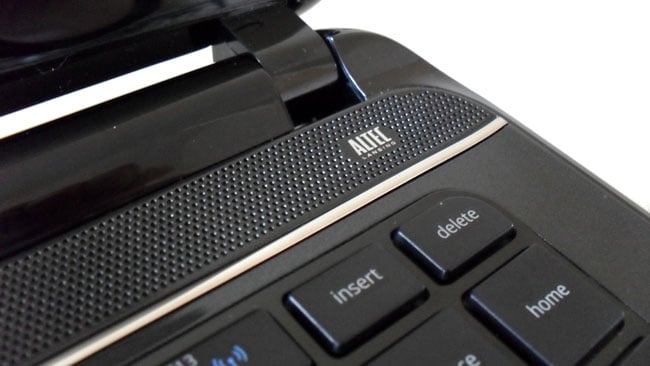 Decent speakers thanks to Altec Lansing
Budget laptops tend to sound even cheaper than they look, but the Pavilion features a brace of Altec Lansing speakers which improve matters somewhat. OK, you're not going to want to listen to a recording of Bruckner's Ninth through them, and a little more volume would be nice, but I've heard much worse.
Curiously, music played back from Google Play Music sounded hopelessly distorted and ran at double speed until I rummaged around in the settings menu and disabled HTML 5 playback.
All road leads to Chrome
If you feel the urge to tinker with the guts of the Pavilion Chromebook, resist it. Despite removing a dozen screws the back panel refused to budge. It's not even visibly clear where the two halves meet so I suspect the application of brute force would have met with catastrophe.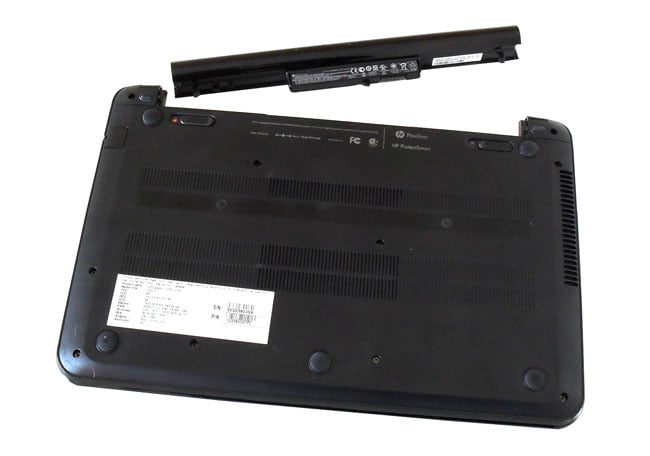 The battery comes away, but the rear cover doesn't
Rather cheap keyboard to one side, the Pavilion has two slight weaknesses: battery life and cooling fan noise. Looping a 720p MP4 video drained the battery in just three hours and 15 minutes. That's as near as makes no difference the same as the Acer but a full hour and a half shy of what the Samsung, with its ARM processor, can manage. A mixed regime of web browsing, writing, gaming and general fannying around saw the battery last for an average of four and a half hours. At least the battery is removable, something that can't be said of the Samsung S3.
As for the fan, it doesn't fire up very often - in fact so infrequently it makes me wonder if it actually needs a fan. I suspect it's simply a carry-over from the Sleekbook - and when it does spin up it's only for the briefest of periods. But it does make a right old racket when it's spinning.
720p video loop battery life results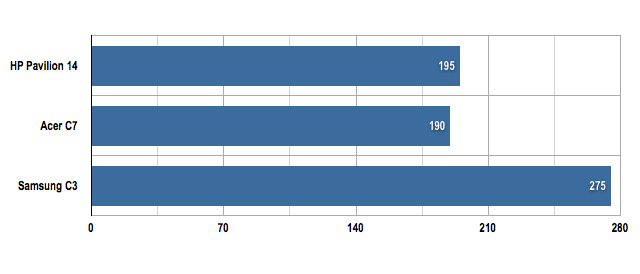 Battery life in minutes
Longer bars are better
For a hoot I loaded up a Linux distro - Ubuntu 12.04 using ChrUbuntu - and everything worked fine, just as it did with the Acer C7. Performance wasn't too shabby either. Of course doing this isn't as straightforward as it would be with a Windows notebook and you are left stuck in developer mode, so on balance I still think a cheap Windows notebook from eBay is a better way to get a Linux machine.
As for Chrome OS, well, it's exactly the same as it is in the Acer and Samsung machines, and indeed any other Chromebook you care to mention so I won't repeat myself other than to say that if you are a dyed in the wool Google user like me it's great, but if you're not, it isn't.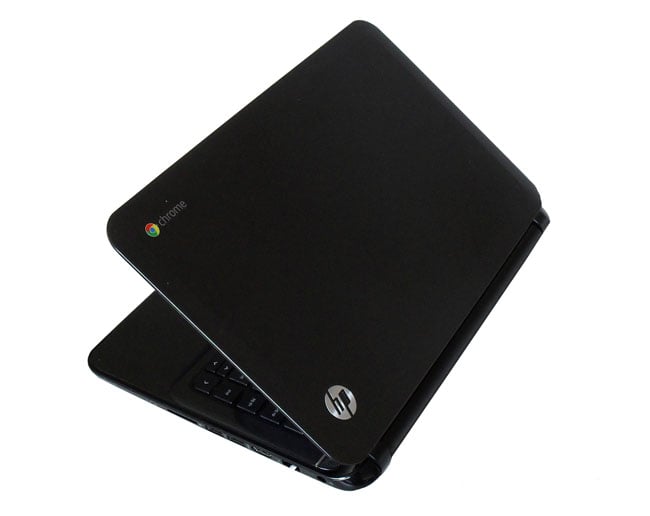 Chromebook: ideal for Google fans, less so for other folk
In terms of future development, Google has started to actively encourage the development of new native Chrome OS apps that launch from the Chrome OS taskbar rather than from within the Chrome browser. Soon the Chrome web store will draw a clear line between these new "packaged" apps that are effectively native programs that work offline, and "hosted" apps that are really just browser bookmarks that don't. At the moment, the new Web Store layout is restricted to the developer channel but it bodes well for the development of Chrome OS.
The Reg Verdict
These Chromebook doohickeys are now making more sense. For £250, the HP Pavilion Chromebook is a smart, well-made machine with a usefully large display and a handy combination of an Intel Celeron chip and an SSD. I'd have liked a more manly battery and a better keyboard, but at the price these are the sorts of compromises you have to live with.
Of course, the usual benefits and drawbacks of Chrome OS still apply, which makes the Pavilion Chromebook something of a Marmite device: you are either going to love it or hate it. Which one depends on where you stand on Google and its online services, and on the very concept of a laptop that requires internet access to be of any real use. ®
Many thanks to Currys/PC World for the loan of our review unit