Original URL: https://www.theregister.co.uk/2013/05/13/review_samsung_galaxy_s4_android_smartphone/
Review: Samsung Galaxy S4
Faster, brighter, thinner - what's not to like? Well...
Posted in Personal Tech, 13th May 2013 12:19 GMT
In purely commercial terms, the Samsung Galaxy S III was always going to be a tough act to follow. After all, it established and then cemented Samsung's position as the number one smartphone maker by volume - and the only one to give Apple the collywobbles.
I suspect that's why Samsung has played it safe and opted for evolution rather than revolution with the S III's successor. Make no mistake, the Galaxy S4 isn't much of a trailblazer. In fact, if you were being unkind, you could accuse it of just being the Galaxy S III Mk. II.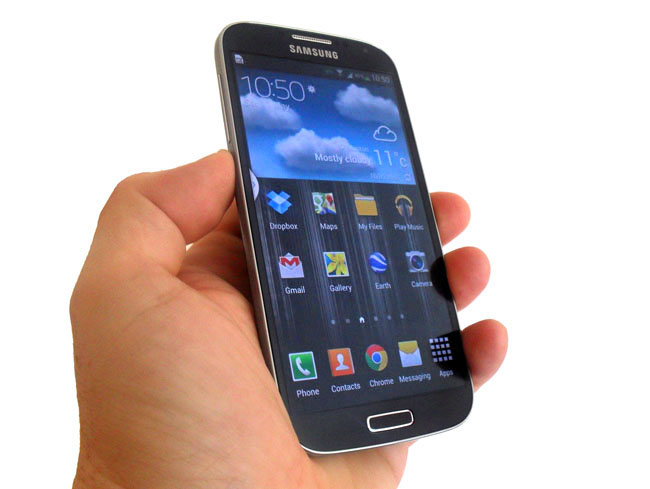 Samsung's Galaxy S4: the S III Mk. II?
That's not to say Samsung hasn't ladled on the upgrades. The screen has jumped from 4.8 inches and 1280 x 720 resolution to five inches and 1920 x 1080 while the S III's quad-core 1.4GHz chip has been replaced by a Qualcomm APQ8064T Snapdragon 600 SoC with four Krait 300 cores clocked at 1.9GHz. It also has 2GB of RAM.
That chipset makes the S4 the most powerful smartphone on sale today. Well, almost. Then there's another version, the I9500, which has Samsung's own Exynos 5 Octa 5410 chip on board to give it a wee bit more grunt on paper. But the UK is only getting the LTE-compatible I9505 variant that I've got in my paw at the moment.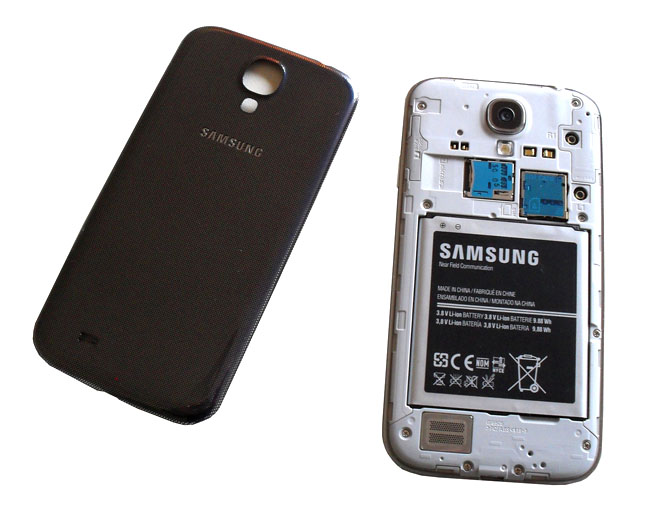 Yes, the battery is still removable
The main camera has had a pixel count boost from 8Mp to 13Mp, while the webcam has been given a rather smaller bump from 1.9Mp to 2.0Mp. The battery has been sent to the gym too: it now has a capacity of 2600mAh, rather than 2100mAh.
Many of you will doubtless be relieved to hear of the two things that Samsung has not messed with: the removable battery and the Micro SD slot. As was the case with the S III, the S4 is available with either 16, 32 or 64GB of on-board storage. Personally, I'd go for the 32GB version because the system takes up nearly 8GB of space. If memory serves me right, the 8GB Nexus 4 loses 3GB to the system, which suggests that all the Samsung-added extras take up around 5GB.
Thanks to the slavishly similar design, the S4 looks at first glance much like its predecessor. In fact, I suspect many people will be pushed to tell the two apart unless they see them side by side.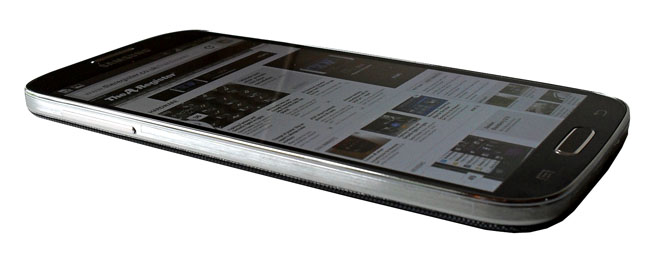 Despite a bigger battery and larger screen, the S4 manages to be thinner than its predecessor
Despite the larger screen and battery, the S4 is 3g lighter, 0.8mm narrower and, at 7.9mm, 0.7mm thinner than the S III. That's quite an achievement. The thinness of the side bezel is particularly impressive because it makes the S4 easier to use single handedly than the S III, despite the greater screen acreage.
It's still a rather plastic affair, though a new surface treatment makes it feel less cheap than the S III. Compared to the iPhone 5 and HTC One, the S4 still doesn't comes across as a truly premium bit of kit.
As many of you will know from my previous reviews of Galaxy handsets, I'm not a fan of the physical home button that Samsung seems wedded to. It looks and feels old fashioned to me, though it clearly doesn't bother the millions of S III and Note 2 owners out there.
The 'Droid you are looking for?
When it comes to software, what we have here is Android 4.2.2, which is as up to date as can be at the time of writing. Future updates shouldn't be an issue since Samsung has the best reputation of any OEM when it comes to rolling out new versions of Android. Of course, on top of Android there's TouchWiz, Samsung's own launcher, but I'll come back to that later.
The S4's Pentile-matrix 441dpi "Super AMOLED" OLED display is good example of the breed but it doesn't displace the HTC One's 4.7-inch 469dpi "Super LCD3" LCD screen as my current favorite. I'm just not much of a fan of the inherent garishness of OLED panels despite my own phone having one.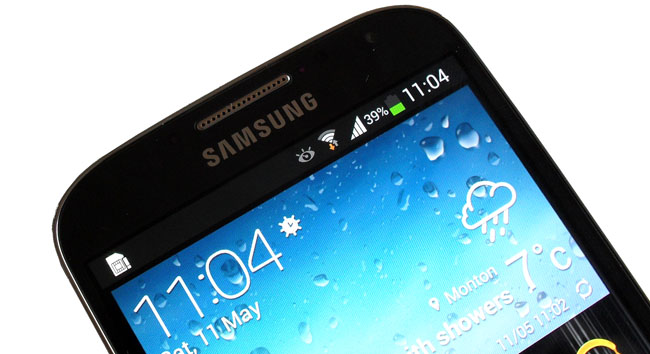 Gorilla Glass 3.0 gives the S4 a tough face
That said I'll be the first to admit that the S4's displayed blacks are superbly black and that it works very well in sunlight. And there's no need to worry about the Pentile layout - at this resolution you need a good microscope to tell it apart from RGB, which wasn't the case with the S III's screen.
Thanks to the third incarnation of Corning's Gorilla Glass, the screen should stay looking good over a two-year contract. I attacked it with my car keys with gusto but inflicted no visible damage. Unlike Sony's Xperia Z, the S4 isn't watertight.
I won't waste your time banging on about performance. The S4 turned in AnTuTu scores of well over 25,000 and goes like the very Devil himself is chasing it. In the Hot or Not test, the S4 scored Not. Even after an hour of heavy gaming there was no excessive heat build up.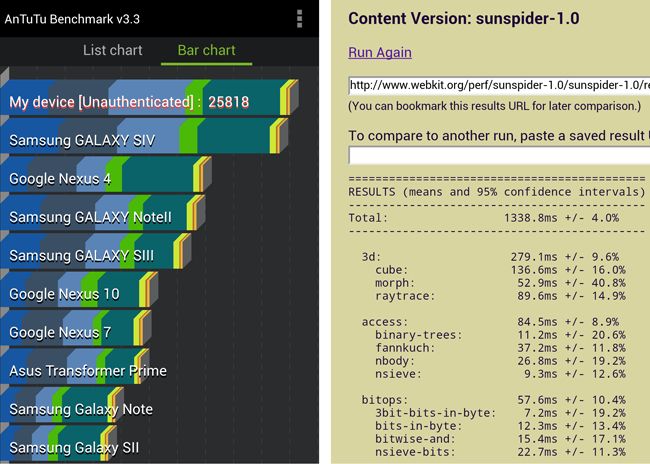 A solid performer
Thankfully, the fire-breathing CPU and larger, higher resolution screen don't use up all the extra battery capacity so the S4 still performs better than the S III. You should see the better part of two days between charges - with a 3G connection at least - unless you do something like watch all three Toy Story films back-to-back.
And that's something you can actually do and still have power left for Monsters Inc and Wall-E. My 720p video loop test with the Wi-Fi radio on took a little over seven and a half hours before it rogered the battery into submission. Thanks to the bundled 2A USB charger, filling the battery back up is a pretty quick affair.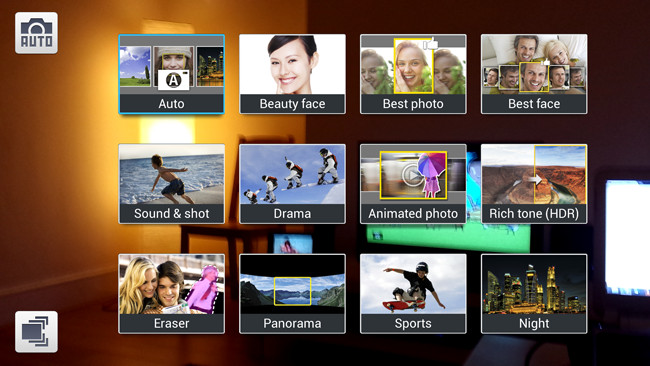 Many options for the average camera
There's not much to say about the camera other than it's a reasonable step forward from the S III's frankly average snapper. Like the 13Mp camera in the Sony Xperia Z, the S4's camera takes a good if unexceptional photo in decent light and records good quality 1080p video. But there's nothing really interesting or groundbreaking to talk about on the hardware front, unlike the cameras fitted to the Nokia Lumia 920 and HTC One which have optical stabilisation - and, in the case of the HTC, unusually big sensor pixels.
The camera software is more interesting. In Erase mode, the camera takes five quick shots and then offers to remove anything that's moving from one shot to the next like a car or jogger that has just put the mockers on your Capa-esque shot. 'Drama Shot' does the same sort of thing but in reverse, so your final picture can feature all five images of whatever is moving on one picture, as a sort of stop-frame collage.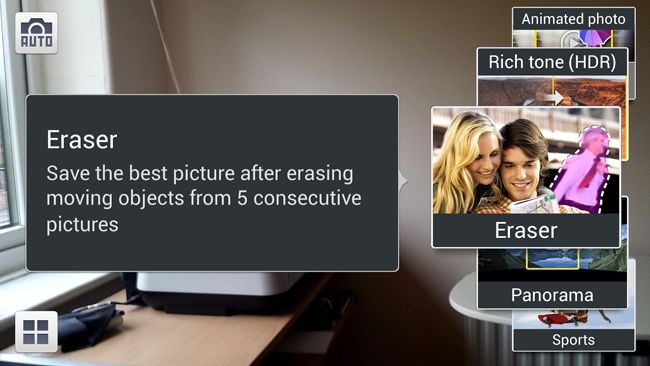 The S4's Erase mode automatically removes moving objects from still shots
And so to TouchWiz. If, like me, you like your whisky straight, your coffee black and your Android stock, your reaction will likely be similar to that if you saw a moustache drawn on the Mona Lisa. Samsung is clearly determined to make the interface of its Android handsets look less like Android than anyone else's. HTC's latest version of Sense, by contrast, looks positively Jelly Bean-ish. Beauty may be in the eye of the beholder, but when it comes to TouchWiz it's not in the eye of this beholder, nor does it make the most efficient use of the available screen real estate.
Nice features, shame about the UI
Suspect aesthetics to one side there's no denying the sheer volume of extra features that Samsung has shoved into the S4. I didn't find out how to get it to make me a cup of tea, walk the dog or pleasure the missus but it wouldn't surprise me to find out it could. Some features are poor duplicates of existing Google offerings: S Translate, for example, not only lacks Google Translate's ability to download languages for offline use but supports far fewer tongues. Another is S Voice which doubles up on many of the functions now offered by Google Now, though Now's voice recognition is more accurate.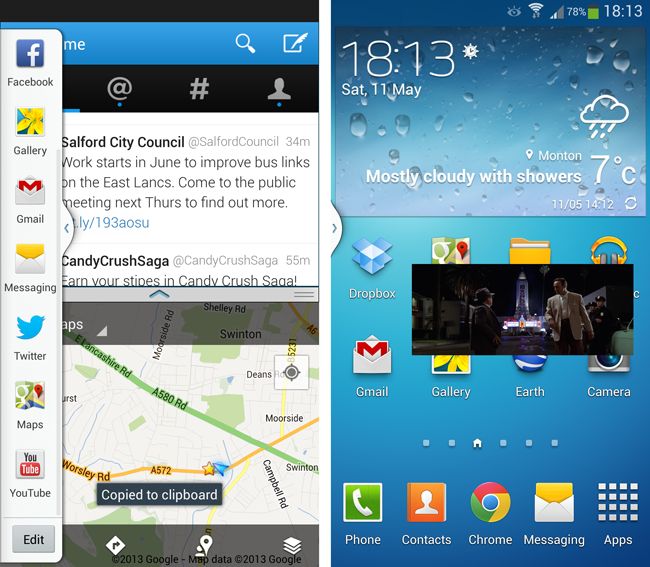 Windows phone
Others turns are more unique. These include the option to open certain apps in windows, which is something already seen in a couple of Galaxy devices; Air Touch and Air Gestures which mimic the Galaxy Note's S Pen but with a finger rather than a stylus; the look-away-and-it-stops scrolling/playing feature; and the facility to play video in a pop out window.
These being OEM add-ons there are some problems, though. To start with, only Samsung-jigged apps work in windows and the same goes for many of the Air Touch and Air Gesture features: while there are some funky web navigation gestures, they only work with the default Samsung browser, not with Chrome.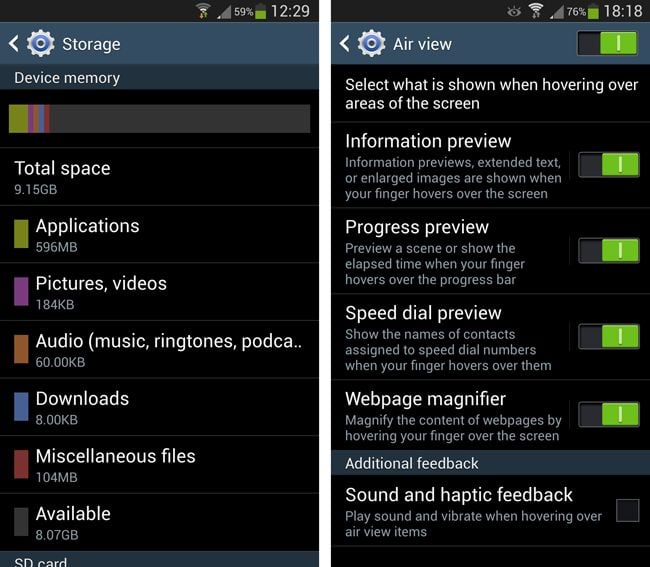 16GB device, but only just over 8GB free
I have to be honest and say that many of these extra features and apps strike me as the smartphone equivalent of adding flash alloy wheels, a chrome exhaust, an air dam and a roof spoiler to a family hatchback. All just a bit unnecessary and clearly not factory fitted.
Thankfully, deploying a third-party launcher like Nova had no ill-effect on the various extra features, all of which continued to function. Nova lets you replace Samsung's garish app icons with those from stock Jelly Bean at the touch of a button so it's definitely worth consideration.
The rest of the S4 is every bit as cutting edge as you'd expect. The Wi-Fi radio is a dual-band 802.11ac affair, while 3G data speeds of 42.2/5.76Mbps and 4G speeds of 100/50Mbps are supported across all the wavelengths we'll be using in the UK. To control your telly there's an IR transmitter and TV remote app.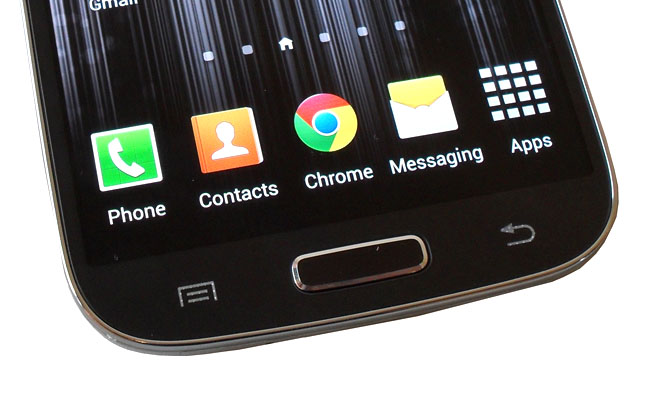 There's still a physical home button
Bluetooth 4.0 and NFC round out the wireless options, while on the wired side of the fence the micro USB port also supports MHL media streaming and On-The-Go USB hosting.
Signal reception and call quality - the second thanks to an in-call equaliser and active noise cancellation - gave no cause for complaint, and the single speaker did a pretty decent job; though, like every other smartphone on the market, it's beaten hollow by the stereo speakers fitted to the HTC One.
The Reg Verdict
What Samsung has done here is taken the Galaxy S III and made everything bigger and better; except the device itself, which – impressively – is both smaller and lighter. As a technical tour de force, the S4 is hard to criticise and, thanks to the increasingly rare features of a removable battery and a micro SD slot, it will be the default choice for many canny smartphone users.
That said, the styling leaves me cold, the plastic body looks and feels a bit cheap when compared to the opposition, and TouchWiz really is a bit of an aesthetic shambles compared to Jelly Bean's stock UI. I've no doubt all those extra features will attract buyers but I'd be lying to you if I said I thought many of them were essential to the smartphone user experience. ®
Thanks to Vodafone for supplying of our review handset.