Original URL: http://www.theregister.co.uk/2013/05/07/oracle_sap_state_of_nation/
Oracle, SAP under attack: How cloud upstarts steal their lunch
Biz bosses can't wait to offload gear to rivals, or so we're told
Posted in Cloud, 7th May 2013 08:31 GMT
Analysis After more than 20 years coining it, the Goliaths of the lucrative enterprise software world are about to meet their Davids: nimble rivals touting technology at a sensible price.
And as we shall see, with customers jumping on cheaper services, ultimately the giants could be destroyed by their reliance on expensive support contracts.
IBM, Microsoft, Oracle and SAP are the biggest names in the global game of enterprise software. Oracle and SAP in particular dominate enterprise resource planning (ERP) and customer relationship management (CRM) - their code, installed on customers' machines, runs factories and warehouses, turns sales into deliveries, and keeps payments flowing.
These market leaders make billions of dollars a year selling software and charge yet more billions to support and maintain it.
NetSuite and Salesforce.com are two upstarts wanting a piece of this cash-stuffed pie. They were founded in the late 1990s, and offer CRM and ERP packages as an online service to rival the big boys' offerings. The pair of minnows host the apps on their own servers, in the cloud, and sell access to the software.
Their customers include Qualcomm, Cisco, Toshiba, GE, Toyota, Virgin Money, Burberry, BT, McKesson, Puma, and Procter & Gamble - the sort of top brands you'd expect to default to SAP and Oracle.
NetSuite's revenue for 2012 was up 30 per cent year on year to $308.82m, although it made a net loss of $35.23m, slipping slightly further into the red from 2011's $32m loss. Salesforce's revenue for the year ended 31 January 2013 was $3bn, up 35 per cent year on year, although it made a loss of $270m, surpassing the previous 12 months' $11m loss.
Meanwhile, Oracle's revenue for the year to 31 May 2012 was a whopping $37bn, up 4 per cent year on year. It enjoyed a net income of $9.9bn, but its competitors point to its slowing revenue growth. SAP is in a similar position: revenue for 2012 was up 14 per cent to €15.6bn, although its net income of €2.8bn is down from €3.4bn the year before.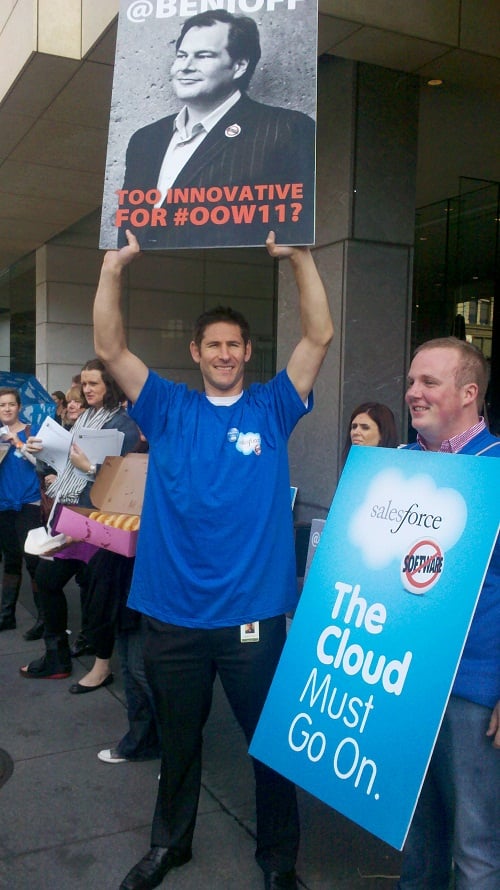 Salesforce out in force ... staff protest at Oracle OpenWorld
But these healthy figures mask a looming danger for Oracle and SAP: their revenue growth is slowing, especially since the global economy tanked in 2008 and everyone's belts tightened. As cash-strapped customers demand cheaper cloud-based products - which are powered by servers the customers do not have to directly maintain - Oracle and SAP's complex software licences and hefty support contracts suddenly look unappetising.
Oracle's full-year revenue growth in 2012 was 4.21 per cent, compared to 2011's 32.82 per cent and 2010's 15.34 per cent. Meanwhile, SAP's software and software-related service revenue is expected to grow 11 to 13 per cent this year, compared to the previous 12 months' 17 per cent.
If this turns into a full-blown crisis, it has been decades in the making.
How the cloudy upstarts got their feet under the table
Even though Oracle's software is seemingly indispensable, a good number of folks find it horribly complicated to install, maintain and use.
Seizing upon this, Salesforce, NetSuite and other online competitors hope to get their feet in the door at IT departments by touting customisable cloud-powered apps that are easier to manage and simply delivered through web browsers.
Allowing bosses to offload the applications to outside service providers will rock Oracle and SAP, we're assured.
Frank Scavo, president of management and IT consulting firm Strativa, told The Reg this simple shift in application management convinced one unnamed company with a 2,000-plus-seat SAP account to convert to Salesforce for its CRM system.
"I was in a deal last year for a well-established SAP customer, which SAP considered a showcase, and it was selecting CRM systems. It came down to SAP and Salesforce, and the customer picked Salesforce," said Scavo. "SAP had a strong relationship with this IT organisation, which had worked with SAP R&D. They thought it was a SAP shop, but that wasn't the way the business leaders saw it. They had more experience of Salesforce."
Piping an application from a cloud into an employee's browser makes it easier to deploy, install, upgrade and maintain, compared to running the software purely on in-house servers, we're told: new features are rolled out at the flip a switch in somebody else's data centre, not via some vast internal IT project.
Working out the cloud app's pricing is apparently more straight forward than the licensing red tape spun by enterprise software makers. Salesforce, for example, charges by the number of users in an enterprise, and offers a plan for an unlimited number of seats.
Ordering gear from Oracle and SAP, on the other hand, is a major financial decision involving various metrics – such as the number of users, devices, server processors and extra features in play. SAP's prices change if the word consultant appears in your job title; the software maker doesn't even publish a price list, making shopping around and negotiations harder. Oracle does have a price list but the giant's sales people, famed for their hard-nosed dealing, rarely stick to it.
Also, by relying on a service running on Salesforce's servers, for instance, you no longer need to buy and manage your own hardware to run packages from Oracle or SAP. Neither do you need another licence for the database coupled to the biz software.
Moving into the enterprise by luring Microsoft loyalists
NetSuite's chief executive Zach Nelson told The Reg his firm's products are finding their way into mid-market businesses by replacing Microsoft Dynamics GP, Redmond's accounting software. He said his team wins 75 per cent of the time against the competition in this arena, and the long-term goal is to bleed into the enterprise.
Nelson calls it "two-tier ERP": while Oracle or SAP are entrenched in big biz, NetSuite is working its way into networks of suppliers, customers and subsidiaries that are too small for Oracle or SAP. NetSuite's average deal size used to be $5,000; Nelson reckons its average selling price has grown 20 per cent year on year, and it's SAP rather than Oracle NetSuite encounters at the sales negotiation table.
He said his traditional mid-sized customers "understand NetSuite and are prepared to pay more". When large enterprises such as Qualcomm sign up, "that positively impacts selling price," he added.
Oracle and SAP noticed the emergence of their online rivals and, rather than running up the white flag, shifted their products towards the web albeit with mixed results.
Oracle and SAP get the message - and then lose it down the back of the sofa
In the early 2000s, SAP slotted the SAP Web Application Server into its products so that office workers could use their browsers to access SAP software running on in-house servers. Then in 2007, SAP directly responded to Salesforce by launching Business ByDesign - a SAP-hosted ERP service delivered to web browsers from SAP's own data centre, and access to it was charged on a monthly and per-user basis.
SAP had hoped for 10,000 customers and an easy $1bn in revenue from Business ByDesign by 2010. But in 2008 the IT giant put the brakes on the service when it realised it couldn't scale the system's architecture to cope with the increasing workload. "It's not a fantasy," SAP co-CEO Jim Hagemann Snabe tried to reassure folks in 2010. A year later, the company downgraded its expectations to 1,000 customers on its cloud platform.
Today, SAP claims revenue from its small range of "cloud" apps is growing.
Meanwhile, in 2005, Oracle announced it would overhaul its products to turn them into services: Oracle said it would rewrite its code to use industry-standard protocols and programming interfaces to prepare the software for deployment on the web. After six years of delays, Oracle made its new so-called Fusion applications available.
But, according to Scavo, the database giant told analysts it has completed just 400 Fusion sales to date.
"Oracle won't say how many are live, and the word is most are for Fusion Human Capital Management and most are implemented in a hosted or cloud model - not because customers are clamouring for cloud solutions but because it's so damn difficult to implement on-premises," he said.
"These are difficult to implement from an infrastructure point of view: you need a database, application server and middleware servers. They are complex to set up, so customers are being encouraged by Oracle and its partners to let Oracle host them. That's not very attractive when you can go to Salesforce and buy a licence and be up and running."
Oracle's CEO Larry Ellison laughed off the cloud in 2008, asking "what the hell is cloud computing" before answering: "Hype." Five years later, Oracle says it's a "dumb idea" to suggest that the IT giant missed the bandwagon. Ellison claims cloud computing is "at the heart of everything we do" - and thus today's Oracle Cloud Platform runs the company's 12c database, Fusion software and Linux.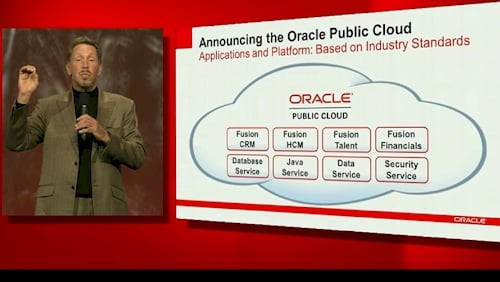 U-turn if you want to ... the Larry is not for turning
In the run up to this turnaround, Oracle spent the past decade buying up a string of businesses, from PeopleSoft to BEA Systems, to gain new customers, products and technologies. The high point was Oracle's $8.5bn purchase of Sun Microsystems in 2010 for its server blueprints.
Lately, though, Oracle has concentrated on swallowing cloud-based services, such as Nimbula to manage and deploy elastic infrastructure-as-a-service clouds offering Windows and Linux; DataRaker for analytics tools; RightNow for its cloud-based CRM; and Instantis for on-premises portfolio management.
After all this, though – and we hear this at lot - the devouring of tech companies is a turn off for IT buyers, who don't want to be tied to a single all-encompassing supplier.
"Customers are trying to reduce their reliance on Oracle," said Scavo. "It's seen in some companies as becoming too powerful and too prominent in the IT portfolio. When I talk to CIOs who want less Oracle, they say they're moving some databases and applications off Oracle's products so that the vendor is less influential."
Since its learning experience with the Business ByDesign cloud, SAP has plugged nippy in-memory database HANA into its products, and spent $4.3bn buying online technology marketplace Ariba. It also blew $3.4bn on management software biz SuccessFactors.
"SAP has lot of balls in air," said Scavo. "Massive resources are being devoted to HANA, enormous resources are being devoted to mobile, and a lot of resources are being dedicated to SuccessFactors and Ariba. It appears the Business ByDesign product is not getting the same attention it needs to be a success."
In another step towards the cloud, in May 2012, SAP allowed customers to run its ERP Business Suite software, HANA database and other programs on the Amazon Web Services (AWS) cloud.
Glen Robinson, an AWS solutions architect, told The Reg many SAP customers have migrated their existing ERP installations from in-house servers to AWS systems in the last 12 months. Those businesses have, we're told, saved money by no longer buying and managing their own hardware, and as a result of relying on Amazon's setup, have better failover and disaster recovery procedures.
"Customers are under pressure to cut costs and maintain the same level of availability," Robinson said.
The truth behind those late starts, mixed strategies and patchy results
One reason is the ingrained culture at Oracle and SAP of selling big pieces of software tied to site licences and maintenance contracts for upgrades and fixes. You can't change that overnight. Another is the reliance on a chain of partners and resellers who customise, tout and support Oracle and SAP products.
However, the biggest reason Oracle and SAP haven't fully embraced software-as-a-service is the fear that cloud revenue, under pressure from low-cost rivals, cannot match the whopping maintenance fees that have traditionally accompanied on-premises software. And, to protect the maintenance business, Oracle and SAP need to ensure customers buy the on-premises software rather than rent hosted services.
Just how big and important is the maintenance business? In short: extremely big.
In 2011 26 per cent of Oracle's money came from licensing new software compared to 42 per cent from support and upgrades. And according to Forrester vice-president and principle analyst Duncan Jones, SAP's maintenance contract fees bring in "a very healthy profit".
SAP uses maintenance contracts as a moneymaker: in February the company announced it will increase the price of its standard support package from 18 per cent to 19 per cent - an effective price hike of 5.5 per cent - for new customers on 15 July, 2013. The move will take support costs to about a fifth of the price of the software licence. While this isn't the first time SAP has used support contracts to squeeze extra money from firms, it will surely drive people towards cloud providers.
Look what happened when Leo was in charge
SAP customers are making their voice heard. Short-lived CEO Leo Apotheker also tried to hike the standard support and maintenance fees from 17 per cent to 22 percent of net licensing, but the plan was dropped following an outcry from customers.
Now SAP customers also want more flexibility on licensing as a whole. A UK and Ireland SAP User Group poll last year found near unanimous demand for the ability to park unused licences, and pressure for more web-friendly licensing with concurrent user pricing rather than fixed seat count pricing. More than nine in ten customers thought the rules on SAP's licensing are out of control, with 67 per cent blaming the confusion and complexity of SAP's ever-expanding product line.
User group chairman Philip Adams told The Reg the challenges on licensing have existed for some time - but now there's a squeeze on IT budgets, people are paying greater attention to spending and investment.
"Customers don't expect to get something for free, they just want to get value for money," Adams told The Reg. "We threw the gauntlet down last year at a local level [with the survey], but licensing is a global challenge for them – we have been dealing with SAP locally and in Waldorf [SAP's home city]."
Over at Oracle, customers are not quite so up in arms. That's because they are already charged 22 per cent for support and are, arguably, already acclimatised to high support fees.
Still, the vice-president of software licensing specialist Flexera, Steve Schmidt, who works with corporate client customers on Oracle and SAP spending, echoes Adams' comments.
"Oracle and SAP are two of the key vendors companies are looking at to use what they are licensing and buy what they need," he said. "I think this is a need that's existed for quite some time. And yet it's an area that more and more companies are looking at because economic conditions mean we have to look at all spend but also because software license optimisation is being realised as an area that's important."
'Customers cannot tolerate paying maintenance at that level'
Another threat to Oracle's maintenance business comes not from customers haggling down prices, but from consultants offering to keep Oracle installations ticking over without Oracle getting a look in. It's a threat Oracle has taken seriously and is defending its turf through the US courts.
The database giant launched actions against Rimini Street in 2010 and CederCrestrone in 2012; Oracle accused the former of a "massive theft of its software and materials" through an "illegal business model" in supporting Oracle customers. Oracle partner CederCrestrone is accused of illegally supporting the E-Business Suite, PeopleSoft and Fusion Middleware apps and making "false claims" to prospective customers by saying it developed updates independently of Oracle.
CedarCrestone has denied any wrongdoing and claims the action is part of Oracle's "broader war on competition" against third parties supporting Oracle software. Rimini said it acts within the rights granted under Oracle customers' licences and accuses Oracle of trying to scare off customers by claiming Rimini is engaged in illegal conduct. Oracle's claims have echoes of the case hurled at defunct SAP subsidiary TomorrowNow; Rimini's chief executive is the TomorrowNow co-founder Seth Ravin.
CedarCrestone and Rimini are small compared Oracle and SAP, but depending on the ongoing legal wrangling, they stand to grow: collectively they can take some serious bites from the maintenance cake.
Scavo said the fact Rimini, and others, is thriving shows there's a quiet revolution and that Oracle cannot afford Rimini, CedarCrestone and others to break out.
"The fact there is only a few of them and doing so well is a sign customers cannot tolerate paying maintenance at that level," he said. "The thing that's holding this industry back is the legal challenge. If Rimini Street prevails of Oracle that will establish the legal precedent and framework for other providers."
All this means pressure is growing on Oracle and SAP, which have compromised on maintenance to keep the customers. "They say they never negotiate on maintenance, but people behind the scenes have seen Oracle and SAP negotiate on maintenance. This business model is at risk," Scavo told The Reg.
Maintenance revenues will come under further pressure if Oracle and SAP let their fledgling online cloud businesses grow and adopt the subscription model of Salesforce and NetSuite, which gives you all the updates and support in one package.
According to research from IDC - a study sponsored by Flexera - 43 per cent of applications makers polled reckon their licensing policies must change to adapt to delivering software as a service; 48 per cent want to rewrite their licences for the cloud; 50 per cent want to address virtualisation; a quarter said they'd add subscription or term-based licensing; and 24 per cent said they'd offer a pay-as-you-use licence in the next 18 to 24 months.
Flexera's Schmidt wouldn't say whether Oracle and SAP were among the 200 software companies sampled, but IDC's survey did include "enterprise application software companies". Even if SAP and Oracle didn't participate, its competitors probably did - and that means those rivals are among those considering adopting potentially cheaper and more flexible licensing within the next two years. It piles further pressure on Oracle and SAP.
"The change in the market today is happening - it's happening now," Schmidt said. "Based, on our data, it seems to be accelerating and [subscriptions and user-based pricing] is something these software companies need to be looking at now, or are looking at. This will take quite a while to play out but it will pick up speed and become meaningful through that transition. We are in the early stages."
Schmidt reckons SAP and Oracle will eventually end up offering subscriptions or user-based pricing in addition to their traditional approach to sales. "Based on the results of our IDC survey, there's a clear mix of ideal licence types requested by the companies' customers," he added.
Summary
These are changing times in business software. The web offers customers a new hope of usability and way out of paying large and complex licensing and maintenance bills. The result is phenomenal and enviable growth for Salesforce, NetSuite and the other software-as-a-service providers.
Oracle and SAP are no longer setting the enterprise software agenda and cannot rely on fat maintenance revenues to keep them going.
But this isn't the end for SAP and Oracle: for all their growth, their cloudy competitors remain tiny. Oracle and SAP can also rely on the sticky nature of enterprise software to keep them in business. Customers won't chuck out their Oracle or SAP systems - instead they'll add to them. And the fact Oracle and SAP applications hold so much customer data means the Goliaths will be relevant to government and business for a long time.
Also, Oracle and SAP have shown a willingness to change, with their own subscription-based services or by riding Amazon's AWS platform. There have been mis-fires, with Fusion and Business ByDesign, but this has come as Oracle and SAP have tried to protect their on-premises businesses.
But the evidence is there: Oracle and SAP are changing, either through their own willingness or the result of external pressures. What's not clear is how far they'll go and what they'll look like once this era is over. ®