Original URL: https://www.theregister.co.uk/2013/05/01/review_panasonic_toughpad_fz_g1_windows_8_pro_tablet/
Review: Panasonic Toughpad FZ-G1 WinPro 8 tablet
Fancy a shower with your fondleslab? Or booting it down the stairs?
Posted in Personal Tech, 1st May 2013 06:03 GMT
Vid In the UK, Panasonic is not known as a high-street PC player - but the company's Tough range of products makes quite an impression in the world of business.
Out in the field you'll spot them in the hands of BT engineers and the like where the manufacturer's rugged laptops, and now tablets, survive the rigours of white-van man life.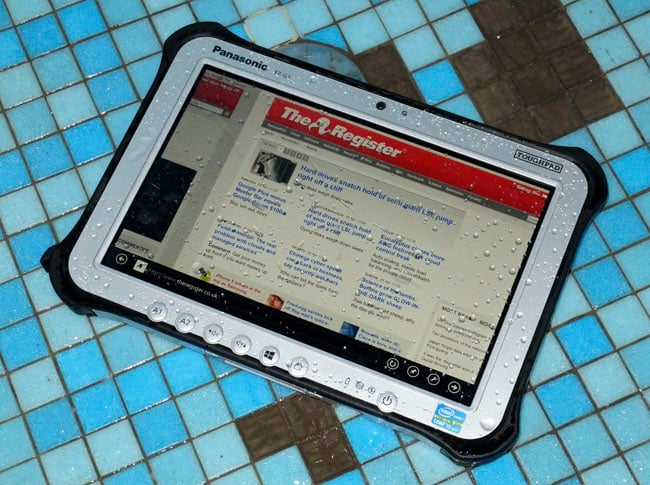 Panasonic's Toughpad FZ-G1 ... something for a rainy day?
The Toughbook range has been established for some time now; Windows 8 models were recently introduced getting a mixed reception from users. The swivel screen also allows for tablet style operation but it's a bit of a chunky and weighty arrangement. With the Toughpad, Panasonic delivers a 10.1in tablet that has the robustness this range is known for but without so much of the bulk.
Actually, there are 7in and 10.in Android Toughpads available but on test is the FZ-G1 Windows 8 Pro model featuring a 1.9GHz dual-core Intel Core i5-3437U CPU and relies on the Intel HD Graphics 4000 integrated GPU. There's 4GB of DDR3L RAM on board and a 128GB Toshiba THNSNF128MCS SSD – 8GB of RAM and 256GB SSD options exist too. The matt display is one of Panasonic's IPS alpha panels that delivers wider viewing angles and notches up a full HD resolution at 1920 x 1200-pixels. No surprise then that the FZ-G1 includes a stylus to help navigate menus and suchlike in Desktop mode.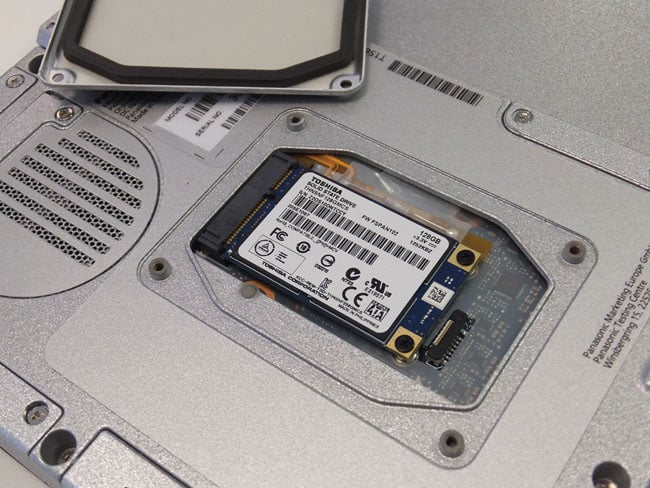 Toshiba SSD is kept under wraps
A glance at the FZ-G1 and you can see it's not your usual coffee shop fondleslab. It has dedicated function keys lined up along the bottom and the rubber around the front edges doesn't extend to the rear. That said, the oversized rubber corners also act as feet at the back, elevating the tablet so its fan grille and poxy rear speaker are unobstructed.
All in all, this protection together with a part alloy, part metallic plastic body and a toughened glass touchscreen delivers a MIL-STD-810G spec (120cm drops) and an IP65 rating (dirt and water resistance). By the looks of the tablet though, you'd expect something more impressive. A 4ft drop isn't that much – a slip from the hands of a standing user – and apparently IP65 is more akin to surviving a soaking in the rain, rather than a proper dunking water. Indeed, at a recent launch event for the Toughpad range, Panasonic was keen to stress that we don't immerse the test units... tempting though.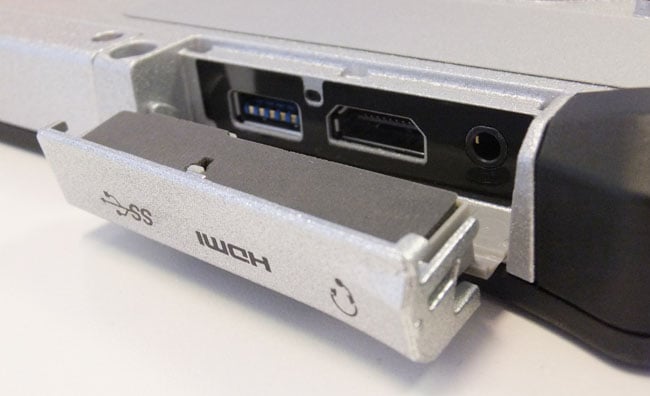 The ports cover fell open a couple of times in our drop tests
While cheaper ARM and Atom tablets can more or less get away with a bare minimum of additional connectivity, having a full-blown Intel chip inside does make you think it should be kitted out with interfacing aplenty to take full advantage of the device. The Panasonic Toughpad FZ-G1 features a mic/headphones combo jack socket, an HDMI output and a single USB 3.0 port all sealed up behind metal-effect plastic cover. The cover does pull clear of the ports, but as they are recessed, there's bound to be a time when a USB stick doesn't fit because of this.
Apart from the power input behind a rubber grommet on corner and a 24-pin port connector for the FZ-VEBG11U desktop cradle, that's pretty much the standard issue interfacing on the FZ-G1 except for one significant difference: the configuration port. As its name implies, this is where you specify your preferred interfacing option.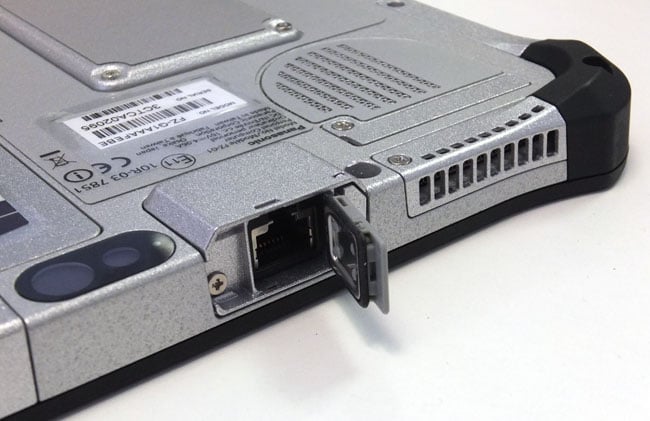 Ethernet configuration option port
The test unit came supplied with a Gigabit Ethernet port, but there are four other options: USB 2.0, microSD, GPS and True Serial – the latter being 16550A compatible. This swappable port feature is screwed in place along the top edge near to the webcam. Incidentally, apart from the front facing 1.3Mp camera, there's no rear snapper – Panasonic offers a 3Mp shooter with flash as an optional extra.
Mobile working
Indeed, the list of extras piles up – you'd have thought a microSD slot would have been included – but then Panasonic would have needed to make slot covering for it. That said, there is a 3G mobile broadband version available, which has its own slot screwed down next to the battery pack and, as luck would have it, the review unit had this on-board too. As I type, the BBC iPlayer is smoothly churning out HD content over 3G, so I've no complaints there. However, I wasn't so convinced by the GPS side of things but this probably had more to do with testing on Bing Maps and the gMaps apps, both of which seemed to rely on Wi-Fi rather than GPS to deliver a position. Talking of Wi-Fi the Toughpad supports 2.4GHz and 5GHz bands and has Bluetooth 4 on board.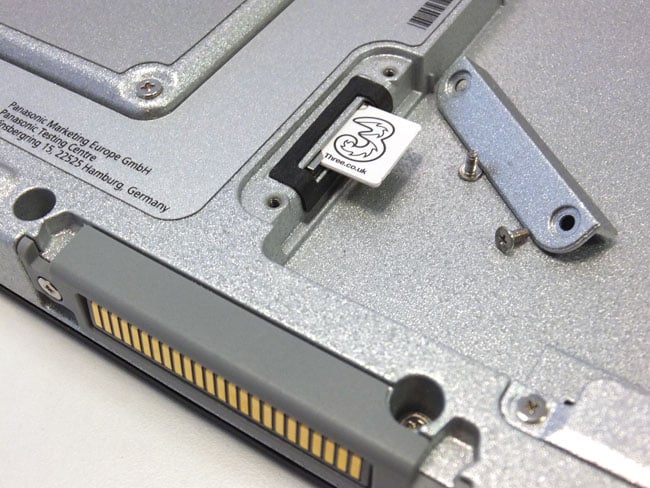 Full-size Sim card slot is tucked away behind a screwed panel, the dock connector is laid bare
In the hand, the Toughpad actually comes across as lighter than it looks, although it's not exactly unnoticeably at 1.1kg. Measuring up at 270 x 188 x 19mm, it's as thick as a basic laptop, and while not uncomfortable to hold, its industrial chic eventually takes its toll as the weight does become fatiguing. I wanted there to be some lugs on it so I could rig up a strap so it could be worn over the shoulder in between use. Panasonic will sell you a bag for this purpose which will only add more bulk, but additional protection too.
The screen's subdued reflectiveness pays dividends in use, but as soon as the lights go off on the device, the mess of fingerprints makes it appear distinctly grubby. It cleans up easily enough though. The display itself is bright, text is sharp and images look good too, however, its semi-matt sheen does seem to subdue the contrast slightly and blocks of colour have a slightly textured look to them. Whether this is due to some kind of coating or the toughened glass isn't apparent.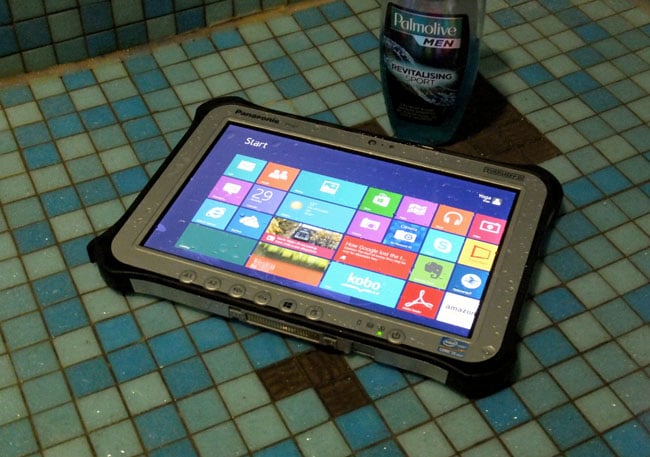 What could be more natural than having a fondleslab in the shower?
As for that toughened glass, whacking the screen on the corner of a table produced no ill-effects. It was a spur of the moment test performed here at Vulture Central by one of our ex-military staffers who takes a no-nonsense approach to such things. I'll admit I was surprised for it to survive without a mark on it. In all that excitement it was time to cool it off in the rain – simulated in the El Reg bog showers. The good news is, it still works. The bad news is, you can't do much with it when it's wet.
As the water droplets fell on the screen, the browser pages started to dance about and even zoom in. It is a touchscreen after all and this downpour was being mistaken for finger presses. Turn the shower off and it's just as bad as the droplets confuse any navigation attempts. The screen stayed put, unchanging until the water had been wiped off. A cursory inspection of the seals revealed they had done their job although there was some water in the battery bay. However, this wasn't a major worry as the terminals section has seals surrounding it and was kept dry.
I saved the four foot drop until last, just in case it landed badly or bounced into something unforgiving. The bad news is, I don't have some photos of some fractured Toughpad to post here; the good news being it passed the test – multiple drops from various angles. The only incident being the port cover popped open a couple of times. For me, the real test is when it flies off the roof of a cornering car having been left there by some absent-minded field technician desperate to move on before the traffic warden arrives.
Ah, that reminds me of the scribble pad aspect of this device. It has a capacitive pen with an assignable button on it that defaults to right click. It has proximity sensitivity so a tiny diamond cursor appears as you hover over the screen. This would be great if it wasn't so badly aligned.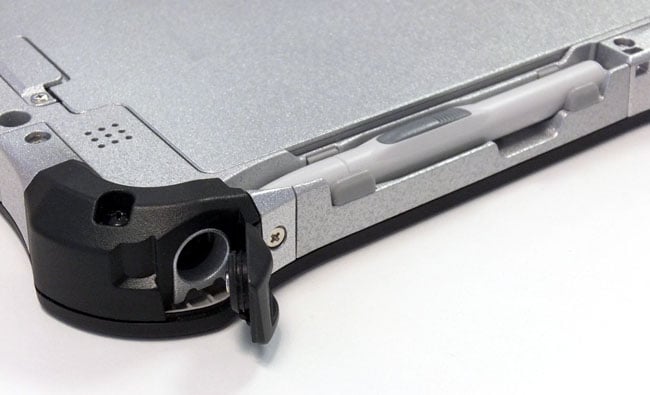 Power connector cover and captive stylus
I tried calibrating the pen numerous times and always found it wanting, especially when expanding items in the device manager. I'd find the cursor would appear landing on the item above the one I wanted and it's so counter-intuitive to click the next item down to get the one you want above it. While you might not experience this problem in less precise scenarios, the combination of hi-res screen in Desktop mode and a wavering pen can be problematic. That said, finger presses in Desktop mode often needed repeating and so I reached for the stylus to overcome this only to end up having to deal with the aforementioned alignment issues.
Power play
Panasonic includes a few utilities on the Toughpad, one of which is a handwriting utility that will simply capture what's written. There's a general dashboard app too, which consists of shortcuts to frequently used features and configuration options. Among these are various power related features including battery recalibration and the Power Plan EX extension. The latter provides a comprehensive range of tweaks with access to Intel display and graphics energy saving options, as well as Wi-Fi sleep settings, slow charging, and fan control.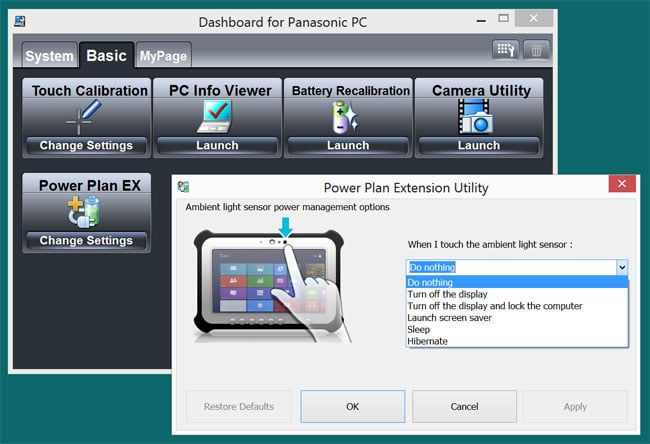 The ambient light sensor can be used to engage shortcuts
Regarding the fan, it chirps up from the off and it isn't noticeable in a typical working environment, yet spend any quiet time with the FZ-G1 and you'll want to swat the mosquito in the room. Lest we forget this the FZ-G1 Toughpad runs on a Core i5 CPU and has a snappy performance to match. It consistently boots to the login screen in 7 seconds and achieved a rating of 4622 with PCMark 7 and clocked up 4hrs 3mins with PowerMark – a figure you can usually double for real world use. In this respect, the battery really does endure and managing the quoted 8hrs using the default settings shouldn't be beyond reach.
If you need a longer run time, the standard 4400mAh six cell battery can be replaced with a bulbous nine cell beast that is claimed can last for up to 16hrs, which is probably wishful thinking, especially as Panasonic seems shy about stating the power rating for this battery pack. A final word on the battery, it snaps into place nicely enough, but has a lock too. If you forget about this when playing rough with the Toughpad, the battery is likely to fly out. How do I know this..? You guessed it.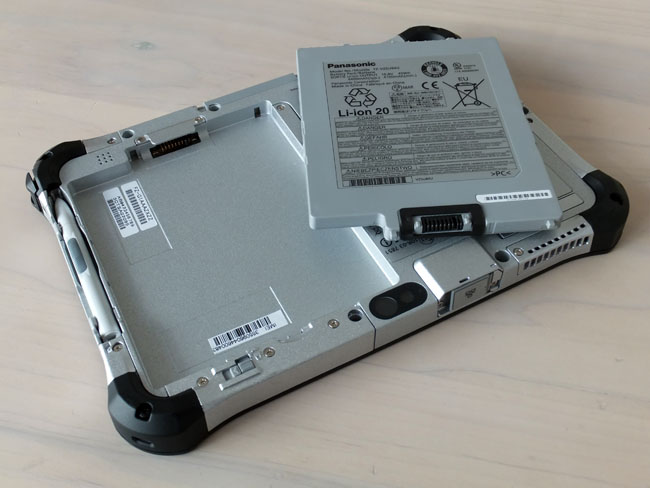 Lock and load: standard battery showing the seal around the terminals
I'd have liked a second USB port as trying to get Linux running on this proved difficult from a USB flash drive when a keyboard was needed to execute the boot options. I tried daisychaining a Mac keyboard using its hub to add the USB drive only to get a insufficient bus power message which seems a bit feeble. Using a CD drive didn't boot up Ubuntu Linux either despite UEFI tweaks to make it the primary drive. Instead, it began a recovery procedure. No doubt there's another check box to tick buried in configuration page somewhere that allows Linux to play nice, but it was certainly playing hard to get.
The Reg Verdict
The Panasonic Toughpad FZ-G1 is very much part of a complete field use ecosystem with specialist accessories including a vehicle dock from Gamber and Johnson that features an array of breakout ports. Indeed, given the Toughpad's robust credentials, you rather hope for more standard features – surely a microSD slot alongside the Sim card wouldn't have been too difficult to include?
This all plays into the BYOD (build your own device) approach which allows for very specific features to be added. If all you need is a tablet with moderate protection, a decent battery life and a few handy ports, then you might be better off looking at the HP Elitepad 900 with its smartjacket, assuming you can live with an Atom CPU. That said, the HP's stylus has yet to show up so there's no telling if it performs better than the wayward digitiser on the Toughpad.
As a one-off purchase though, the Panasonic Toughpad FZ-G1 could prove tough to justify given its price, but its target market will surely feel the benefit of volume discounts. If stylus use is important then it could prove challenging but as a rugged tablet, it'll survive a soaking and it is certainly robust just don't be fooled by that metallic finish, there's a fair bit of plastic here too. ®