Original URL: https://www.theregister.co.uk/2013/04/30/apple_revival_forecast_in_us/
Fanbois vs fandroids: Punters display 'tribal loyalty'
Buying a new mobe? You'll stick with the same maker - survey
Posted in Personal Tech, 30th April 2013 09:33 GMT
Does how you feel about your current smartphone really inform the handset you'll acquire two, three or four years hence? The Yankee Group, a market watcher, thinks it might. And that's good news for Apple. Possibly.
Apple currently sits just behind Google in the future purchasing stakes. According to Kantar Worldpanel ComTech, another market research firm, their US market shares are, respectively, 43.7 per cent and 49.3 per cent. Those numbers are for Q1 2013 and are derived from talking to thousands of smartphone buyers.
Yankee's figures, likewise obtained by asking punters - 16,000 of them - puts Apple's March 2013 share of the smartphone arena at 29 per cent and Android's at 50 per cent. These amount to 20 per cent and 34 per cent of the overall mobile phone market in the States. Surely it's a sign of Android's rise and Apple's descent, at least in terms of market share if not absolute sales figures?
Not so, says Yankee. It found that 91 per cent of iPhone owners it spoke to said they will buy another version when they upgrade their handset. Only 76 per cent of Android users made the same claim. 24 per cent of fandroids expect to move to another platform, they say - around 18 per cent of them to iOS. Extrapolating from these proclaimed levels of satisfaction with users' current platforms, Yankee reckons that come 2016, Apple's share of the US phone market will have grown to 37 per cent while Android's will remain at 34 per cent.
Incidentally, BlackBerry's share will have declined from three per cent now to two per cent by 2016, while Windows Phone's share will have risen from four per cent to seven per cent over the same period. Other smartphone operating systems will still account for just over two per cent.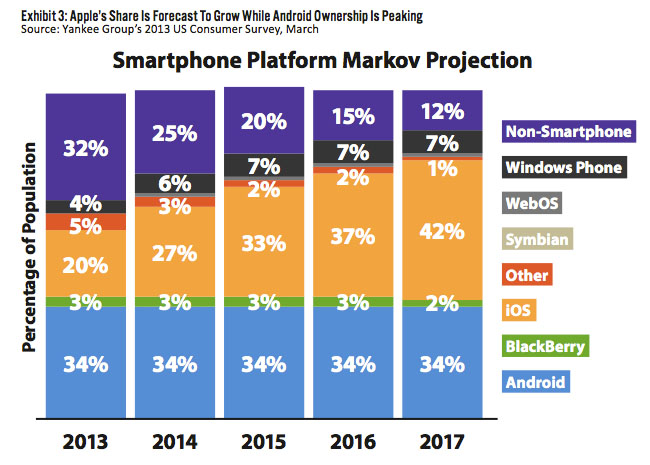 US smartphone purchases. Source: Yankee Group
With Android's share the same over the years, and others' market share slightly up or down, where will Apple's growth come from in this picture? Yankee reckons it'll draw from the number of folk who are still using ordinary phones. Come 2016, that group will account for only 15 per cent of phone owners - down from 32 per cent in 2013.
Looking at the smartphone market alone, that gives Android a 40 per cent share and Apple a 49 per cent share, so it's not like Apple will have regained its once mighty domination of the market.
Buying intentions will only take you so far, of course. A punter might be very loyal to one platform now and be sure he (or she) will stick with it when they come to upgrade, but their ambitions may not take into account developments in smartphone technology in the coming years, how vendors promote and price their products, or even what their friends and family adopt. All these factors can make a mess of the best laid plans.
And folk coming to smartphones for the first time can have no brand loyalty to Android or iOS, of course.
Fanboys, then, shouldn't assume that their favoured platform - whichever it happens to be - will dominate on the basis of these data. What we can say is that Android's rapid rise over the past five years is historical fact, and it's generally better to extrapolate from what people have done than what they might do. ®