Original URL: https://www.theregister.co.uk/2013/04/29/lsi_q1_2013/
Hard drives snatch hold of semi giant LSI, jump right off a cliff
Dying disks weigh down sales
Posted in Cloud, 29th April 2013 13:59 GMT
LSI's latest results paint a gloomy picture for the storage giant, revealing both its revenues and profits were down last quarter.
Revenues for LSI's first fiscal 2013 quarter, ended March 31, were down to $569m. They were $600m in the previous quarter, a 5 per cent fall. A year ago revenues were up at the $622m mark, meaning revenue year-on-year has declined by 8.5 per cent.
With the revenue decline came a profits decline, from $29.1m last quarter to $18m this quarter. In Q1 2012 revenues were riding high at a whopping $75 million, from which point it's all been downhill. That is to say, profits have been declining for four consecutive quarters.
Here are a couple of charts to put these numbers in context: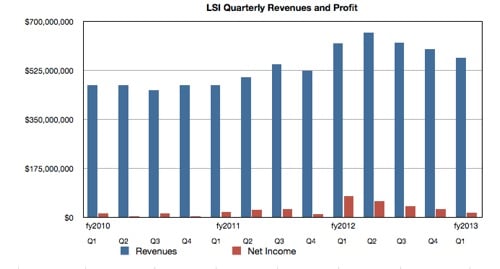 LSI revenues and net income to Q1 FY2013
We can readily see how profits have been declining steadily for a year, though not as steeply as revenues. Profit is leaking from LSI's tank like a bath with an unfixed leak. The second chart shows profit (net income) as a percentage of LSI's revenues: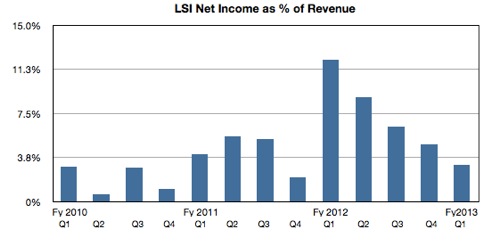 LSI net income as percentage of revenues
The straight line showing the decline in LSI's profits from Q1 2012 is there for all to see. So where's the leak in LSI's ship?
We think it's primarily from the declining PC hard disk drive business to which it supplies various silicon product components (such as SoCs and pre-amps), with the server mark presenting additional difficulties.
CFO Bryon Look said: "Server and storage semiconductors represented 77 per cent of total revenues in the first quarter."
Stifel Nicolaus analyst Aaron Rakers thinks Seagate is responsible for 85 per cent of this business. He noted the earnings call comments included "a noted +100 per cent pipeline sequential increase and +300 per cent sequential increase in point-of-concept (POC) engagements."
Abhi Talwalkar, LSI's president and CEO, said: "LSI achieved strong results and better than expected revenues in the first quarter, despite a challenging environment for PCs and mobile infrastructure investment."
LSI is being bullish about its flash prospects, (aka "don't lose faith in us"), but the proof is in the pudding. LSI has a third-generation flash controller due out (the 3000 series) using its acquired Sandforce technology, which should help.
Rakers says the company "will include support for SATA, PCIe, and NVMe interfaces" and mentions LSI's assertion that it is the number two competitor in the merchant PCIe SSD market. LSI should also benefit from a move from 6Gbit/s to 12Gbit/s SAS and it expects sales of its PCIe flash products to accelerate in the second half of this year.
Talwalkar also dropped this gem in the earnings call: "This quarter we expect to release our Syncro product family, which provides a new storage architecture that enables sharing and scaling of storage across multiple servers. We expect numerous OEMs to launch system-level solutions to the marketplace at mid-year."
Find out more about Syncro - a box that can boot up a rack of 48 servers from a selection of boot images - on LSI's website.
LSI predicts that the next quarter's revenues will be between $560m and $600m; not exactly sparkling but maybe corner-turning. ®