Original URL: https://www.theregister.co.uk/2013/04/26/google_search_biz_offer_of_concessions_to_eu/
El Reg drills into Google's search biz offer to Europe
Mountain View wants to choose its EU inspector
Posted in Policy, 26th April 2013 09:24 GMT
Analysis Google's formal offer of concessions to European Commission competition officials - over allegations that the ad giant had abused its dominance of the search market in the EU - have finally been made public.
As we reported on Thursday, rivals now have one month to scrutinise Google's proposals and then tell antitrust chief Joaquin Almunia whether they agree with the remedies submitted by the company. Even if they disagree, the commission can still proceed with a legally-binding settlement with Google that stops far short of sanctions.
Indeed, Brussels has been clear that it wants to reach a deal with Google based on Article 9 of the EU antitrust regulation. Under such a settlement, Google would not be required to admit to any infringement of EU competition law but would need to stick to its commitments laid out to the commission for five years.
If no deal can be agreed, Google could face a fine of up to 10 per cent of its annual worldwide turnover.
Google, in its offer (PDF), said:
Nothing in these commitments should be construed as establishing a violation of EU competition rules or an admission that Google agrees with the concerns expressed in the commission's preliminary assessment, or with any factual allegation or legal conclusion asserted or referenced by the commission in any final commitments decision, or any other documents or statements released by the commission in connection with this investigation.

Google expressly denies any wrongdoing or that it has any liability relating to the Commission's investigation under Article 102 TFEU.
The commission, in carefully-worded statements, has previously said that Google "may be abusing its dominant position in the European Economic Area (EEA)".
If Almunia's office should ever confirm that Google had indeed abused its command of the search business in Europe - where it holds a more than 90 per cent share - then the multi-billion dollar outfit would be found in breach of competition law in the EU.
Specifically, Google argues that the commission should respond to its "commitments" favourably, claiming that it would "avoid the time, inconvenience, and expense of ongoing proceedings, with the understanding that the commission will confirm that there are no grounds for further action and will close all open investigations on the four competition concerns".
However, rivals - who are now poring over Google's proposals - remain to be convinced, which is hardly surprising given some of the caveats Google has applied to its submission.
These include the company stating that its commitments involve "technical mechanisms and interactions between multiple different systems against a background of rapidly evolving products, technologies and business models."
That's a statement that arguably would grant Google generous wiggle room for tweaks to its search engine over the next five years, were the settlement plan to be accepted by the commission.
We didn't do anything wrong but we will 'commit' to help competition in Europe
Mountain View's big concession - if Google's critics are feeling tolerant enough to characterise it as such - is to offer to clearly label its individual services as a Google property on its search engine.
The ad giant has also proposed to explain to netizens why it has linked to a Google product on its site.
Google still plans to have its services ranking as highly as possible on its search engine, but it will tell its users that alternative links to rival products are available.
Arguably, though, most search engine users already understand that. The problem - many of Google's competitors say - is that Google grabs more eyeballs because when people are looking for something they will rarely hang around for very long on their search engine of choice. Those first few seconds of viewing results are therefore crucial. And Google - as the world's biggest search engine - understands this only too well.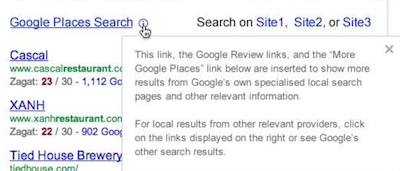 Google explains why it's top dog
In its offer, Google repeatedly displays examples of how its labelling system would work in the real world. The language adopted consistently says things like: "click on the links below" or "click on the links displayed on the right".
Meanwhile, Google is also proposing to allow websites to opt out from the use of all their content being crawled its search user agents. It said it would commit to preventing those sites from slipping down its ranking system in general web search results.
For price comparison sites such as UK-based Foundem, Google is offering to allow those firms to guard against having their content scraped by putting a mechanism in place that shields the material from Google's indexing system.
However, the Foundems of this world would be required to proactively mark their content as a no-go area for Google by marking certain categories of information. If they don't, Google will presumably continue to crawl those sites.
Google is additionally offering to end exclusivity ad agreements with publishers to prevent them being obligated to source online search ads only from Google. Killing off such tightly-wound deals will also allow advertisers to run their campaigns on competing search engines such as Microsoft's Bing.
Elsewhere in Google's 13 March submission to Almunia's office, the company states that it would like to appoint the "monitoring trustee" who would be required to closely inspect the ad giant to ensure it sticks to its commitments with the commission.
Google has proposed putting forward a list of suitable candidates for the role. That trustee, Google says, would be independent from the company but paid by the ad giant to carry out the work.
"The monitoring trustee shall be remunerated by Google in a way that does not influence or impede the independent and effective fulfillment of its mandate," Google said.
Time for the market to rebut the offer?
Microsoft, which is the best-known - if not the most relevant - complainant in the EC's Google competition case, has declined to comment directly on the offer tabled by Mountain View.
It's now up to the market to put it to the test.
However, lobby group ICOMP - which is backed by Microsoft - was quick to point out that it will be looking closely at the proposals to ensure that such remedies would indeed restore competition in Europe. It said:
If the proposals don't clearly set out non-discrimination principles and the means to deal with the restoration of effective competition, plus effective enforcement and compliance, it's very difficult to see how they can be satisfactory.

Commissioner Almunia himself has stated that returning competition to markets effectively destroyed by Google's dominance and abuse of that position is the main aim of this investigation. We will comment further once we have had an opportunity to evaluate the proposals in more detail but it is clear that mere labelling is not any kind of solution to the competition concerns that have been identified.

Google should implement the same ranking policy to all websites. This should include their own vertical services which currently have their ranking unfairly manipulated to appear at or near the top of search results.
The European Consumers Organisation (BEUC) - which is funded by the European Union and is made up of national competition quangos from 30 different countries - has previously expressed concern about Google's plans to label its web properties on its search engine. The idea has been floated since last autumn.
BEUC said on Thursday that it was disappointed with Google's proposal arguing that the offer was unlikely to address the company's "monopoly" of the search market in Europe. It continued:
Labelling results will do little or indeed nothing to prevent Google from manipulating search results and discriminating against competing services. It may even shepherd consumers towards clicking on Google services now highlighted in a frame. Labelling should not be the sole solution.

Infringements of competition rules call for strong and rigorous structural remedies where needed, going beyond the halfway house of consumer information. Labelling an infringement of competition law doesn't prevent it being an infringement.

The proposal to display links to three rival specialised services raises the natural question of who decides the promotional criteria. If that is Google, it leaves too much discretion in their lap while most importantly, not solving the problem of non-discriminatory choices for consumers.
The lobby group is hoping to convince the commission to push for more stringent changes from Google before any deal about possible anti-competitive practices is struck.
It's important to note, however, that Almunia has now accepted the wording of Google's commitments to fix its search dominance in Europe by allowing the offer to proceed to the next stage. Horse-trading between the commissioner and Google executive chairman Eric Schmidt has gone on for many months with a number of proposals submitted by Google being rejected by Almunia.
It really is now up to the market to either convince the competition chief to continue fighting the ad giant, or else belt up for the five-year ride to see if Google can truly commit. ®