Original URL: https://www.theregister.co.uk/2013/04/24/ibm_storage_hw_revenues/
Reg man crunches IBM's storage hardware revenues
A tale of two charts
Posted in Storage, 24th April 2013 18:33 GMT
Analysis IBM's under-performing storage hardware business can be understood better if we look at the quarterly revenue numbers.
For that to be made possible someone has to dive into IBM's results over the past few quarters and work out the storage hardware revenue numbers, seeing as IBM doesn't present them on a plate. That's what El Reg storage desk has done. For the past 12 quarters, we have compiled likely revenues, having worked them out on the basis of a storage segment percentage of an overall Systems and Technology group revenue number, entered these computed numbers into a spreadsheet, and generated two charts to present them.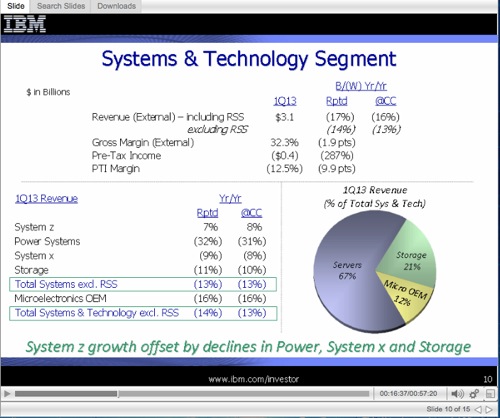 IBM Q1 2013 results slide showing storage segment percentage.
Here is the first chart and it shows IBM's quarterly storage hardware revenues since the second quarter of 2010: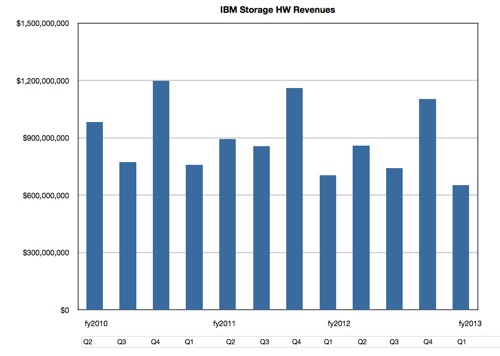 We can see a steady seasonal pattern, with, for example, bumper fourth quarters as IBM sales management drives the reps hard at the end of the year. But we can also detect a falling off of storage revenues if we compare the same quarters in 2011 and 2012. If we annualise the chart then the decline in storage revenues from 2011 to 2012 becomes clearer: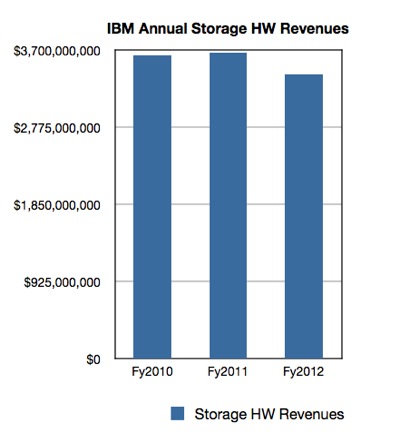 Our computed numbers behind this chart are:
2010 - $3.633bn
2011 - $3.668bn
2012 - $3.406bn
The fall in storage HW revenues from 2011 to 2012 is probably not acceptable to the IBM number-crunchers, and may well have prompted the appointment of Ambuj Goyal as IBM's new storage biz boss in January.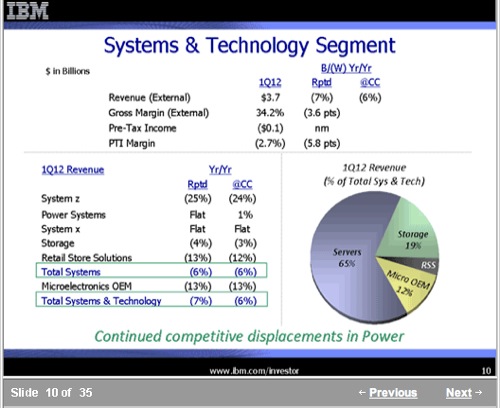 IBM Storage segment percentage Q1 2012
Now, three months into Goyal's stewardship, the first 2013 quarter's storage hardware business is 11 per cent down on the year-ago quarter according to IBM's release, which confirms the rot is continuing. With all this clear, it's easy to see why IBM CFO Mark Loughridge said that "substantial actions" were going to be taken in the storage area, and in the under-performing server area too.
We don't know what the profit and loss numbers are for the storage hardware business and are not likely to find them out.
It would be fascinating to see the overall storage hardware revenue numbers broken down further, by IBM storage product lines, but those numbers are not being made public. All we can deduce is that, if Storwize and XIV revenues grew strongly, the under-performing products must have performed quite badly. ®