Original URL: https://www.theregister.co.uk/2013/04/23/global_mobile_phone_sales_data/
Lenovo's mobile push stalls in China
Samsung steamrolls everyone, including Apple and Gartner
Posted in Business, 23rd April 2013 02:34 GMT
Lenovo's emergence as a smartphone player has stalled in China, where Samsung is eating everyone else alive, as indeed it is also doing around the world.
Lenovo last year entered the burgeoning Chinese smartphone market with Android-powered budget models priced at under $US200, the sweet spot for smartphones in the Middle Kingdom. The phones were a hit and Lenovo quickly challenged Samsung as China's dominant smartphone vendor, capturing around three per cent of the global market along the way.
That success led to speculation that Lenovo could bring its smartphones to the rest of the world, perhaps even by acquiring BlackBerry. Analyst firm Gartner even predicted 2013 would see Lenovo would knock Samsung off its perch as China's top mobile vendor.
Rival analyst outfit TrendForce says that's not happening, as Samsung's global market share of 29.6 per cent included 11.7 million Chinese sales for 2013's first quarter (out of 65m in global sales). Lenovo, by contrast, went backwards as it racked up just 7.6m sales, around 15 per cent less than expected.
TrendForce says that slippage also hit other Chinese mobe-makers and can be attributed to the fact that Samsung is now China's "leading brand in terms of both reputation and image". The Korean company's not far off that status in the rest of the mobe-buying world, as TrendForce says it outsold Apple handily in Q1 of 2013 and put a 1.2 per cent dent in Cupertino's global handset market share, in part because "circumstances surrounding the announcement of Apple's new device are unclear, while Samsung, HTC, Sony, and other global corporations are planning product unveilings for the second quarter, which will likely lead to another dip in Apple's shipments."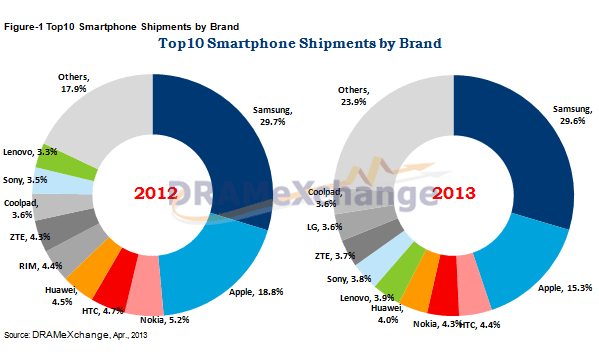 TrendForce isn't being entirely kind with that point, as post-Christmas sales aren't strong, making a Q1 sales dip entirely excusable.
At this time of year Apple often "freezes the market" by leaking and later announcing details of its latest creations so that punters wait for the new iPhone instead of splashing cash on rival products. With significant smartphone differentiators now hard to spot it's debatable whether that trick will work again if Apple sticks to its release cycle of an "S-model" update in odd-numbered years, as a tweaked iPhone 5 won't startle many buyers.
And Lenovo? It's had a lesson in just how hard the smartphone market can be for all players: TrendForce says BlackBerry had 4.4 per cent global market share in 2012, but now consigns it into the swill of "others" that each own less than 3.5 per cent of the global market, but still account for 23.9 per cent of all sales. ®