Original URL: https://www.theregister.co.uk/2013/04/22/paas_clouds/
Platform clouds can make enterprises all teeth and no tail
Red Hat and VMware want to be your private parts
Posted in Cloud, 22nd April 2013 11:40 GMT
The cloud is at the same point in its history that proprietary minicomputers were at four decades ago.
Back then, everybody was trying to figure out how to use this new technology, which offered substantial economic and ease-of-programming benefits compared to the big iron systems they replaced.
At the time it was not obvious where the upstart platforms would go or how enterprises would adopt them or reject them. But one thing was clear: enterprises would have to adopt minicomputers as peers in the data center - or there would be no minicomputer industry.
As we all know, Digital Equipment, Hewlett-Packard, IBM, and others built successful minicomputer businesses, attacking new customer bases that could not previously afford a sophisticated system for running their bookkeeping, warehouses, and manufacturing operations.
A slew of Unix-based system makers followed suit in the open systems war of the late 1980s and early 1990s, making minicomputers more compatible and giving customers more of a chance to move from platform to platform - because Unix systems at least had common features, functions, and runtimes.
Having lived through the proprietary and Unix revolutions, and seeing how fast things can change, relatively few enterprises have decided if they will move to a platform cloud, much less which one. The market is too immature at present for many to contemplate such a move.
But the decisions that companies will make about their infrastructure and platform clouds in the next couple of years will set their path for many years to come, just as it did when picking a mainframe, minicomputer, or Unix system platform.
John Dillon, CEO at Engine Yard, a San Francisco-base platform cloud provider, has seen this movie many times before, and he is positioning his company with a similar script to the one he used at Oracle and Salesforce.com.
We have had rogue computing forever
"IT departments hate this rogue compute that is actually very traditional," he explains. "The problem that they have is that it will never go away. We have had rogue computing forever. I recall when I was at Oracle in the early days when the IT departments wouldn't take meetings with my sales team because they thought relational databases were stupid. And that was fine, because we sold it departmentally on DEC VAXes. It is all kind of humorous now, but if you go back and use history as an example, you'll find that this is how most technology comes in. We had the IBM PC come in that way, and I was at Saleforce.com and that came in departmentally – the IT department didn't want that stuff."
This is how platform clouds – virtualized server, storage, and networking infrastructure that takes abstraction up another layer, weaving together programming languages and runtimes creating an application framework that exposes them as a service layer – will get traction, says Dillon.
Early adopters will include start-ups, which want to code applications fast and have not already spent a fortune on data centers and infrastructure; and small and medium-sized businesses (SMBs), which love infrastructure and platform clouds because they level the playing field. Large enterprises, by contrast, will have to take it slow.
"Big corporations that have large sunk costs in IT and compliance issues are going to dabble," says Dillon. "If they are a little progressive, instead of fighting the rogue compute guys, they may give them rules – use these programming languages and this stack under these restrictions."
The idea is to allow for certain kinds of infrastructure and platform clouds, but not others, so in the event that an application needs to be brought in house, it can be. "Gradually, they will do it for themselves, in some form or another. Either because they are scared of the cloud or have a legitimate reason to put it behind their firewall."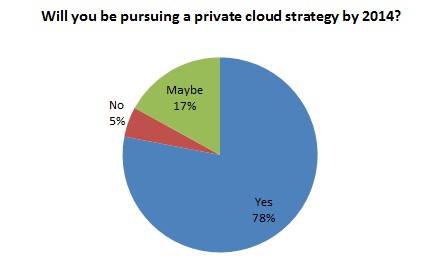 Gartner survey says companies are taking their clouds private
Start-ups and some SMBs may be eager to move to platform clouds to run their applications because of the relative simplicity they offer and the agility they get in coding, testing, and deploying applications. But enterprises have to watch out for lock in at many different layers of the IT stack. Being able to bring not just the apps, but also the whole platform cloud in-house, will be important.
And it is ironic that Engine Yard, which got its start running Ruby apps on the Rails framework as a service and now supports JRuby, Node.js, REE, and Rubinus, does not have a private platform cloud variant. At Engine Yard, its eponymous framework runs as a managed service on the Amazon public cloud and at Terremark, a hosting firm owned by Verizon.
"We can do that, technically," says Dillon, when asked if Engine Yard can create a private platform cloud for Ruby and Node.js apps. "Do I care where it runs? No, not really. Right now I run at Amazon and Terremark. I have spun up on Azure and CloudStack and someday when OpenStack is ready – and by the way it is not – I will be able to run it there. And I will look the CIO in the eye and say if you run it on your own gear it is not a cloud in the sense that you run it as a utility. However, if you ask for it, the answer is: yes you can do it. I think the future deployment model for platform clouds is that some will be in a shared environment and some will be running in a dedicated environment. This isn't about public or private."
Hybrid vigor
Red Hat and VMware, which will be rivals alongside Microsoft for private platform clouds, are positioning their various cloudy wares to run both inside and outside the corporate firewall – and across it if necessary.
"Hybrid is where we really think the industry is going," says Joe Fernandez, senior product manager for OpenShift Enterprise at Red Hat.
OpenShift is the platform cloud that Red Hat launched about a year and a half ago and open sourced as the OpenShift Origins project in April 2012.
In December, Red Hat made good on its promise to provide an in-house variant of the OpenShift code that can be consumed just like its enterprise Linux and KVM software, complete fee-based security, patching, and tech support. And it will move the beta of its hosted version of OpenShift (which runs on Amazon's EC2 cloud) to commercial availability early in 2013.
No matter what version you pick, OpenShift includes a cloudy version of the JBoss application server to support Java applications and encapsulated versions of the Ruby, PHP, and Python languages and their runtimes, which are drawn from Red Hat Enterprise Linux and packaged up as "cartridges" to run on the OpenShift PaaS. You can package up your own runtimes and create your own cartridges, as Zend Technologies has done with its commercialized PHP engine
OpenShift Enterprise 1.1 debuted in February and gives Red Hat the three things it needs to build a business out of a platform cloud: an open source project to drive innovation, a public cloud version of the service (and there will no doubt be more done by third parties), and a private cloud version that is absolutely compatible with the public cloud version.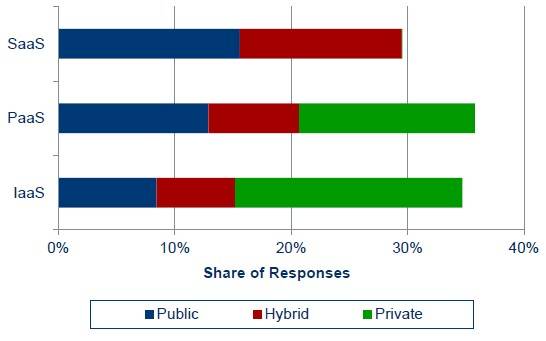 Public, private, and hybrid plans for IaaS, PaaS, and SaaS clouds
This, says Fernandez, is one of the key things that enterprises want to see before they will invest heavily in platform clouds.
"It is interesting to note that Google with App Engine, Microsoft with Azure, and Amazon with the Elastic BeanStalk are completely committed to a public PaaS cloud," Fernandez observes. "Google and Amazon are not interested in packaging up commercial software and selling services or licenses, and Red Hat is. Microsoft might go with Azure where we went with OpenShift at some point."
Microsoft made some noise a couple of years ago to do a private platform-as-a-service cloud based on its Azure stack and sold as an appliance by HP, Dell, and Fujitsu, but that product never saw the light of day. If you want a private cloud that is compatible with Azure, Microsoft, in essence, says: buy Windows Server 2012, Systems Center 2012, and SQL Server 2012 - and you have a platform cloud.
The ability to run the same PaaS internally as you choose externally running on a public cloud is a big deal for enterprises, which don't want to be locked in to someone else's infrastructure. (Having your PaaS available as open source code is also a big deal, and El Reg will explore this in a companion article.)
Other issues come into play, but Red Hat and VMware seem to agree that a private PaaS option is important, in contrast with just about every other public PaaS provider (including Engine Yard above.)
"Just about all of the customers I have talked to have used a public PaaS, but they have not been able to move the bulk of their applications into those public platform clouds for a variety of reasons," explains Fernandez.
"They have security concerns, data privacy issues, compliance and governance restrictions, and they also have all this infrastructure stuff and staff in place and they can't just flip a switch. So what we are doing with OpenShift Enterprise, which is unique among PaaS vendors, is giving them choice. We are giving them a platform cloud that they can deploy on premise that is consistent with what we offer online, plus the tools that let them become their PaaS platform for their company."
It is unusual when you can see Red Hat and VMware on the same side of such an important issue. But VMware will tell you the same thing about its Cloud Foundry PaaS.
Cloud Foundry is based on the Spring framework for running Java apps that has been extended with the Rails and Sinatra frameworks to run Ruby, the Play 2.0 and Lift frameworks for supporting Scala, as well as supporting the Node.js variant of server-side JavaScript.
VMware took control of the Spring framework through its $362m acquisition of SpringSource in August 2009, and it launched the Cloud Foundry platform cloud project in April 2011, more or less in synch with Red Hat's OpenShift platform cloud.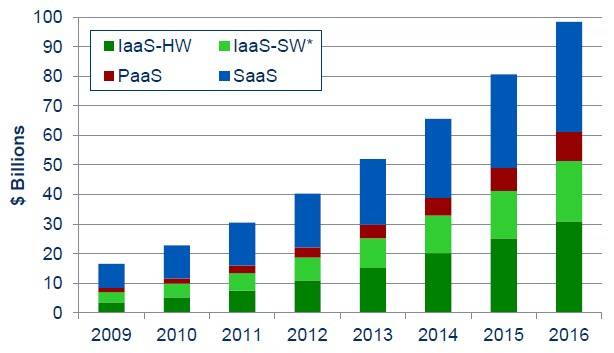 IDC's revenue projections for various cloud services
VMware is taking its time as it ramps up Cloud Foundry, and equally importantly, the company is moving Cloud Foundry out of VMware and into a new unit of its parent company, EMC, that is tentatively called the Pivotal group.
Platform No. 9
Pivotal will bring together Cloud Foundry, the vFabric virtualized platform cloud, which is a derivative of sorts of Cloud Foundry, as well as the Cetas Software and Greenplum parallel data warehouse and Hadoop products.
These things take time. It took a decade for VMware's ESX server virtualization hypervisor to become the dominant virtualization server maker in the data center on x86 iron, and it will probably take a decade for enterprises to absorb platform clouds.
"Platforms in general take a while to get adopted because it has to have some footprint or better still ubiquity, and then you need an ecosystem of developers and applications on top of it," says Jerry Chen, vice president of cloud and application services at VMware.
"That doesn't come overnight. It is a chicken-egg situation, and you get the platform out there and get people using it. The good thing about Cloud Foundry is that we are using Java and Ruby and other technologies that they are familiar with, so we are not asking developers to do anything new or unnatural."
Having a private PaaS version of a public platform service is not enough, obviously. It is not just about what side of the firewall you are on. Enterprise customers, distinct from start-ups or app development departments using platform clouds to create applications and test them quickly, need availability, measurability, and control features added to the PaaS. For production, they need to add compliance, security, visibility, and other features.
"There's a bunch of things we need to plug into Cloud Foundry so that when things go right, great, but when they go wrong in terms of performance or any other issues, you can have visibility into what is going wrong and you have the ability to remediate it," says Chen.
Red Hat couldn't agree more, but adds that a platform cloud also needs to have hooks to integrated development environments, version control systems, and code build systems, and therefore OpenShift can have the Jenkins and Apache Maven code build management tools and Git software version-control system plugged into it. Red Hat will add support for more languages, frameworks, and services over time, as customers demand it, too. But Red Hat thinks it has another advantage.
"All of these PaaS services are built on Linux, but only one vendor has the Linux expertise and experience that allows us to really build out the capabilities," says Fernandez. "That is Red Hat, and I think there is more that we can innovate here."
But don't get the wrong idea and think that languages and frameworks will drive PaaS adoption. "I don't think it is strictly a feature thing," says Fernandez. "OpenShift is not just a platform with agility and flexibility, but has IT operations capabilities, too. We have had as many OpenShift conversations with the IT ops side of the house as we have had with developers."
In many cases, the ability to run a platform cloud internally or externally is important, and for those platform clouds that are going to be run in a virtualized environment, having an infrastructure cloud is also a prerequisite. (OpenShift can be deployed on physical servers because it uses Linux containers and SE Linux access control to isolate workloads, but you can also run it atop the KVM hypervisor or even Microsoft's Hyper-V or VMware's ESXi if you want.)
Data is mass, and the more data you have, it is harder to move it around
The location of the data used by applications is also a big determining factor – perhaps the most important factor.
"One of the things that we think about when we talk to enterprise customers – and one of the reasons why platforms will get adopted in the public setting versus the private cloud – is the notion of data gravity," explains Chen. "Data is mass, and the more data you have, it is harder to move it around. It is hard to move around petabytes, gigabytes, or even terabytes of information cost effectively or quickly from cloud to cloud.
"So as a result, I think that some of these public PaaS clouds will see some adoption for greenfield, net-new applications. But for any kind of application that needs existing data or legacy resources like that AS/400 box from the minicomputer era, enterprises are going to want to have a private cloud version of that technology so it sits closer to the database. That's being proven out by what VMware is doing with the New York Stock Exchange and others partners, who have large data sets that they want to start building clouds around."
The thing to remember is that this is just the beginning of the platform cloud wave, and the thing to do is get educated and experiment with various options. No one else is much further ahead than you.
"Right now, most of the PaaS adoption is at Web 2.0 startups and departmental edge cases," says Engine Yard's Dillon. "It is shadow compute, mostly. The core IT guys are interested and they are sniffing around it, but it is anything but wholesale adoption.
"But if you are the CEO or board of directors, and you are hammering on your people to change the world, raise your top or bottom line, improve your customer loyalty or employee retention – you name it – you are not going to allow a three to four year waterfall development methodology and build a new data center. You are going to use information technology to innovate, and the infrastructure cloud, the agile languages, and the application platform clouds makes it possible to be all teeth and no tail. It's working so well that the core IT departments are going to have to develop this in some form or fashion." ®