Original URL: http://www.theregister.co.uk/2013/04/22/feature_round_up_ten_windows_8_ultrabooks/
Ten Windows 8 Ultrabooks
A selection of sexy slimline laptops for your mobile computing pleasure
Posted in Laptops, 22nd April 2013 09:00 GMT
Product Roundup Stop anyone on the street and ask them for a definition of the term 'Ultrabook' and I suspect they will look at you with utter incomprehension. Hardly surprising, since Intel's effort to create a popular brand for thin'n'light notebooks hasn't really been a roaring success.
To me, the Ultrabook is the logical evolution of the laptop. I mean, who doesn't want a notebook that's lighter, thinner, more powerful and sexier than the one they bought three years ago?
The new Ford Fiesta is more economical, more spacious, more comfortable and better equipped than previous models, but that doesn't make it an ultrahatchback. This is what happens when you let members of the marketing and PR departments out of their cages.
So let's not get bogged down in exactly how thin an ultrabook should be with a given screen size, exactly how fast it boots up, how much it weighs - though curiously this isn't something Intel seems to have laid down the law on - or exactly how long the battery lasts.
Rather let us for a moment just assume you want a thin and reasonably light laptop with a half-decent battery life, a USB 3.0 port or two and, this being the era of Windows 8, perhaps something in the way of a touchscreen. And that you have no use for a built-in optical disc drive.
And let us also assume you are not overly concerned about the bump in performance likely to come with Intel's new Haswell architecture, which will start superseding today's Ivy Bridge chips later in the year.
Unless you only have £350 to spare and just want something mundane made of plastic to permanently sit on your desk that's surely what most potential notebook buyers want.
Acer Aspire S7-391

As a flagship Ultrabook, Acer's old Aspire S5 left a bit to be desired, but the new S7 is an altogether more impressive bucket of bolts. At just over 12mm thick and with a stylish body made from a combination of toughened Gorilla Glass and aluminium, the S7 should certainly appeal to the aesthetes out there. The design isn't perfect, though: the underside is bit slippery when resting on your lap and it's difficult to prise open if you keep your fingernails short.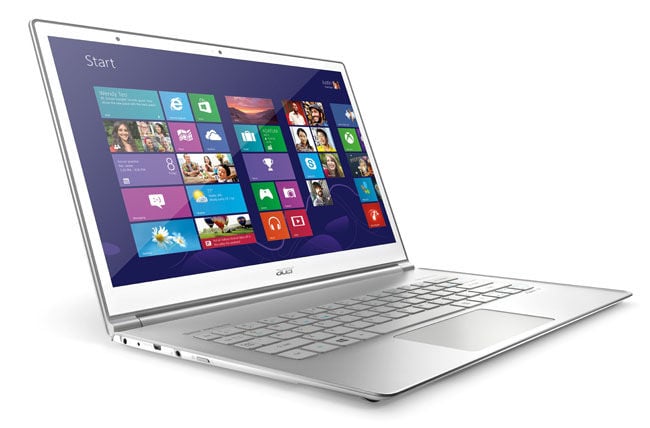 The 13-inch IPS LCD screen offers a 1920 x 1080 resolution and is quite the looker just as long you like your screens glossy. Like most super-thins, there's only space on the S7 for two USB 3.0 ports. So no Ethernet, though fair play to Acer, it does bundle USB-Ethernet and micro HDMI-VGA adapters along with a very nice sleeve and wireless mouse. A backlit keyboard that's as lovely to look at as it is to type on, a 128GB SSD and a 1.7-2.6GHz two-core, four-thread Core i5-3317U chip complete this rather impressive and pretty machine.
Price
£970
More Info
Acer
Asus VivoBook S200

If money and space are tight then Asus' little 11.6-inch sprog has much to recommend it. For the impecunious there's a version with Intel's Pentium 987 Ultra Low Voltage 1.5GHz dual-core processor, though the £450 Core i3-3217U machine will probably prove the better choice. For your money you get a perfectly serviceable and well made little machine that weighs 1.4kg and is no more than 20mm deep. The screen isn't the brightest you'll ever see but the touch part works a treat.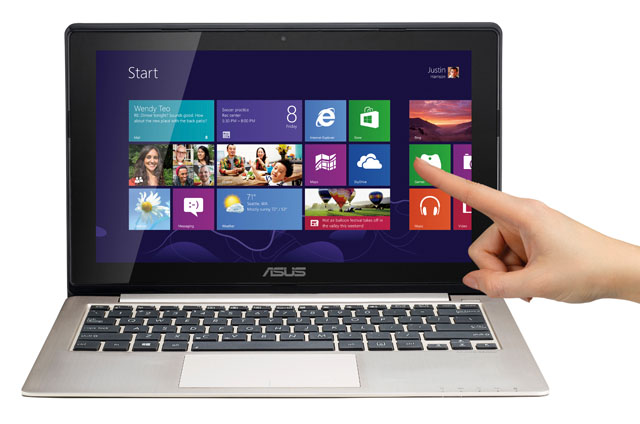 At this price point you naturally have to forgo a few luxuries. The otherwise fine keyboard has no backlight, the Ethernet socket is only good for 10/100Mbps and the screen makes do with a resolution of only 1366 x 768, though on a panel this size that's arguably all you need or want. Asus has seen its way to clear to fit one USB 3.0 port alongside two USB 2.0s, and the battery life isn't half bad either. You should easily get over five hours' usage between charges. As a budget ultra-ish-book the little Asus has a lot to recommend it.
Price
£450
More Info
Asus
Asus Zenbook Touch U500VZ

You can't accuse Asus of not going to to town on the spec of its new top-of-the-line Ultrabook. With Nvidia GeForce GT650M graphics, 2.1-3.1GHz Core i7-3612QM chippery, a 70Wh battery and a 1920 x 1080 touchscreen, it's loaded for bear and no mistake. And all that is squeezed into a body that tapers from a mere 6mm at the front to an only slightly less mere 20mm at the back. At 2.2kg, it's a wee bit heavy but then it is a 15.6-inch machine so something had to give somewhere.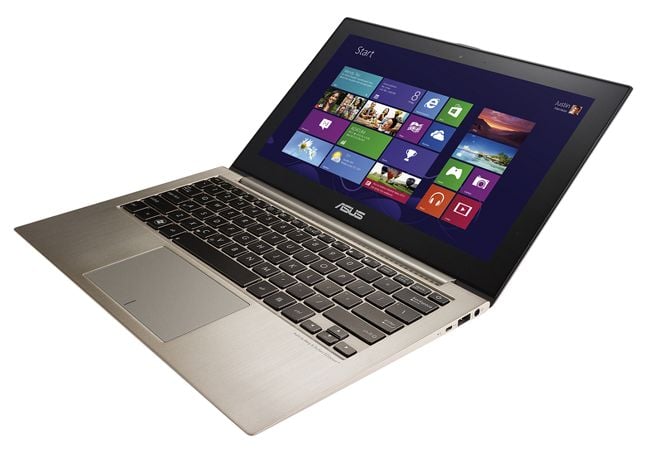 Despite the slender profile, the U500VZ packs in three USB 3.0 ports, Ethernet and a full-size HDMI port proving that a you don't have to start cutting out useful stuff to get the drag factor down. Being a Zenbook there's plenty of swirly aluminium on show and both screen and keyboard are good examples of How It Should Be Done. Of course, all this loveliness doesn't come cheap but for your £1500 you are at least getting a machine that both looks and performs the part.
Price
£1500
More Info
Asus
Dell XPS 12

For my money, Dell's spinning screen is close to the ideal way of combining laptop and tablet functionality in one device. Sure, at 1.45kg it's not the lightest convertible about, but thanks to a display that spins inside its bezel, when in laptop mode it looks and works just like any other laptop, while in tablet mode it looks and works just like any other tablet, albeit a rather thick and heavy one. I like the way the transforming mechanism stays in the design background rather than trying to be too clever by half.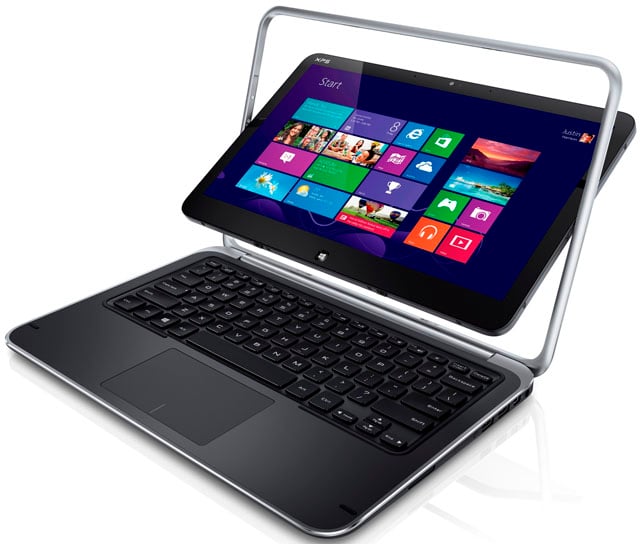 The 1920 x 1080 display measures 12.5 inches corner to corner so the Windows 8 desktop doesn't look quite as small and fiddly as it does on 11.6-inch panels of the same resolution, but it's impressively bright. The absence of a memory card slot and Ethernet is a drawback, as is the meagre brace of USB ports, but starting at just under a grand for a machine with a 2.0-2.7GHz Core i5-3337U chip and a 128GB SSD, the XPS 12 is fair value. If I was looking to buy a convertible ultrabook for around a grand this is the one I'd cough up for.
Price
£999
More Info
Dell
Dell Latitude 6430u

A business-oriented Ultrabook, the 6430u boasts a toughened chassis that's been designed to survive the American Department of Belligerence's MIL-STD-810G military-grade abuse test. Looks like it too. I've no doubt the 1.63kg 6430u could survive being driven over by a Bradley or, more realistically, dropped to the floor, but heavens above, it's a brutal and stark bit of design. The soft-touch magnesium alloy body doesn't half feel good, though. At 22mm thick there's room for Gigabit Ethernet, HDMI, VGA and three USB ports: two 3.0s and one USB 2.0/eSATA combo.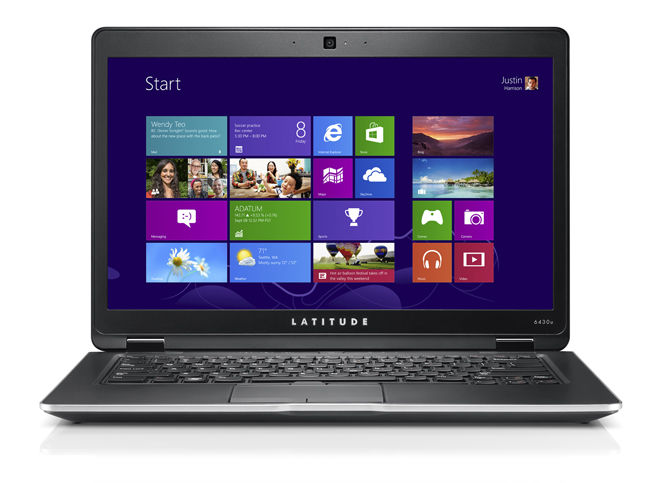 Inside you'll find build-to-order Core i3 or i5 chippery and a 128GB SSD. The standard matte 14-inch 1366 x 768 screen, though bright, is a bit wishy-washy and nudging very close to the 'too low a resolution for a panel this size' line. The keyboard and touchpad are very good, and while there's no touchscreen option if you phone Dell it will quote you for a 1600 x 900 panel. As with all Dell business laptops you can spec it up to suite: £96 adds a 3G modem while £120 adds another 128GB of storage.
Price
£839
More Info
Dell
HP Spectre XT TouchSmart 15-4000ea

At the time of writing, HP is offering its new XT TouchSmart at a £200 discount and for just under a bag of sand it's not a half bad deal. Uniquely here, it's got a good old fashioned 500GB HDD as well as a 32GB SSD which will appeal to anyone who's had enough of teeny weeny SSD storage capacities. The 15.6-inch, 1920 x 1080 display is rather impressive too: it's clear and very bright. But the 1.7-2.6GHz Core i5-3317U CPU with 4GB of Ram won't blow your socks off, and there's currently no i7 option.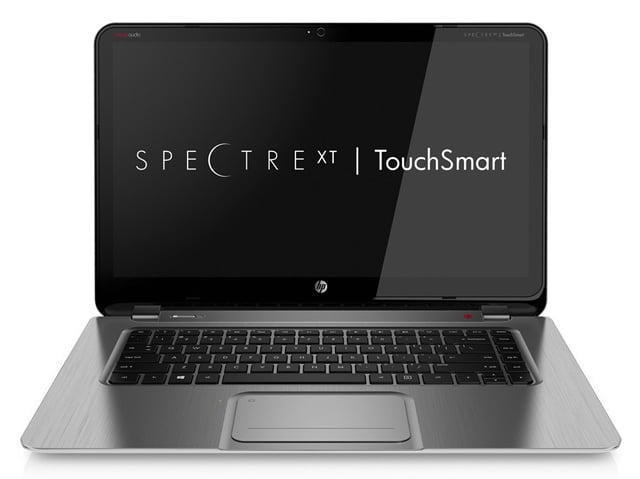 With three USB ports - two of which are USB 3.0 - Ethernet and Thunderbolt, the XT's connectivity array is more akin to regular laptop, though at 2.25kg and over 22mm thick it arguably is a regular laptop rather than an Ultrabook, despite the branding. It's a solid and attractive machine, though, and I especially like the edge-to-edge glass covering the screen panel. The one disappointment is the Beats Audio speaker system, which sounded altogether rather low rent by the standards of other similarly branded HP notebooks.
Lenovo IdeaPad Yoga 13

Yoga is a pretty strange name for a notebook but when you see this Lenovo do its trademark 360-degree back-flip - back-fold is probably a better description - it makes sense. Think of a laptop with a screen hinge that goes all the way round the back and you get the gist. It's a damnably clever idea made more impressive by the tactile soft-touch casing and tip-top build quality. However, the design does leave the keyboard deck exposed - at least it's automatically disabled in tablet mode - and, in the effort to toughen it up, the action has been made rather shallow and not quite Lenovo-standard.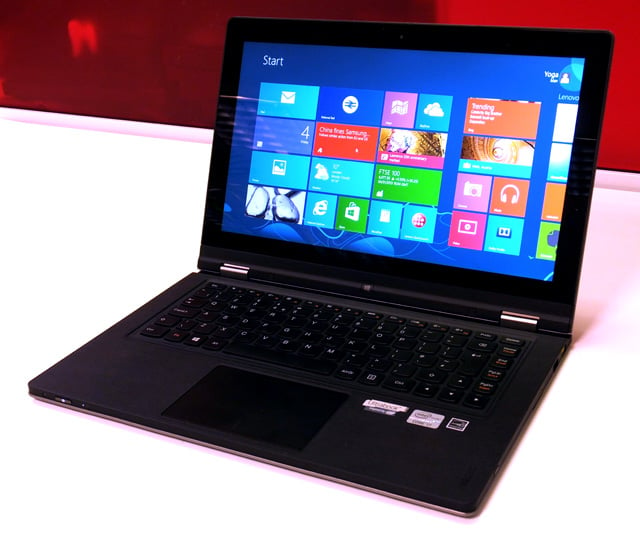 Still, at just over eleven hundred quid the Yoga 13 is good value - for your folding you get a very nice 13.3-inch, 1600 x 900 IPS LCD screen, a 2.0-3.1GHz Core i7i7-3537U chip, 8GB of Ram and a 256GB SSD. At 1.54kg it's a bit heavy for tablet use but that's the case with all the competition. Though the absence of Ethernet isn't a deal breaker, only having two USB ports will perhaps give some people pause for thought. Lenovo Motion Control, which uses the webcam to interpret hand gestures, is a rather clever addition to Windows 8 though it only works with a certain programs.
Lenovo ThinkPad X1 Carbon Touch

The original ThinkPad X1 Carbon was one of the best Ultrabooks of 2012. With the arrival of Windows 8, here comes a touchscreen version. Weighing 1.54kg it's 180g heavier than the untouchable version and, at 22mm, a wee bit porkier too though that's still decent enough for a machine packing a 14-inch, 1600 x 900 display. Despite the Carbon's extra bulk, Lenovo has still seen fit to remove the 2012 model's Ethernet jack and eSATA/USB 2.0 combination port leaving users with just single USB2.0 and 3.0 connectors. There are Mini DisplayPort and SD jacks in compensation.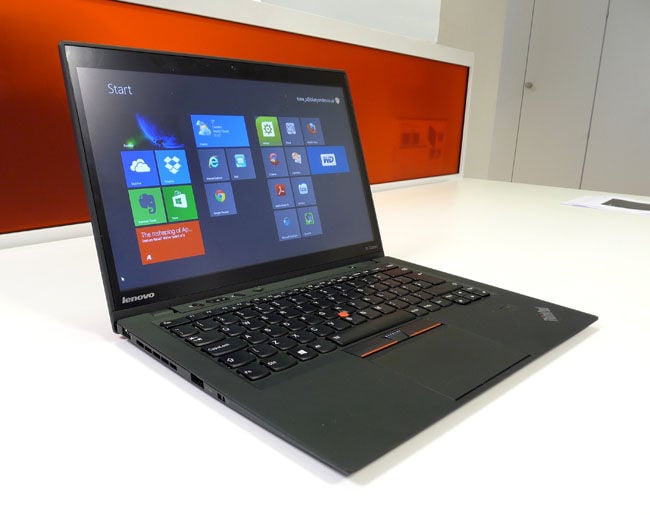 Lenovo make much of the X1's battery life and quick-charge capabilities, and rightly so. Eight hours for the former, and 0-80 per cent in 35 minutes for the latter. This being a ThinkPad, the ergonomics are absolutely spot on. The keyboard is superb in both layout and execution, and it's spill-resistant so if you drop a cuppa on it the world keeps turning. The backlight is adjustable too. Though you can get a 1.8-2.8GHz Core i5-3427U X1 for just over a grand, it's the £1650, 2.9-3.7GHz Core i7-3520M machine with 8GB of Ram, 3G and a 240GB SSD that you really want.
Samsung Series 7 Ultra

Officially unveiled at the Consumer Electronics Show (CES) back in January, the Series 7 Ultra is Samsung's flagship strokable laptop. With a 13.3-inch, 1920 x 1080 display that can chuck out 350cd/m² of brightness, speakers tweaked by American hi-fi wallahs JBL, and an AMD Radeon 8570M graphics card it's certainly a very solidly specified little box of tricks. Thanks to a Gigabit Ethernet port and three USB sockets - only one is 3.0, sadly - you won't want for connectivity either.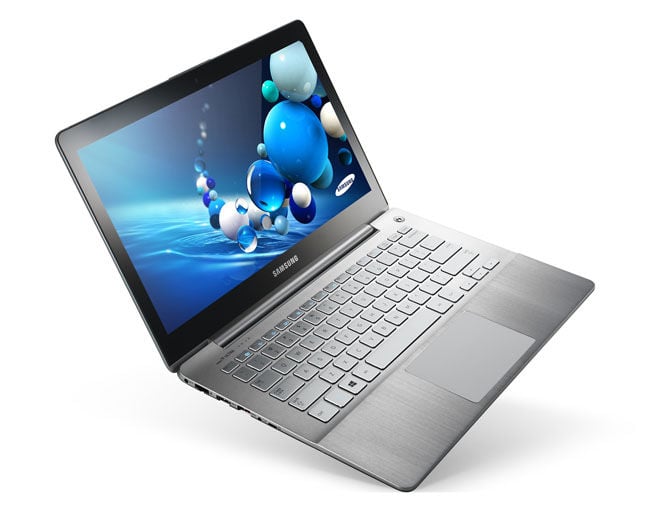 At 18.9mm thick, the Ultra is certainly slim enough for Ultrabook status, and what Samsung calls the Bare Metal body has an impressively solid feel to it. The aluminium body and the eight-hour battery do have an impact on weight, though - 1.65kg won't break your wrist but it's a fair bit over the class average. I can't rate the backlit keyboard quite as highly as I do the Acer S7's but it's not a bad effort. No price has been announced yet, nor if the UK will get the version with the handy 4G modem but or anything close to a bag of sand the Core-i5/128GB SSD version would be rather appealing.
Toshiba Satellite U920T

This Toshiba Ultrabook has a unique slide-and-tilt screen, a 1.8GHz Core i3-3217U chip, 128GBs worth of solid-state storage, 4GB of Ram, and a 12.5-inch, 1366 x 768 IPS touchscreen, all for just under £900. On paper that's a decent offer. The benefit of the design is that it lets you use the U920t as tablet or laptop but doesn't add much weight. The whole enchilada only weighs 1.5kg. The downside is that the mechanism is a bit clumsy with the screen having to be slid all the way out before it can be elevated. Though to be fair the design lets you angle the screen as you desire when in laptop mode.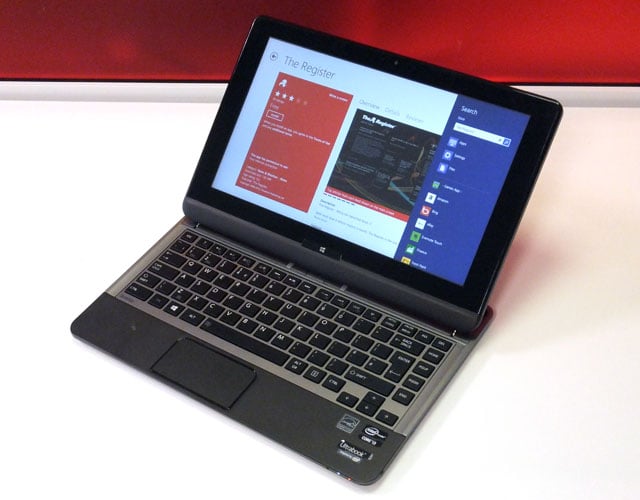 I'm not sure I could live with just two USB ports, albeit speedy 3.0 ones, nor is the keyboard the best I have ever used. There's no Ethernet either, though on a half notebook, half tablet affair like this that's probably only to be expected. The IPS LCD screen was a little dim too and viewing angles no better than you'd expect from a bog standard TN panel. Battery life, however, is reasonable and you'll easily get five and a half hours' use from a charge. If you want a convertible but can't afford the Dell XPS 12 or the Lenovo Yoga this Tosh is worth a shufti.