Original URL: https://www.theregister.co.uk/2013/04/18/emc_dd_sourceone/
EMC jazzes up its archive offerings
Is your data attic crammed to bursting yet?
Posted in Storage, 18th April 2013 14:04 GMT
EMC's released a spring boost for its Data Domain backup deduping package as well as updating its SourceOne file and email archiver.
Data Domain stores deduplicated backups and archived files. SourceOne software discovers and indexes file and mail content and archives it to a storage setup, such as a Data Domain system.
Data Domain
The updated Data Domain (now on version 5.3) now offers:
1. Oracle-optimised deduplication. EMC says customers can integrate Data Domain systems into Oracle RMAN deployments "while maximizing deduplication rates."
2. Data Domain Boost can now work with Fibre Channel-connected source systems as well as Ethernet ones. Boost is the technique Data Domain uses of having a backup media server do preliminary deduplication work, so Data Domain's data ingest rate is faster.
3. Boost for Symantec's NetBackup has been, well, boosted to simplify cross-domain disaster recovery and file system backup.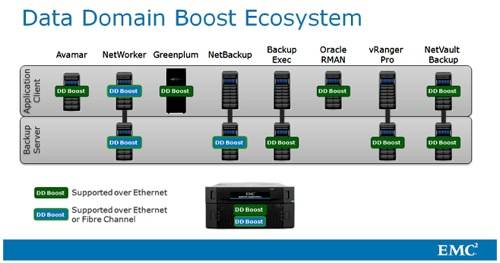 EMC Data Domain Ethernet and Fibre Channel connectivity
4. Dell NetVault Backup gets Boost support for the first time, with EMC saying it makes NetVault backup 50 per cent faster.
5. EMC is claiming a threefold increase in archive data ingest speeds using Data Domain. The details of this claim are somewhat sketchy. It also says more than 16 archiving apps now work with Data Domain, including the AXS-One Central Archive, EMC's own SourceOne and Documentum products, IBM InfoSphere Optim and Symantec's Enterprise Vault.
SourceOne
EMC has also updated Source One to version 7, saying it has:
- A faster indexing engine.
- Office 2010 support.
- Support added for 40+ new file types.
- In-place indexing and tiered storage options. This enables discovery regardless of the content's location.
- Improved reporting, auditing and monitoring.
The SourceOne Discovery Manager has been given faster performance, a new GUI, support for more content types, and better auditing and reporting.
EMC says it has one system for all archiving needs, though we doubt archiving market leaders like CommVault will agree with the sentiment.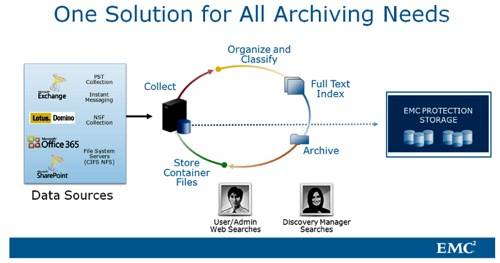 Archive thoughts
El Reg thinks you can't keep endlessly archiving data. It's constantly growing and, unless you end up deleting as much older stuff as the new stuff you put in, you will run out of space, money, or possibly both. Archive data will migrate to the cloud and/or tape, and likely get tiered based on data access rates.
For example, we could end up with a near-line archive on disk, a mid-line archive for cold data that needs fast retrieval on TLC flash, and an off-line archive on tape. Plus, maybe, an archiving software layer (SourceOne for example) that masks this underlying complexity.
Archiving is currently in limbo, and until archive content storage is full to bursting, the impetus for change won't be that strong. There isn't enough archival pain being felt by organisations with digital archives yet. Look to the Active Archive Alliance when your archival pain rises above your tolerance threshold. ®