Original URL: https://www.theregister.co.uk/2013/04/16/feature_windows_rt_tablets_round_up/
Ten Windows tablets
Slates to select when Android and iOS gadgets will just not do
Posted in Personal Tech, 16th April 2013 11:00 GMT
Product Roundup Twelve months ago the idea of compiling a list of Windows tablets that you would actually want to buy would have been as impossible to do as it would have been farcical to suggest. But with the launch of Windows 8 and Windows RT all that has changed, and we are now faced with a bewildering array of fondleslabs all running Redmond's latest operating system.
Received wisdom is that Windows 8 and RT have woefully underperformed, and Microsoft has got it all utterly, horribly wrong. I'm not sure I agree. I rather like Windows 8 and, by default, RT too. My concern is that machines running the latter are way too expensive compared to those running the former.
That's where Microsoft has messed up. Windows RT devices should have been launched as a near loss-leader to get people to buy into the whole Windows and Windows Phone ecosphere, including SkyDrive and Outlook.com, rather than the already well entrenched offerings from Google and Apple.
As it stands, the only real benefit of RT over Windows 8 is that it runs on ARM chippery and I'm not sure if the man in the street gives a monkey's uncle about which instruction set is being used by the chip in his tablet. At the end of the day, RT is 'Windows 8 light' and should be priced as such.
Had decently specified RT machines hit the market for around £250, I suspect they would have already taken a big chunk of tablet market share and given the efforts of the various Windows Phone 8 handset makers a shot in the arm too. But that's idle speculation. At the moment Windows RT tablets are overpriced. End of.
But that's no excuse not to take a look at the current crop of offerings especially as it includes an impressive, not to say bizarre range of form-factors. So if nothing in El Reg's recent round up of 10-inch tablets tickled your fancy, read on.
Acer Iconia W700

Acer has eschewed Windows RT in favour of the full-fat Windows 8 for both its tablets: the £500 Atom-powered, 10.1-inch Iconia W510 and its big brother, the 11.6-inch, Core i3-driven W700. The 1.4GHz, 64GB model is the pick of the bunch in my book - bigger and more capable than than W510 but significantly cheaper than the 128GB Core i5-based version of the W700. At just under £600, it's a decent combination of value and performance.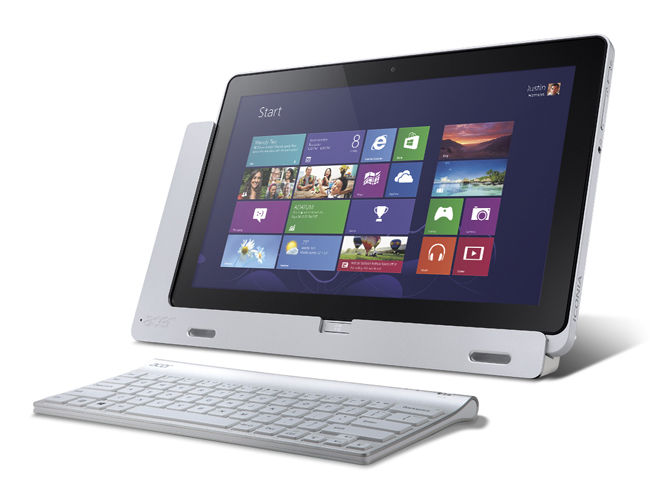 Rather than offer a traditional keyboard dock, the W700 comes with a stand-up plastic cradle that thanks to its three USB 2.0 and HDMI ports turns the W700 into a sort of mini all-in-one desktop PC. The 1080p backlit LED screen belies the price - it's pin-sharp, bright and very colourful - though the Bluetooth keyboard (like the cradle, if I'm being honest) feels a bit cheap. Battery life is reasonable rather than spectacular - you'll see between five and six hours depending on what your doing. For the price it's not a bad package.
Price
£595
More Info
Acer
Asus VivoTab

With its battery-packing keyboard dock, 11.6-inch, 1366 x 768 screen, dual-core 1.8GHz Atom CPU, 2GB of Ram and 64GB SSD, the VivoTab - not to be confused with the smaller VivoTab Smart - is the very essence of a tablet-cum-PC hybrid. With power enough for any task south of serious Photoshopping or 3D gaming, it's a handy jack of all trades and my pick of the current Atom-powered Windows 8 crop. The battery life is excellent too: with a combined 50Wh of juice available, Asus' claim of 19 hours is bang on the money.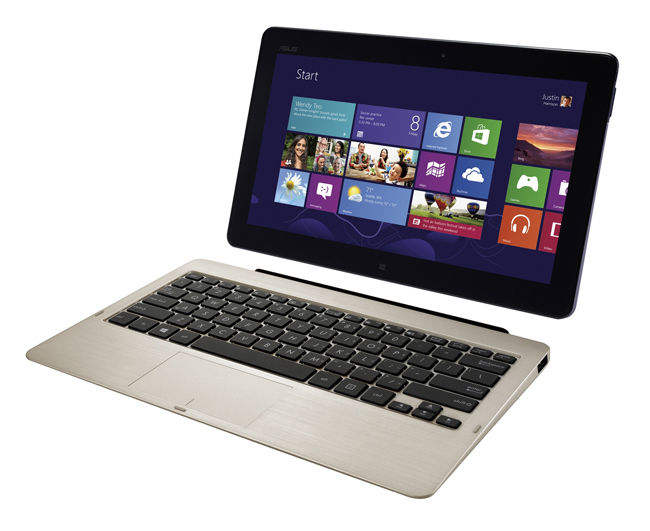 For your 700 quid you also get a pressure-sensitive Wacom stylus and pretty decent 2Mp and 8Mp cameras. As you'd expect from an Asus, build quality is tiptop, though the latch to disconnect tablet from dock has been moved to the side where it's harder to reach than it is on Asus' Android Transformer tablets. The screen is the usual fine Asus IPS affair - bright, colourful and possessed of very robust viewing angles - while the keyboard is spacious and impressively tactile.
Price
£699
More Info
Asus
Asus VivoTab RT

Going head to head with Dell's XPS 10, the VivoTab RT offers a near enough identical user experience. While I'm duty bound to find some technical distinctions between them, you and I both know most folk will buy the cheapest. The major technical difference lies with the CPUs. Asus has gone for a 1.3GHz Nvidia Tegra 3 set up which isn't quite as quick on paper as the Dell's 1.5GHz Krait-class Qualcomm Snapdragon. To be honest, though, it's not something you'd notice in day-to-day use.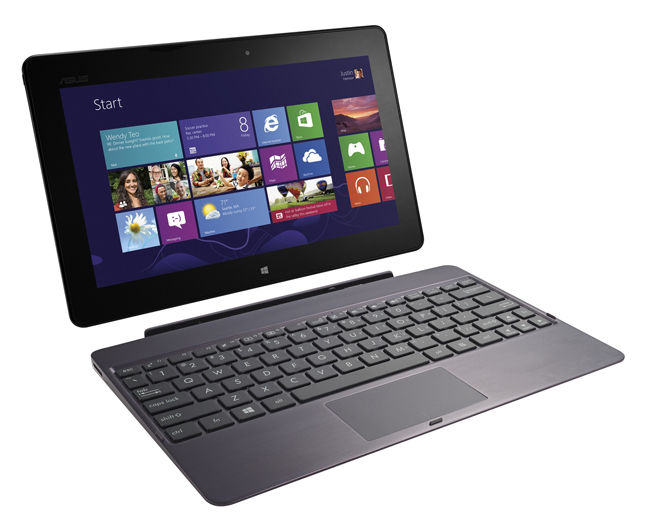 As with all Asus tablets, the RT's IPS LCD screen is a cracker and is slightly brighter than the Dell's also IPS panel. The Dell has the edge when it comes to total battery capacity - 56Wh vs. 47 - and it feels the more solid device but the Asus is lighter to the tune of 100g for each part of the contraption. On the Asus, though, the dock battery exhausts before the tablet rather than the other way around, which is a boon. With 32GB of storage and a keyboard the Dell is the cheaper by £50 though and has two rather than one USB 2.0 ports in the dock. It's a close call.
Price
£599
More Info
Asus
Dell XPS 10

Thanks to it's Qualcomm Krait-class 1.5GHz dual-core powerhouse, the XPS 10 is fast of speed and frugal of battery. It's got a pretty decent keyboard dock too that boasts two USB 2.0 ports and a very competent pair of speakers to take over from those in the tablet when docked. Don't let the the on-paper spec of the 155dpi, 1366 x 768 display put you off - it's a more than decent IPS LCD affair. Both tablet and dock are very well made indeed, in fact it feels every bit as solid as the Surface.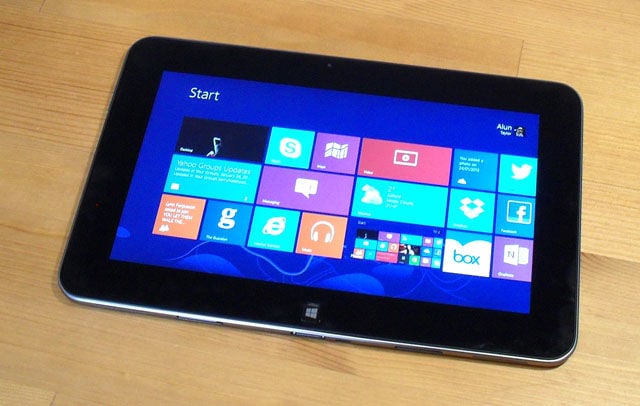 Runtime is certainly nothing you need worry about thanks to two 28Wh batteries, but it's a darned shame the tablet/dock combo drains the batteries in the wrong order: tablet then dock rather than the other way around. Charge both parts up, use it for eight hours, detach tablet from dock and you have a drained tablet but a full dock. Doh! The Asus VivoTab RT has better cameras - especially the 8Mp versus the 5Mp main snapper here - but for £550 including the dock, the Dell is the more aggressively priced.
Price
£399
More Info
Dell
HP Envy x2

Another dual-core Atom powered transformer, the Envy x2 benefits from HP's usual high-end build quality but suffers from the usual HP high-end price point. Eight hundred knicker is a lot when you line it up alongside the similar offerings from Acer and Asus even if HP's online store shows it as a knock-down from the usual £887. You do get a very well made gadget for your folding, though. The all-metal unibody tablet is rock solid and the keyboard dock is, if only by a short head, the best of its type to, well, type on.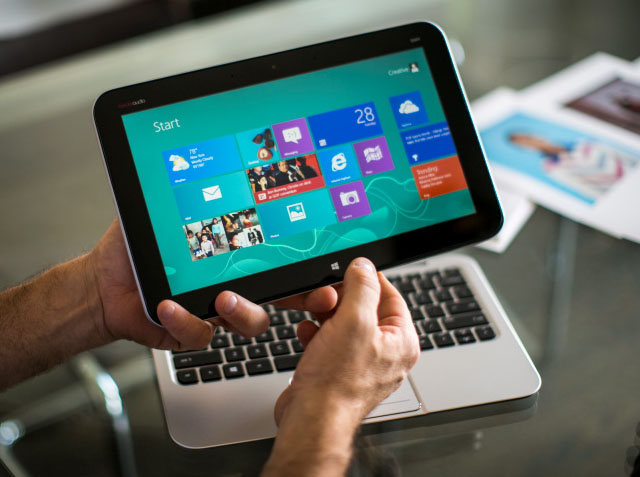 The 11.6-inch screen isn't half bad either: a bright and lustrous IPS LCD affair that supports ten-finger touch rather than the more usual five. With Beats Audio amplification and a decent set of speakers, it's a good sounding machine too. Battery life is a bit mediocre, though: tablet and dock will pony up around six hours of medium-demand use apiece which if not bad isn't class-leading either. Connectivity is also a bit poor - the dock as two USB 2.0 ports and HDMI, but the tablet doesn't even have a micro USB port, just a proprietary charge/data socket.
Lenovo ThinkPad Helix

With an 11.6-inch, 1920 x 1080 IPS LCD display, Wacom pen, 8GB of Ram, a 256GB SSD and Intel Core i5 or i7 chips to choose from, the Helix swims in the same rarified and expensive waters as Sony's Vaio Duo 11. So expect to pay in the region of £1500 for a fully specced Helix. For your money you will get a device built like a World War II German flak tower thanks to its magnesium chassis and shell, though all that metal does have an impact on weight - at 835g it's a man-sized tablet and no mistake.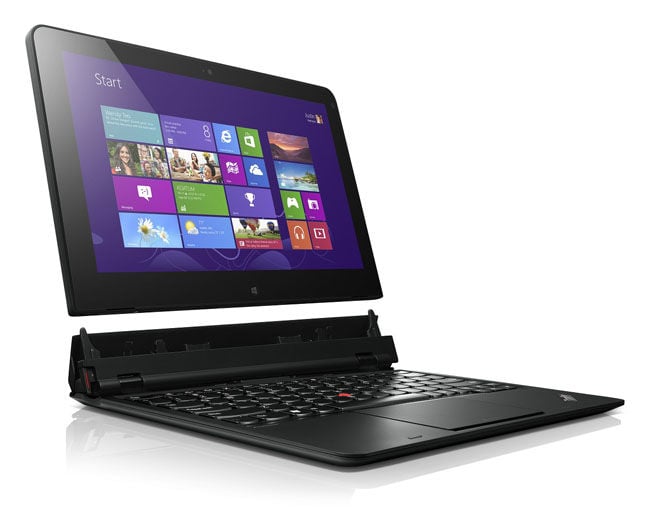 The rather brutal sounding "Rip & Flip" feature means you can mount the tablet facing either backwards or forwards in the dock so you can use it as stand with the screen facing you in much the same way as you can with Lenovo's Yoga tablet. The dock's hinge mechanism looks a bit industrial but it has vents and fans built into it to cool the tablet's innards when under heavy strain. Both the keyboard and screen are close to state of the art. If money is no object - or the IT department is picking up the tab - the Helix is unlikely to disappoint.
Lenovo Yoga 11

Lenovo's Yoga machines are split between RT and 8. We've already given the Windows 8 Yoga 13 a good once-over so it's time to give its smaller, lighter, cheaper RT-running 11.6-inch sibling a moment in the sun. Like the Yoga 13, the 11's party trick is a keyboard-screen assembly that can fold right back on itself so it can used as a tablet, as a laptop or as a screen-with-stand halfway between the two. It's a clever and versatile design whose only real drawback is that keyboard and screen are forever shackled together.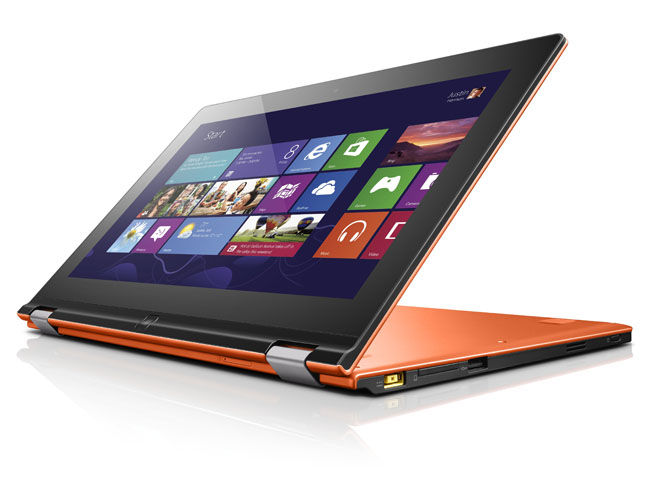 Credit to Lenovo, though, because at 1.27kg the Yoga 11 isn't too heavy, especially for a machine that has a battery inside that will see it cross the nine-hour mark looping an HD video. The soft-touch outer casing is lovely. The keyboard is pretty impressive too, making the Yoga the most laptop-like device here to work on. Of course, if all you want is an 11.6-inch touchscreen laptop, the Asus VivoBook S200 offers full-fat Windows 8 and is a good bit cheaper.
Microsoft Surface

Where Google has Nexus, Microsoft has Surface - reference machines that are the essence of concept, unadorned by third-party frippery. Of course, unlike Windows RT, Android has fripperies to be shorn of - think HTC's Sense or Samsung's TouchWiz - and Google prices its Nexus kit very aggressively. Starting at £399, the Surface costs iPad-money and it really isn't attractive enough in the software or hardware departments to warrant the cost. In short, it's at least £100 too pricey. Insufferable TV ads don't help the cause either.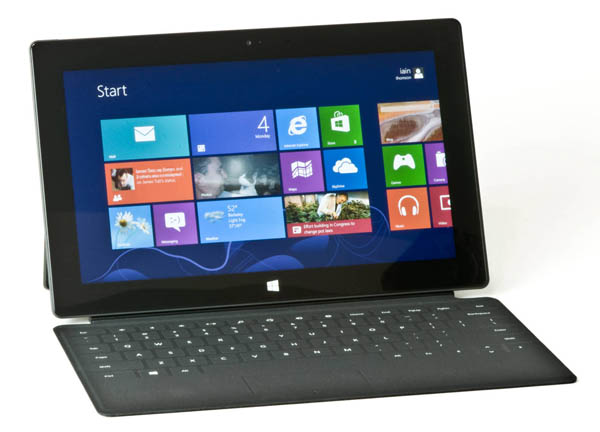 In the plus column, the 10.6-inch, 1366 x 768 screen is easy of the eye and the VaporMg magnesium alloy body makes it as tough as old boots. If you want to type up a storm - and, since the bundled version of Office is probably one of the main reasons you'd buy a Surface in the first place, you probably do - you'll need one of the optional keyboards. The £80 Touch Cover is very slender but tricky to master so the Type Cover is the one to go for especially as it's only £30 more. Battery life is impressive thanks to a 31.5Wh power pack.
Samsung Ativ Tab

I've been a little disappointed with Samsung's recent Windows kit - the Windows Phone 8 Ativ S is a Galaxy S3 with a different OS while the overly plastic Ativ Smart PC is too expensive. As for the RT Ativ Tab, it seems to be made out of the same parts bin as the Galaxy Note 10.1. There's nothing like the inventiveness on display from the other RT tablet-wallahs here - no funky transforming docks, origami stands or super-slim keyboards. It all feels a bit a rock band's contractual obligation fifth album. It's not what you'd call cheap, either.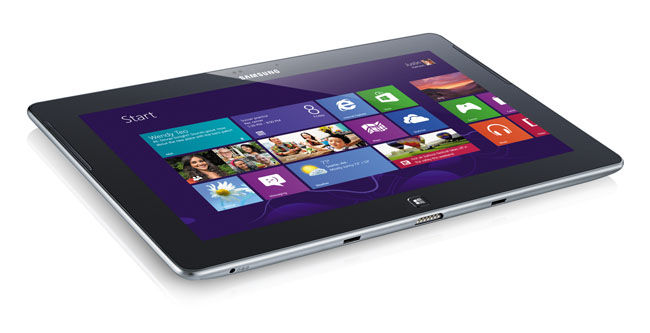 All that said, there's nothing actually wrong with the Ativ. Buried inside you'll find the same Qualcomm APQ8090A Snapdragon dual-core 1.5GHz Krait-class chip that's in the Dell XPS 10, while the screen resolution is the usual 1366 x 768. It's reasonably well made, reasonably light, reasonably thin. It's the Vauxhall Corsa of the 10-inch Windows tablet world and I really can't think of anything else to say about it. Maybe that's why Samsung isn't even releasing it in the US, blaming Microsoft's failure to explain what RT is all about to punters.
Sony Duo 11

When I first laid hands on the Asus Eee Pad Slider I thought one day all tablets will be made this way. I was wrong. The slide-out keyboard was too cramped for serious work, the mechanism made the whole thing too bulky for tablet use and the elevated screen angle was fixed. I was quite surprised then to see Sony travel down the same design path with its Duo 11. Like the Slider, the Duo is too thick and too heavy to be comfortably used as tablet and the keyboard too cramped. There's no trackpad, either, though you do get a stylus.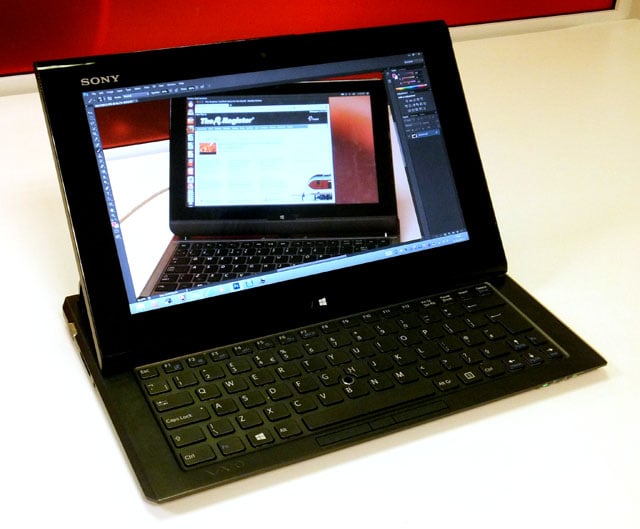 It's not all bad news. The 11.6-inch, 1920 x 1080 IPS LCD screen is a gem and if the entry-level 1.8GHz Core i3 CPU sounds too limp you can have an i5 or even an i7 chip. The last also packs a 256GB SSD and 8GB of Ram though it will set you back around £1400. It's well connected too, with HDMI and VGA interfaces for connecting the Duo to a larger screen, plus two USB 3.0 ports and even Ethernet. Battery life is poor though - loop an HD video and you'll be lucky to hit the three-hour mark - as is speaker quality. For the money I'd take the Lenovo ThinkPad Helix.
Price
£1399
More Info
Sony