Original URL: https://www.theregister.co.uk/2013/04/15/15m_iphone_black_diamond/
British designer builds $15m iPhone for Hong Kong mogul
Home button is a 26-carat black diamond
Posted in Personal Tech, 15th April 2013 22:36 GMT
Conspicuous consumption is a sign of booming times, and a Hong Kong businessman may have broken records for it after buying a custom-built "iPhone 5 Black Diamond" encrusted in gold and precious stones. The tab? An eye-popping $15.3m (£10m).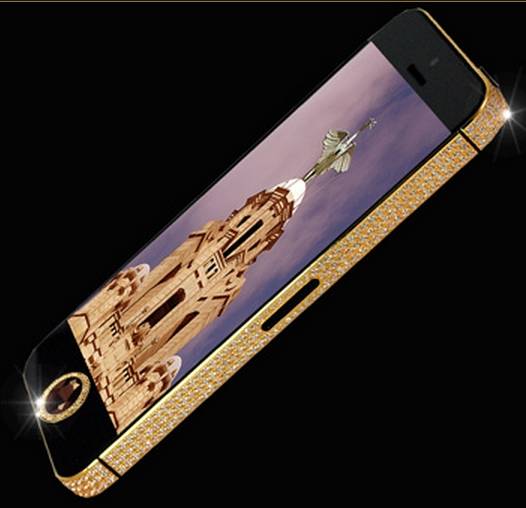 For the man who has everything – except taste
"This beautiful handset took 9 weeks of detailed intricate work to re-create the original chassis of the iPhone 5 in solid gold all of which was started and finished by hand, including a flawless black single deep cut diamond weighing in at 26 cts, most unique to replace the home button also the chassis was inlaid with a circa of 600 white flawless diamonds with full gold dressing for the rear section with the logo in solid gold with 53 flawless diamonds," gushed the designer, Liverpudlian Stuart Hughes.
The businessman in question won't pay the full whack for his handset since he provided the huge home-screen diamond that makes up the bulk of the handset's value. The phone will make a hole in his pocket in more ways than one however, since the gold used in the casing weighs more than the phone itself.
Hughes has broken the million-dollar price point for the iPhone before, crafting a $2.97m (£1.93m) iPhone 3GS in 2011 and a diamond-encrusted iPhone 4S worth a reported $9m (£5.89m). Hughes also carries extra heavy MacBook Air's with gold and platinum covers, as well as blinging up phones from BlackBerry and Nokia.
"People say to me what makes you the best," Hughes said. "One word for that is that I've got to be the craziest by far."
Crazy is certainly the phrase for a handset that costs more money than most people will see in a lifetime's hard labor. It also applies for a handset that will be rapidly outdated, based on the current pace of smartphone development.
The iPhone 5 is a good-enough handset – it has LTE, a decent amount of memory, and a beautifully sharp (if rather small) screen. But it doesn't have near-field communications, fingerprint recognition, or wireless charging – innovations rumored for the next iPhone handset.
But one suspects the owner of the iPhone Black Diamond isn't really that bothered about having the most advanced smartphone out there – just the most expensive one. ®