Original URL: http://www.theregister.co.uk/2013/04/11/dell_sputnik_review/
Shaky liftoff for Sputnik: Dell's Linux lappie runs its own cloud, ish
In 8GB of RAM and 256GB flash. And don't mention the Bluetooth
Posted in Laptops, 11th April 2013 09:00 GMT
Review Want a laptop running Linux? You could do worse than Dell's XPS 13.
This svelte model began life a year or so ago as a Windows Ultrabook. More recently it was updated with Intel Ivy Bridge processors and a 13.3" 1080p screen. The XPS 13 Developer Edition - because only software developers use Linux, right? - uses a high-end Core i7 chip to run Ubuntu Linux 12.04.2 LTS (Long Term Support), also known as Precise Pangolin.
Why is Dell making a Linux Ultrabook? Well, it's part of Dell's project, codenamed Sputnik after the Russian satellite, to sell a laptop with Linux and various tools to programmers.
The machine comes with two bits of open-source software: Sputnik Profile, which saves the state and contents of your laptop in a remote repository allowing it to be replicated as needed; and Sputnik Cloud Launcher, which lets you build a simulated cloud system on your machine using Juju, the Ubuntu project that abstracts the deployment of services on cloud platforms. These test-tube babies can be rolled out to a production cloud.
Sputnik is a cool project, but remains in an early stage of development with limited activity evident on its Github repository. Nevertheless I installed some of it and tried to get started, but hit errors.
Dell directed me to the people who know about Sputnik: Barton George, who is director of developer programmes and the brains behind Sputnik, and Mario Limonciello on Dell's Ubuntu team.
"At this point there isn't a lot there so I wouldn't try to get that part of it working. Watch this space," George told me. "It's been frustrating for me. Last week we just re-engaged with the guy who's helping us with this."
Forget Sputnik then, at least for the moment. It turns out that Dell's main effort has been to deliver a premium Linux notebook on which all the hardware works out of the box. "We went above and beyond with the hardware enablement we did with this," said Limonciello. "We got the touchpad to be full multi-touch, we went and got drivers from all the vendors we deal with in the laptop. It should really be a first-class experience."
Is it a first-class experience? Time to look at the hardware. Here are some key specifications:
Processor: Intel Core i7-3537U (up to 3.10 GHz with Turbo Boost)
RAM: 8GB DDR3 1600MHz (soldered to motherboard, not upgradeable)
Chipset: Intel QS67
Graphics: Intel HD Graphics 4000
Display: 13.3in 1920x1080 LED
Webcam: 1.3MP
Storage: 256GB SSD
Wireless: Intel Centrino Advanced-N 6230 802.11a/g/n with Bluetooth 3.0
Keyboard: Backlit, no numeric keypad
Touchpad: Cypress multi-touch
Ports: Two USB 3.0, one mini DisplayPort, and a 3.5mm headset jack
Ethernet port: Nope.
Battery: 6-cell Li-Polymer
Size: 18 x 316 x 205mm
Weight: 1.36kg
First impressions are good. The machine looks great with its aluminium finish and slim, lightweight design, though the screen is high-gloss which is a disadvantage in my book. Ubuntu boots from cold in under 15 seconds. There are neat touches, such as the hardware battery status button on the right, which indicates the remaining charge by illuminating up to five LEDs.
There are some puzzles though. There is an Ubuntu sticker on the palm rest and an Ubuntu logo etched into a metal plate on the underside, but there is still a Windows key and the only documentation in my review sample is a "Getting started" leaflet for the XPS 13 with Microsoft Windows 8.
I also notice that although the GNU GCC compiler is installed, there is little sign otherwise of Dell's promised preloaded developer tools. What is meant to be there? "The initial list that was there in version 1 changed for version 2," Limonciello told me. "The tools that we preloaded for version 2, I don't know if there's actually a public list out there, but it's basically LXC, a compiler tool chain, Juju, and a few other smaller tools."
I have yet to see this list, but neither LXC nor Juju was installed on the review sample.
Hardware where it counts
Developers are unlikely to care much about what is installed, since it is easy to add and remove packages and every individual has their own favourite or necessary tools. Still, the lack of documentation is an annoyance. George points me towards the discussion boards. "We've got the forums going. We would like to get more information out, but the idea is to get it out there as soon as possible and then iterate, filling in some of those gaps," he said.
What counts for more is whether the hardware works correctly, since getting devices to work under Linux is often a challenge. The news here is mixed. On the plus side, the machine is usable out of the box; more than that, it is quick and responsive. The display is excellent (glossy screen aside), the audio works, Wi-Fi connected first time. Even the function keys along the top work for things including disabling wireless, controlling brightness, and playing and pausing media players. I could not resist installing Valve's gaming platform Steam for Linux, which runs perfectly after a bit of fiddling with dependencies.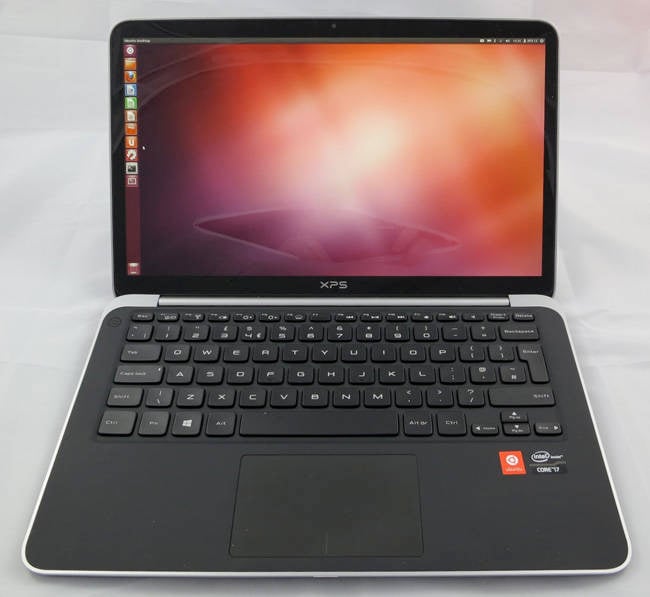 Look familiar? Dell's XPS 13 Developer, which comes with Ubuntu 12.04 pre-installed
This is not a review of Ubuntu 12.04 (and note that 13.04 will be released this month), but I will note the joy of finding Libre Office installed and being able to start typing notes for this review immediately. I also appreciated Ubuntu One, the cloud-storage service with 5GB free of charge, which is prominent out of the box, and the absence of any and all OEM crapware. Workspaces, which let you switch between four desktops, are another excellent feature, which Windows lacks.
That said, I had my share of things that do not quite work; and yes, the first thing I did was to install all available updates. Shutdown can be problematic; sometimes it shuts down, sometimes it only logs out. Hibernation fails with a "device failed to thaw" error message. I had no success with Bluetooth; neither a keyboard nor an audio streamer would connect. Perhaps the biggest annoyance was when I connected a Canon camera and got the error message "unable to lock camera" and no access to my pictures.
But such is Linux, free and open-source. In my experience, most problems of this kind can be solved with sufficient effort and patience in trawling through forums or studying logs. Still, it is not quite the first-class experience I was hoping for.
Is this the perfect developer laptop? That's the intention. "We really believe that developers are the kingmakers, driving purchases in the IT space," George told me.
The SSD is only 256GB, and if the intention is that you develop cloud applications with multiple virtual machines that seems limiting, as does 8GB RAM, although USB 3.0 means you can attach fast external storage easily. "We're looking at other versions, a beauty and the beast lineup, where the XPS 13 is the beauty and we get some huge 32GB monster for real heavy-duty developing," said George.
It is a shame Dell offers no customisation options for the XPS 13 in its Linux edition, although you could get the cheaper lower-spec Windows version (Core i5 with 128GB SSD), install Linux and take advantage of Dell's driver efforts.
You would think that using free software would mean a lower price. The same-spec Windows version is £1,079, and the Linux edition is £1,078.80. The reason for the tiny differential, according to Dell, is that the Developer Edition comes with Pro support, versus Premium support for Windows.
While I doubt this will excite most programmers, the fact that it is supported at all is a big deal, since if you buy a Windows laptop and use with Linux, you will not get any joy from the supplier when trying to get Bluetooth working.
The XPS 13 Developer Edition and Project Sputnik represent a worthwhile effort but one that is currently half-baked, and given its slow progress it is hard not to be sceptical about whether it will ever come together as intended. What you do get though is a classy notebook on which Linux is fully supported, and for developers or any Linux user that is a significant benefit.
You can get your XPS 13 Developer Edition here. ®