Original URL: http://www.theregister.co.uk/2013/04/10/review_kobo_arc_android_tablet/
Review: Kobo Arc Android tablet
Apps and books done right, eventually
Posted in Tablets, 10th April 2013 12:04 GMT
As pocketable Android tablets gather momentum and e-reader manufacturers look to offer a more flexible platform, the twilight zone where both meet is certainly looking lively.
A criticism of Amazon's Kindle Fire e-book-meets-Android offerings is the company's imposition of a walled garden for installing apps: you have to download software for the gadget from Amazon's online store. It's hardly in the spirit of the Android development, where openness was considered its raison d'être.
The rival Kobo Arc touchscreen e-reader - recently updated to Android Jelly Bean - takes a different approach, and unlike some earlier devices from the company, it allows unfettered access to the wide-open Google Play store of apps.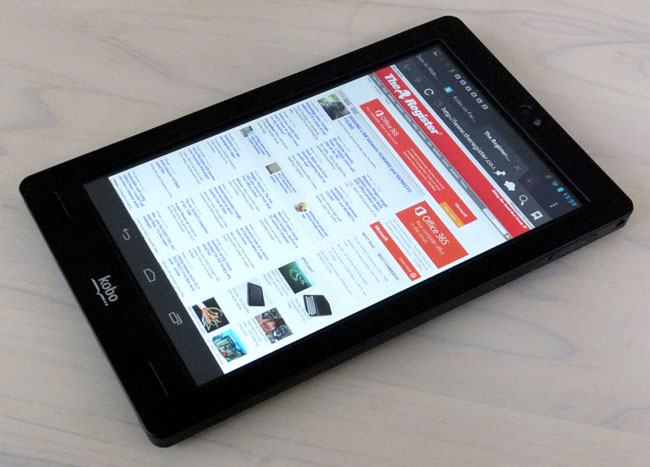 It might be packed with e-reading goodies, but the Kobo Arc is still an Android tablet at heart
You can understand why Amazon wouldn't want you to shop elsewhere, and why Kobo took this line too, initially. But now, an open platform seems to be a gamble that Kobo thinks is worth taking with the Arc. Sure the unit is packed with some clever things that Kobo thinks e-reader owners want to do with these devices, but as you're bound to wonder if it'll run the Amazon Kindle Android app, I'll answer that now. Yes, it does but oddly enough, after installation, the first two attempts to run it failed, third time lucky though.
Kobo describes the Arc as the "ultimate 7in Android tablet" so it has made up its mind what its potential punters are looking for. By flogging the entry-level 16GB model for £160 – the same price as a Nexus 7 – and its 32GB model for 30 quid more, it's relying on its competitively priced bookstore and the Tapestries window dressing that's unique to Kobo.
There's a 64GB model too, but no sign of it in the UK yet. The company also boasts the Arc features a tough glass screen and a durable, hard plastic body, so it'll survive abuse in transit. That said it does have the trademark "quilted" design soft touch back to the device that comes off so other colours can adorn it instead. It also came apart slightly during a nonchalant drop-from-the-desk ruggedness test.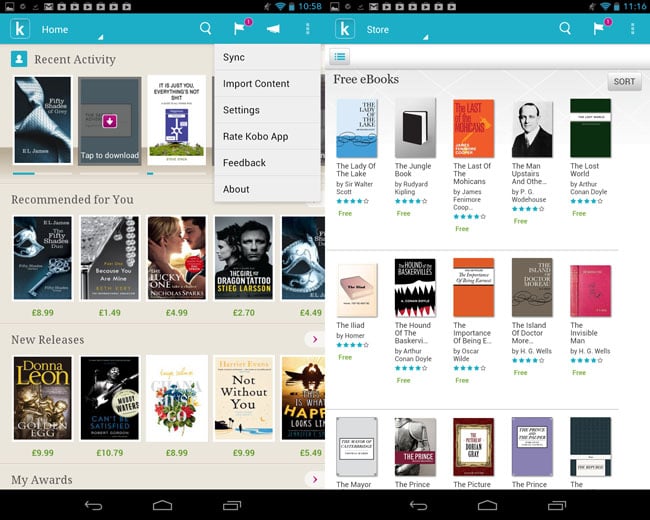 Bookstore and Free titles category
Firing up the Arc for the first time was one of those rather frustrating let's-show-you-how-it-all-works experiences that I couldn't seem to sidestep. I muttered random expletives to myself as I was invited to go through a list of books of different genres to ascertain my reading habits. There was not a non-fiction book among them, though. And because I let my other half have a play with the device and she started on Fifty Shades of Grey (which was among the preloaded titles), I'm now offered tripe in the "Kobo Recommended" rolodex of suggested ebooks that appears in the Reading area.
The Homescreen is kitted out with examples of Tapestries; these are widgets of sorts that organise material into categories – Reading, Entertainment, Browsing, Social – each giving some visual clues to their content. Tap on one and it opens up to fill the screen with Rolodex-style preview panes; navigation shortcuts to specific areas, such as Kobo Recommended and Top 50 lists; and related apps.
You can swipe to see more content and the persistent Discover strip sits at the bottom of the screen and changes according to the current Tapestry type.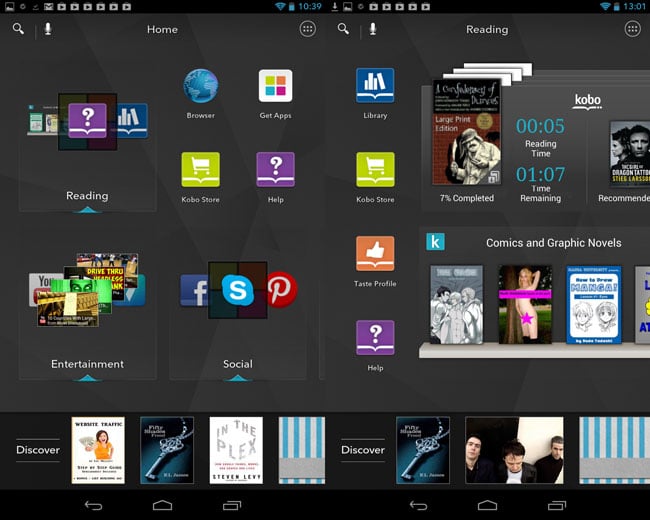 Tapestries organised in the homescreen (left), Reading content revealed (right)
Once you get past the "WTF is this?" stage, Tapestries prove to be rather charming and useful, as you're not stuck with the above categories: you can edit and add your own. This way you can build a rather handy estate of stuff from books to apps to website URLs. Kobo describes it as a way of "curating" material, and to extend this further, Kobo says you can have Tapestries within Tapestries, Russian matryoshka doll-style.
I wanted to try this out for myself: I wanted to create a custom rolodex of selected material in a new Tapestry, like the default Tapestries for books and YouTube videos but with album covers or photo collections. It wasn't explained in the otherwise helpful PDF manual how to create these, and I still have no idea how to do it.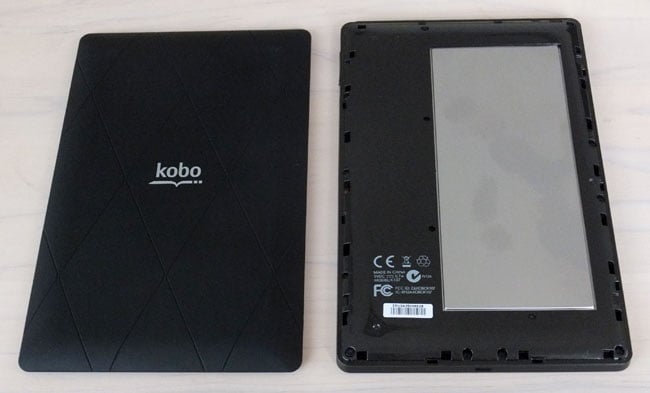 Cover story: Alternative colour casings are available but under the surface there are no expansion slots
Populating Tapestries isn't too well integrated, which I'd say has more to do with Android's idiosyncrasies rather than a major fault of Kobo's. In some areas, such as the web browser, you use the Pin icon to add pages. In other areas, the Share menu is called into action. And in other areas, such as the music player, there's nothing at all for albums, individual tracks or even playlists. Setting up Tapestries for photos isn't particularly well thought out either: it shows large preview images yet when you click on one, it doesn't enlarge the chosen image, it opens the first one of the batch.
The undiscovered shelf
The Discover strip is supposed to highlight content related to the overall topic for each of the Tapestries. I can't say I saw any relevant activity on my homegrown collections despite populating one of the Tapestries with all things photographic from the BJP website to a book preview on digital negatives from the Kobo site, and the Android camera app. Incidentally, I tried to add photo enthusiast magazines too, which can be sourced from the preloaded Zinio app, but couldn't pin any items in a wishlist manner, which would have been useful. If you're really keen to wake up the Discover function you can give it additional information from the Taste Profile app.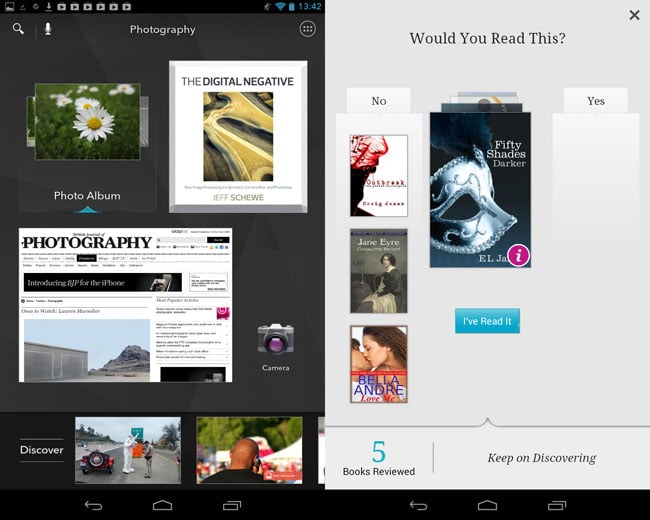 A made up Photography Tapestries configuration and the Discover Taste Profile app
Reading on the Kobo Arc frequently involves a bit of delayed gratification – all too often you'll see a little wheel spinning on a blank screen as a book loads. Even though it's only a few seconds, it typically takes that little bit longer than you'd be comfortable with, especially if you're switching between titles. Another thing that bugged me to begin with was this weird dotted purple dome that sat at the bottom of each page. It's there for a reason and, thankfully, you can deactivate this feature called Kobo Pulse, if you find it too distracting.
Tap on it though, and you can see statistics for the book, who's reading now and reader comments – the dome gets bigger the more there are. The remarks aren't particularly inspired – somebody asking what "cheque" means, for instance. No doubt more learned reading than Fifty Shades... will deliver a different range of comment, assuming they can be bothered with the Facebook login prerequisite for posting pearls of wisdom.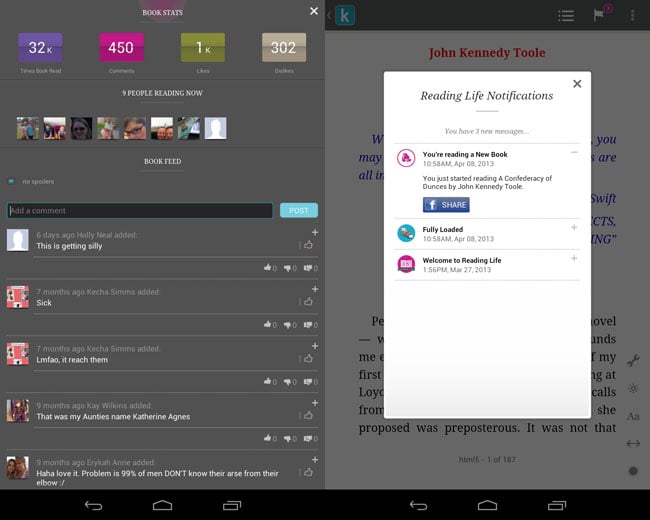 Post comments on the Book Stats section and share your Reading Life on Facebook, if you must
Kobo adds another strand to the social bookworm discourse with its Reading Life notifications. In short, you can see what you've added to the Kobo and share your literary choices with all and sundry on Facebook. If this appeals, tap the top of the page and you'll find reading activity options along with bookmarking and book contents listings. As for annotations, just press and hold to highlight sections and you can add your memo, colour it, or share, of course – you can even pin an extract to Tapestries.
Before you get settled in to a page turner, it's worth a glance at the formatting options. Tapping on a faint dot in the bottom right corner brings up icons for the Activity (comments and posting), Advanced Settings (notifications, navigation and orientation), Appearance, Reading Settings and a scrollbar. Kobo only offers two font style choices (serif, sans serif) and the publisher default, although I'm pleased you can really pack a page out with small type if you want avoid frequent screen taps to the next page. If you enlarge the text even to a moderate size, you'll find annoying spaces between apostrophes. I've no idea if this is a Kobo or e-publisher issue, but it looks nasty on the page.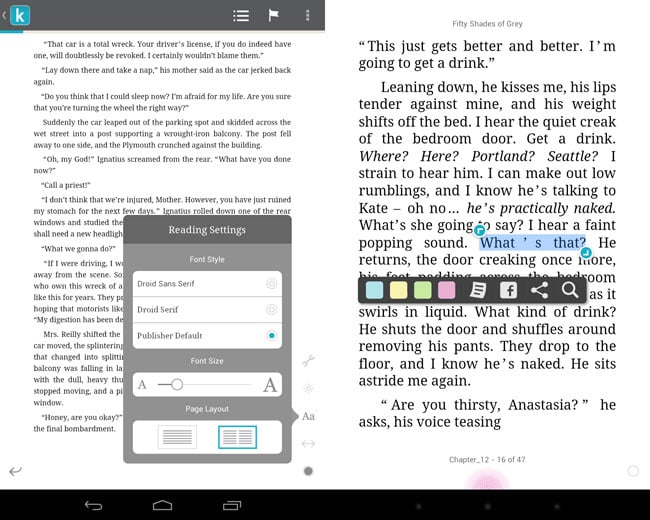 Fonts options and reference/sharing tools highlight ugly punctuation spacing
Apart from this formatting quirk, the only real irritation when reading was when the screen brightness dimming kicked in. This can be fixed easily enough for longer periods from the Android settings; however, a lazy tap to bring the display back to life would all too often engage some other menu to obscure the text. It had me wishing for a Simple Mode, that would only offer page turns. I guess I'm not the social sort when I'm reading.
Store points
If you're wondering about the spec of the Kobo Arc, it runs a 1.5GHz dual-core TI OMAP 4470 ARM-compatible processor with 1GB of RAM and features a 1280 x 800-pixel, 216ppi IPS 7in display. During tests with performance benchmark tool AnTuTu, the device was a tad slower than a Nexus 7 which, considering the latter is a quad-core device, isn't bad going.
Apart from the occasional slow book load and online bookstore refreshes, there was no noticeable lag in everyday use. Movies looked pretty good too, aided by the front-facing speakers and SRS audio bass boosting. Just don't go too over the top here, as the speakers will distort if pushed too hard.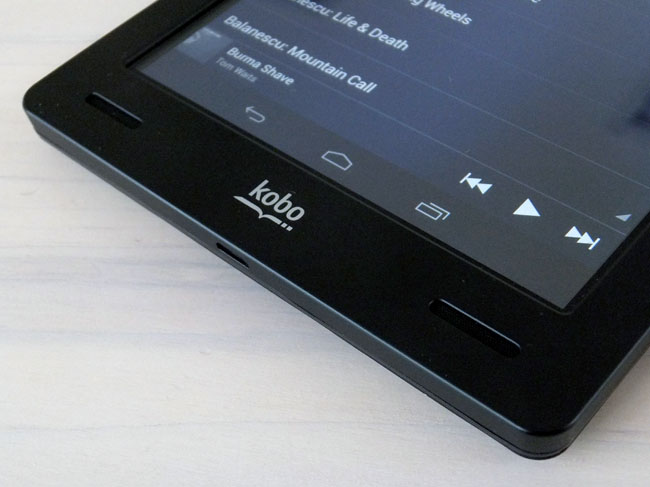 The single ended, front facing speakers arrangement is loud and clear. It's not ideal for landscape viewing, but you get used to it
The battery life is the only real drawback, but it's not because it's inadequate. This is an Android tablet, not an e-reader, so you get hours rather than weeks. Kobo states 10 hours which seems a fair estimate, but with casual reading you'll no doubt manage several days between charges.
As for investing in the Kobo bookstore, it seems that the company has just about all bases covered to sync content across multiple devices. I ran the desktop app on a Mac, which crashed on first run but has been fine ever since. I tried the PC version on a Lenovo ThinkPad Tablet 2 which failed during its first sync but has also been fine ever since. The iPhone and iPad versions fired up without complaint.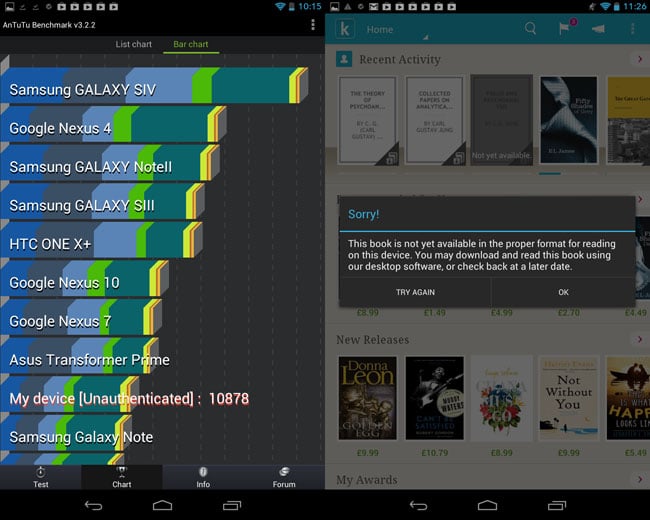 AnTuTu results and format warning from a free book on the Kobo store
I have to say, flicking through a full-colour cookbook looked great when displayed on the desktop app. Even so, viewing colour photo books on the Kobo Arc is absolutely fine, and being a touchscreen device is a positive advantage if you do get busy in the kitchen.
Browsing the bookstore could do with some refinement though. I could view the free books on offer easily enough from the Kobo Arc – as this appears as a category option – but you try searching through them. I entered an author's name but the results came back with a mix of paid-for and free content, which wasn't very helpful. The desktop app is even worse, as it doesn't show the free content at all.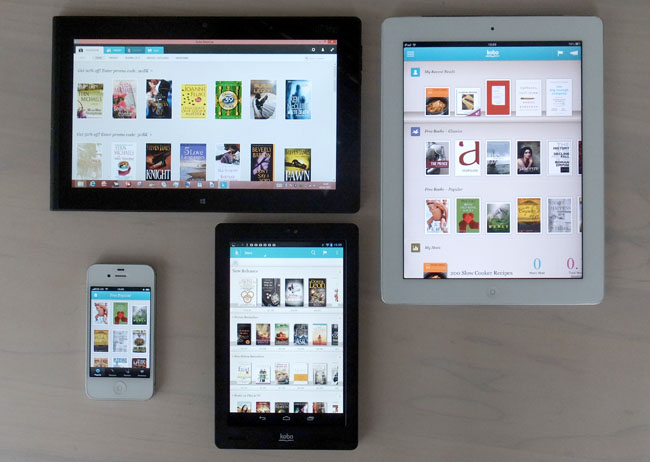 Clockwise from bottom: Kobo Arc with iPhone 4S, Lenovo ThinkPad Tablet 2 and iPad 2 running the Kobo bookstore apps
Oh, and before I forget, I transferred ePub titles to the Kobo Arc that, once imported and the content section had refreshed, were presented perfectly. Just be aware that non-Kobo sourced titles forego all the sharing comments functions apart from posting your own Reading List notifications.
The Reg Verdict
All in all, I'm impressed with the Kobo Arc. It took a little while to learn to love it, but I'd say it's been worth the effort learning how to weave content into the Tapestries function.
Indeed, for those likely to share a device, it offers a great way to keep some level of separateness although the Recommended reading feature is likely to reflect all of the users, which could be interesting, embarrassing and annoying in equal meassure. For those with multiple interests, Tapestries offers a useful way of diving into your favourite things without too much faffing about. And even if this feature doesn't appeal, the Kobo Arc is still a very pocketable and affordable Android tablet. ®