Original URL: http://www.theregister.co.uk/2013/04/09/lengthy_investigation/
Hard luck lads, todger size DOES matter: Official
Being tall and masculine also helps, says stiff stiff
Posted in Bootnotes, 9th April 2013 20:32 GMT
NSFWish Boffins bearing tape measures appear to have confirmed that in the trouser department, size really does matter.
But it's not the only thing prospective mates are eyeing when they give chaps the once-over.
In fact, todger size "interacts with body shape and height to determine male sexual attractiveness", so that a "greater shoulder-to-hip ratio" and a head closer to the stratosphere will also win chaps plus points.
To arrive at this finding, a team of biologists headed by Brian Mautz used data on Italian men to knock up 343 computer-generated male figures in various configurations.
Then 105 women were each exposed to a random selection of 53 of the models, and asked to rate them on a scale of one to seven.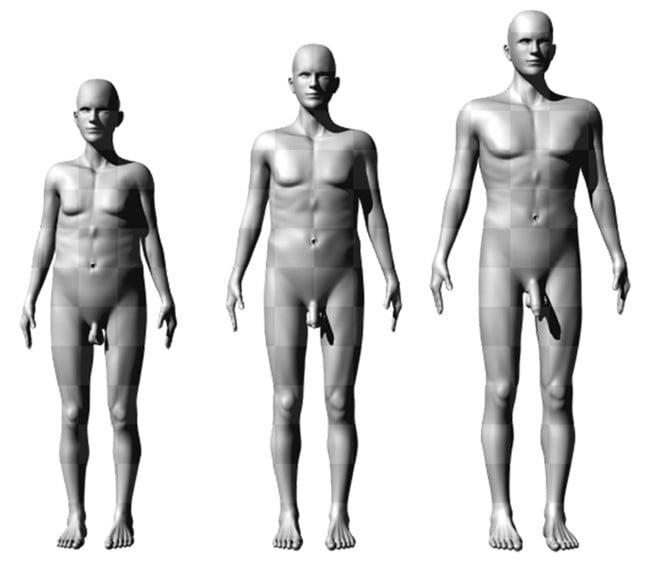 How do you measure up? Average (centre) and extremes (left and right) in height, shoulder-to-hip ratio, and penis size
Although the first thing that popped up was "that penis size influences male attractiveness", Mautz warned that "the relationship isn't a straight line".
Regarding size alone, for example, "attractiveness increased quickly until flaccid penis length reached 7.6 centimeters (about 3 inches) and then began to slow down".
Taking physical build on board, "if one of the model men was tall and had a masculine, V-shaped torso with broad shoulders and narrower hips, he was considered more attractive than his shorter, stockier counterparts, regardless of penis size".
These "taller fitter figures" were, though, considered even more desirable if they were well hung, and even if they were heading into cocktail sausage territory, "a smaller penis was less of a detriment ... than it was to shorter or potato-shaped" guys.
In their abstract, the boffins summarise: "Penis size had a stronger effect on attractiveness in taller men than in shorter men. There was a similar increase in the positive effect of penis size on attractiveness with a more masculine body shape."
The upshot of all this is that the results "support the hypothesis that female mate choice could have driven the evolution of larger penises in humans" - at least in our unclothed male ancestors subjected to "direct precopulatory female mate choice based on male genital traits".
In the end, though, overall attractiveness is the key to getting your end away, Mautz noted. Without this, even the biggest spam javelin in the history of humanity is unlikely to make much impression on the ladies. ®