Original URL: https://www.theregister.co.uk/2013/04/09/avere_fxt_3800/
Avere releases FXT3800 speed filer
Rival still some Huawei in front
Posted in Storage, 9th April 2013 09:30 GMT
Avere has upped its accelerated edge filer game with the FXT 3800, which is 40 per cent faster on the SPECsfs2008 benchmark than the existing FXT 3500.
FXT products started out as filer accelerators and evolved into small (or edge) filers as well, relegating existing filers to be bulk file stores with hot files served from the FXT. Avere software analyses IO types and puts them in NVRAM or NAND solid state storage, or fast SAS disk, depending on whether they are read or write, random or sequential, large or small.
Avere claims that, with new hybrid technology, it is the first vendor to automatically tier data across four media types: RAM, Flash/SSD, fast SAS disk, and nearline SATA/SAS disks. The idea is to enhance media IO performance and putting each file in the right storage tier at each stage of its lifecycle.
Avere says this saves cost because fast and expensive storage space won't be used for files that don't need it.
The existing FXT 3500 has 144GB of DRAM, 2GB NVRAM, and 9TB of SAS disk storage with 2 10GBitE and 6 x 1GBitE ports. The FXT 3800, positioned above it in Avere's product space, has:
- the same 144GB RAM
- the same 2GB NVRAM
- an 800GB SSD
- 7.8TB SAS disk (disk capacity has decreased as NAND capacity has been introduced)
- the same networking ports.
As before, systems can be clustered. The FXT 3500 is currently second in the SPECsfs2008 benchmark performance rankings and Avere hopes, we understand, that the 3800 will be some 40 per cent faster than that.
Avere has also smoothed out the user interface of its FXT kit too, saying it is now more manageable. Target customers are in the media and entertainment, oil and gas, financial services and life sciences markets.
A cluster of 32 FXT 3800s achieved a SPECSfs2008 NFS benchmark score of 1,592,334 ops/sec throughput and latency of 1.24ms overall response time.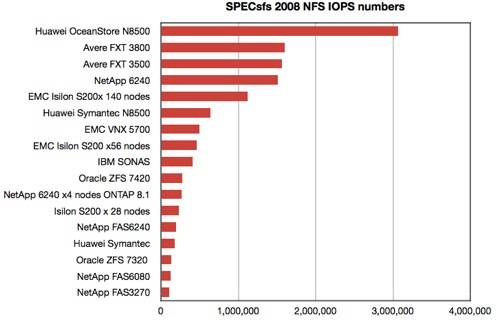 IOPS graph: Huawei still leads the field on filers.
This makes it second overall to a quite heavily flash-loaded Huawei OceanStore system.
Avere would say that adding flash caches to filers to make them go faster is not enough. You need multi-layered acceleration and its boxes can speed up file access to heterogeneous filers - unless, of course, those filers are newly-designed all-flash filers.
Violin Memory and Microsoft built one such box for the TechED Conference in July last year; Nimbus Data's flash arrays have iSCSI block and NFS access, and Whiptail's ACCELA can serve files also.
So far we haven't seen any of these systems in the SPECsfs2008 rankings so direct comparisons with Avere's FXT line are not possible. Avere is confident its FXT systems will cost less than all-flash filers. ®