Original URL: https://www.theregister.co.uk/2013/04/05/juniper_ex9200_modular_switches/
Juniper future-proofs 'programmable' switches in Cisco battle
EX9200 40GE modular switches will ramp to 100GE later this year
Posted in Networks, 5th April 2013 16:54 GMT
Juniper networks has trotted out a new line of EX series modular Ethernet switches that will scale up to 100 Gigabit/sec links later this year – and its timing is spot on. With a resurgent Cisco Systems on its hands, Juniper Networks must work harder to get attention and peddle networking gear to the world's data centers and corporate campuses.
The new EX9200 switches are being launched with a new wireless LAN controller program that can run on an embedded x86 server inside of the switch, on a virtual machine on an x86 server of your choosing, or on a network appliance. The company also has a new unified wired LAN and wireless LAN management tool called Junos Space Network Director.
The EX9200 modular switches are based on a custom Juniper ASIC called One, which is a derivative of the Trio family of ASICs. In this case, the One ASIC has been tweaked to support the Layer 3 network overlay approaches espoused by both VMware (VXLAN) and Microsoft (NVGRE). It also sports a programmable packet-forwarding engine, which is one reason why Juniper is referring to the EX9200 line as being a line of "programmable" switches.
The other reason for that programmable designation is that the One ASIC is designed so that Juniper will be able to program support for new and evolving protocols into the ASIC in the future without compelling customers to rip out old line cards and replace them with new ones.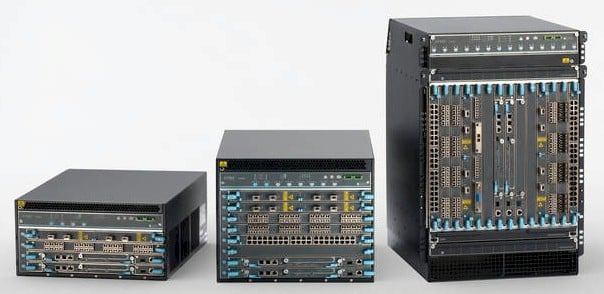 The three new Juniper EX9200 modular switches
The EX9200 line cards support Gigabit, 10 Gigabit, and 40 Gigabit Ethernet ports today, and will support 100 Gigabit ports later this year. There are three modular enclosures and four line cards that are available now.
The EX9204 is a 6U enclosure that has room for four line cards and has 1.6Tb/sec of switching bandwidth, and offers up to 120 Gigabit ports, 96 10GE ports, and 12 40GE ports; it will have up to six 100GE ports when the 100GE line card ships later this year.
The EX9208 is an 8U enclosure with room for eight line cards and 4.8Tb/sec of switching bandwidth, and has up to 240 Gigabit ports, up to 160 10GE ports, up to 28 40GE ports, and up to 10 100GE ports.
The big bad switch is the EX9214, which is a 16U chassis that has fourteen slots for line cards. The EX9200 switch fabric delivers up to 240Gb/sec per slot at full duplex and the midplane in the top-end EX9214 delivers up to 13.2Tb/sec of bandwidth and supports 1 million MAC addresses and up to 32,000 VLANs. The EX9214 doubles up the port count over the EX9208, delivering 480 Gigabit ports, 320 10GE ports, 48 40GE ports, and 20 100GE ports.
The EX9200 has a bit more aggregate bandwidth compared to the prior generation EX8200 modular switches, it scales down to smaller configurations, and is a lot more dense physically. The EX8200 came in two versions – a 14U machine with 6.2Tb/sec of switching bandwidth across eight line cards and a 21U machine with 12.4Tb/sec of oomph across sixteen line cards. The EX8200 only supported Gigabit and 10GE ports as well and cannot support 40GE or 100GE ports.
The base list price of the EX9200 is $80,000.
In addition to the new modular switches, Juniper has taken the software in its wireless LAN controller appliances, ripped it free of the iron, and packaged it up for virtual machine hypervisors so it can run on x86 servers and, later this year, on the new EX9200 switches. Juniper has packaged it up to run atop VMware's ESXi hypervisor, and the virtual WLAN controller can handle up to 256 access points per instance. You can also blend together virtual and physical WLAN controllers on your network – you don't have to pick one or the other.
Pricing for the JunosV virtual WLAN controller has not been set yet and will be available when the controller starts shipping in a few months. The plan calls for it to be available on x86 servers around the middle of the year, with support inside the EX9200 switches at the end of this year or early next.
One new piece of software is the Network Director network management tool, which is used to manage campus and data center Ethernet switches and wireless switches from a single pane of glass. The Network Director tool consolidates functions from four different tools, and spans the EX series of Ethernet switches, the WLC series of wireless LAN controllers, and the WLA series of wireless access points. Network Director costs $50 per network element under management, and is available now. ®