Original URL: https://www.theregister.co.uk/2013/04/05/game_theory_sim_city_god_of_war_ascension_gears_of_war_judgement_bioshock_infinite/
Gaming's favourite platters get another stir of the pot
BioShock Infinite, Gears of War: Judgement, SimCity, Luigi's Mansion 2 and more...
Posted in Personal Tech, 5th April 2013 09:04 GMT
Game Theory Another month goes by and, as ever, gaming isn't short of its share of news and controversies. While recent reveals of Battlefield 4, Metal Gear Solid V, The Witcher 3 and Thief: Out of the Shadows show us what the future holds, there's no getting around the fact that we're currently entrenched in a present in which regurgitations of old recipes is standard. If you need evidence of that, look no further than Gears of War: Judgement and God of War Ascension.
Thankfully, you can still trust Nintendo to bring its best to the fray, with Luigi's Mansion 2 stuffed full of with imaginative moments. More's the pity then that sales of the formerly mentioned Judgement and Ascension will no doubt dwarf it, but such is life. Then there was SimCity which displayed similar notes of finery in the gameplay stakes, but that was only half of the story...
SimCity: build it and they will come?
When a technical issue dwarfs the release of one of gaming's better known franchises you can be sure that it's going to cause a bit of controversy. So it proves with SimCity, a title that has come under intense scrutiny for forcing users to be perennially online, and logged into EA's Steam-a-like Origin to boot, in order to get the game to work. No playing SimCity in plane, train or automobile, or even (in my case, at least) in the office over flakey wi-fi.
A barbed pill made all the more painful to swallow by EA's unpreparedness for SimCity's day one sales, which promptly led to the falling over of the game's servers. Cue the mass grinding of molars as exasperated gamers realised that in going out and grabbing a boxed copy of the game they'd bought what amounted to a coaster.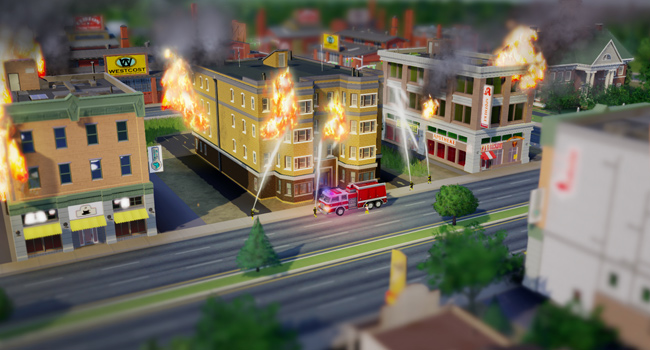 Hot topic: server troubles in SimCity?
Two weeks later and with the server issues largely behind it (but the DRM issues still spewing up a black cloud darker than the pollution pumped out by my city's industrial zone), it's now possible to log on and start building. Even if the game does still insist on forcing me to wait 10 minutes until it has finished updating – have you never heard of a background update, EA?
As regular readers will know I've been on something of a SimCity marathon for The Register, having gone back to cast an eye over the four main entries into the series: 'Classic', 2000, 3000 and SimCity 4. This new iteration takes them all on, what with its swanky 'Glassbox' engine that lets you view the action closer than ever; allowing for such wonders as curvy roads and city specialisation in the process.
The resulting effect is the bolstering of the usual addictive SimCity gameplay with a heightened ability to mesmerise. The toing and froing of your citizens has your real world hours passing by at llama speed as you build up connected cities, or else trust online partners to do so on your behalf.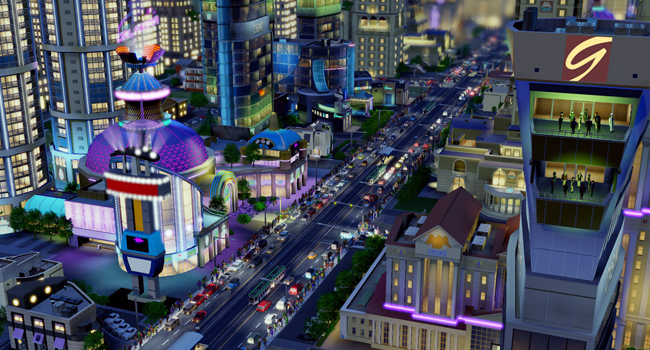 Progress is progress
The building expansion tools work well as a means to upgrade important buildings, so increasing their effectiveness (an extra classroom expanding your school's pupil capacity say). While a more streamlined approach to utility laying, road building and zonation than ever will have new comers quickly making viable towns of their own, not that there's insufficient depth for veterans to get lost in.
The aforementioned technical issues make scoring SimCity tough however. They have to be included in the final reckoning, but I've had such a good time with the game that scoring the game really low because of crazy decisions made outside of the development team seems trite. Still, the word is out on those issues, so ultimately the decision on whether to jump in or not is yours. If you do, then assuming your internet connection is stable, you won't be disappointed.

God of War: Ascension: all a bit hit and myth
Oh Kratos, cheer up for goodness sake, it really can't be that bad can it? Oh what's that? Wife and child killed, pursued by the Furies, and on what can only be described as the 'wrong' side of Zeus? Hmm, maybe it really is that bad. But that's still no excuse for having failed to crack a smile in any of your adventures so far.
Ascension is, to all intents and purposes, God of War by numbers, as Kratos beats upon every beast of Greek mythology left for him to beat upon, and even some from beyond – the Elephant-headed Juggernaut more Persian than Grecian for example.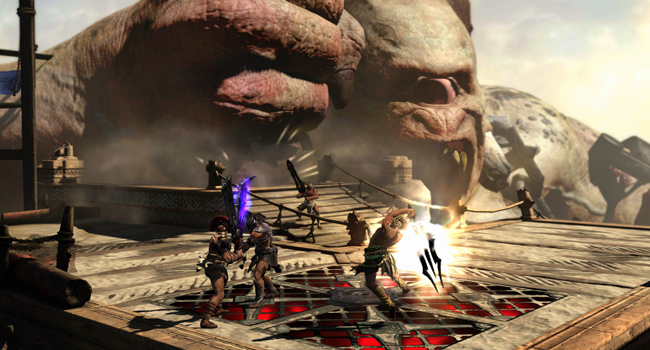 Legendary gameplay
It's a prequel to the series, supposedly exploring Kratos' history before he became the God of War, but frankly Kratos displays the same level of humanity (i.e. zero) as ever, with reveals of additional personality stopping at ever gorier ways for him to eviscerate his foes.
There are hints at attempts to rethink proceedings – Kratos' ability to pick up weapons dropped by foes, the addition of magical powers based on the powers of four of the more major gods (Zeus, Hades, Poseidon and Ares) – but none of these elevate the game into the realms of something new or particularly different.
Perhaps the one throw of the dice that does add that required sense of novelty is the multiplayer mode but, as is often the case with games that don't necessarily scream 'multiplayer' at you, it feels a little tacked on. The idea of pledging allegiance to one of the aforementioned four gods is a good one, but the gladiatorial nature of the combat feels too claustrophobic to ever be anything more than a fleeting fancy.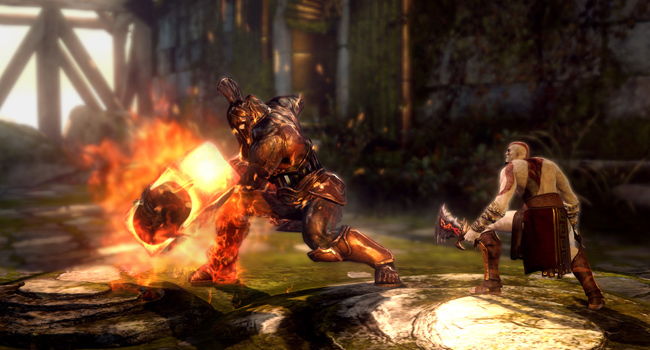 Anger the gods and you might get burnt
If you're a fan of God of War and you're clamouring for more from the angry Spartan then you shouldn't be disappointed. If however you're looking for something beyond the same product in a new dress you won't be missing much by skipping Kratos' latest and hoping for more from the inevitable PS4 entry.

Gears of War: Judgement: is gun and run still fun?
Like the above God of War title, Gears of War: Judgement feels like a game that has been dragged out for one more airing to make one final use of the existing engine before the next gen upgrade.
No-one will be surprised to hear that, once again, tough marines fight tough aliens, throughout a campaign that precedes the other games of the Gears series. A similar number of people will also be unmoved by the news that Judgement offers absolutely nothing new, certainly nothing likely to entice anyone who thought previous Gears games were lacking at any rate.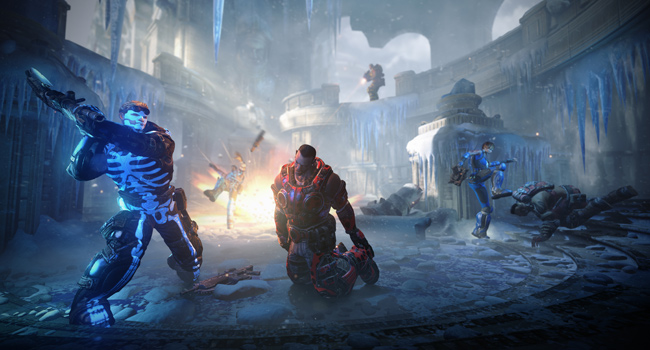 Some serious ribbing going on
Indeed, as a veteran of the franchise myself, I found Judgement to be an altogether more limited affair, too full of stop/start mini-chapters which broke up the pacing. Such measures were taken by new lead developer People Can Fly as a means to impose 'Mission Declassification' options on the player – additional objectives designed to make each section more challenging. But the result is a constantly repeating cycle of hectic blasting, followed by quieter story-driven acts which makes for rather staccato progression.
Proceedings liven up online, as you might expect, and as with any number of shooters, from Modern Warfare through to Battlefield and beyond, it's worthwhile taking on all and sundry across the many and varied multiplayer modes where the game shines.
The classic roadie running and gunning remains as compelling and addictive as ever but never develops into anything you've not experienced before, with returning team deathmatch modes playing identically to Gears 3. Aspects have been honed, such as quicker grenade throws, new kinds of grenades (the beacon grenade being of particular use to get a bead on where the enemy is hiding) and a new gun or two, but otherwise it's largely more of the same.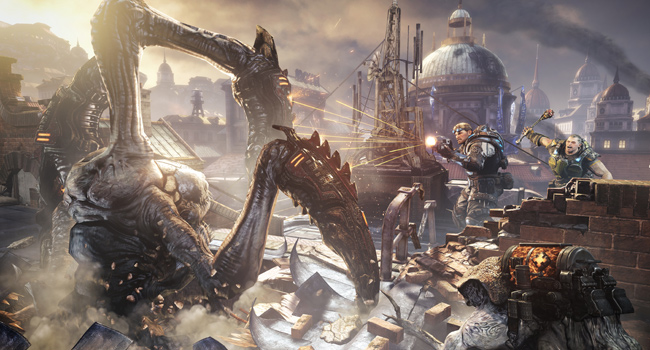 Debugging tools, military style
Overrun and Survival modes do offer something different however, as Gears takes a foray into class-based warfare for a first time. Engineers, soldiers, medics and scouts feature all of the characteristics that said roles have ever offered since first being introduced by Team Fortress, and combined with the bombastic action of multiplayer Gears makes for a particularly frantic time – particularly as the opposing team gets to choose from a whole host of Locust troops as they bid to storm the COG base.
You do wonder if Epic might have been better off in simply releasing a multiplayer-only bundle at a lower price – therefore saving the cash needed to generate a campaign and all the scripting, cutscene editing and developing that goes with it.
If they had I might have been awarding the game a higher mark. As it is however the package as a whole feels tired, and hardcore fans only really need apply. Especially as the equally good Gears of War 3 is available at a cut price and features equally entertaining online shenanigans.

Luigi's Mansion 2: game for a laugh
At least you can rely on Nintendo to offer a follow-up that's rather more progressive, Luigi's Mansion 2 (aka Luigi's Mansion: Dark Moon) is positively dripping with creative juices. Once again it falls to the green-clad plumber to suck up ghosts with his Poltergust 5000 vacuum and report back to the chirpily voiced Prof. E. Gadd for further instruction.
It's bursting at the seams with new ideas, nods to the past and – strange as it seems to say it – completely innocent fun. The game is both everything you expect from a Mario title and nothing like anything else within the franchise – its GameCube predecessor apart.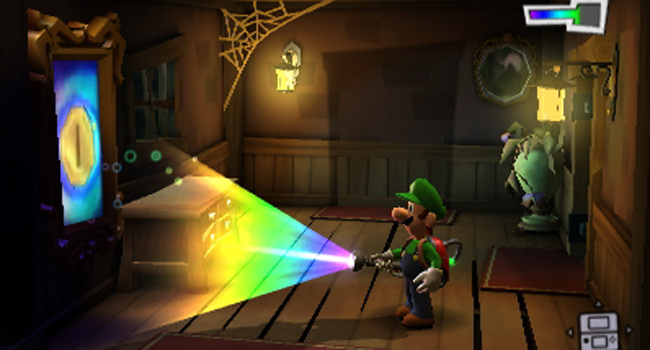 A bit of light gaming
Taking its cues from the likes of Ghostbusters, Resident Evil, even classic coin-op Dig Dug, the gameplay might be best described as a honed game of hide-and-seek, as Luigi flushes the ghouls out of their hiding places, stuns them with his torch and proceeds to 'bust' them.
Of course, rarely are things so straight forward, as ghosts proceed to arm themselves with props – mirrors, pans, pitchforks and suchlike – with which to thwart our intrepid plumber. While even the scenery is against him as it routinely disappears, so forcing E. Gadd to provide new gadgets so that the mansions (for now there are a series of haunted locales) can be brought back into line.
Sound effects, from Luigi's humming along to the music, through to the eerie laughter of a hidden Boo, are amongst the best designed on any system. The visuals are easily on a par with the best the 3DS has to offer, although Nintendo's use of the system's gyroscope as a makeshift second analogue stick does make playing the game with the 3D effect enabled all but impossible.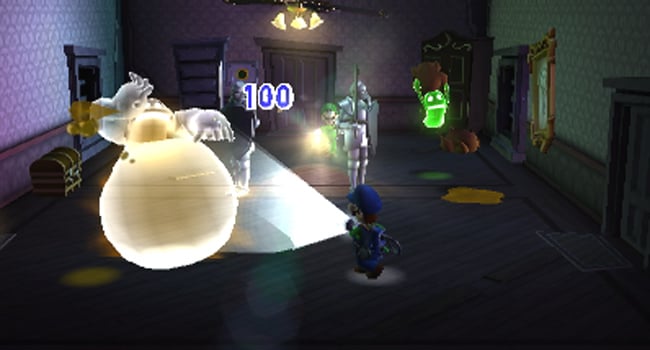 Haunting visual effects
Still, almost inevitable 3D issues aside, it's rare for a game to make you smile, even laugh out loud, from beginning to end and that's precisely the effect Luigi's Mansion 2 had on me. You can't really ask for more than that now can you?

BioShock Infinite: American splendour
And so we come to what many were predicting would be the year's best game so far. BioShock Infinite sees Rapture, the underwater setting of previous BioShock titles, replaced by the much-hyped floating city of Columbia. While the noticeably talkative antihero Booker DeWitt comes in as chief protagonist, replacing the taciturn leads of its predecessors.
Once more we're treated to a game which puts the focus on its narrative, and in exploring such lofty subjects as American exceptionalism there's as much to marvel at in terms of plot as there is in the gobsmacking details of Columbia itself.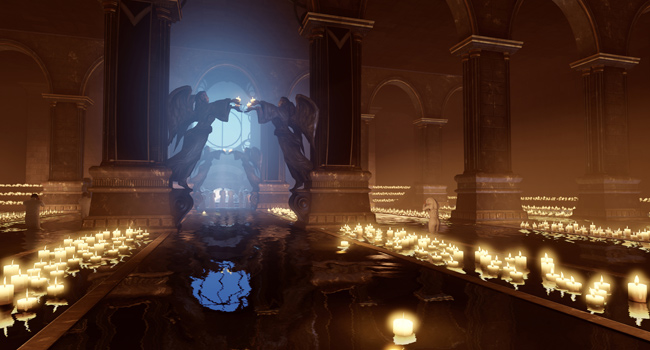 Mass effect?
Alas, the combat never quite reaches those same heights, as even the return of BioShock's plasmids (now dubbed Vigors) fails to inject the necessary 'oomph'. If anything it's because your chances to use them effectively seem as scripted as the story: Oh look, bad guys standing in a pool of preposterously positioned oil, and here's me with the ability to throw a fireball at them, how convenient…
In fairness, there is slightly more to it than that. Vigors can be combined for example, therefore turning your flock of crows straight out of Hitchcock's The Birds into flaming crows for extra damage when the Murder of Crows and Devil's Kiss powers are used one after the other.
Ultimately, however, the combat in general is the very opposite of infinite, as waves of bad guys appear like so much cannon fodder, and leave this mortal coil having either charged straight at you or been picked off after having popped up from behind cover. Similarly predictable is DeWitt's shield which charges up when you're behind cover. Whatever next?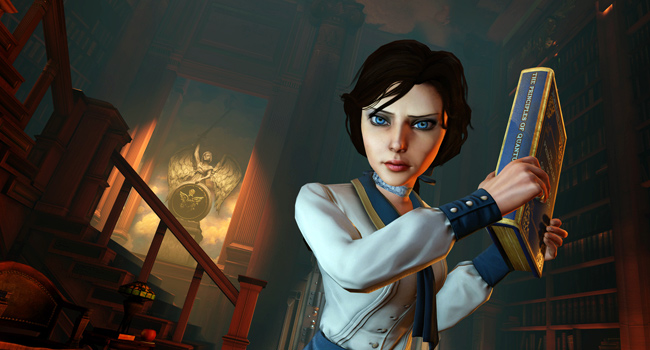 AI candy
At least the introduction of Elizabeth, DeWitt's AI-driven companion, adds something different into the mix. By opening 'tears' she's able to pull ammo, health and environmental aids into the world from one parallel to ours. In all honesty I found such help more distracting than beneficial, particularly during frantic fire fights – perhaps that's just me?
Infinite worlds
Thankfully Columbia itself – and the skill that has gone into weaving a backstory into the setting that you can unveil yourself by going that extra mile in your exploration of the city – largely makes up for the occasionally uninspiring gunplay. Rarely has such effort been invested into making a fictitious gaming world seem so convincing.
From the ticker tape parades that await DeWitt's fledging steps on Columbian soil, through to wind-up George Washington automatons built to narrate American victories, the city is awash with marvels to distract and delight. There's even a penny arcade complete with a puppet show game that it is narrated has been 'delayed' but was 'worth the wait' – you jesters Irrational.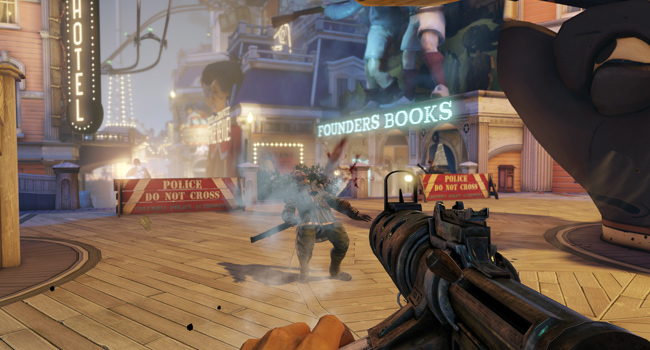 Fairground attraction
Infinite is also interesting from a visual standpoint, I've already described the sheer indulgences in the rendering of its world, but what I've not mentioned is the difference across systems. Thus far I've played the first hour of the game on PC but have completed the game on PS3 (no Xbox 360 access as yet, sadly), and visually the difference is like that between a pool of spring water and a tar pit.
Perhaps tar pit comparisons are a little excessive, but once you've seen Infinite on a high end PC and sat, tongue lolling, at those distant skylines, the beautiful reflections and those light blooms, the PS3 version seems somehow drab. The gameplay is the same of course, mouse and keyboard advantages aside, but the PC version captivated me in a way the PS3 version just didn't.
I'm not saying console owners shouldn't bother, far from it. However, if you do have a PC with the perquisite hardware then you're in for a treat. Indeed if Irrational didn't spend the next few months polishing the game as a day one title for PS4 and Xbox 'nextbox' I'd be absolutely amazed. And you know what? If it did I can't imagine many other launch titles getting a spin on my shiny new console before I'm embroiled in another quest through Columbia.
Ken Levine's work is a tour de force of environmental storytelling, but is let down by predictable FPS mechanics. Not that the shooting is awful, far from it, but just that this second component to the game pales in comparison to the splendour of Columbia. Buy it, play it, just be prepared to grind through combat sections at times.

Additional releases this month include the StarCraft 2: Heart of the Swarm expansion which fans of the RTS online sensation really won't be able to do without, and the excellent Monster Hunter Ultimate. The latter a reboot of the Wii's Monster Hunter Tri that features a rather neat save game transferring utility that lets you switch your progress from Wii U to 3DS and vice versa. ®