Original URL: https://www.theregister.co.uk/2013/04/03/monkey_study_middle_manager/
Monkey poo probe reveals secrets of middle-management brains
If you have any, fling it now
Posted in Science, 3rd April 2013 04:58 GMT
It might be tough at the top, or at the bottom - but it's even tougher in the middle.
That's the claim made by boffins from Liverpool and Manchester universities who say their study of monkeys proves that middle managers suffer more stress than anyone else.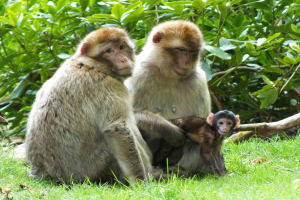 'If you could go ahead and remember to do that from now on'
Katie Edwards, from Liverpool's Institute of Integrative Biology, spent almost 600 hours observing female Barbary macaques at Trentham Monkey Forest in Staffordshire.
She watched one specific female over the course of a day, noting down every interaction with other monkeys, ranging from fights to grooming or "hind-quarter presentation", more commonly known in the human world as mooning.
What she found was that monkeys in the middle of the hierarchy were forced into conflicts with animals both above and below them in a bid to maintain their status in the group.
When she then tested the middle monkeys' faeces, there were considerably higher levels of stress hormones.
Edwards suggested the results might prove that human middle managers have a harder time than their bosses and their underlings.
She said:
It's possible to apply these findings to other social species too, including human hierarchies. People working in middle management might have higher levels of stress hormones compared to their boss at the top or the workers they manage. These ambitious mid-ranking people may want to access the higher-ranking lifestyle which could mean facing more challenges, whilst also having to maintain their authority over lower-ranking workers.
Dr Susanne Shultz, a Royal Society University Research Fellow in the Faculty of Life Sciences at The University of Manchester, supervised the research.
She said:
What we found was that monkeys in the middle of the hierarchy are involved with conflict from those below them as well as from above, whereas those in the bottom of the hierarchy distance themselves from conflict. The middle ranking macaques are more likely to challenge, and be challenged by, those higher on the social ladder.
After studying stressed out simians, Edwards is now studying horny rhinos at Chester Zoo. She hopes her examination of sexy hormones in the animals will encourage them to breed.
Edwards' research is published in the journal General and Comparative Endocrinology, here. ®