Original URL: https://www.theregister.co.uk/2013/03/28/review_lenovo_thinkpad_2_windows_8_tablet/
Review: Lenovo ThinkPad Tablet 2
Win8 Pro, Atom powered fondleslab for grown-ups
Posted in Personal Tech, 28th March 2013 09:00 GMT
I've tried out quite a few variations on the Windows 8 theme just lately – touchscreen notebooks mainly – but I've been dabbling with Boot Camp and virtual machine incarnations on the desktop too but without the finger friendliness. So trying out Lenovo's business-centric ThinkPad Tablet 2 seemed like it would be an easy transition.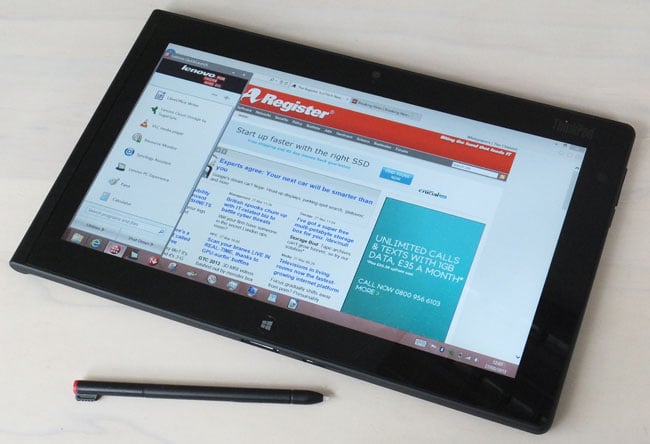 Lenovo's ThinkPad Tablet 2: the stylus is made by Wacom and doesn't rely on batteries
It runs a very capable dual-core Cloverview Intel Atom Z2760 1.8GHz processor and a 32-bit version of Windows 8 Pro. There's 2GB of LPDD2 RAM on board this model with 64GB of e-MMC Flash storage. Its 10.1in IPS screen is responsive, crisp and bright, but not dazzling. At 1366 x 768 pixels, this screen real estate scale helps when it comes to precision tapping.
These things all seem to fit together nicely enough, yet for all the proclamations I've made about Windows 8 needing a touchscreen to be useable, this time I find what I really miss is a keyboard. Now, this doesn't have to be a problem if you buy the OB47270 Bluetooth keyboard stand, which is the more elegant and costly option at £103.

Lenovo's own Bluetooth keyboard stand accessory offers a hybrid option
The ThinkPad Tablet 2 is Bluetooth 4.0 savvy as well as being equipped with a full-size USB port enabling peripheral alternatives. Still, this is a tablet and naturally features a virtual keyboard, but you also get a slim, pressure sensitive Wacom-based stylus that slots into the tablet body. More on this later.
In the hand the ThinkPad Tablet 2's rubberised back and edges feel friendly enough and at 600g it's not too heavy either. It measures up at 263 x 164 x 10mm and certainly doesn't come across as bulky. One thing that is a bit odd though is the back casing doesn't appear solid; press on it and it dips in slightly and then pops out again on release. You'd assume is would be glued or form part of some solid framework, but it feels more akin to skin around the body – like an iPad cover – and behaves like a blister.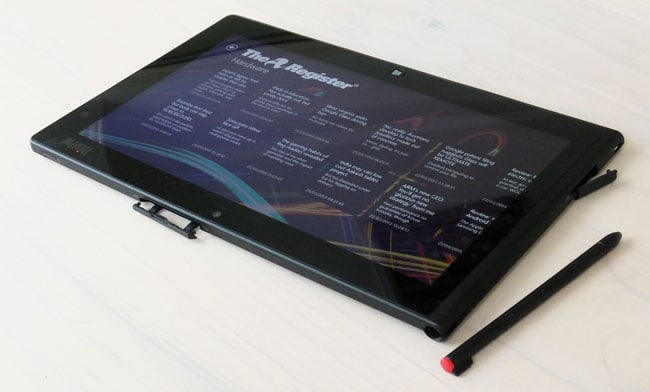 Plastic covers conceal card interfacing and a USB port
The Lenovo ThinkPad Tablet 2 is slightly asymmetrical with its curved left edge that not only houses the pen and micro USB charging port, but under a plastic cover – that will challenge those with hewn fingernails – is the full size USB 2.0 port. Another fingernail challenge along the top edge, is the cover for both the Micro SD expansion and a full size Sim card. Not all models have the latter, though.
In landscape mode, beneath the Windows button, the base has an accessory docking interface and a handy mini HDMI port. Lenovo's trademark understated dress sense does require conscious effort to find the audio mic/headphone port, the charging input and to discover what all the edge buttons do. The recessed power button always involved a bit of a grope to find it and I'd frequently press the orientation lock instead of the adjacent volume up/down keys.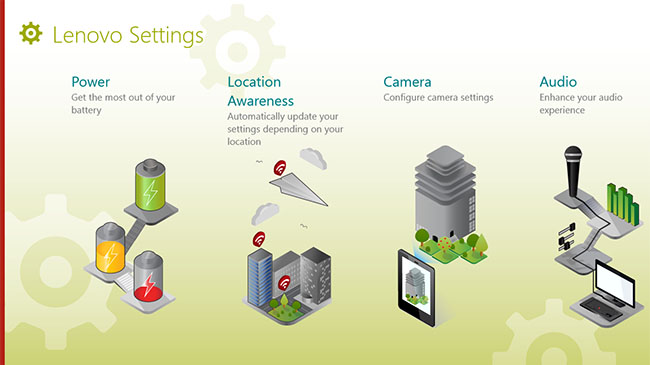 Lenovo Settings provides easy access to common functions
Apart from the inclusion of a Nitro Pro trial with its modest 270MB footprint, on the whole, Lenovo avoids the usual temptation to pack out this tablet PC with bloatware. Its more sober approach involves the Companion app tile that adorns the Modern interface, that takes you to a select sweet shop where you can learn about some of the installed items and can choose others to download. If you're missing the Start Menu, then you'll find Lenovo's QuickLaunch substitute here.
Making connections
The Lenovo Settings tile presents easy shortcuts to common features – albeit rather overdone with the graphics – and Support not only does the usual registration nag but has System Health features too. That said, the Updates section here, reporting no updates installed, didn't seem to acknowledge the time I'd spent updating the firmware and other device specific patches from Lenovo's very own System Update app from the Desktop interface. No doubt another incident where the evil Modern UI neglects to acknowledge its Desktop twin.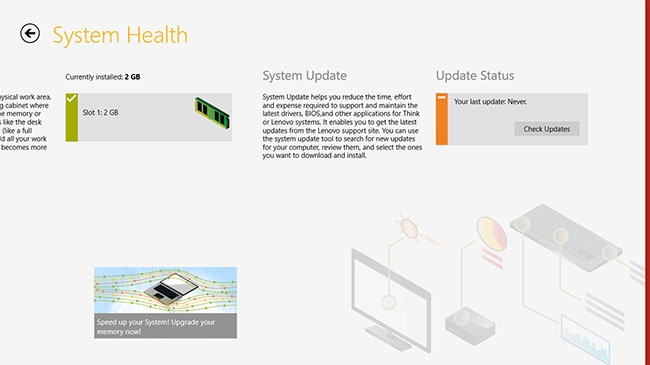 Lenovo System Health suggests there have 'Never' been any updates when plenty have been applied
Thankfully, getting through the slew of updates needed to get the ThinkPad Tablet 2 beyond constant reminders for both the OS and the Modern UI apps store, was pain free. There were no stubborn refusals to update nor the dreaded Error: Failure configuring Windows updates. Reverting changes that dog some desktop installations.
As a PC, the ThinkPad Tablet 2 proved very accommodating with peripherals, which shouldn't come as too much of a surprise, as this is simply Windows 8 Pro sans keyboard. Still, you can remedy that easily enough by plugging one in. Indeed, this is part of its charm: portability meets flexibility. However, there are trade-offs. The touchscreen does involve learning new habits. More often than not, in Desktop Mode, firm presses were required to for simple tasks from collapsing windows to using the back button.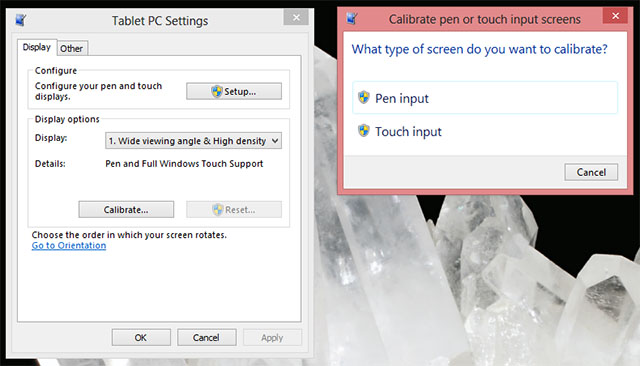 Lenovo ThinkPad Tablet 2 calibration options
Also, depending on where you are, finger pointing will highlight the selection you make (good) or will give no feedback whatsoever (bad). So you can tap on folders in a list and they'll be highlighted accordingly, but go into the Desktop Mode control panel and or a Properties window and you'll probably not get a brief highlight to show that you've tapped on the right thing. It's all a bit random and in some cases longer presses will sometimes deliver highlight indicators, but these delays can be time consuming for something that works so intuitively on a mobile phone.
Again, like any other Win 8 Pro tablet maker, these shortcomings are not the hardware vendor's fault and Lenovo goes some way to address these issues by including a pen. Interestingly, this stylus doesn't require a battery, but it has proximity sensing – so a cursor appears on-screen without contact. There's an assignable button on it too that defaults to right click. In use, it's a bit jittery and it's all too easy to accidentally wave it at a cluster of menu bar items and select the wrong one while you home in on some other function.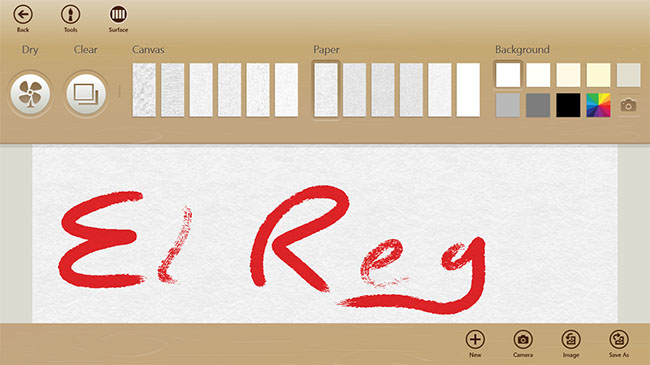 FreshPaint shows off the touch sensitivity
There is a calibration feature though, which does improve matters but like the Sony Vaio Duo, the addition of a pen seems like an afterthought although it makes sense to have it given there is a full-blown version of Windows here. Incidentally, the pen supports 1024 pressure levels which worked well enough in FreshPaint, and the knurled tab end of Lenovo's lightweight stylus stops it from rolling off the table.
OK, so the touch side of things can get tiresome, so what about that flexibility? If it all gets too much, plugging in a keyboard works just fine. It's a shame there's only one USB port, but I used a Mac keyboard with its integral hub to daisychain a standard mouse and there were no excessive power drain issues. It worked fine typing into LibreOffice Writer and, in general use, you'll notice the mouse pointer appear magically when moved and disappear again when the touchscreen gets used.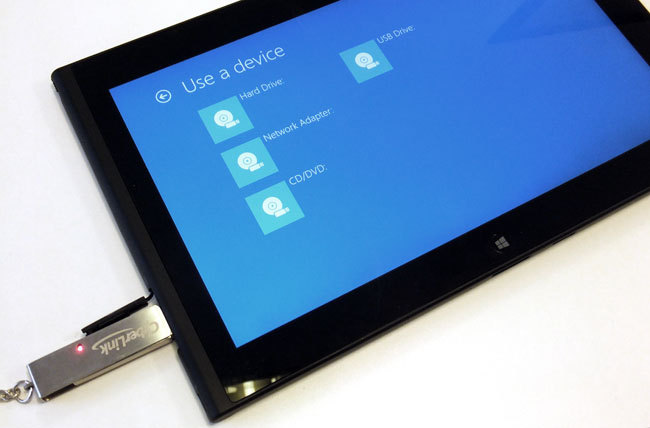 Alternative start-up options are easy to configure, but there's no guarantee they'll work
As there's no wired networking, I tried out a cheap USB 2.0 to 100Mbps Ethernet adapter and it loaded the correct drivers as soon as it was plugged in and began working right away. Well whaddya know, this Windows-in-a-slate-thing works with stuff. I even plugged in a DVD drive and played an episode of Hunderby from it using VLC Player. I didn't have a 32-bit Ubuntu disc to hand so I tried a PenDrive Linux flash drive boot up instead. Yet despite the Tablet 2's capability to choose external boot drives, it wouldn't boot up in Linux.
Touch type trials
As for the sound, the volume is rather subdued but it's not too harsh, thankfully. The two speakers are situated on the bevelled edges at the back, so the audio isn't stifled when it's laid flat. Web browsing is fairly nifty with little cause for complaint apart from the usual issues when viewing Flash rich pages, which could initially stall the browser. These days you also have to watch out for the cookies notifications in the UK, which aren't always so obvious to spot on tablet screens.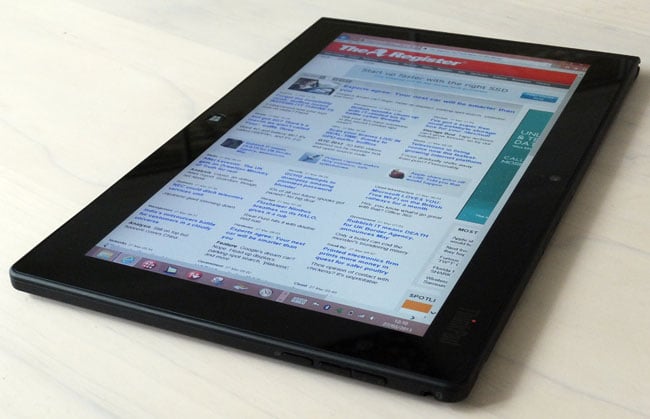 Portrait browsing
Naturally, plumbing in a USB flash drive wasn't a problem and dropping in my iPad's Three micro Sim with a full-size adapter was promising too – shame there's no Three UK usage monitoring app for Win8 yet though. Yet on the road, occasional dropped connections didn't always re-establish and so it was necessary to 'disconnect' and then reconnect to fire up the mobile broadband again. Lenovo's spec mentions 4G support too, but making do with 3G browsing certainly wasn't sluggish with a half decent signal. Back home or in the office, you can revert to Wi-Fi which supports both 2.4GHz and 5GHz bands.
To get an idea of the performance, running PCMark 7 when set up for speed, rather than power saving, produced a score of 1438. This is about 40 per cent below what you'd get from a run-of-the-mill Core i3 mobile CPU. Yet this combination of flash drive and adequate RAM and a decent battery life of around 10 hours makes the experience seem light years away from HDD netbooks of old. Even so, this Wi-Fi and 3G tablet is priced at £700, so you're really paying for that portability.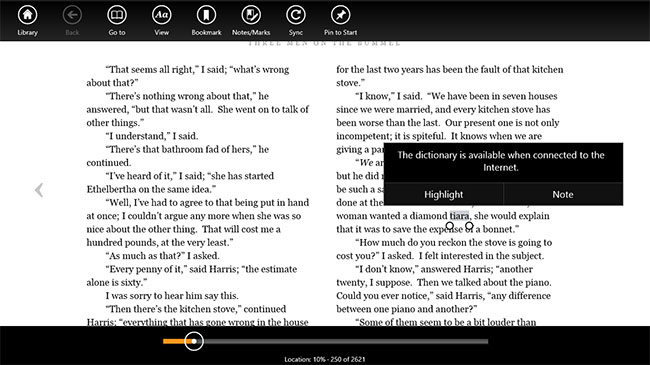 Highlighting text in the Kindle Reader is easy enough, but varies from app to app
Indeed, typing on the virtual keyboard can be a bit of a jolt even though the keys are responsive and sensibly laid out. The problem is the keyboard doesn't always appear when you tap on fields to type into. So you end up having to select it manually and then close it again when you're finished which is tedious given how other tablet platforms behave. In some applications, the keyboard will appear automatically as you would expect, so this is another one of those niggles that you stumble upon.
Correcting typos is another one, and on LibreOffice Writer proved very fiddly to align the cursor on errant words using fingers. The pen comes in handy here but it slows things down. You could just make the font bigger for fingering, but with half the widescreen lost to the keyboard, you'll only ever see a short paragraph this way. And unless you fancy using your thumbs, fast portrait typing is nigh-on impossible.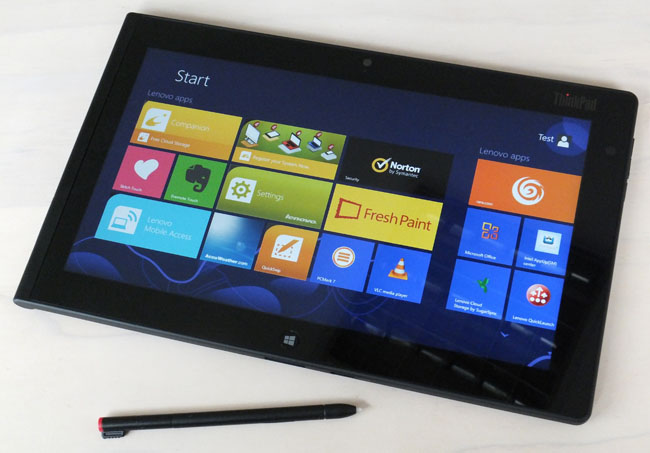 If you stick with the Modern apps, then it's easier to cope without a keyboard
A final word on the cameras – a 2Mp front facing and an 8Mp snapper on the back both deliver decent images in low light conditions. The rear camera will even capture 1080p video although handling a tablet for this task doesn't deliver the smoothest of footage.
The Reg Verdict
With the Lenovo ThinkPad Tablet 2, you end up with is an extremely likable Windows 8 Pro tablet due to its capacity to function with typical PC peripherals when you need it to. As a standalone device though, even if you get by reasonably well wedded to the Modern Interface, its Desktop mode shortcomings soon present themselves as you're bound to end up in there sooner or later. ®